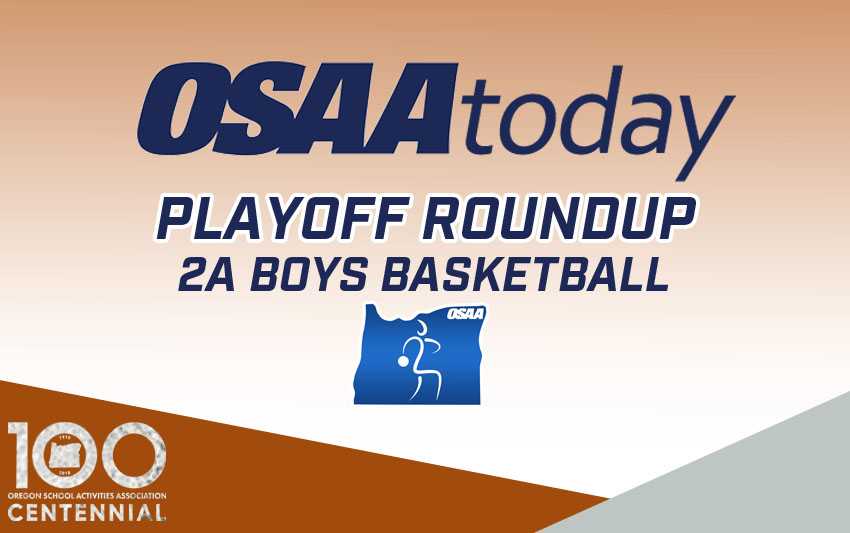 A look at Friday's games in the OSAA / OnPoint Community Credit Union 2A boys basketball playoffs:
Santiam 52, Butte Falls / Crater Lake Charter Academy 30 – Santiam, No. 7 in the OSAAtoday coaches poll, led from the start but broke open a seven-point game at halftime with a dominant second-half performance, highlighted by strong defense from Hunter Reeser and the offense of Trevor Whitmire, who led all scorers with 16 points. Reeser added nine for the Wolverines, who head to the state tournament with a 21-7 record. Colby Wood had 18 to pace Butte Falls, which finished at 18-4.
Knappa 70, Coquille 46 – A battle of teams ranked among the top 10 in the OSAAtoday coaches poll went to the higher-seeded Loggers (20-8), who got 24 points from Eli Takalo, 18 from Timber Engblom and 13 from Joe Ramvick. The No. 5 team in 2A raced to a 16-point lead after one quarter but saw its advantage cut to just seven at the break before blowing the game open for good in the third quarter. Ean Smith and Hayden Davis combined for 29 points in the loss for No. 9 Coquille, which finished 17-9.
Western Christian 83, Jefferson 40 – Jefferson started strongly but was soon overwhelmed by the homestanding Pioneers, ranked No. 2 in the OSAAtoday coaches poll. Western (26-1) dialed up the intensity on its press in the second quarter and went on to the convincing win. The Pioneers were paced by Ethan Halgren, who had 18 points on 9-of-9 shooting. Keaton Hull also had 18 points while Payton Richardson contributed 15 rebounds. Diego Rodriguez led Jefferson with 14 points.
Columbia Christian 103, Union 36 – The top-ranked Knights had no trouble getting by Union at home. The Knights, who improved to 26-2, showed good defensive intensity and 28 assists (Dominic Blake had eight helpers) demonstrated that Bart Valentine's team shared the ball well. Ben Gregg led all scorers with 20 points and added 12 boards, six assists and three blocks. Isiah Mariscal added 16 and Josh Hartman 15. Keegan Glenn led Union with nine points.
Oakland 73, Illinois Valley 53 – Oakland, ranked No. 4 in the OSAAtoday coaches poll, broke open a close game with 10th-ranked Illinois Valley by outscoring the Cougars 17-7 in the second quarter. Noah Strempel led the victorious Oakers with 20 points and seven assists. Triston Mack and Colton Brownson teamed for 29 more points for Oakland, which reached the state tournament for the second straight year. Elijah Polk had 19 points to pace Illinois Valley. Bryce Bruner had a dozen.
Toledo 81, Central Linn 72 – Conner Marchant had 26 points, eight rebounds and four steals, Jaydn Spangler contributed 18 points, Jaxon Rozewski collected 13 points and 16 rebounds and Clifton Howard had 15 points and nine boards and made 9-of-10 free throws in the fourth quarter as Toledo, No. 3 in the OSAAtoday coaches poll, held off Central Linn at home. "The boys came up big when it mattered," said coach Eddie Townsend, whose team will travel 336 miles to the state tournament in Pendleton. Carter Kachel and Robert Rowland combined for 40 points in the loss for Central Linn.
Kennedy 56, Heppner 38 – Kennedy, ranked No. 6 in the OSAAtoday coaches poll, went on a 16-3 run in the third quarter at home to end Heppner's season. Tyler Carter had 14 points in the Mustangs' loss.
Lost River 50, Sheridan 44