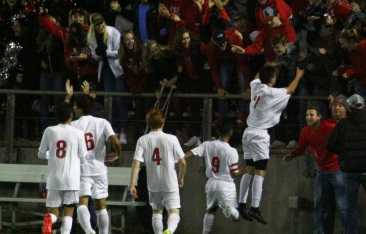 The Pacific Conference appeared to be thrown on the scrap heap of history in 2014 when it was disbanded in a push to create bigger Class 6A leagues.
The conference – which had many incarnations since it was formed in 1994, with Forest Grove, McMinnville and Newberg the only mainstays -- seemed to have run its course.
Four years later, though, the Pacific is reborn as the OSAA realigns for the four-year time block that begins in 2018-19. The Pacific once again becomes the seventh Class 6A league as Forest Grove, McMinnville and Newberg are joined by Century, Glencoe, Liberty and Sherwood
Century, Glencoe and Liberty – all from the Hillsboro School District – come over from the Metro League. Sherwood and Newberg move from the Three Rivers League. Forest Grove and McMinnville spent the last four years in the Salem-based Greater Valley Conference.
McMinnville athletic director and football coach Ryan McIrvin said competing in the Greater Valley was a "good experience," but he is excited about the reformed Pacific.
"The prospect of reuniting with Newberg and maintaining our affiliation with Forest Grove, two schools we have had a long tradition with, as well as joining the three Hillsboro schools, and Sherwood, was something that we strongly supported," McIrvin said.
Newberg first began playing football against Forest Grove in 1909 and against McMinnville in 1912. Forest Grove's football team met the OSAA's criteria to move down to Class 5A for the next two seasons, but the Vikings will reconnect with their old rivals in the other sports.
"Not being with Newberg for four years was kind of a shock for us," Forest Grove athletic director Doug Thompson said. "And McMinnville was in the same boat. History-wise, tradition-wise, it's a good fit."
Thompson said Forest Grove wasn't an ideal fit for the Greater Valley Conference.
"It was tough to be in Salem," Thompson said. "This is the best of everything to be back with Newberg and McMinnville and the Hillsboro schools. Our youth programs compete with those guys, so it's really nice that we can continue that relationship. We're elated to be in that league. The schools look just like we look."
Sherwood leaves behind geographic rivals Tualatin and Tigard in the Three Rivers, which is widely regarded as the state's strongest league.
"We don't have any experience with this particular conference, but with the realignment, a lot of people had to switch from where they were at," Sherwood athletic director Randy Ramp said. "We certainly liked the league we were in. It was super competitive, with a lot of successful teams. But we look forward to this one, too."
Ramp ceded that the Pacific won't have the competitive depth of the Three Rivers, but noted that the conference will have some high-level programs such as Glencoe softball, McMinnville boys soccer and Newberg wrestling.
"I think it'll be good for our teams," Ramp said. "Some coaches aren't as excited as others."
Sherwood will be a prohibitive favorite in Pacific football. Last season, the Bowmen had the highest Class 6A power ranking (No. 18) of any Pacific-bound team. Conversely, four Three Rivers teams were ranked higher than Sherwood.