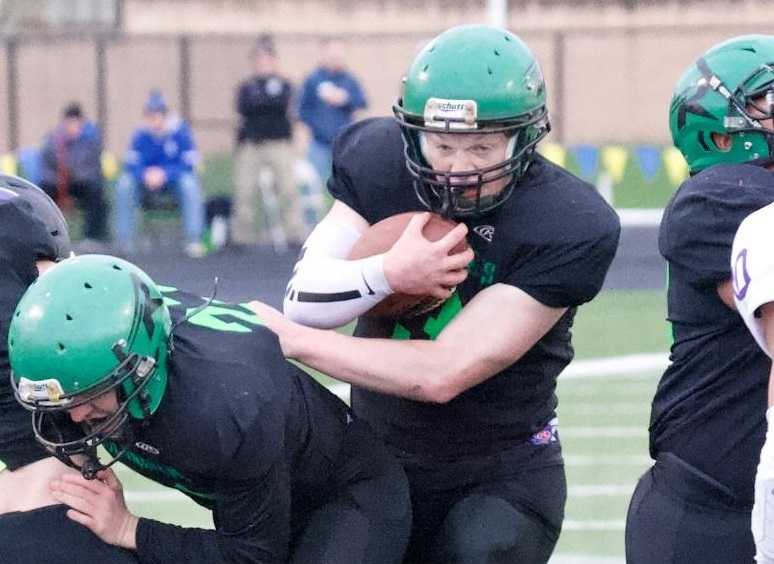 The indomitable will of senior quarterback Joey Tripp was the catalyst for Rainier's first football state title since 2010.
It was on full display Saturday when Tripp pounded Cascade Christian's defense for 261 rushing yards on 34 carries as the Columbians completed a 13-0 season with a 44-14 win in the state final.
"He said before the season, 'I'm not losing a football game my senior year,'" Rainier coach Mike King said. "It's not something we ever advertised, but it's something he said, and something he went out and did."
The 5-foot-10, 185-pound Tripp had a sensational senior year. He rushed for 2,380 yards and 31 touchdowns and passed for 963 yards and 16 scores with two interceptions. At middle linebacker, he led the team with 101 tackles and had three interceptions.
"I hold him to a really high standard – always have – and he exceeded all of my expectations this year," King said. "Just his leadership, and he's just relentless, everything that he does."
Tripp refuses to be tackled, which created some anxious moments for King.
"It took me until about halfway through the year to finally get through to him, 'Just run out of bounds,'" King said. "That's not the way he's built. He just wants to fight for every inch."
Tripp is the sixth of seven brothers to play football for Rainier and the fifth to play quarterback, following in the footsteps of Riley, Brad, Wes and Casey. Three of the brothers – Riley, Brad and Casey – are assistant coaches for the Columbians, and another brother, Jeff, runs Rainier's middle-school program.
The youngest brother, Kenney Tripp, was a freshman receiver on this year's team and is the leading candidate for the quarterback job next season.
"He's going to be a really solid player," King said of the 5-8, 155-pound Kenney. "He's not real big yet, but he's only five pounds less than Joey was as a freshman. He's built really from the same mold."
That doesn't bode well for Rainier's future foes.
Irish eyes smile
From 2001 to 2012, Sheldon's football team played in six state championship games, winning four.
The Irish didn't reach the final in the last five seasons, though, and for many of the players who grew up in the district with high expectations, they wondered if their chance would come.
So when Sheldon beat Clackamas 35-14 on Friday to advance to the 6A final, their opportunity had arrived.
"I was like, 'I want to be like that one day. I want to be one of them,'" senior receiver Jack Folsom remembers thinking as a youth. "Now I am, and it's just crazy … It'll be like playing in a dream, my entire life."
Among those who will savor it is senior receiver Patrick Herbert. His brother, Mitchell, was a junior receiver on the 2012 title team. His other brother, Justin, was a freshman on the 2012 roster.
"I've been waiting since sixth grade for this," Patrick Herbert said.
Senior quarterback Michael Johnson Jr., who moved in from California as a junior, grasped the significance for his teammates.
"Guys like Patrick, guys who have been in this program and grew up in this program their whole lives, living in Eugene, I'm just happy to be able to help get them there," Johnson said. "Just happy to help be a part of it."
On the record
The season didn't end the way Nathan Overholt had hoped, but a 30-27 loss to Thurston in the 5A final did nothing to tarnish an historic season for Wilsonville's senior quarterback.
Overholt threw three touchdown passes in the final to set the state single-season record with 59, breaking a tie with Beaverton's Taylor Barton, who threw 56 in 1997. Overholt accomplished the feat despite playing in one fewer game than Barton.
"I'm just really glad I got to do it with this group of guys," Overholt said. "My receiving corps, they've been on my team every sport I've played since third grade. The chemistry is there."
Overholt said his teammates provided a push for the record.
"Halfway through the season they said, 'You're on track to break the record.' They kept saying, 'We're going to get you that record,'" Overholt said. "The way they wanted me to succeed, I don't think a lot of QBs get to experience that. They wanted my success so badly. I'm really thankful for it."
In the final, Overholt completed 22 of 37 passes for 356 yards and three touchdowns with one interception. For the season, he completed 69.6 percent of his passes (220 of 316) for 3,832 yards and 59 touchdowns with six interceptions.
The yardage total ranks No. 6 on the all-time list behind West Linn's Tim Tawa (4,397 in 2015), Barton (4,047 in 1997), Tawa (3,994 in 2016), Sheldon's Alex Brink (3,946 in 2002) and Redmond's Josh Wagenblast (3,869 in 2001).
Stepping aside
Seaside's 31-20 loss to Banks in the 4A final marked the final game for Seagulls coach Jeff Roberts.
Roberts, the school's principal for three years, had announced that he would step down after the season. He is turning the job over to assistant Aaron Tanabe, who was hired this year as the successor.
Roberts took over as coach in 2012, one year after the team finished 0-9. He went 39-27 in seven seasons, leading the team to its first championship game since 1994.
"This was a decision I needed to make," Roberts said. "When I took over, my goal was to resurrect this program and give us a chance to be competitive, and to play in state championship games, and I accomplished that. I feel pretty good about where I left things.
"My goal now is a professional goal, to bring everybody else along. This is a full-time job, and being principal at the high school, that's my priority."
Tanabe, the school's athletic director, was an offensive and defensive line coach at 4A Valley Catholic the previous four seasons. Before that, he coached at 3A Amity.
"The program's in good hands. Aaron Tanabe is going to do a fantastic job," Roberts said. "He has Linfield blood in him, like mine."
The team will graduate most of its playmakers, but Roberts believes the team has established a winning culture.
"I believe in the kids that are coming back. This should whet their palate," Roberts said. "The reason we were successful is because these kids wanted to work hard. And everybody has seen what hard work leads to."
Bonus Ranger
One of the key contributors in Dufur's 38-32 win over St. Paul in the 1A final didn't think he would be playing football at all this season.
Senior tight end and cornerback Tabor McLaughlin, an all-state player as a junior, suffered a stinger last season that did not go away. After having an MRI in the spring, he was told that he couldn't play football anymore.
When practice started this season, McLaughlin was there to help out in any way he could. He began to feel better, and after doing some running, he returned to the doctor and was cleared to play a month ago.
"It was an amazing addition to our team," senior Tanner Masterson said. "He helped so much on offense and defense. We were kind of missing a little something here and there, and by adding him, it kind of filled that hole that we needed."
McLaughlin had four catches for 44 yards in the final, including two huge third-down conversions on Dufur's clinching fourth-quarter drive. On St. Paul's last series, he had a sack and defended a deep pass as time expired.
"Tabor, he definitely came up big in this game," Rangers senior quarterback Derek Frakes said. "This game wouldn't have turned out the way it did without him, without everyone. Tabor came out to play, and I can't thank him enough for coming up with those catches."
Coach Jack Henderson said that McLaughlin is "just a huge kid for us. When he did come back, he was good and healthy. It wasn't like we were risking anything there. But he had fresh legs, and fresh legs are great in November."