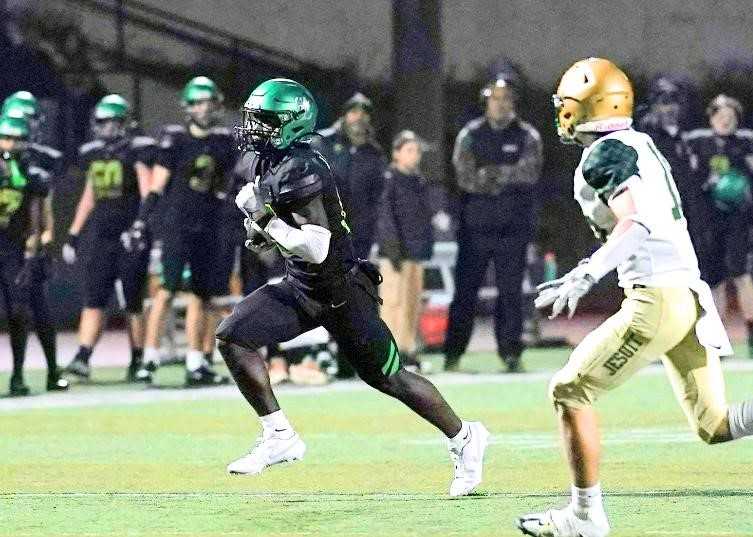 For the better part of two seasons, West Linn's football team has seemingly played in a league of its own.
Friday night, though, unbeaten Central Catholic (11-0) is aiming to shatter that notion when it meets the top-ranked and reigning state champion Lions (11-0) in a much-anticipated 6A semifinal at Pioneer Memorial Stadium in Oregon City.
The fourth-seeded Rams believe they have closed the gap from last year, when they lost to West Linn 49-17 in a semifinal at the same stadium.
"I felt last year we had to play perfect to have a chance to beat them, and I'm not even saying we would have if we played perfect," Central Catholic coach Steve Pyne said. "I don't have that same gut feeling this year. I think the margin for error for us is a little bit bigger."
West Linn and Central Catholic have cruised through the season, posting 10 and nine running-clock victories, respectively. Friday could be the first time either of them play a standard 48 minutes in two months.
"Every play is an important play in this game," Pyne said. "I think this game is going to come down to who makes fewer critical errors. … I think we can hang with them. It's not going to be easy."
The only team to avoid a running clock against West Linn is reigning Washington state champion Lake Stevens, which lost to the Lions 49-30, its only defeat this season. West Linn has won 22 in a row since a 35-31 loss to Sheldon last year.
The Lions have kept right on rolling despite graduating key players, including quarterback Sam Leavitt, now at Michigan State.
"Last year was a different vibe," second-year West Linn coach Jon Eagle said. "The program was a little bit newer, what we were trying to accomplish. This year, we've got a year under our belt of our expectations.
"The personalities last year were strong. This year it's a little bit more subtle. They're both great teams, they just go about doing their business in a different way."
Junior Baird Gilroy has excelled in his first season as West Linn's starting quarterback, throwing for 2,892 yards and 28 touchdowns with six interceptions. In last week's 59-14 quarterfinal win over No. 8 Jesuit, the 6-foot-5, 215-pound Gilroy went 21 of 28 for 342 yards and two touchdowns and ran for two scores.
"I think he's at a comfort level in Coach Eagle's offense," Pyne said. "He's efficient. And I think he showed last week he can run the ball a little bit. That's a whole 'nother element to having to stop them."
Eagle said Gilroy is much improved from when he faced Jesuit early in the season to last week's playoff game against the Crusaders.
"I watched tape of the previous Jesuit game with him, and he commented about some of the mistakes he made then," Eagle said. "He was kind of amazed that he made those mistakes. I feel like Baird last week was really operating at a higher level."
West Linn has a stable of outstanding receivers that includes junior Danny Wideman (56 catches, 892 yards, 12 touchdowns) and senior twins Gus Donnerberg and Wiley Donnerberg, who returned last week after missing more than one month with a hamstring injury.
But Central Catholic's defense, led by senior safety Timmy Mitchell, is formidable. Mitchell, healthy this season after missing most of his junior year with a high-ankle sprain, has seven interceptions.
"He's an exceptional player," Eagle said of Mitchell. "They're very similar to what they were last year, but I think they're more dynamic defensively."
Central Catholic has arguably the state's best dual-threat quarterback in senior Cru Newman, who led the Rams to the state title in 2021. Newman has completed 68.9 percent of his passes for 2,161 yards and 30 touchdowns with four interceptions and run for 520 yards and 12 scores.
"Every week he does something and I'm like, 'Huh, how did you do that?'" Pyne said. "I don't know how much different he is than he was the last two years. He's been doing some of those things since he was a pup."
Newman has more help than he did last season in the form of sophomore running backs Killian Sombe (551 yards, 10 touchdowns) and Tyson Davis (469 yards, nine touchdowns) and junior receivers Landon Kelsey (nine touchdowns) and D'Marieon Gates (six touchdowns).
"He is dangerous enough as it is, now you give him more weapons around him," Eagle said of Newman. "He's a playmaker. He's got eyes in the back of his head. This team will definitely challenge our defense."
West Linn's defense has long, athletic players on the edges and a heady secondary that features senior strong safety Hunter Haines and freshman cornerback Josiah Molden.
"The Haines kid is as good as I've seen at the high school level," Pyne said. "One of our coaches said, 'He just has a big, old fishing net back there, and he goes and gets stuff.' The Molden kid is exceptional for a freshman."
Still, Pyne likes his chances of giving the Lions a game.
"Last year I feel like we overachieved making it to the semifinals," he said. "No knock on those guys, but we just weren't as physical or athletic or explosive as we are this year."
The teams have split four playoff games in the last eight postseasons. Central Catholic won in the 2014 and 2019 quarterfinals on its way to state titles. West Linn won in the 2016 final and last year's semifinals.
The weekend's other semifinal match-ups:
6A
No. 3 Sherwood (11-0) vs. No. 2 Tualatin (10-1) at Hillsboro Stadium, 7 p.m. Friday: Sherwood's defense, coming off its eighth shutout of the season, gets a huge test against a high-octane Tualatin offense. Since coming back from a broken collarbone, Tualatin quarterback Nolan Keeney has passed for 679 yards and nine touchdowns in two playoff games.
6A Columbia Cup
No. 24 Barlow (6-5) vs. No. 21 Sunset (7-4) at Wilsonville HS, 7 p.m. Friday: Both teams are riding four-game winning streaks. Barlow, playing in its final season under coach Tracy Jackson, beat Liberty 37-36 last week, getting a kickoff return for a touchdown in the final minute. Sunset defeated Metro League rival Mountainside 7-0 to advance, the Apollos' third shutout in four games.
No. 22 Clackamas (7-4) vs. No. 18 South Medford (8-3) at Willamette HS, 7 p.m. Friday: South Medford beat Jefferson 34-0 and North Salem 35-0 in the Cup, winning last week behind the running of Kameron Rague (146 yards) and Ryder Scheid (104 yards). Clackamas trailed Newberg 16-14 at half last week before winning 35-16.
5A
No. 5 Summit (7-4) vs. No. 1 Wilsonville (10-1) at Willamette Univ., 7 p.m. Friday: Summit beat Wilsonville 35-28 in last year's state final, but the Wildcats got payback with a 35-20 win over the Storm in Week 4. Wilsonville quarterback Kallen Gutridge (3,196 passing yards, 48 touchdown passes) and receiver Mark Wiepert (1,240 receiving yards, 16 touchdowns) are having monster seasons.
No. 3 Mountain View (11-0) vs. No. 2 Silverton (11-0) at McNary HS, 7 p.m. Friday: A battle of unbeatens with Mountain View, a semifinalist for the first time since 2017, and Silverton, the 2021 champion and a quarterfinalist last year. The Foxes need to contain Cougars sophomore running back Angel Valenzuela (1,611 rushing yards, 25 touchdowns).
4A
No. 4 Scappoose (10-1) vs. No. 1 Henley (11-0) at Willamette HS, 1 p.m. Saturday: Since last making the semifinals in 1990, Henley lost eight consecutive quarterfinal games, but finally broke through last week by handling Junction City 35-14. Scappoose, chasing its first title since a three-peat from 2000 to 2002, trailed Cascade 19-3 last week before winning 24-19.
No. 3 Seaside (8-3) vs. No. 2 Marist Catholic (10-1) at Hillsboro Stadium, 4:30 p.m. Saturday: Marist Catholic's Nick Hudson, 4A's leading passer with 3,212 yards and 41 touchdowns, has passed for 698 yards and eight scores and run for three touchdowns in two playoff games. Seaside's defense held Marshfield to 173 yards last week in a 14-6 win.
3A
No. 13 South Umpqua (8-3) vs. No. 1 Banks (11-0) at Cottage Grove HS, 4:30 p.m. Saturday: South Umpqua is the lowest seed in all of the championships brackets after going on the road to knock off No. 4 Kennedy and No. 5 Lakeview. Now the upstart Lancers face the top-seeded Braves, who are in the semifinals for the fourth time in five postseasons.
No. 3 Dayton (11-0) vs. No. 2 Cascade Christian (11-0) at Cottage Grove HS, 1 p.m. Saturday: Last week, reigning champion Cascade Christian needed a two-point conversion stop in overtime to defeat Vale 27-26 and extend its winning streak to 24. The Pirates, who lost to Cascade Christian 42-20 in the semifinals last year, haven't made the final since winning the 2012 title.
2A
No. 4 Regis (11-0) vs. No. 1 Weston-McEwen/Griswold (10-0) at Hermiston HS, 4:30 p.m. Saturday: Weston-McEwen, which has never won a title, has been on a mission since losing to Oakland 46-32 in last year's final. Regis is averaging 51.5 points per game, led by quarterback Kollin Schumacher, who has passed for 2,943 yards and 46 touchdowns in 10 games.
No. 3 Lowell (10-1) vs. No. 2 Oakland (10-1) at Willamette HS, 4:30 p.m. Saturday: Reigning champion Oakland overcame Gervais 32-18 last week despite standout running back Gabe Williamson (broken hand) playing only defense. Lowell, bidding to make the finals for the first time, has one of the state's most explosive players in JaMar Thurman (2,503 rushing yards, 37 touchdowns).
1A-8
No. 5 St. Paul (10-1) vs. No. 1 Lost River (9-0) at Caldera HS, 1 p.m. Saturday: A rematch of last year's final, won by Lost River 43-0. The teams played in the season opener, with Lost River overcoming a 12-point deficit in the fourth quarter to win 40-36 in the Dufur Classic. The Raiders took the lead with 13 seconds left on a three-yard run by Chase McAuliffe.
No. 3 Myrtle Point (8-1) vs. No. 2 Crane (9-0) at Caldera HS, 4:30 p.m. Saturday: Myrtle Point won at Crane 38-22 in the quarterfinals last year before falling in the semifinals to St. Paul. Crane is unbeaten under first-year coach Matt Hawley, who returned to coaching nine years after leading Vale to the 3A title.
1A-6
No. 4 Joseph (8-1) vs. No. 1 Prairie City/Burnt River (7-1) at Hermiston HS, 1 p.m. Saturday: Prairie City has beaten Joseph in regular-season games the last three years, including an 18-6 home victory in Week 2. Joseph, which got three touchdown passes from Kane Johnson in beating Eddyville Charter 44-6 last week, goes against a Prairie City defense that held North Lake to 24 yards in 47-0 quarterfinal win.
No. 10 Echo (7-3) vs. No. 3 Elkton (8-1) at Hillsboro Stadium, 1 p.m. Saturday: Elkton got its first playoff win since 1981 last week, defeating South Wasco County 58-34 as Anthony Alimenti tossed three touchdown passes, giving him 27 for the season. Echo has won six in a row, going on the road to oust No. 7 Alsea 38-6 and No. 2 Powers 46-18 in the playoffs. The Cougars' only previous playoff win was in 1987, when they reached the semifinals.