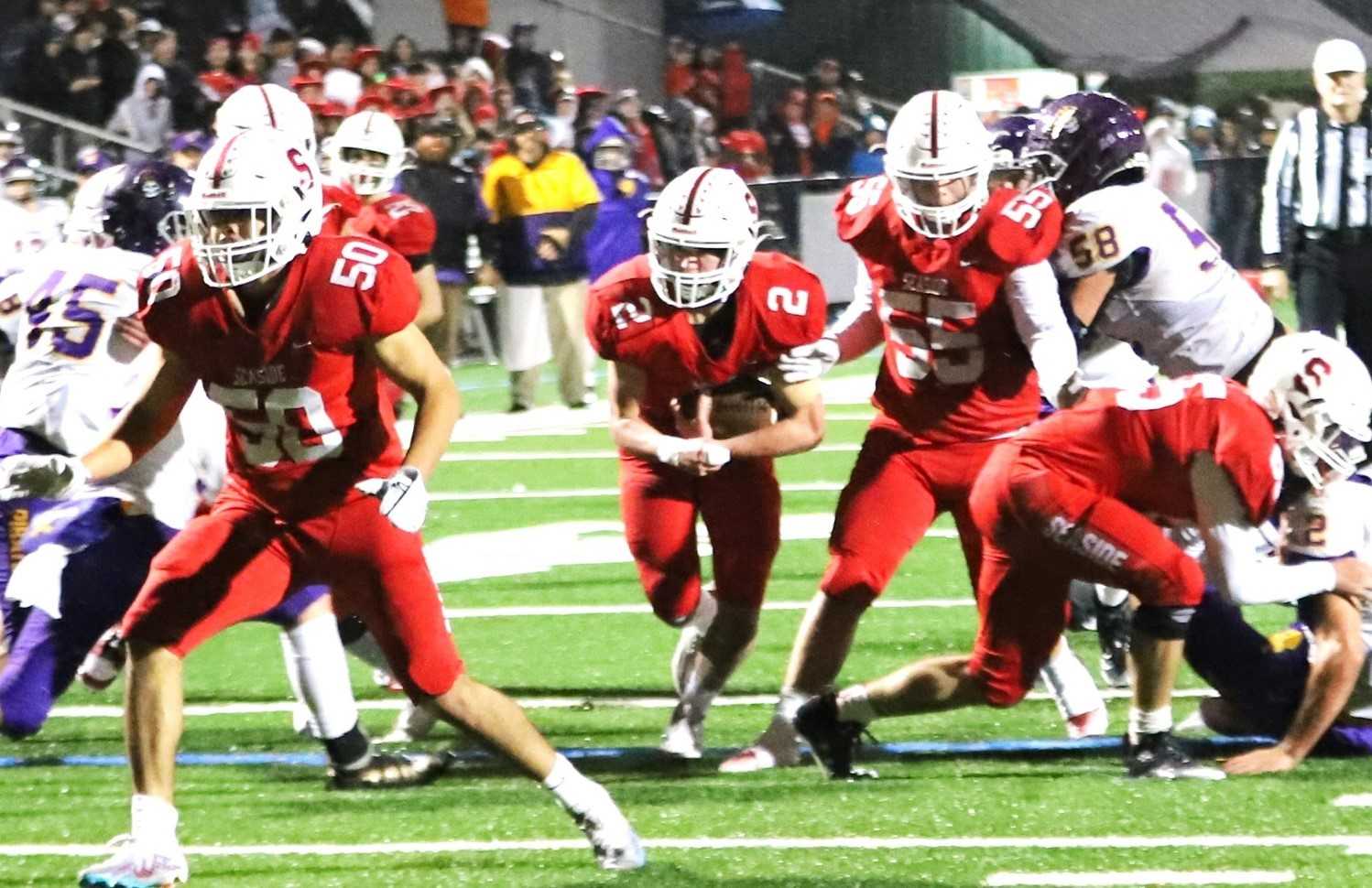 Five years ago, Seaside's run to the 4A football final inspired a group of ballboys for the team.
Friday night, those ballboys – senior Izzy Jantes and juniors Jake White and Jordan Westerholm – helped the Seagulls return to the semifinals for the first time in five years with a 14-6 win over Marshfield.
"They had older brothers on that 2018 team," coach Aaron Tanabe said. "We remember always talking with them about, 'Hey, when you guys are juniors and seniors, we'll be back.' It's pretty cool to see that happen. Now it's their turn."
White ran for a 10-yard touchdown in the second quarter to put Seaside ahead 7-0. Westerholm came through with the big play on defense, returning an interception 15 yards for a score to give the Seagulls a 14-6 cushion in the fourth quarter. Jantes, a guard and linebacker, also was a key contributor.
Seaside had not won a playoff game since 2018. The third-seeded Seagulls (8-3) will take a five-game winning streak into a semifinal against No. 2 Marist Catholic (10-1).
Seaside turned back No. 11 Marshfield (6-5) by holding the Pirates to 173 total yards. The defense helped make up for choppy play from the offense.
"It was one of our worst nights offensively this year," Tanabe said. "It wasn't pretty. We made some mistakes. Marshfield is a good team. … Jake got us five yards, six yards at a time, and really helped grind that one out."
Junior quarterback Zayden Anderson also came through in the clutch.
"He made some huge throws to convert third downs and keep the sticks moving," Tanabe said. "He got us out of some third-and-longs. We didn't throw the ball a ton, but he completed some big ones for us."
Tanabe said his team is finding its stride after battling injuries early in the year. The starting linebackers – Jantes (knee), White (broken hand) and senior Ruger Thompson (back) – all missed significant time.
"During that stretch we kind of had to piece it together, especially on defense," Tanabe said. "We got healthy at the right time. This is the group that we thought we were going to have at the beginning of the year. Everybody's healthy now. We're just excited that we got them all back for this run."
Gathering Storm
A year after delivering a state title as the consensus 5A favorite, Summit has spent this season flying under the radar.
Still, the fifth-seeded Storm (7-4) has made it back to the semifinals. Opponents can't afford to overlook Summit, especially considering the Storm's only losses have come against teams still alive in the playoffs, Tualatin and Sherwood in 6A and Wilsonville and Mountain View in 5A.
"That says something about our schedule," coach Corben Hyatt said.
Summit earned its berth in the final four with a 49-14 win over Lebanon. Senior quarterback Jimmy Hughes, a transfer from California, threw a season-high four touchdown passes, two to senior Mac Bledsoe and one each to seniors Paxon Kettering and Charley Crowell.
The Storm has won six of seven games since a 1-3 start.
"Those first four games, they got punched in the mouth," Hyatt said. "There could've been a time when they rolled over, but they took it as a challenge and got better. We're starting to see our best football at the end of the season. Guys gaining experience has been huge for us."
That includes the 6-3, 210-pound Hughes, who needed time to adapt to Summit's system after playing in an Air Raid offense in California. He has completed 61.0 percent of his passes for 2,039 yards and 16 touchdowns with 10 interceptions.
"It was a hard adjustment for him at the beginning," Hyatt said. "We threw Jimmy into this at the beginning of the year, and did him no favors by throwing that schedule at him. He's just put his head down and worked."
Up next is a semifinal date with top-seeded Wilsonville, which beat Summit 35-20 in Week 4. The Storm defeated Wilsonville twice last season, 33-21 in a nonleague game and 35-28 in the state final.
To have a chance, Summit must find a way to slow down Wildcats senior quarterback Kallen Gutridge and junior receiver Mark Wiepert.
"We're facing probably the two best players in the state of Oregon in 5A," Hyatt said. "There's nobody that compares to them. Gutridge just absolutely throttled us in the first game with his legs.
"We think we can compete with them, but we're going to have to play our best game of the season. They remind me a lot of our team last year."
Challengers dodge Vale
Reigning 3A champion Cascade Christian needed a stop on a two-point conversion to hold off visiting Vale 27-26 in overtime Saturday afternoon.
The second-seeded Challengers (11-0) brought a 23-game winning streak into the quarterfinal against the No. 7 Vikings (9-1), but trailed for the first time all season, facing a 20-12 deficit in the third quarter.
Senior quarterback Ashton Moody scored on a four-yard run and threw a two-point conversion pass to senior Kristofer Fralich to draw Cascade Christian into a 20-20 tie with 1:14 left in the fourth quarter.
"Kris did a great job. Moody got pressured and the ball was inches from the ground," Challengers coach Jon Gettman said.
In overtime, Moody scored on a one-yard sneak and senior Mason Hoffman kicked the extra point for a 27-20 lead. Vale countered with a one-yard touchdown run by senior quarterback Colten Stepleton, then lined up to go for two points to win the game.
A false-start penalty pushed Vale back five yards, but the Vikings – who did not attempt an extra point in the game – still opted to try a two-point conversion. Senior Spur Jacobs took the handoff and was tackled by 5-3, 125-pound freshman Bryson Walker and senior Luke Wilson just inside the five-yard line.
Vale opted not to run junior Kase Schaffeld, who had 42 carries for 230 yards and two touchdowns, on the play.
"They went with a counter look, against what they normally were showing all game," Gettman said.
Stepleton separated his shoulder in a first-round game and saw limited action for the Vikings, who switched their offense to a diesel-type formation and rushed for 336 yards.
"Vale is a very good team with athletes across the board," Gettman said. "We were just trying to make it a game. We have a group of 10 seniors and they've been great from Day 1 – their attitude, their mentality, their unity."
Moody completed 13 of 20 passes for 202 yards and touchdowns to Wilson (five catches, 102 yards) and senior Dylan Westlake (four catches, 90 yards).
No. 8 in mind
Third-seeded Dayton had extra motivation going into its 50-36 win over No. 11 Yamhill-Carlton in a 3A quarterfinal Friday.
The Pirates were playing for junior teammate Ethan Kearns, who was recently diagnosed with cancer and was in the hospital recovering from emergency surgery. Both teams wore No. 8 decals on their helmets in support of Stearns, a Western Christian student who plays tight end and linebacker for Dayton.
Pirates senior running back Zach Smith wore Smith's jersey in the game and rushed for 283 yards and three touchdowns on 22 carries to lead the way.
"He's the kindest kid I know," Smith said. "He's the kindest guy on this football team, and he's not even out here, he's fighting for his life. I've got to show some pride in wearing his jersey. It means the world to me."
Shirts with Stearns' No. 8 also were available for purchase.
"I love it," said Dayton senior quarterback Boston Hodges, who returned the opening kickoff 81 yards for a touchdown and had three rushing scores. "It makes me emotional seeing it, but he deserves it. He's the kindest person ever. I love Ethan to death. He's a great human being."
-- Jeremy McDonald contributed to this report
New ground
Elkton entered rare territory after beating South Wasco County 58-34 in a 1A six-man quarterfinal. It was the Douglas County school's first playoff win since 1981, when the Elks reached the semifinals.
That means No. 3 Elkton (8-1) will play on artificial turf for the first time ever when it meets No. 10 Echo (7-3) in a semifinal Saturday at Hillsboro Stadium. The team's home field – lodged between Oregon Route 38 and the Umpqua River – doesn't even have lights.
"We're going to try to practice this whole week somewhere else on FieldTurf so we get kind of used to it," fifth-year coach Jeremy Lockhart said. "I've never experienced FieldTurf in my life."
It's not the only big-time experience for the Elks. The town has wrapped its arms around the players, making them "feel like rock stars," according to Lockhart.
"It's been fantastic," he said of how the town has rallied. "The last three weeks they're paying attention, like, "Hey, we've got something that might be pretty special here.' It's really cool to see the outpouring of support. The church hooking us up with a meal before the game, other businesses hooking us up. It's been really, really cool."
What sets this team apart from previous ones?
"This group is selfless," Lockhart said. "They're willing to accept their role to better the team. Not a single kid has gone hunting to miss a game. That's a big deal. That's a huge culture here, the hunting culture."
Elkton avenged last year's 46-12 playoff loss to South Wasco County. Senior Anthony Alimenti completed 11 of 20 passes for 217 yards and three touchdowns, two to sophomore Andrew Houx, and junior Jordyn Nederhood rushed for 113 yards and three scores.
Alimenti is having a big season on both sides of the ball. He has passed for 1,749 yards and 27 touchdowns with four interceptions and completed 23 PAT passes. On defense, he has seven interceptions, three forced fumbles and five fumble recoveries.
In its two previous semifinal appearances, Elkton lost in 1978 and 1981.
Highlights from the weekend's other quarterfinal games:
6A
Central Catholic dominated Lakeridge 42-6 as Cru Newman completed 17 of 25 passes for 230 yards and three touchdowns and ran for 83 yards and two scores on seven carries. The Rams had a 391-143 edge in yards. … Reigning champion West Linn routed Jesuit 59-14, taking a 28-0 lead in the first quarter. Baird Gilroy completed 21 of 28 passes for 342 yards and two touchdowns, both to Danny Wideman (10 catches, 161 yards), and ran for two scores. Jesuit's Lonnie Burt rushed for 165 yards on 19 carries. … Sherwood recorded its eighth shutout, holding Tigard to 122 yards in a 43-0 win. Treyson Eddleman rushed for 185 yards and four touchdowns and Keaton Fried and Evan Morris returned interceptions for scores. … Tualatin's Nolan Keeney passed for 316 yards and six touchdowns, two each to AJ Noland and Jayden Fortier, to lead his team past Nelson 47-14.
6A Columbia Cup
Barlow used some trickery to return a kickoff for a touchdown in the final minute and beat Liberty 37-36. The Falcons took a 36-30 lead with one minute left on a four-yard run by Tanner Steinbach. Barlow quarterback Karter Wilcox fielded the ensuing kickoff and threw it across the field to Sentori Martino, who raced 80 yards for a score. Brighton Jacobsen booted the go-ahead extra point. … Sunset dropped Metro League rival Mountainside 7-0, getting a touchdown run from quarterback Drew Nees (24 carries, 118 yards). The Apollos limited the Mavericks to 156 yards and got interceptions from Calvin Emms, Matt Lohman and Griffin Jevning. … Clackamas vanquished Newberg 35-16, taking over after trailing 16-14 at half. Jaxon Decker ran for more than 200 yards and Luke Baker had two rushing touchdowns and a receiving score. … South Medford, with 16 players serving a one-game suspension from an on-field altercation in the first round against Jefferson, blanked North Salem 35-0. Kameron Rague rushed for 146 yards and two touchdowns on 17 carries and Ryder Scheid ran for 104 yards on 13 carries.
5A
Wilsonville thumped Thurston 49-21 behind Kallen Gutridge, who completed 23 of 27 passes for 458 yards and seven touchdowns, two to Mark Wiepert (nine catches, 262 yards). The Wildcats had 681 yards and seven sacks. … Mountain View ousted Hillsboro 41-20 as sophomore Angel Valenzuela rushed for 192 yards and two touchdowns on 25 carries. Jack Foley and Brady Kennedy returned an interception and kickoff for scores, respectively. … Silverton took down Mid-Willamette Conference rival West Albany 41-14. Brody Sullivan had 20 carries for 107 yards and three touchdowns and Sawyer Teeney completed 16 of 20 passes for 166 yards and one touchdown and rushed for 88 yards and one score.
4A
Logan Whitlock rushed for four touchdowns, giving him 73 scores for his career, as Henley topped Junction City 35-14 and earned its first semifinal berth since 1990. … Marist Catholic trailed 27-21 before pulling away to beat Mazama 48-27. Nick Hudson, whose one-yard touchdown run put the Spartans up 28-27 at half, completed 19 of 27 passes for 320 yards and four scores. Christian Guerrero had five catches for 92 yards and three touchdowns. … Scappoose shook off a 19-3 deficit to defeat Cascade 24-19. Max Nowlin completed 32 of 44 passes for 248 yards and one touchdown and ran for a score, a one-yarder with eight minutes left to give the Indians the lead.
3A
Justin Walters and Ashton Crossen each ran for two touchdowns for Banks, which defeated North Valley 35-6. Kade Long completed 9 of 12 passes for 159 yards, including a touchdown to Lane Gilbert. The Braves led 21-0 after one quarter. … No. 13 seed South Umpqua won on the road for the second week in a row, blanking Special District 3 rival Lakeview 20-0 to avenge a 28-16 loss to the Honkers on Sept. 15. Jacob Logan rushed for 161 yards and two touchdowns on 22 carries and David Logan had an interception and fumble recovery for the Lancers, who held Lakeview to 127 yards.
2A
Reigning champion Oakland, with standout running back Gabe Williamson (broken hand) playing only defense, overcame a 12-0 deficit to knock out Gervais 32-18. Freshman quarterback Ryan Fullerton tossed two touchdown passes, including a 19-yard score to Waylon Browning to put Oakland ahead to stay with 16 seconds left in the first half. Jacob Chenoweth rushed for 100 yards on 18 carries and James Baimbridge ran for a score and had two interceptions. Gervais' Johnny Mariano returned the opening kickoff for a touchdown. … Regis escaped with a 27-20 win over Heppner as Kollin Schumacher completed 15 of 35 passes for 283 yards and one touchdown and ran for two scores. Parker Bartholomew caught six passes for 150 yards, including a 63-yard touchdown with 7:07 left for the final margin. Heppner cut the lead to 21-20 in the fourth quarter on an 85-yard pass from Mason Orem to Cameron Proudfoot and a two-point conversion. … Lowell ran over Gold Beach 48-20 with JaMar Thurman, who rushed for 259 yards and three touchdowns on 30 carries. Carter Harris threw two touchdown passes to Rowan Files (six catches, 113 yards). … Weston-McEwen led 44-18 at half on its way to a 59-18 win over Illinois Valley. Caleb Springer ran for a touchdown and caught a 49-yard scoring pass from Bryson Choin.
1A-8
Lost River rushed for 338 yards in handling Perrydale 49-14. Connor Dunlea rushed for 142 yards and three touchdowns on 15 carries and Kayden Hartman ran for 129 yards and one score on 16 carries. Perrydale's Brandon Lux had 24 carries for 102 yards and one touchdown and caught a scoring pass. … St. Paul broke a 22-22 tie in the fourth quarter to beat Imbler 34-22, getting a 67-yard touchdown run from Diego Medina and an 18-yard touchdown pass from George Pohlschneider to Ralph Pohlschneider to pull away. George Pohlschneider completed 13 of 17 passes for 303 yards and two touchdowns, both to Ralph Pohlschneider (10 catches, 144 yards), and Medina rushed for 101 yards and two scores on six carries. Imbler's Henry Treat tied the game in the third quarter by running for a three-yard touchdown and two-point conversion. … Crane led 28-0 after one quarter and 40-6 at half in dispatching Enterprise 64-24. ... Evin Warner scored seven touchdowns to propel Myrtle Point past Adrian 58-32. Warner had 122 receiving yards, catching four scoring passes, and rushed for 193 yards and three touchdowns. He also had 9.5 tackles and an interception. Logan Backman passed for 208 yards and five touchdowns and Billy Reynolds rushed for 156 yards. …
1A-6
Prairie City/Burnt River overwhelmed North Lake 47-0 to advance to the semifinals for the first time since 1990. Maison Teel rushed for 195 yards and three touchdowns and caught a 44-yard scoring pass for Prairie City, which limited North Lake to 24 total yards. … Echo ran away from Powers 46-18 as Dom Curiel passed for two touchdowns and scored three more, rushing for 146 yards and racking up 132 receiving yards. Both of his scoring passes went to Keegin Chitty (160 receiving yards). … Joseph outmuscled Eddyville 44-6, getting three touchdown passes from Kane Johnson. Gavin Russell ran for two touchdowns and Jaxon Grover scored rushing and receiving.