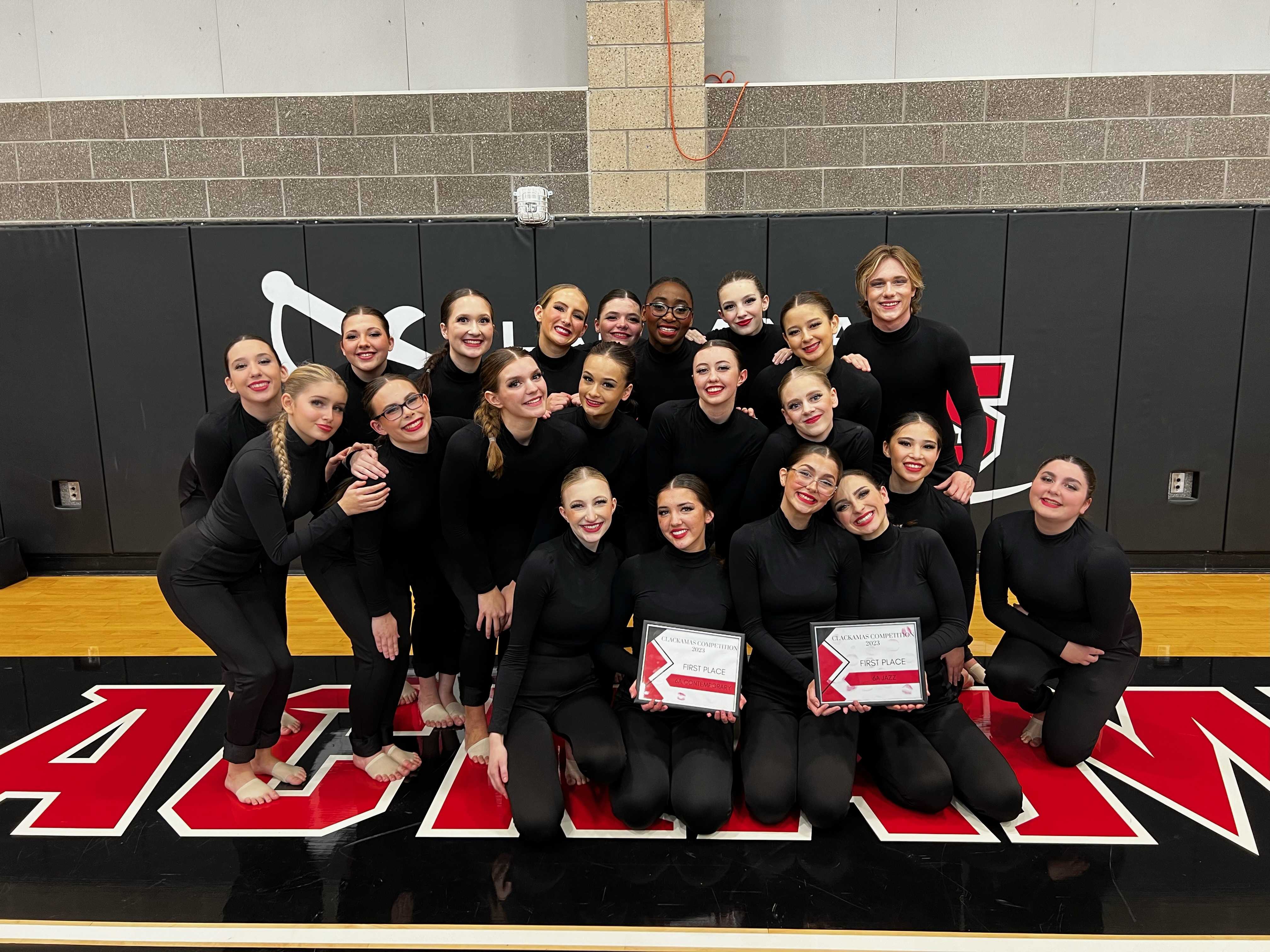 The Dance/Drill competition season has begun.
This season will have all of the familiar dance team categories, as well as some new opportunities for teams and dancers. Leading up to the DDCA Invitational on Dec. 9, teams can compete in the following dance categories: Contemporary, Jazz, Hip Hop, Kick, Modern, Novelty, and Pom.
A new element this year for dance is the opportunity for solos, duos, and trios to take the floor in competition. As always, dancers can also compete in drill down for some individual recognition during a competition day.
The Clackamas competition on Saturday, hosted by the Cavalettes, brought dance teams together. Taking the floor were teams from Canby, Centennial, Cleveland, Grant, Gladstone, Lakeridge, Lebanon, Nelson, Newberg, Pendleton, Philomath, Reynolds, Roosevelt, Scappoose, South Albany, Sprague, Valley Catholic, West Linn, Wilsonville, and the host school, Clackamas.
Depending on the number of teams in a category, teams were either divided into school classifications, 1A-5A and 6A, or combined into one group 1A-6A. Congratulations to all of the routines that entertained a packed house of families and supporters.
Top winners for the day in each category included the following teams:
Contemporary -- Valley Catholic (1A-5A), Clackamas (6A)
Modern -- Canby (1A-6A)
Jazz -- South Albany (1A-5A), Clackamas (6A)
Hip Hop-- Lebanon (1A-5A), Lakeridge (6A)
Pom -- Lebanon (1A-6A)
Novelty -- Sprague
Soloists competed in either a sophomore-junior group or a senior group. The senior soloists were Eva Phillips (Lebanon), Jadyn McMullen (Philomath), Julia (Centennial), and Sasha Nagy (Wilsonville). The sophomore-junior soloists were Elizabeth Burriel (Philomath), Grace Broadwater (Nelson), and Ginnah Hopper (Philomath).
One trio was performed by Gladstone dancers Jaclyn Trappe, Ariana Shevey, and Yuvia Mayorga Marin. These dancers and athletes did a great job introducing the new solo/duo/trio category to the competition day.
Congratulations to the highest scores of the day with Sprague's Novelty (1A-6A) receiving an 80.11, Lebanon senior soloist Eva Phillips receiving an 80.39 and Clackamas' Contemporary (6A) receiving an 83.06.
"I was anxious and excited to be able to show everyone what we've been working on and I love seeing all the teams. I think it was a great way to start our competition season," Phillips said.
Dancers also competed in Novice and Advanced drill down, resulting in a top 10 for each level.
Thank you to the Clackamas Cavalettes for hosting the event. The Dance Team season continues on Nov. 18 at Gladstone and Reynolds, and on Dec. 2 at Putnam and West Albany.