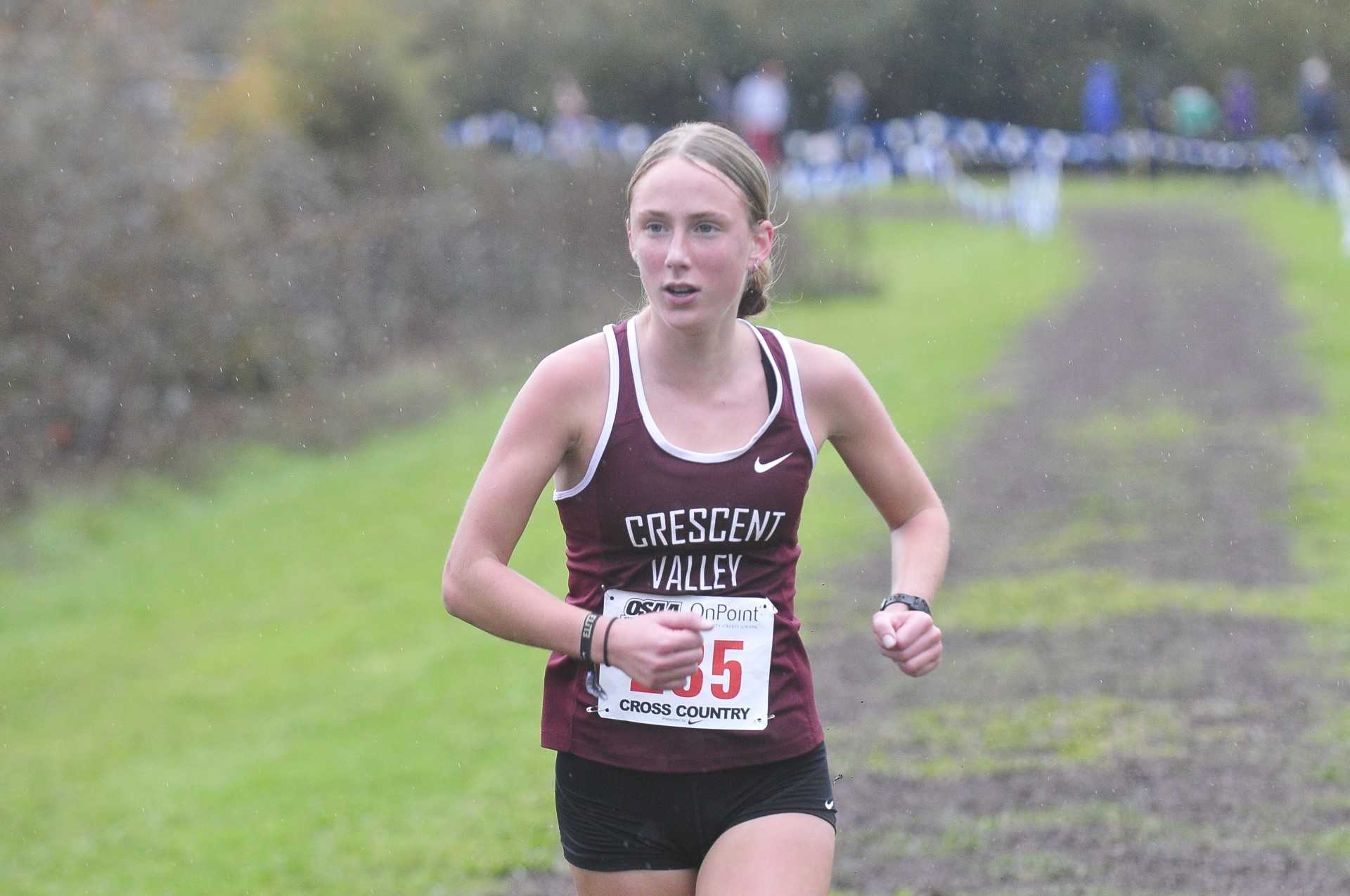 By JOHN GUNTHER/for OSAAtoday
EUGENE — Crescent Valley's Emily Wisniewski set a new girls state course record on Saturday while Summit extended its impressive streak of team titles at the OSAA/On Point Community Credit Union championships at Lane Community College.
In one of the most anticipated races of the day, Wisniewski raced through wind and rain to finish the 5,000-meter course in 17 minutes and 5 seconds, becoming a back-to-back-to-back state champion in the process.
The junior finished more than a minute ahead of Canby's MacKenzie Bigej (18:08) while the drama played out behind them in a tight team race between Summit and Crater.
When the points had been counted, the Storm continued a streak of consecutive titles that dates to 2008, edging the Comets by just two points.
"We knew we had it in us," said Skye Knox, who finished 10th and was just one of two returning runners from the state squad last fall.
Carrying on the legacy comes with a lot of pressure, she added.
"We knew we couldn't take it for granted."
The Storm know other teams are aiming for them, said Eva Dicharry, who was Summit's first runner across the line, in seventh.
"I feel we use that as a strength, not a pressure factor," she said.
Crater's first two runners came across ahead of Dicharry, with Lindsay Siebert third and Emma West fourth.
Summit's other scoring runners were Tayin Brown in 13th, Elizabeth Connolly in 17th and Ainslie Knox in 28th. Leighton Allen was 33rd.
Crater's third runner was Brynn Davenport in 21st, with Reese Garnica 23rd, Hannah Pygman 29th and Haddie Barsalou 30th.
Summit scored 64 points, to 66 for Crater. It was the 15th straight state title in 5A or 6A for Summit.
Crescent Valley, which tops the coaches poll, was third with 85 points.
Wisniewski led the way with her record finish.
"It was a hard effort for not an ideal time," said Wisniewski, who had hoped to crack the 17-minute barrier. "It was very sloppy, especially in the back section there were a lot of puddles. That makes it extremely hard (to run fast)."
She met her goals of a state title and course record, though. The old record was 17:26, set by 6A runners Ella Donaghu of Grant in 2015 and Sunset's Ember Stratton in 2016.
Caldera of Bend, competing as a team at state for the first time, placed fourth in the team race.
The rest of the top 10 individuals included North Eugene's Artana Nice in fifth, Lillian Weiss of Crescent Valley in sixth, Maddie Carney of Caldera in eighth and Kate Middleton of Corvallis in ninth.
6A
In the other anticipated race of the day, Jesuit and Lincoln both placed their top five runners in the first 15 finishers overall, but Jesuit, led by individual champion Emma Bennett, prevailed in the team race.
Bennett crossed the line in 18:00, 17 seconds ahead of Lincoln freshman Ellery Lincoln.
Jesuit had three other runners in the top 10, with Liliana Hudnut fifth, Maeve O'Scannlain sixth and Amalie Bell ninth. Maura O'Scannlain was 15th.
Lincoln's other scoring runners all were between 10th and 14th, with Sophia Malinoski, Keira Saavedra, Amelia James and Elyse Henriksen rounding out the team's scoring.
Jesuit's top-heavy team effort yielded 32 points, to 46 for Lincoln.
Bennett said Jesuit's key was its teamwork, not just Saturday but all season.
"It's a huge advantage getting to train with them every day," she said. "They want it just as bad as you do."
The Jesuit runners also all have messages written on each hand — the letters WIM (want it more) on one and FTTLS (fight to the last step) on the other. They provide an added boost.
Lincoln had beaten Jesuit at a meet in Washington.
"At Hole in the Wall, they beat us by a large margin," Bennett said. "We knew it would be close, one or two points. We made it a quest of running as a pack."
She added that Saturday's race was just one big one. The regional meet in Boise, Idaho, next weekend is the other.
"We're racing them again in just a week — we can't take anything for granted," Bennett said. "The ultimate goal is getting to nationals."
Sunset was third and Lakeridge fourth in the team race Saturday, both finishing with 159 points. Sunset's sixth runner crossed the line 12 spots in front of the sixth for Lakeridge.
Nelida Dalgas of North Salem was third, Tualatin's Lauren Ayers fourth, Elissa Schaeffer of Sunset seventh and Avery Meier of West Salem eighth.
4A
La Grande had the top three finishers but Philomath edged the Tigers to win the team title.
Cecilia Villagomez pulled away from her teammates to win the individual title in 18:57, with Brooke Perry second in 19:14 and Emily Tubbs third in 19:29. Teammate Kiah Carlson just missed a podium finish, placing 11th in 20:06.
But Philomath had all of its scoring runners in the top 27 and finished with 66 points to edge La Grande, which had 71.
Adele Beckstead was ninth and Ana Candanoza 10th for the Warriors, with Malea Lattin 14th, Lucy King 15th and Hannah McDaniel 27th.
"It feels really good," said Beckstead. "All of our hard work paid off."
The team finish was a reverse from 2022.
"Last year, we got second to La Grande," Beckstead said. "That motivated us a lot this year."
Villagomez gave credit to the Warriors for running a strong race and said she was proud of all her La Grande teammates.
"I genuinely think we all worked as hard as we could," she said, adding that teamwork was the biggest reason the Tigers had the top three finishers.
"We train together and work really hard together in practices and races," she said. "I'm real proud of us."
The rest of the top 10 individuals were Junction City's Libby Fox in fifth, Seaside's Maddie Menke in sixth, Junction City's Lola Esplin in seventh and Crook County's Ruby Snider in eighth.
Junction City was third in the team race with 122 points and The Dalles fourth with 141.
3A/2A/1A
Jaya Simmons won the individual title for Valley Catholic and Oregon Episcopal prevailed in the team race.
Simmons pulled away from last year's champion, Daisy Lalonde of East Linn Christian, to win in 18:20. Lalonde finished in 19:03.
"I'm really excited," said Simmons. "I was working hard for this all year. It's a dream."
Simmons was third as a sophomore last fall and was even with Lalonde as they passed the 2-mile mark.
"On the second lap around the ponds I decided to kick," she said. "I went early. I'm not really confident with my track kick.
"It worked out well."
Oregon Episcopal was led by Morgan Matthews, who finished fifth. The Aardvarks scored 66 points to beat runner-up Siuslaw (95).
OES had been dreaming of the trophy since finishing second last fall, Matthews said, and earned the school's first girls title in cross country since 1988.
Evelyn Peters was 11th for OES, Kate Vasanth 14th, Ruby Gibbs 23rd and Lauren Tittel 33rd.
"A lot of the girls were a little disappointed with their individual performances," Matthews said as she held the blue trophy in the rain after awards were presented.
That trophy was the ultimate goal.
"Coach asked us up there on the hill if we were happy, and we all said, 'Yes,'" she said.
Siuslaw was led by Alison Hughes in 15th place and Corduroy Holbrook in 17th.
Heppner/Ione/Condon was third with 125 points, three points in front of Enterprise/Joseph/Wallowa.
The rest of the top 10 individuals included Sophie Schoolmeester of Banks in third, Lily Nichols of Heppner/Ione/Condon in fourth, Kalkidan Ellis of Western Christian in sixth, Sierra Simmons of Valley Catholic in seventh, Marley Petrey of Bandon in eighth, Owyhee Harguess of Enterprise/Joseph/Wallowa in ninth and Libby Smith of La Pine in 10th.
Heppner/Ione/Condon was third in the team race with 125 points and Enterprise/Joseph/Wallowa fourth with 128.