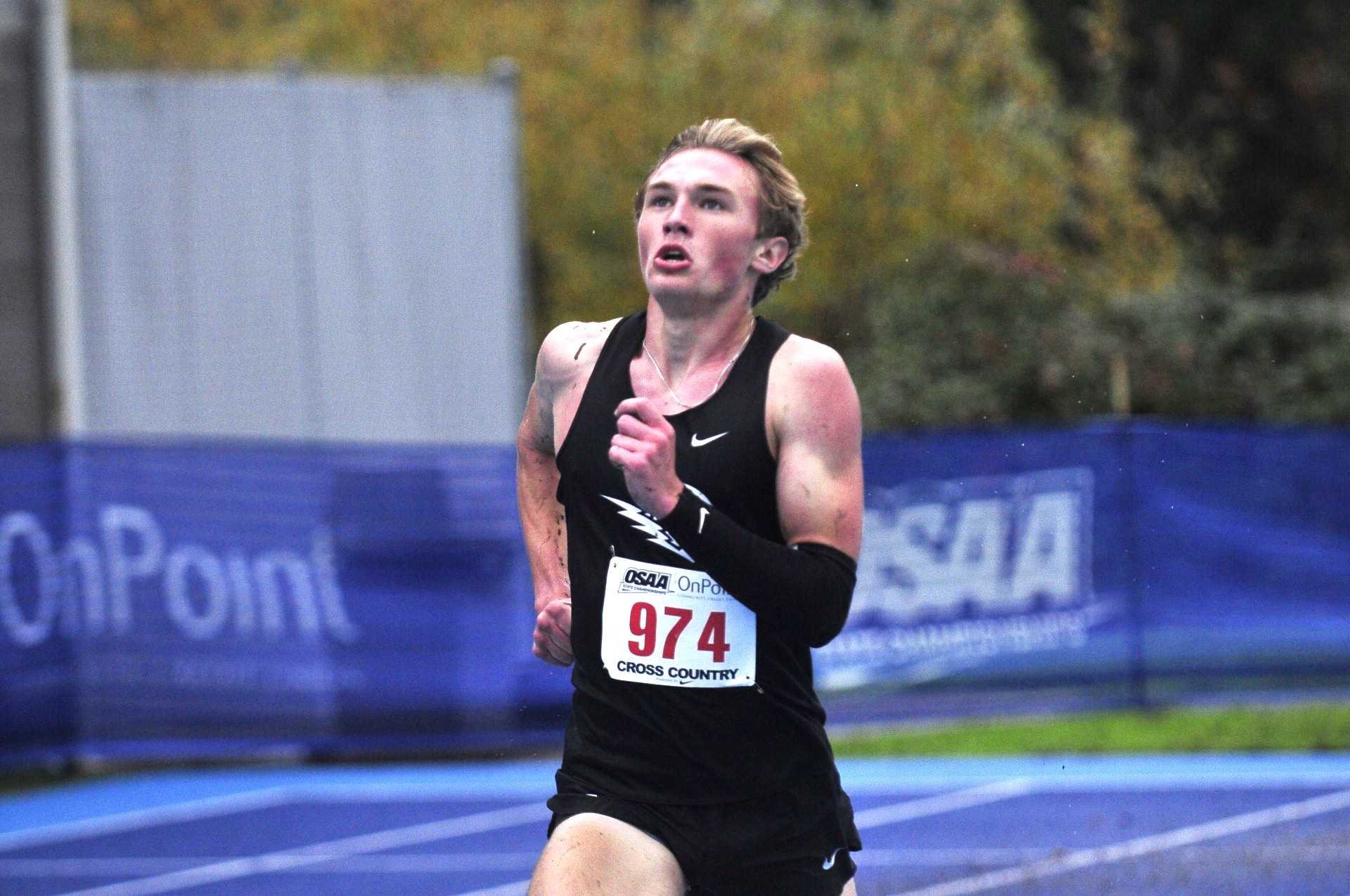 By JOHN GUNTHER/for OSAAtoday
EUGENE — West Salem's Jack Meier and the Franklin team both got breakthrough wins on Saturday in the 6A portion of the OSAA/On Point Community Credit Union cross country championships at Lane Community College.
Meier, who was fourth in cross country last fall and second in the 3,000 meters on the track last spring, pulled away in the final mile to win the individual title in 15 minutes and 23 seconds on a muddy course that already had seen eight races when the 6A boys toed the starting line.
Asher Danielson of Ida B. Wells was second in 15:40, Zafer Courselle of Franklin third in 15:42 and Jesuit's Caden Swanson fourth in 15:43. Meier said he has raced against Danielson and Swanson for four years now and knew he had to make a move early.
"I knew both of those guys, if we were neck and neck on the track, they would get me," he said.
He never gave them a chance.
"I went right at 2 miles," he said. "I knew this is where I'm going to push."
The result was the state title.
"Being an Oregon state champion — it's super hard to do," he said. "Being able to come here and execute, it's amazing."
Franklin's boys did the same thing, with three of the top six finishers and six of the top 21.
Brennan McEwen was fifth and Emil Nelson sixth, with Rowan Haywood-O'Neill 14th, Leaf McQuillen 19th and Rowan Horner 21st.
Franklin finished with 43 points, to 85 for Jesuit.
"It's a pretty awesome feeling," Nelson said. "We hadn't raced them as a full team this season and didn't really know what to expect."
But they had confidence.
"We all knew we had it in us," said Courcelle. "We believed in each other."
Franklin and Jesuit were even in the team race through 2 miles, but Jesuit's Matthew Wroblewski dropped out and Franklin's runners were gaining ground as individuals. Nelson was 21st after a mile and 12th after 2 miles before surging up to a podium finish.
"We were starting to hammer it that last mile," Courcelle said.
"We knew it was anybody's race on the day," added McEwen. "If we went into it and raced as a team, we could do it."
Franklin also won the title in 2019, when the current team members all were in middle school.
"It's so amazing to come back and do it again," Nelson said.
Ida B. Wells finished third in the team race with 154 points and Central Catholic was fourth with 169.
Others in the top 10 were Sheldon teammates Malachi Schoenherr in seventh and Adam Reeder in eight and Central Catholic's Finn Briscoe in 10th.
5A
Crater dominated the team race while winning its third straight title, led by individual winner Tayvon Kitchen and runner-up Josiah Tostenson.
The Comets had their top five runners in the first 13 and all seven within the top 26 and scored 37 points, with Summit second with 64.
"It means so much," said Kitchen, a junior who has been on all three of the winning squads. "Hopefully (we) can get all four. It's so awesome to win up here."
Kitchen finished in 15:26 and Tostenson in 15:32. Crater's other runners were Shaun Garnica in ninth, Caleb Doddington in 12th, Grant Headley in 13th, Ivar Hokanson in 18th and Jeffrey Hellman in 26th.
Kitchen said the conditions were tough for a fast time.
"It's hard weather," he said. "It's muddy for sure."
He was pleased with the winning time.
"This is a tough course," he said.
Summit had an impressive team effort, just not enough to keep up with the Comets. Noah Laughlin-Hall was third and Hayden Boaz sixth for the Storm, which had four in the top 16.
Corvallis was third with 169 points and South Albany fourth with 175.
The rest of the top 10 included Caldera's Mason Morical in fourth, Central's Ty Cirino in fifth, Wilsonville's Liam Wilde in seventh and South Albany teammates Matthew Resnik and Zander Campbell in eighth and 10th, respectively.
4A
Newport's boys didn't even qualify for the state meet last fall, but on Saturday they put together a strong team effort to capture the first boys cross country title in school history for the Cubs.
"Last year we struggled with a lot of injuries and lack of commitment," said Finn Collson, who finished second behind Cottage Grove's Carter Bengtson on Saturday. "This year, we trained super hard in the summer and all season and it paid off."
Noah Larsen was fourth and Connor Brown fifth for Newport and teammates Calvary Votaw and Avery Chandler were 17th and 26th to give the Cubs a team score of 49 points, far ahead of runner-up Crook County, which had 87.
"It's amazing," Collson said. "We ran super well today. We were real confident coming in. To be able to perform like that and score 49 points is great."
Bengtson led from the start and was never challenged, finishing in 15:49, about 40 seconds ahead of Collson.
"It's what I've been doing all season," he said of running from the front. "I know what pace I was going. I can go that pace the whole time."
He admitted the winning time was a little slower than he was hoping for — rain made the course a little sloppy.
"We weren't expecting a fast race today," he said as he started to recover before a playoff soccer match for the Lions on Saturday evening. The Lions beat Estacada 4-2 to advance to the semifinals Tuesday against The Dalles.
"I love doing both (sports)," he said. "It's two teams I love playing with and hanging out with."
Kael Feeley of Phoenix finished third, while the rest of the top 10 included Henley's Samuel Iverson in sixth, Gavin Humphreys of Crook County in seventh, Daniel Brown of Baker in eighth, Conor Thompson of Marist Catholic in ninth and Tyson Long of The Dalles in 10th.
The Dalles finished third in the team race with Molalla fourth.
3A
Vale's Trevor Stewart edged Jett Leavitt of Enterprise/Joseph/Wallowa in one of the best individual races of the day and Valley Catholic used strong team depth to take the blue trophy.
Stewart and Leavitt, league rivals throughout the season, were stride-for-stride most of the final 300 meters on the track before Stewart prevailed in 16:18, a second ahead of Leavitt.
"Once I saw I was in the right spot, I knew this was my race," Stewart said. "That final 300, I knew I had to be strong."
The race plan was to be just behind the leaders, even though Stewart said he was itching to go in front earlier, and it paid off when he out-kicked Leavitt, who won the 3,000 meters last spring for Joseph.
Leavitt also beat Stewart in all the regular-season meets until last week's district meet. Stewart won the biggest one.
"This is the first-ever individual title for Vale," he said. "It's a pretty big crown I'm wearing. It means a lot."
Valley Catholic was led by Morgan Amano in sixth place and the Valiants scored 63 as a team, well ahead of Oregon Episcopal and Enterprise/Joseph/Wallowa, which each had 117 (OES got the second-place trophy based on a faster second runner). Siuslaw was fourth with 134.
Amano said he got excited when he was watching his teammates come across in front of the runners in green (OES), black (Enterprise/Joseph/Wallowa) and blue (Siuslaw) uniforms.
"We've been on the podium the last few years, but not first," Amano said. "This is definitely exciting."
Peter Davis was 13th, Kyle Becker 14th, Jonah Mittman 21st and Silas Wade 23rd for the Valiants.
The other runners in the top 10 were Jayden Warner of Warrenton in third, Jonah Lyman of Enterprise/Joseph/Wallowa in fourth, Diego Zambrano of Santiam Christian in fifth, Michael Ragan of Cascade Christian in seventh, Brayden Linton of Siuslaw in eighth, Ronan Gantzos of Oregon Episcopal in ninth and Amin Diani of Banks in 10th.
2A/1A
In the days first race, Union/Cove reversed the result of 2022, edging Knappa in a team race almost as tight as a year ago,
One year after finishing two points behind the Loggers, the Bobcats placed four runners in the top 12 to edge Knappa by three points.
Heppner/Ione/Condon's Grady Greenwood, second last fall, used a surge on the track to pass Union/Cove's Eli Williams and win the title in 16:12.
"It means a lot," said Greenwood, who also won the 1,500 meters for Condon in track last spring.
Greenwood led through the first two miles but Williams surged in front and opened a gap before Greenwood ultimately prevailed on the track.
"I was telling myself there is 300 meters to go, you've done this 1,000 times," he said. "There's no clear-cut winner until the finish. I wanted to give myself the best chance."
Williams, meanwhile, led Union/Cove to the crown, with teammate Nathanael O'Reilly seventh, William Mallory 10th and Mason Ritter 12th. Ian Garlitz rounded out the Bobcats' scoring group in 25th place and David McDonald was 26th. Ritter was the key runner for the Bobcats, picking up 10 spots in the final mile of the race.
"That's incredible," Williams said, noting that the sophomore Ritter is the team's best runner from Union. All three of the runners in the top 10 are from Cove.
Williams said he was hoping to win the individual crown, but that the team victory was sweeter. Watching his teammates finish behind him was rewarding, he said.
"I knew Knappa and us were close," he said. "Every person is a point."
Knappa was nearly as good as the Bobcats, with Wyatt Jacobson and Joshua Peterson third and fourth, respectively, Corbin Roe and Oskar Peitsch 15th and 16th and Soren Brown 24th.
The rest of the top 10 were Stanfield/Echo's Pablo Galindo in fifth, Curtiss Heier of Illinois Valley in sixth, Gideon Tubbs of Pine Eagle in eighth and Adam Gordon of Imbler in ninth.
Union/Cove finished with 44 points in the team race, followed by Knappa with 47. Southwest Christian edged Monroe 120-121 for third place.