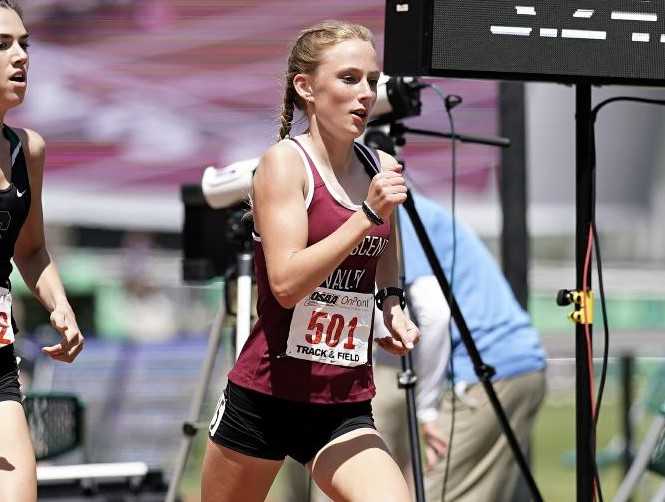 BY JOHN GUNTHER/for OSAAtoday
One of the top high school runners in the nation will be both chasing an individual state record and trying to lead her team to an elusive title while several of the team races could be compelling Saturday when the first champions of the school year are crowned in the OSAA/On Point Community Credit Union cross country championships at Lane Community College in Eugene.
Crescent Valley junior Emily Wisniewski is chasing her third straight individual title as well as the overall course record and hoping the Raiders can end Summit's long streak of team state crowns that dates to 2008.
That 5A girls showdown is one of the later events of the day when nine races are contested, starting with the 2A/1A boys race at 10 a.m. The first race is followed by the 3A/2A/1A girls at 10:35, the 3A boys at 11:10, the 4A girls at 11:45 and the 4A boys at 12:20 p.m. After a break for the athletes from the larger schools to get a chance to warm up on the course, the 5A girls race at 1:45 pm., followed by the 5A boys at 2:20, the 6A girls at 2:55 and the 6A boys at 3:30.
Admission, good for all the races, is $12 for adults and $6 for students. Tickets can be purchased in advance through HomeTown Ticketing on the OSAA website and through the OSAA Mobile App. Tickets can be purchased with cash at the gate on Saturday.
Wisniewski has been dominant in Oregon and ranks third among high school girls in the nation. Her season-best time of 16 minutes and 27 seconds at the Rose City Invitational is more than a minute faster than Canby soccer specialist MacKenzie Bigej.
The 5,000-meter state course record at Lane Community College is 17:26, by Grant's Ella Donaghu in 2015 and Sunset's Ember Stratton a year later. Fiona Max of Summit ran 16:51 in 2019 on a course later determined to be 80 meters short.
If conditions are good, Wisniewski has a good chance to set a new standard. Her winning time last fall was 17:58.
The team race could be tight with Crescent Valley, Summit and Crater. Five seniors led Summit to the state title last year, with the only returners sophomores Skye Knox (15th last fall) and Taylin Bowen (25th). Wisniewski's teammate Lillian Weiss, who was sixth as a freshman last fall, ranks fourth, while Sasha Kelly ranks 13th.
Summit won the only head-to-head meeting with Crescent Valley, in the Rose City Invitational. Sophomore Eva Dicharry ranks eighth and Knox ninth this fall.
Crater's Lindsay Siebert and Emma West were third and fifth at state last year and West ranks third this fall, with Siebert sixth and Haddie Barsalou 17th.
Both Crescent Valley and Crater ranked ahead of Summit in the final coaches poll.
The 6A girls has a similar storyline, with Lincoln trying to knock off Jesuit, which has won every 6A championship that didn't include Summit since Sunset won in 2015. The Cardinals beat Jesuit at the Nike Hole in the Wall Invitational in Washington in early October and are ranked first in the coaches poll.
Lincoln is led by freshman Ellery Lincoln, who has the second best time this season in 6A (17:21) behind Lakreridge's Chloe Huyler (17:00).
Lincoln's Sophia Malinoski ranks fifth, Keira Saavedra seventh, Amelia James 17th and Elyse Henriksen 21st.
Jesuit's Emma Bennett ranks fourth, with Liliana Hudnut sixth, Maeve O'Scannlain 13th, Amalie Beil 17th and Elizabeth Welsh, Maura O'Scannlain and Audrey O'Neill 24th to 26th.
Maura O'Scannlain was third at last year's state meet, one spot in front of Saavedra and two in front of Hudnut.
In the 4A girls race, La Grande will be looking to repeat while returning the second-, third- and fourth-place finishers from last fall — Cecilia Villagomez, Emily Tubbs and Brooke Perry. Villagomez (18:20) and Perry (18:40) have the top two times this fall and Tubbs ranks fifth.
Philomath is ranked first by the coaches, led by fourth-ranked Ana Candanoza and Adele Beckstead, who placed fifth last fall.
East Linn Christian's Daisy Lalonde is trying to win her second straight 3A/2A/1A title, though Valley Catholic's Jaya Simmons has the top time this fall (17:50). Oregon Episcopal had the top spot in the coaches poll, led by Lauren Tittel, who ranks second this fall and was second behind Lalonde last year.
When the boys toe the starting line, both Jesuit and Crater are expected to repeat as team champions, though Franklin will challenge Jesuit in the 6A race.
Jesuit has five of the top 15 runners in the 6A season rankings led by third-ranked Caden Swanson and fifth-ranked Matthew Wrobleweski. Franklin, meanwhile, has five of the top 17, led by fourth-ranked Zafer Courcelle.
Asher Danielson of Wells has the top time (14:47).
In the 5A race, Crater returns four placers from last fall — Josiah Tostenson (sixth), Caleb Doddington (eighth), Tayvon Kitchen (ninth) and Shawn Garnica (10th). Tostenson has the state's top time for all classifications (14:38), just ahead of Kitchen (14:41), both run at the Crater Twilight Invitational.
Newport is seeking its first-ever boys state title in the 4A race after winning the Oregon West Conference meet to qualify as a team for the first time since 2018. The Cubs top the coaches poll and are led by juniors Noah Larsen, Finn Collson and Connor Brown, who rank third, sixth and 13th, respectively. No other 4A schools have even two of the top 15.
Cottage Grove's Carter Bengtson, who was sixth last year, has the classification's top time (15:41).
Top-ranked Valley Catholic hopes to reverse last year's runner-up finish to Siuslaw in the 3A race and has four of the top 17 runners, led by fifth-ranked Peter Davis.
In the day's first race, Knappa will be trying to repeat as 2A/1A champ after edging Union/Cove by two points last fall. This year, Knappa has five of the top 27 runners for the season led by third-ranked Wyatt Jacobson and fourth-ranked Joshua Peterson.
Union/Cove has five of the top 29, led by second-ranked Eli Williams and fifth-ranked Nathanael O'Reilly.
Grady Greenwood of Heppner/Ione/Condon is ranked first after finishing second to teammate Trevor Nichols last fall.
A breakdown of the meets:
Girls
6A
Teams to watch: Lincoln, Jesuit, Lakeridge, Lake Oswego
Top times: Chloe Huyler, Lakeridge, 17:00; Ellery Lincoln, Lincoln, 17:21; Nelida Dalgas, North Salem, 17:32; Emma Bennett, Jesuit, 17:41; Sophia Malinoski, Lincoln, 17:45.
Last year: Jesuit easily won the state title, led by third-place finisher Maura O'Scannlain and Liliana Hudnut, who was fifth. Ana Peters of Lake Oswego was the individual winner in 17:56.
Top returning placers: Ella McGillis, Central Catholic (second); O'Scannlain, Jesuit (third); Keira Saavedra, Lincoln (fourth); Hudnut, Jesuit (fifth); Dalgas, North Salem (sixth); Sabine Kim, Tigard (eighth); Josephine Fale, Ida B. Wells (ninth).
5A
Teams to watch: Crescent Valley, Summit, Crater, Caldera
Top times: Emily Wisniewski, Crescent Valley, 16:27; MacKenzie Bigej, Canby, 17:31; Emma West, Crater, 17:47; Lillian Weiss, Crescent Valley, 17:53; Artana Nice, North Eugene, 18:01.
Last year: Summit had four seniors in the top 10, led by Barrett Justema, to beat Crater, which had three of the top 10, 36-70. Crescent Valley's Wisniewski won her second straight state title.
Top returning placers: Wisniewski, (first); Lindsay Siebert, Crater (third); West, Crater (fifth); Weiss, Crescent Valley (sixth).
4A
Teams to watch: Philomath, La Grande, Klamath Union, Junction City
Top times: Cecilia Villagomez, La Grande, 18:20; Brooke Perry, La Grande, 18:40; Isabela Coffman, Klamath Union, 19:00; Ana Candanoza, Philomath, 19:16; Emily Tubbs, La Grande, 19:18.
Last year: La Grande's Villagomez, Tubbs and Perry finished second through fourth behind winner Kyla Potratz of Phoenix to lead the Tigers to the title with 62 points. Philomath was second with 84.
Top returning placers: Villagomez, La Grande (second); Tubbs, La Grande (third); Perry, La Grande (fourth); Adele Beckstead, Philomath (fifth); Alaina Casady, The Dalles (seventh); Coffman, Klamath Union (eighth); Kiera Welch, Henley (ninth); Sofia Kaaen, Baker (10th).
3A/2A/1A
Teams to watch: Oregon Episcopal, Siuslaw, Sisters, Valley Catholic.
Top times: Jaya Simmons, Valley Catholic, 17:50; Lauren Tittel, Oregon Episcopal, 18:04; Daisy Lalonde, East Linn Christian, 18:09; Sophia Schoolmeester, Banks, 18:19; Morgan Matthews, Oregon Episcopal, 18:36.
Last year: Lalonde won the individual title for East Linn Christian while Enterprise/Jospeh/Wallowa won the team title with 63 points, to 84 for Oregon Episcopal and 95 for Siuslaw.
Top returning placers: Lalonde, East Linn Christian (first); Tittel, Oregon Episcopal (second); Simmons, Valley Catholic (third); Schoolmeester, Banks (fifth); Sydney White, Burns (sixth); Matthews, Oregon Episcopal (ninth); Lily Nichols, Heppner (10th).
Boys
6A
Teams to watch: Jesuit, Franklin, Wells, Central Catholic
Top times: Asher Danielson, Wells, 14:47; Jack Meier, West Salem, 14:56; Caden Swanson, Jesuit, 15:00; Zafer Courcelle, Franklin, 15:06.
Last year: Jesuit ran away with the team title by placing four runners in the top eight, including champion Jacob Nenow, Gus Clevenger, Joshua Augustine and Swanson.
Top returning placers: Meier, West Salem (fourth); Swanson, Jesuit (eighth); Danielson, Wells (16th); Matthew Wrobleski, soph, Jesuit (19th).
5A
Teams to watch: Crater, Summit, Corvallis, South Albany
Top times: Josiah Tostenson, Crater, 14:38; Tayvon Kitchen, Crater, 14:41; Noah Laughlin-Hall, Summit, 14:53; Shaun Garnica, Crater, 14:54; Hayden Boaz, Summit, 14:55.
Last year: Crater had five of the first 10 finishers, led by record-setting Tyrone Gorze (14:37) to score 30 points and easily win the title.
Top returning placers: Tostenson, Crater (sixth); Caleb Doddington, Crater (eighth); Kitchen, Crater (ninth); Garnica, Crater (10th).
4A
Teams to watch: Newport, Crook County, The Dalles, Philomath
Top times: Carter Bengtson, Cottage Grove, 15:41; Kael Feeley, Phoenix, 15:55; Jaxson Stovall, Marshfield, 16:11; Noah Larsen, Newport, 16:19; Conor Thompson, Marist Catholic, 16:21; Finn Collson, Newport, 16:22.
Last year: The Dalles had two of the top four finishers, including runner-up Juan Diego Contreras, and edged Philomath for the team title 57-60. Senior Alexander Garcia-Silver set a new 4A course record 15:22 and became Marshfield's second repeat champion, joining legendary Steve Prefontaine.
Top returning placers: Bengtson, Cottage Grove (sixth); Connor Brown, jr, Newport (seventh); Carter Harmon, sr, Klamath Union (eighth); Samuel Iversen, Henley (11th); Daniel Brown, Baker (13th).
3A
Teams to watch: Valley Catholic, Oregon Episcopal, Siuslaw, Enterprise/Joseph/Wallowa
Top times: Jayden Warner, Warrenton, 16:01; Trevor Stewart, Vale, 16:05; Jonah Lyman, Enterprise, 16:06; Diego Zambrano, Santiam Christian, 16:13; Peter Davis, Valley Catholic, 16:16; Brayden Linton, Siuslaw, 16:16.
Last year: Siuslaw dropped down to 3A and won the title with 52 points to 75 for Valley Catholic. Santiam Christian's Benjamin Bourne was the individual winner.
Top returning placers: Stewart, Vale (fourth); Morgan Amano, Valley Catholic (eighth); Zambrano, Santiam Christian (ninth); Jett Leavitt, Enterprise/Joseph/Wallowa (12th); Linton, Siuslaw (12th).
2A/1A
Teams to watch: Knappa, Union/Cove, Southwest Christian, Heppner/Ione/Condon, Monroe.
Top times: Grady Greenwood, Heppner, 15:51; Eli Williams, Union/Cove, 15:58; Wyatt Jacobson, Knappa, 16:19; Joshua Peterson, Knappa, 16:35; Nathanael O'Reilly, Union/Cove, 16:38.
Last year: In the closest team race of the day, Knappa edged Union 53-55 to take the team title, led by third-place finisher Isaiah Rodriguez. Trevor Nichols edged Heppner/Ione/Condon teammate Grady Greenwood by two seconds to win the individual title.
Top returning placers: Greenwood, Heppner (second); Williams, Union/Cove (fifth); Peterson, Knappa (eighth); Jacobson, Knappa (12th); O'Reilly, Uion/Cove (14th).