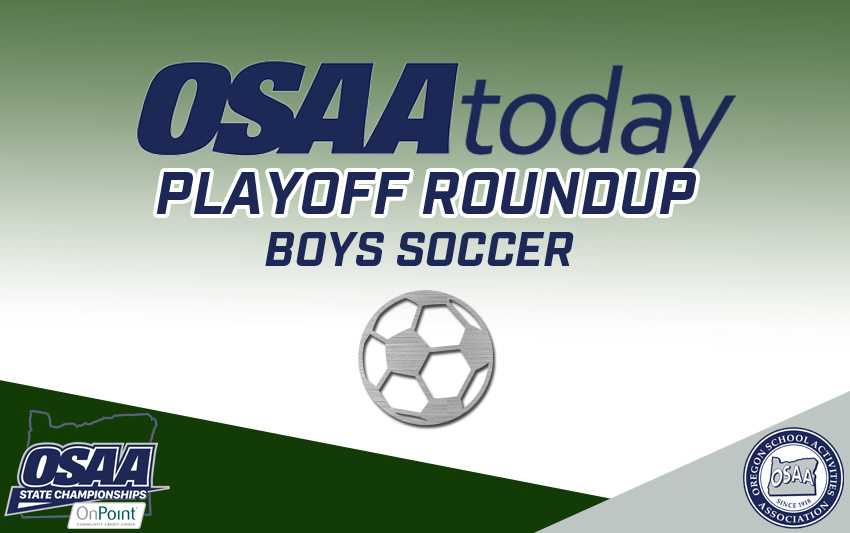 SALEM – Eighth-seeded Blanchet Catholic needed a dramatic late rally to pick up its first boys soccer playoff win since 2014 on Wednesday night.
The host Cavaliers (11-2-3) came back from down two goals in the final 10 minutes of regulation to defeat No. 9 Creswell 5-3 in overtime in the first round of the 3A/2A/1A playoffs.
In a six-minute span, Blanchet Catholic turned a 2-0 deficit into a 3-2 lead, pulling ahead on a goal by junior midfielder Keyvi Rocha-Alonso with 4:17 left in regulation. Creswell answered 30 seconds later to make it 3-3, and the game went into overtime.
Rocha-Alonso scored his third goal of the match 90 seconds into the first overtime. Blanchet Catholic added an insurance goal two minutes into the second overtime.
Rocha-Alonso reveled in the winning atmosphere.
"When you have fans, you make them come out, you have to give them a show," he said. "I told everyone before the game that we may not have all the talent, all the players who play club, but we've got heart and we showed that today.
"It's the fans, the passion, my family. The atmosphere. That's what it is."
Under the playoff pressure, the Cavaliers produced five goals in a 22-minute span.
"A lot of us put our heads down 20 minutes (into the second half), we saw that they were tired and we picked our heads right up," Cavaliers sophomore goalkeeper Christian Orozco said. "We knew it wasn't over. So we just had to finish it out, and we managed to finish it out."
The game was scoreless until Creswell sophomore Brady Pratt put his team ahead 2-0 with goals in the 45th and 64th minutes.
-- Jeremy McDonald
Highlights from Wednesday's boys soccer state playoff round of 16:
6A
No. 30 seed Grant upended PIL rival and No. 14 Cleveland 3-2, winning a penalty-kick shootout 4-2. Cleveland led 1-0 at half on a goal by Logan Puppo, but Grant forced overtime when Ewan Massimino scored with 30 seconds left in regulation. Puppo put Cleveland up 2-1 in the first overtime, but the Generals answered when Travis Weksler scored on a free kick late in the second overtime. Grant goalkeeper Will Peterson saved two penalty kicks in the shootout. … No. 12 Lake Oswego also used a shootout to knock off No. 5 Willamette 1-0. The Lakers won the shootout 5-3. … Top-seeded Lakeridge handled Wells 5-2 on goals by Rollo van Driesche, Mauricio Loyo, Jacob Real, Westley Watts and Matthew Maldonado. The Pacers took a 2-0 lead, were up 3-1 at half and pushed the edge to 5-1. …
No. 2 Jesuit needed overtime to beat McNary 3-1. The Celtics took a 1-0 lead 15 minutes into the match and held on until the Crusaders got the equalizer when Grant Sasaki converted an assist from Caden Hoppes with nine minutes left in regulation. Logan McGwire scored off a pass from Nathan Peters to put Jesuit up 2-1 in the final minute of the first overtime. McGwire scored again – off a Hoppes throw-in -- to make it 3-1 midway through the second overtime. … Isaac Babalai scored twice for West Linn in a 7-1 win over Roosevelt. Sohaib Bouika, Stephen Keresztes, Tristan Peia, Haaken Retzlaff and Lewis Rumrey also found the net for the Lions, who led 2-0 at half. … Aloha turned back South Eugene 5-1. Adrian Milles scored twice and Milos Mavrack, Matthew Castanon and Michael Dunne (penalty kick) had single goals. … Franklin dispatched PIL rival Lincoln 1-0, avenging a 2-1 loss to the league champion Cardinals. … No. 29 McDaniel advanced to the quarterfinals with a 3-1 victory at No. 13 Mountainside.
5A
Summit got three goals in the first seven minutes – two by Bowen Teuber – in dominating Centennial 9-1. Riley Ring, KP Roskowski and Thor Schmidt had first-half goals for the Storm, who led 5-0 at the break. The lead grew to 7-0 before Centennial got its lone goal, from Mario Jauregui. … Ashland blanked Bend 3-0 on goals by Noah Cott and Quillian Torzan in the first half and Luis Caballero Uhtoff in the second half, all on assists by Cash Cota. Mateo Moore notched the shutout, recording 11 saves. … No. 13 Wilsonville upset No. 4 Woodburn 2-0 on two first-half goals. The Wildcats benefited from an own-goal in the 33rd minute and Alex Aguiar scored on a rebound in the 38th minute. …
La Salle Prep broke from a 1-1 halftime tie with five goals in the first 18 minutes of the second half to handle Silverton 8-2. Vala Saghafi scored 15 seconds into the second half to give the Falcons the lead for good. Saghafi added a second goal to make it 6-1. Vance Sheffield had two goals, giving him 31 for the season. … Oscar Avalos, Aran Garcia and Julian Lara scored for Hood River Valley in a 3-1 win over West Albany. … Crescent Valley's Alex Westberry scored four goals – three in the first half – to lead his team past Churchill 5-0. … Reigning state champion McKay dropped Caldera 8-0. … Corvallis defeated Thurston 2-1.
4A
Top-seeded Henley escaped with a 1-0 win over No. 16 Gladstone. Max Tobiasson scored off an assist from Layne Worrell in the 22nd minute. … Newport ousted Seaside 3-1. Anthony Gonzalez scored on a header off a throw-in in the 35th minute and Roberta Calleja scored on a one-touch shot from just outside the 18-yard box off a throw-in the 38th minute. Oliver Peralta added a goal in the 59th minute. … North Marion pulled out a 1-0 win at Madras, getting a goal from Juruen Delgado in the 79th minute. …The Dalles won at Pendleton 2-1, getting a tying goal from Juan Camarillo on a left-footed shot just inside the 18-yard box and a go-ahead goal from Hulises Najera. ...
No. 15 Crook County stunned No. 2 Tillamook 2-1 in overtime. Jaycob Miller scored both goals for the Cowboys. … Goalkeeper Kellen Fitzpatrick was the difference for Marist Catholic as it defeated Hidden Valley in a penalty-kick shootout. Fitzpatrick made 14 saves as the match went scoreless through regulation and two overtimes, then in the shootout, he made two saves and scored the clinching penalty kick as the Spartans won 6-5. … No. 14 Estacada surprised No. 3 Stayton 3-2. … The Dalles won at Pendleton 2-1. … Cottage Grove outlasted Ontario 5-3.
3A/2A/1A
McLoughlin showed off its high-powered offense in blitzing Brookings-Harbor 8-0. Geovanny Sandoval and Almikar Garcia scored two goals apiece for the Pioneers. … Hugo Ceron and Arturo Murguia each scored twice and Shalom Mendoza and Luis Rosales had single goals for Riverside, which dropped Pacific/Bandon 6-2. … Oregon Episcopal knocked out Umpqua Valley Christian 5-0. Julian Effinger scored two goals and Shay Doshi, Lincoln Weiler and Ryder Sendecke also found the net. … Andrew Klopcic, Riley Reinikka, Max Winters, Enrico Trovarelli and Daniel Paz scored in Valley Catholic's 5-0 win over North Valley. ...
Raul Rendon Benitez scored twice in Catlin Gabel's 6-1 win over Delphian/Willamina. Papa Diallo had a goal and an assist for the Eagles, who got strong midfield play from Levi Whalen and an inspired performance from defender Milo Stout. … No. 1 Westside Christian rolled past Dayton 4-0. The Eagles led 1-0 at half on a goal by Alexis Gonzalez. Adam Wachsmuth made it 2-0 and Brady Housley added the final two goals, one on a penalty kick and the other with 11 seconds left. … Leo Cronk scored three times in a five-minute span in the second half, breaking open a 1-0 game and propelling St. Mary's past Riverdale 5-0. Jose Munoz and Nico Cronk also scored for the Crusaders.