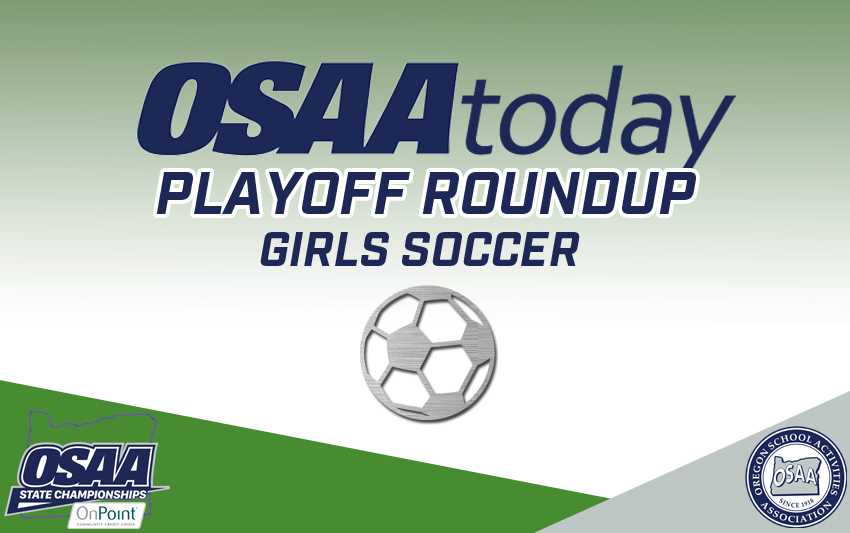 Highlights from Tuesday's girls soccer state playoff round of 16:
6A
Top-ranked Jesuit extended its winning streak to 35 by handling North Medford 3-0. Kammy McClannan scored in the second and 17th minutes, off assists from Ana Kubiaczyk and Natalie Webber, respectively. Riley Jeffries made it 3-0 in the 30th minute off an assist from McClannan. Zoe Anderson and Laura Butorac combined for the shutout. … Grant rolled over South Medford 5-0 behind three goals by Nailani Solomon. Abbie Day had a goal and two assists. Kate Ratanaptoeksa had goal and Bella Bohme added two assists. … Lincoln moved on by blanking Sprague 4-0. Zienna Black scored twice and Alana Harry and Frances Reuland had goals. …Cleveland took out Central Catholic 1-0 on the strength of a first-half goal by Eleanor Cohen. …
Mountainside won a penalty-kick shootout 4-2 over Lake Oswego in a match that was scoreless through regulation and two overtimes. Claire Oetker, Natalie Yamaguchi, Katelyn Wallace and Taylar Danielson made penalty kicks and Olivia Albers made two saves. … Alexis Cockerill-Gonzalez scored twice and Gwyneth Seilo had a goal for Sheldon in its 3-1 victory over Sherwood. … West Linn advanced by edging Forest Grove 1-0. Cassidy Harding scored off a corner kick by Kylee Schreck in the first minute of the second half. … Sunset took down Metro League rival Westview 2-0. The Apollos struck in the 35th minute (Kella Folkerts from Ellie Felt) and 63rd minute (Felt from Caitlyn Turner and Anya Dubois). Mikayla Williams made three saves in recording the shutout for Sunset, which outshot the Wildcats 22-4.
5A
Reiging state champion Wilsonville routed West Albany 7-0, getting four goals and one assist from Kenley Whittaker. Bri Crane, Camryn Schaan and Ashlyn Ring also found the net for the Wildcats. Caroline de La Motte had two assists. … Camryn Wurth scored off a cross from Kylee Jerome in the 53rd minute to lift Caldera over Crater 1-0. … Canby won 1-0 at Corvallis, getting a goal off a header by Ava Schreffler with seven minutes left. …
North Eugene got two late goals in its 2-0 over Putnam. Hannah Smyth scored an unassisted goal in the 73rd minute and assisted Payton Buschelman's goal in the 78th minute. … Silverton advanced by beating Thurston 3-1. Karissa Stepper, Kai Buckley and Allison Mansur scored for the Foxes. … Sydney Spotts and Lily Erving scored two goals apiece and Julia Hosley added a goal for La Salle Prep, which dispatched Mountain View 5-1. … Crescent Valley cruised past Hillsboro 4-0 on goals by Chloe Buford, Maegan Cooper, Ella Romer and Sophia Merten. … Summit led Ashland 4-0 at half and rolled to a 6-0 win.
4A
Marist Catholic brushed aside Astoria 6-0, getting three goals from Cloe Chase and single goals from Libby McLaughlin, Sadey Woodrum and Ella Braunger. Chase has 50 goals this season, within striking distance of the state single-season record of 55, set by Jesuit's Callan Harrington in 2019. … North Bend won at La Grande 1-0, getting a goal from Lauren Efraimson in the 43rd minute. Brynn Baskerud recorded the shutout. … Philomath ousted 3-1. Bailey Bell scored off an assist from Kamilla Grimmer in the 13th minute, and Grimmer added two goals, converting a penalty kick in the 40th minute and a free kick in the 63rd minute. … Gladstone went on the road to knock out Henley 1-0. Tori Vera's goal in the 66th minute was the difference. …
The Dalles stopped Newport 2-0. Ariana Gonzalez scored in the 24th minute off an assist from Lilyana Gonzalez. Natalia Elias made it 2-0 in the 77th minute on a spot kick. … Vicky Valenzuela's goal, off an assist from Calie Lader, in the 14th minute was good enough for North Marion to defeat Crook County 1-0. … Scappoose eliminated Pendleton 6-1 as Alice Davidson recorded a hat trick. Claire Dubois, Mia Hurliman and Lilly Parral also scored for the Indians, who held the Buckaroos to one shot on goal. … Gracelyn DaVault took a pass from Aja Lapan and scored on the left side of the goal in the 24th minute as Hidden Valley defeated Ontario 1-0.
3A/2A/1A
Top-seeded and reigning state champion Valley Catholic blanked Pleasant Hill 4-0, getting goals from Haven Saw-Tun, Maci Groshong, Malia Groshong and Paulina Filip. … Catlin Gabel scored all of its goals in the first 30 minutes in an 8-0 win over Brookings-Harbor. Annika Sirtori, Campbell Swaim and Addi Dauler each had two goals and Alana Hill had a goal and two assists. … No. 12 seed St. Mary's of Medford shook off a 10-hour drive and defeated No. 5 Four Rivers 4-1. After spotting the host team a goal in the third minute, the Crusaders took over, getting first-half goals from Kendal Yazzolino (penalty kick), Bella Mussio and Carys Chamberland. Yazzolino picked up her second goal with five minutes left. …
Adie Nisly and Ayla Harris scored for Amity in a 2-1 win over Oregon Episcopal. … Marley Holden and Ella Davis each scored twice for Sisters in its 8-0 rout of Salem Academy. The Outlaws, who led 3-0 at half, also got goals from Juhree Kizzlar, Maggie Lutz, Katie Ryan and Shae Wyland. … North Valley trailed Central Linn 1-0 at half but came back to win 2-1. Olivia Smith converted a penalty kick in the 46th minute and assisted Maddison Mockridge for the go-ahead goal in the 55th minute. The Cobras scored their only goal on a penalty kick in the 11th minute. … The Carson twins led the way as Creswell downed Sutherlin 3-1. Dakota Carson had two goals and Tailey Carson had the other. … Banks held off Yamhill-Carlton 2-1. Olivia Burke scored in the 53rd minute and assisted Malia Stewart in the 60th minute. Yamhill-Carlton's goal came from Maddy Tuning in the 70th minute.