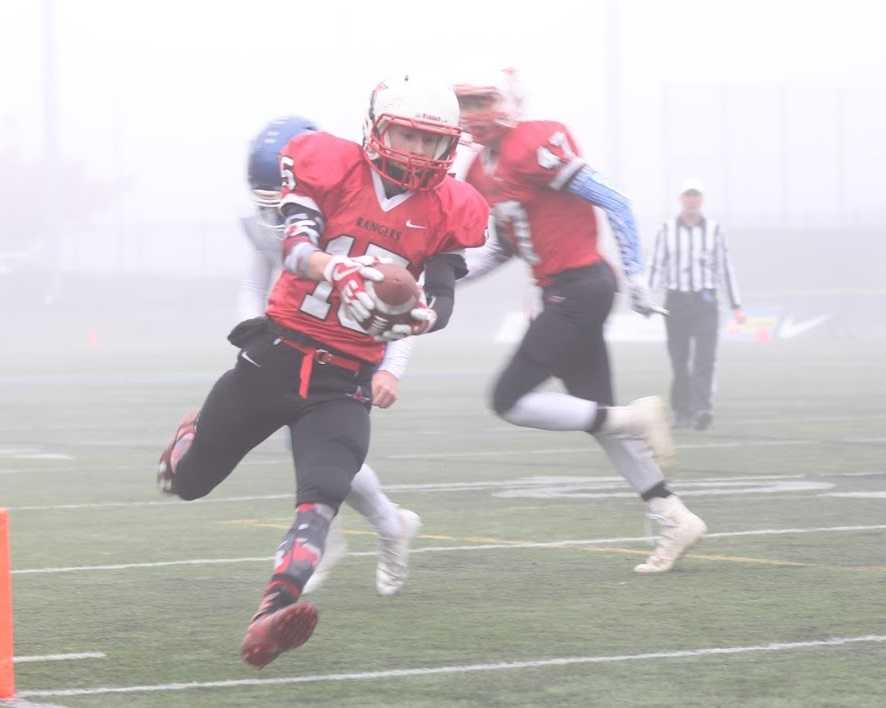 HILLSBORO -- Senior Tanner Masterson vividly recalls what Dufur football coach Jack Henderson told him and his classmates in 2015.
"He was like, 'You can win four titles,'" Masterson said.
Four seasons later, Henderson looks prophetic. Dufur's seniors capped an historic run Saturday, completing a four-peat by beating St. Paul 38-32 in the OSAA/OnPoint Community Credit Union 1A championship game at Hillsboro Stadium.
Masterson returned an interception 17 yards for a touchdown to break a tie late in the third quarter and the top-seeded Rangers (13-0) held on for their 33rd consecutive victory.
Dufur becomes the fourth team in Oregon history to win at least four consecutive titles, an elite group that includes Regis (1973-77), Amity (1998-2001) and Huntington (1968-71). With another championship next year, Dufur can join Regis as the only teams to win five in a row.
"This year definitely tops it off," senior quarterback Derek Frakes said. "I can't imagine. It's unthinkable.
"The guys I've worked with all four years, the coaching staff that's been here forever, the great community we have, it all came down to this moment today. And we knew we had to get it done. It feels so amazing."
Before a legion of fans that made the two-hour drive from the central Oregon town, the Rangers came from behind to give Henderson his 10th title, adding to his state record. He is 10-0 in championship games after losing to St. Paul in the final in 1992.
"I love our kids' heart. What a great win for Ranger Nation," Henderson said.
The game was a classic matchup between perennial 1A powers in Dufur and St. Paul, a six-time champion. The teams traded touchdowns throughout the first half, which ended with the Buckaroos ahead 32-30.
Being behind was an unusual feeling for the Rangers when they met in the locker room at halftime.
"We had a couple kids that were kind of hopped up, looking like something was going wrong," Henderson said. "We were saying, 'Nothing's wrong, it's a football game.' We're not used to having that. We had one, so let's embrace it and continue to play.
"And we did embrace it. And boy, did we play."
On the first series of the second half, Dufur senior Abraham Kilby blocked a punt for a safety, making it 32-32. It set the tone for a second half in which both defenses dominated.
"I think both teams figured out what people were doing with their offense," Masterson said. "So we kind of just shut each other down."
The Rangers got the big break, though, when Masterson stepped in front of a pass by St. Paul junior quarterback TJ Crawford and returned it 17 yards for a touchdown with eight seconds left in the third quarter. The conversion failed, and the score stood at 38-32.
Dufur forced St. Paul to punt, then went on a 20-play, 83-yard drive that chewed up 9 minutes, 32 seconds of the fourth quarter. The Buckaroos made a goal-line stand, but when they got the ball back at their own 2-yard line, there was 1:12 left and they didn't have any timeouts.
The Rangers held on downs at the St. Paul 9-yard line, and the celebration was on.
"It's amazing," Henderson said. "We had to change up a lot from last season, because last year we were the 'bruise brothers,' and we could knock people off the ball. This season, we couldn't do that, but we had speed. Boy, did we have speed. And that really worked out well for us today."
Dufur had a 455-248 edge in total yards. Frakes completed 16 of 24 passes for 302 yards and two touchdowns, including one to senior Asa Farrell, who had eight catches for 189 yards. Masterson and Farrell rushed for 74 and 67 yards, respectively.
St. Paul senior Justin Herberger rushed for 123 yards and one touchdown on 14 carries, with 112 yards coming in the first half before Dufur locked down on defense. Crawford and senior Jaidyn Jackson connected on two touchdown passes for the Buckaroos.
"I thought we played really well in the first half," St. Paul coach Tony Smith said. "We played great defense in the second half, we just couldn't get anything going on offense. They started blitzing guys and we didn't do a very good job of picking that up."
Smith, who guided St. Paul into the 2A semifinals last season, tipped his cap to the Rangers.
"They don't make mistakes and beat themselves," he said. "It's the same thing we try to do. They were just a little bit better than us."