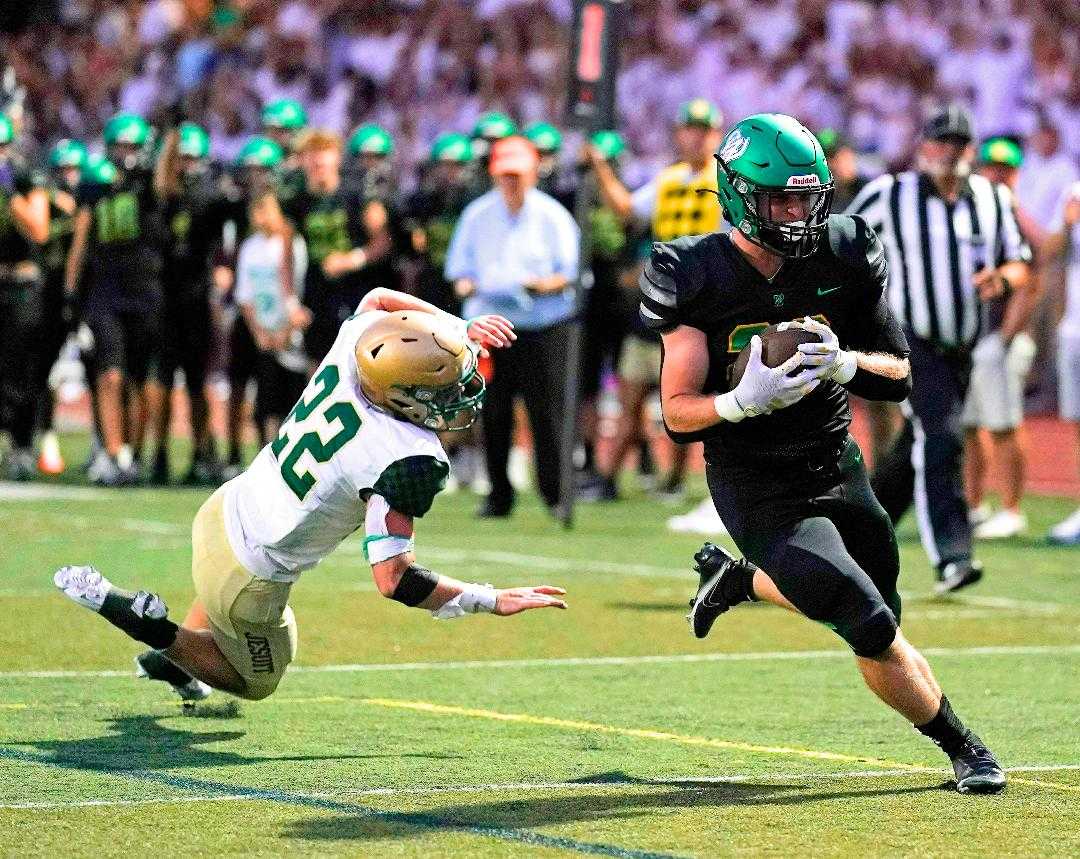 So now it begins for the Three Rivers League.
After four weeks of nonleague play in which the six TRL football teams went a combined 24-0 – and all moved into the top nine in the OSAAtoday 6A coaches poll – the moment of truth has arrived.
Friday's start of league play features three compelling matchups between 4-0 teams as No. 1 West Linn visits No. 4 Lake Oswego, No. 8 Lakeridge goes to No. 3 Tualatin and No. 9 Oregon City plays at No. 6 Tigard.
"Lot of good ballgames coming up," said West Linn coach Jon Eagle, whose team plays host to Tualatin next week.
Eagle marveled at the league's prowess through the first month of the season, using the analogy that a rising tide has lifted all the boats.
"That's kind of what we're seeing," Eagle said. "You want to play in the league, you've got to do what's necessary to compete. I think it makes everybody better."
Many eyes will be on the reigning state champion Lions as they take on Lake Oswego. Despite graduating key players, West Linn appears to be every bit as dominant as last season. The Lions have outscored their opponents by 30.8 points per game.
Much will be revealed against the Lakers, a team the Lions defeated 49-0 last season. Lake Oswego has impressed with junior quarterback Liam Davis and the running back combination of sophomore LaMarcus Bell (522 rushing yards) and senior Zavier Russell.
"I really like the quarterback," Eagle said. "He can beat you with his feet as well as his arm. He's got some sure-handed receivers that run great routes. And they've got two guys that can run it. They've got power and speed. They're very talented running backs. That's going to be a challenge for us."
On the other side, longtime Lake Oswego coach Steve Coury knows his team has a massive task.
"The caliber of competition this week is completely different than what we've played, and may be completely different than what's even out there," Coury said. "It will be more of a barometer. It's not the end of the world either way. We've just got to keep improving and worrying about ourselves."
The biggest question facing West Linn entering the season was how it would cope with losing star quarterback Sam Leavitt, who left for Michigan State. But junior Baird Gilroy has been stellar, passing for 1,062 yards and eight touchdowns.
"Our young quarterback is getting better every week," Eagle said. "We knew we had the offensive line coming back, so we knew that was going to be a strength for us, and they haven't been disappointing. And we've got a lot of talented receivers that need their hands on the ball."
West Linn is coming off its best win of the season. The Lions won 49-30 at Lake Stevens, the reigning Washington big-school champion and ranked second in the state.
Before a packed house, Lake Stevens was fired up to avenge last year's 45-6 loss at West Linn. In pregame, the Vikings emerged from purple and yellow smoke to plant a sledge hammer in the middle of the field, pointing at the Lions.
"I looked at our kids and they started laughing," Eagle said. "I said, 'We're not going to be intimidated, that's for sure.' We scored in two plays, and that kind of settled everybody down."
Lake Stevens packed the box and dared the Lions to pass. Gilroy responded by throwing for 326 yards and one touchdown.
"They did not think the guy behind Sam was going to be as effective," Eagle said. "It wasn't his best night, and he threw for 326."
Eagle said the offensive line – seniors Ridge Huot, Hunter Harding and Stephen Del Guidice and juniors Ryan Holmes and Jake Normoyle – is the "heart and soul" of his team.
The line is giving Gilroy time to throw and paving the way for the running backs, seniors Cade Johnson and Ryan Vandenbrink, who have stepped up in the absence of junior Hudson Hardy, who is lost for the season with a knee injury.
A look at other top matchups in Week 5:
Friday
6A No. 8 Lakeridge (4-0) at 6A No. 3 Tualatin (4-0), 7 p.m.: Tualatin moves forward without junior quarterback Nolan Keeney, who suffered a broken collarbone in last week's win over Jesuit and is likely to miss at least six weeks. It puts more pressure on the defense to stop the Pacers, who have USC-bound senior receiver Joey Olsen.
6A No. 9 Oregon City (4-0) at 6A No. 6 Tigard (4-0), 7 p.m.: Oregon City's defense gave up its first points of the season on the final play of last week's win over Beaverton. A win would be a big breakthrough for the Pioneers, who have lost to the Tigers in each of the last five seasons.
Nelson (2-2, 1-1 Mt. Hood) at Clackamas (3-1, 2-0), 7 p.m.: The battle for Happy Valley as third-year program Nelson – with losses to No. 1 West Linn and No. 2 Central Catholic – visits Clackamas. Last year, the Hawks knocked off their big brother 42-35 in overtime as Avirey Durdahl threw four touchdown passes.
5A No. 4 Mountain View (4-0) at Caldera (3-1), 7 p.m.: Mountain View, coming off consecutive shutouts of Churchill, Forest Grove and Southridge, has outscored its opponents 194-20 behind the running of sophomore Angel Valenzuela (707 rushing yards). Caldera, which lost at Mountain View 48-6 last year, brings a three-game winning streak into the Intermountain Conference opener.
5A No. 7 Thurston (2-2, 2-0 SD2) at 5A No. 6 Springfield (4-0, 2-0), 7 p.m.: Thurston has ruled the hometown rivalry for seven years in a row. But the Millers, 4-0 for the first time since 2015, are making big progress under first-year coach Frank Geske and can get a signature win against the Colts.
3A No. 6 Lakeview (4-0, 4-0 SD3) at 3A No. 9 North Valley (3-1, 3-1), 7 p.m.: North Valley, bolstered by a 21-13 win over South Umpqua last week, sets its sights on the unbeaten Honkers. But Lakeview will be looking to avenge a 16-13 home loss to North Valley in last year's season opener.
3A No. 7 Sisters (4-0) at 3A No. 4 Kennedy (4-0), 7 p.m.: Sisters has created a buzz with its first 4-0 start since 2015. The Outlaws will find out where they stand in the nonleague game against Kennedy, last year's 3A runner-up.
2A No. 7 Gold Beach (3-1, 2-0 SD3) at 2A No. 6 Bandon/Pacific (4-0, 2-0), 7 p.m.: A pivotal game between teams tied for first place with reigning state champion Oakland in Special District 3. Bandon, which lost at Gold Beach 44-20 last year, is 4-0 for the first time in 21 years.
1A-8 No. 1 Lost River (4-0, 1-0 SD1) at 1A-8 No. 2 Myrtle Point (4-0, 1-0), 6:30 p.m.: Lost River already has big nonleague wins over 1A-8 No. 5 St. Paul and 2A No. 4 Heppner, and now plays its most important league game against the Bobcats. Myrtle Point fell at Lost River 46-20 a year ago.
1A-8 No. 3 Adrian (3-1, 2-0 SD2) at 1A-8 No. 4 Crane (4-0, 2-0), 7 p.m.: The winner will stand alone in first place in Special District 2. The Mustangs lost at Adrian 38-16 last year, their only regular-season defeat. The Antelopes have won the last five meetings between the teams.