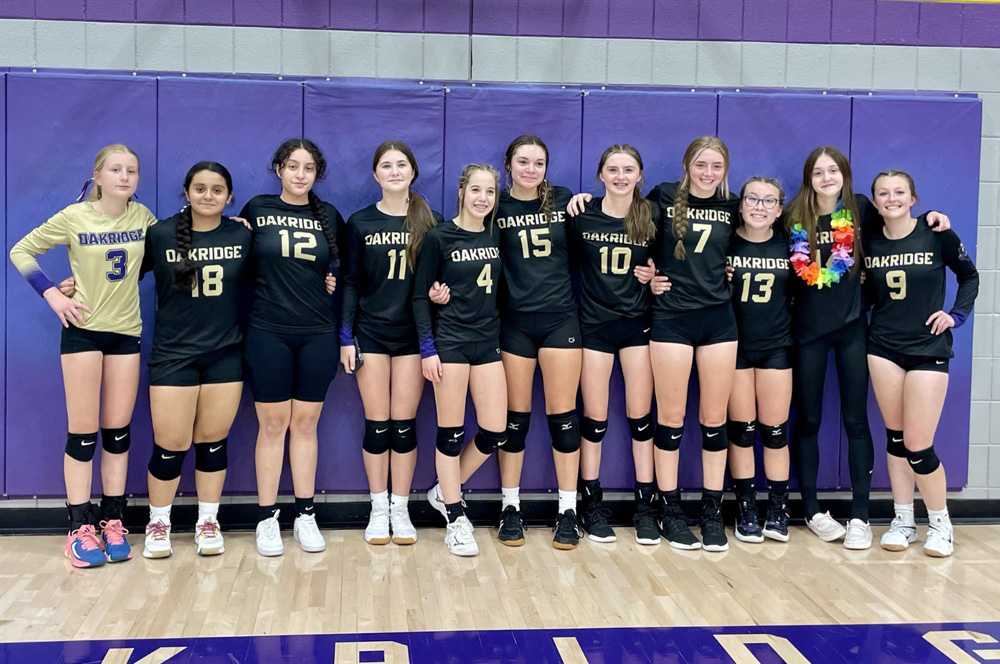 Marist goes extra Niles for big win!
Marist Catholic (12-1) earned a HUGE win on Tuesday in five sets over Marshfield in a 4A clash. The Spartans won, 25-23, 18-25, 25-16, 19-25, 15-13, over the defending state champions, the key being 65 digs and great defense start to finish.
Outsides Giana Elgarico and Avia Tuguldur combined for 26 kills and freshman setter Lauren Rohman contributed 35 assists and five kills.
"We knew they had great hitters and we just wanted to try to limit them being in system," Marist coach Shari Pimental explained. "Marshfield is going to swing hard. Our middles did a great job running patterns to help keep their blockers honest. We played hard and stayed in it every ball. Last night we were relentless and played with great effort and a positive mindset, which has been our focus regardless of the score. It was a great team win for us not relying any one person but in it together."
[Note: that's a Fraser reference in the headline for those not familiar with the hit TV show of the 1990s and 2000s]
Still unbeaten
This is the part of our Notebook where we talk about how many undefeated teams remain in Oregon. Last year at or about this time, the answer was four.
This year, as of Sept. 22, there are ZERO still-unbeaten teams in the state. Both Sprague and Crescent Valley fell from the ranks on Saturday at the South Albany State Preview, with Sprague's loss to Oregon City and CV's loss to eventual champion Jesuit both happening around the same time.
Jesuit, Crescent Valley like view at the Preview
Jesuit extended its winning streak to 11 straight by sweeping Oregon City for the championship at the South Albany State Preview on Saturday, its fourth straight title in the event. The Crusaders, who were undefeated last year until the 6A state championship match loss to Sheldon, sits 15-1 in 2023, their lone loss to Sprague on Sept. 9 at the Central Catholic Tournament.
Crescent Valley, the reigning 5A state champions, reached the semifinals unbeaten on the season, but fell to Jesuit, 27-25, 25-17. The Raiders (10-1) went 5-1 in sets in pool play, with sweeps of South Salem and Wilsonville and a split with Nelson; and then outlasted South Salem in three in the quarterfinals before running into Jesuit. Nevertheless, Crescent Valley was the top-finishing 5A team and cemented its position atop the rankings.
"Even with the loss to Jesuit, feel like we are the best team in the state," said Raider coach Troy Shorey. "A couple of plays going our way, and we would have beaten them."
Kam Mitchell led CV in assists for the day with 64. Bella Jacobson had team highs of 45 kills and nine aces. MB Taelyn Bentley hit .491 and had a team-high nine blocks. Libero Dani Street set the team standard with 34 digs.
Docking at the Bay
Defending 4A state champion Marshfield won its inaugural Battle at the Bay Tournament, sweeping North Eugene, Cascade and Thurston in a round-robin best-of-five format.
For the day, Tatum Montiel, Bridget Gould and Paige MacDuff were the hitting stars, teaming for 93 kills, while Gracie Peach and MacDuff led the defensive effort with 58 and 37 digs, respectively. Ava Ainsworth chipped in with 80 assists. Montiel also had 15 aces, while Gould and Alie Clarke contributed six apiece.
"All of our wins were really team efforts," noted coach Tammie Montiel. "We kept teams guessing where our attack was coming from and had solid serving and defense and serve receive almost all day long."
Oakridge sees highs and Lowell at Mustang Classic
The Oakridge Warriors turned around a pool play loss to Lowell at the Mustang Classic to win the bracket clash for the title Saturday in Mohawk. Oakridge and Lowell have played three times over the past week, with Oakridge (16-2) prevailing in two of them.
"When these two teams play each other it is something that is incredible to watch," said Oakridge coach Allison Williams. "Both teams dig deep and show up to battle throughout the entire match."
Seniors Jade Snyder and Sadie Snyder led the effort for the victorious Warriors. Jade Snyder had 51 kills, 61 digs and eight aces on the day. Sadie Snyder contributed 32 kills, 73 digs and 10 aces.
North Bend does not break
North Bend showed great resilience on Saturday, winning the North Marion Tournament despite losing two starters to ankle injuries during the day.
The Bulldogs went 5-1 in sets during pool play to earn the No. 2 seed for the start of bracket play, but had a middle go down during the intermission. North Bend had enough to defeat La Grande in two sets but had a tougher time with Astoria, after losing an outside to an ankle injury in the first set. The Bulldogs dropped the first set, moved their libero to outside hitter and DS to libero and won the next two sets to advance to the championship match.
The opponent was Tillamook, a team North Bend split with during pool play. The Bulldogs (11-2) won in two for the title, with libero-turned-outside Mirra Riddle finishing as the second-leading kill getter over the final two matches.
"It was really great to see my girls persevere and keep fighting, even down two starters," said coach Summer Sawyer.
News and notes
Portland Christian's 9-1 start included a three-set win two Saturdays ago over defending 2A champion Salem Academy. The Royals won despite losing a key starter to injury in Game 2. The match went to three, with many PC players contributing to the 15-12 win…
Oregon-based journalist Bob Lundeberg recently compiled lists of "20 of the best" hitters, setters, defenders and middles in the nation for Scorebook Live. He included a talented Oregonian in each list, with Marshfield lefty Bridget Gould recognized in the hitter category, Alexis Haury of Silverton receiving distinction as a setter, Dani Street of Crescent Valley making the grade on defense and Burns junior
Akylah Kaino listed as a top middle (though she has transitioned to outside hitter)…
Days Creek had its annual Dig Pink night a little early this year and raised over $3000 for a volleyball mom from another school in its league. Way to go!
St. Paul is 13-3 on the season heading to Phoenix for the Nike Tournament of Champions – Southwest this weekend. The Buckaroos are excelling despite playing without 2022 league POY Stella Koch, an outside hitter lost for the season with a torn ACL. Much-improved Audra Rose, a 6-0 junior who was a Second Team All-League pick a year ago, has helped to fill that void with thunderous attacks.
Mazama is 9-5 on the year, with losses to teams with a combined record of 61-16. The Vikings took second at the Basin Invite (losing to Sisters in the championship) and second at the Sisters Tournament (losing to Valley Catholic). Mazama owns 2-0 wins over both Burns and Cascade this year.
Team leaders for Mazama include senior S/RS Alexia Lowe, the Vikings' assists, digs and aces leader; and senior OH Isabella Lowe, who sets the standard for kills and is tied for the team lead in digs. Sophomore middle Cali Bitzer and senior outside Gillian Merhoff are among others making significant contributions to the cause.
Fabulous Freshmen!
We asked coaches this week to tell us about their freshmen making big impacts on varsity this fall. We will add to this list in subsequent Notebooks.
Payton Becker, 5-9 S, Portland Christian – Becker is averaging almost 40 assists per match. "She has made our attack dynamic," noted coach Denetia Chimuku. "She knows how to showcase our strengths and works hard every game."
Allison Chastain, 5-6 OH/DS, Western Christian – Fast improving and eager to learn, Chastain is another of Western Christian's talented freshman group. Very strong defensively, Chastain has accumulated 55 digs on the year. She also is third on the Pioneer squad with 26 aces. "She has such a great love for volleyball," said coach Sydney Fahndrich. "She has been a great teammate and player."
Brooke Friesen, 6-1 S/RS, Sprague – Friesen sets and hits and never comes off the court for the No. 1 6A team in the state. She has quickly become an essential player in Sprague's attack.
Sailor Hall, 5-8 OH, Springfield – Hall has helped the 8-10 Millers in all six rotations. She has already accumulated 74 kills and 144 digs.
Teagan Hamilton, 5-7 OH, Wilsonville – The 9-3 Wildcats have benefited from having Hamilton in the lineup. The freshman "is quick to the ball, understands torque and has a whippy arm swing," noted coach Scott Thompson, who added: "The ball contact sounds different when she swings."
Avery Herber, 6-1 OH, Western Christian – Herber's impact on the 16-1 Pioneers was immediate and has been long lasting. She leads the team in kills with 202, averaging more than four kills per set; is second in digs and is a strong server. "She is an amazing asset to our team physically and mentally, and she has a great attitude on and off the court," noted coach Sydney Fahndrich.
Addison Herber, 6-0 MB, Western Christian – Herber is a huge reason the Pioneers are 16-1 on the season and one of the top 2A teams in the state this fall. She leads the team in aces with 43 and in digs with 177, and, with 201 kills, is one kill off of the team lead held by her twin sister, Avery. "She has a great attitude and always tries to help others," said coach Sydney Fahndrich.
Addison Johanson, 6-0 MB, Portland Christian – Johanson is a key cog in the PC attack, having notched 63 kills so far over 26 sets while hitting .503. "Addy has really brought the fire in the front as a freshman," said coach Denetia Chimuku.
Kessa Litfin, 5-8 S/RS, Pilot Rock – A six-rotation setter/hitter for the 8-6 Rockets, Litfin is second on the squad overall statistically. She is mentally tough, makes smart plays and is great defensively.
Khloe Livingston, 5-8 OH, Sprague – Livingston leads the Olympians in aces and is an impact attacker who excels in all six rotations. There was a need to be filled in this lineup and Livingston has done it exceptionally.
Lily Mather, 5-8 OH, Lincoln – Mather has become an integral part of the offense for the 6-9 Cardinals. "She shows a lot of progress, and has great energy on the court," said coach Shailah Ricketts. "Her aggressive swing and high vertical give her an advantage over tough opponents."
Molly McMurray, 5-3 S, Spray / Mitchell / Wheeler – A crucial player on this co-op team, which is 4-8, McMurray is a great teammate who goes hard in every game.
Emma Reiman, 6-0 MB, Molalla – Reiman was recently elevated to varsity after playing JV for the first half of 2023. She is a natural athlete with great court instincts. She made an immediate varsity impact said coach Lauree Nelzen. She had five blocks in her first three matches and has the talent and coachability to be a bui9lding block for Molalla in the years to come.
Lauren Rohman, 5-10 S, Marist Catholic – The starting setter for a Marist Catholic team that is off to an 11-1 start in 4A, Rohman leads the team with 240 assists and has been impressive on other areas as well, with 28 aces and 26 kills.
Stella Thompson, 5-11 MB, Ashland – A hard hitter with strong, competitive drive, Thompson is currently third on the 2-8 Grizzlies with 53 kills.
Kathryn Urquhart, 6-0 MB, Lincoln – Urquhart isn't just the Cardinals' leader in blocks; she has accounted for almost 40 percent of the team's blocks so far this season! Coach Shailah Ricketts calls her freshman "a beast on the net" who is "versatile enough to hit any position."
Georgia Vawter, 6-0 OH/MB, Crescent Valley – Vawter played a lot of middle early as a key reserve and lately has been getting time on the outside for the reigning 5A champions. "Georgia has a heavy arm and packs a big punch when she is on," noted coach Troy Shorey. "Once she is able to keep up with the speed that the team plays at, she will be a force in the coming years."
Stat stars
This week, I asked coaches on our bulk email list to help me compile a list of astounding single-game statistical achievements! We will keep a running tally of players who stat at these levels for a single match:
50 assists or more in a match
25 kills or more in a match
30 digs or more in a match
8 blocks or more in a match
10 aces or more in a match
Here's what we have so far…
50 or more assists in a match
50 -- Ashley Wright, 5-8 Sr. S, Burns – Sept. 5 versus Lakeview
25 or more kills in a match
39 -- Akylah Kaino, 5-11 Jr. OH, Burns – Sept. 5 versus Lakeview
28 -- Akylah Kaino, 5-11 Jr. OH, Burns – Aug. 31 versus Sisters
27 – Madi Andrews, 6-0 Soph. OH, Nelson – Sept. 19 versus David Douglas
27 -- Josie Essner, 5-9 Jr. MB, Monroe – Sept. 25 versus East Linn Christian Acad.
30 or more digs in a match
37 – Coley Gibbs, 5-9 Soph. libero, Pilot Rock – Sept. 1 versus Camas Valley
30 – Coley Gibbs, 5-9 Soph. libero, Pilot Rock – Sept. 2 versus Alsea
10 or more aces in a match
15 – Morgan Milbrett, 5-6 Jr. S, Mapleton – Aug. 25 versus Mannahouse Acad. Eugene
15 – Morgan Milbrett, 5-6 Jr. S, Mapleton – Sept. 21 versus Mannahouse Acad. Eugene
13 -- Ruby Jackson, 5-10 Jr. MB, Pleasant Hills – Sept. 19 versus Harrisburg
10 -- Mackenzie King, 6-0 Sr. OH, Burns – Aug. 31 versus Sisters
10 -- Jocelyn Graham, 5-6 Soph. MB, Burns – Sept. 22 versus Riverside
Any coaches may email [email protected] to add to the list at any time.
College-Bound!
In this space, we list those players, playing Oregon high school volleyball in the current senior class and younger, who have made a commitment to attend a college or university of their choice and play volleyball. Please email [email protected] to add players to the list, using the format you see below.
Jadyn Daviscourt, 5-6 Sr. libero, Cascade — Southern Oregon University
Emma Fairbairn, 5-11 Sr. OH, Sheldon -- BIOLA
Whitney Farrell, 5-6 Sr. S, Mountain View -- Redlands University
Bridget Gould, 5-11 Sr. RS, Marshfield - University of Oregon
Alexis Haury, 5-10 Sr. S, Silverton – University of Washington
Chloe LeLuge, 6-3 Sr. OH/MB, Bend – Cal Poly SLO
Lauryn Johnson, 6-1 Sr. OH, West Salem – Arizona State
Malena Mathis, 6-0 Sr. MB, South Salem – Western Oregon University
Kamden Mitchell, 5-10 Jr. S, Crescent Valley -- University of Oregon
Paige Thies, 6-2 Jr. OH, Oregon City -- University of Arizona
Gracie Vohs, 5-11 Sr. OH, Sisters – Saint Mary's College of California
Amber Walker, 6-0 Sr. OH, Tigard -- Sonoma State
Brooke Williams, 6-1 Sr. MB, Oregon City -- Seattle Pacific