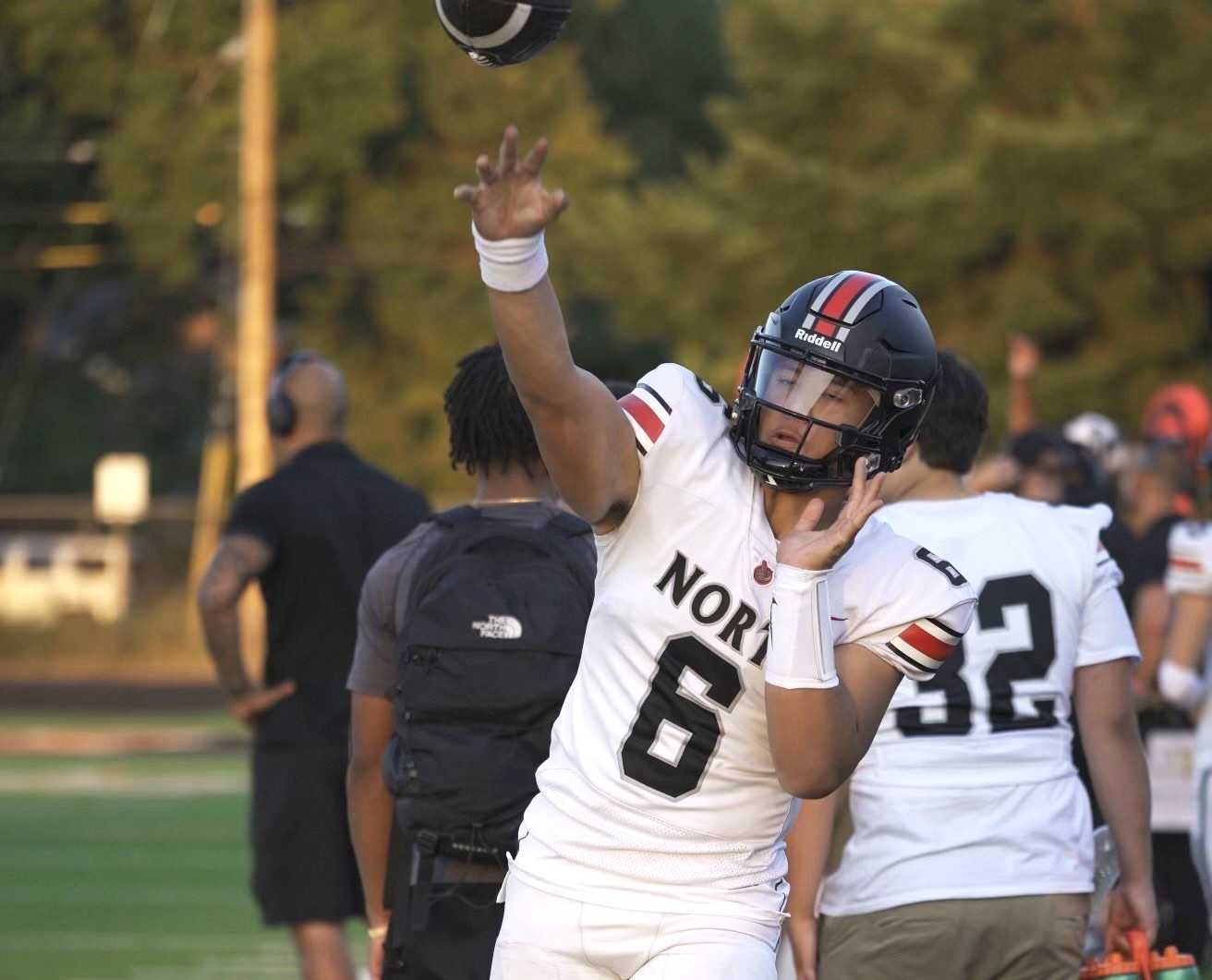 Three years ago, the fortunes of North Salem football appeared certain to turn with the arrival of a talented freshman class.
And sure enough, the Vikings have delivered on that promise. In 2021, they had their first winning record in 17 years. Last year, when they returned to 6A from 5A, they reached the final of the inaugural Columbia Cup and finished 8-5, their most wins since 1992.
This season, with those freshmen now seniors, North Salem is seeking a major breakthrough.
"I feel like we've got the pieces," said Jeff Flood, the team's coach since 2008.
The Vikings (3-0, 1-0 Special District 1) have taken care of business so far, outscoring their first three opponents 129-19. But much will be revealed Friday night when they play host to North Medford (2-1, 1-0), which spoiled their 3-0 start last year by handing them a 27-13 defeat.
"We've been in this situation before," said Flood, whose team cracked the OSAAtoday 6A coaches poll this week at No. 8. "The road keeps getting harder. I think we've made some steps, but we have a lot of room to grow."
The Vikings have senior quarterback TC Manumaleuna II (6-1, 205), a fourth-year starter who has committed to Oregon as an athlete. The Vikings throw sparingly, though, relying on a running game that is producing more than 250 yards per game.
Senior Jamahl Wilson (5-10, 185), a transfer from McKay, has rushed for 473 yards and six touchdowns, averaging 15.3 yards per carry. He has become the primary weapon in a backfield that also has seniors Sammy Davis and Jerrik Wangler.
"Jamahl is an incredible talent. He's a game-changer," Flood said. "That's a piece we didn't know we were going to have. This kind of changes the way we do things because he's so talented and we have to utilize that talent."
Before Wilson arrived, North Salem had expected Wangler to become the team's go-to back. Wilson's presence has allowed Wangler (5-11, 195), the team's best defensive player, to focus more on playing outside linebacker, where he is a fourth-year starter.
"He's just been fantastic on defense," Flood said of Wangler. "That's one element I think Jamahl has helped us with is keeping Jerrik a little bit more fresh."
Manumaleuna has thrown only 16 passes this season, completing 10 for 222 yards and five touchdowns, three of the scores going to 6-2 sophomore Braxton Singleton. Manumaleuna also has a deep threat in 5-8 senior speedster Demari Thompson, the reigning 6A champion in the 100 meters.
Last week, Manumaleuna completed 4 of 8 passes for 106 yards and two touchdowns in a 39-13 win at Roseburg.
"His ability to command a team is even better than it was last year," Flood said of Manumaleuna. "We're throwing the ball a little bit more, and I think that probably will open up his game as we move forward. I think we need to do that to win ballgames."
Flood liked how the Vikings rose to meet physical challenges in wins over Roosevelt and Roseburg, even if they let down a bit in the second half of both games. North Medford's aggressive defense will be their biggest test to date.
"That's going to be the focal point for us, just making sure we're solid in our communication on the offensive line," Flood said. "Knowing when to pick up stunts and giving TC time to throw the ball, and trying to create some openings for Jamahl and Jerrik."
North Medford's defensive line features senior ends AJ Pugliano and Joey Newberg, junior tackle Trey Kennedy-Coleman and senior tackle Connor Trinca. Senior middle linebacker Jeremiah Robbins plugs the gaps, racking up more than 120 tackles last season.
"Our front seven puts a lot of pressure on people," North Medford coach Nathan Chin said. "We need to be able to get pressure and make the quarterback make fast decisions."
Chin is wary of the explosive Vikings.
"They've got a really talented group," Chin said. "When they have guys that are so good in space, it poses some challenges. You've got to make sure you know where they are, especially the kid in the backfield (Wilson). He gets any open space, he can go yard right now. We need to make sure we contain, that we squeeze things."
North Medford rebounded from a 27-7 opening loss at Tigard – in which it gave up two interceptions for touchdowns – to beat Bend 41-0 and West Salem 33-12. Sophomore Traeger Healy has taken over at quarterback for Robbins, who has moved to running back.
Other top matchups in Week 4:
Thursday
McMinnville (3-0) at 6A No 4 Lake Oswego (3-0), 7 p.m.; Lake Oswego's final nonleague game before opening Three Rivers League play next week at home against West Linn. The Grizzlies are off to their first 3-0 start since 2018.
Friday
6A No. 2 Central Catholic (3-0) at Nelson (2-1), 7 p.m.: Last year, Central Catholic defeated Nelson 35-7 in a game that ultimately decided the Mt. Hood Conference title. The Hawks have won their last two games after opening with a 37-0 loss at West Linn.
6A No. 9 South Salem (3-0) at South Medford (3-0), 7 p.m.: The Saxons and Panthers, who won their Special District 1 openers last week, bid to start 4-0. South Medford handed South Salem its only district defeat last year, winning on the road 48-35.
6A No. 1 West Linn (3-0) at Lake Stevens, Wash. (3-0), 7 p.m.: An interstate showdown between reigning big-school champions. It's a rematch from last season, when host West Linn racked up 434 yards in the first half to lead 42-0 and won 45-6. The Vikings are ranked No. 2 in Washington 4A.
5A No. 3 Summit (1-2) at 5A No. 1 Wilsonville (2-1), 7 p.m.: The Storm beat Wilsonville twice last year, 33-21 in Week 4 and 35-28 in the state final. The Wildcats, coming off a 22-13 loss to 6A No. 3 Tualatin, get a chance for payback in the nonleague game.
5A No. 4 West Albany (3-0) at 5A No. 8 Dallas (2-1), 7 p.m.: A pivotal game in the highly competitive Mid-Willamette Conference. West Albany is averaging a 5A-high 59.0 points per game behind senior quarterback Lukas Hews, who has 12 touchdown passes. Dallas won 26-21 last year.
4A No. 10 Tillamook (2-1) at 4A No. 8 Estacada (1-2), 7 p.m.: In last year's state final, Estacada beat Tillamook 32-8 – controlling the ball for a championship-game record 35:23 – to win its first title. The Cheesemakers' loss came against 3A No. 2 Banks. Estacada's losses are to 4A co-No. 5 Mazama and 4A No. 1 Scappoose.
4A No. 2 Henley (3-0) at 4A No. 7 Cascade (3-0), 7 p.m.: Cascade, which went 4-6 last season, has won its first three games under new coach Shane Hedrick. The Cougars will have their hands full with the Hornets, who beat them 40-22 in Klamath Falls last season.
Melba, Idaho (3-0) at 3A No. 3 Vale (3-0), 7 p.m. MT: Vale has held opponents to 25 points in the first three games, including an 8-7 win over Baker last week. The Vikings will need to crank it up a notch against Melba, which thumped them 55-12 in Idaho last year.
1A-8 No. 1 Lost River (3-0) at 2A No. 1 Heppner (3-0), 7 p.m.: Two of the state's top-ranked small-school teams collide in a cross-classification, nine-man game. Last season, the state champion Raiders beat Heppner 31-6 at home, rushing for 329 yards and limiting the Mustangs to 129 total yards.
Saturday
2A No. 2 Lowell (3-0) vs. 2A No. 3 Weston-McEwen/Griswold (2-0) at Sherman County HS, 4 p.m.: The teams met in the quarterfinals last year, a game tied 21-21 in the fourth quarter before Weston-McEwen prevailed 27-21. The TigerScots, who did not play last week after beating Oakland 7-6, must be on high alert against Lowell's JaMar Thurman (725 rushing yards).