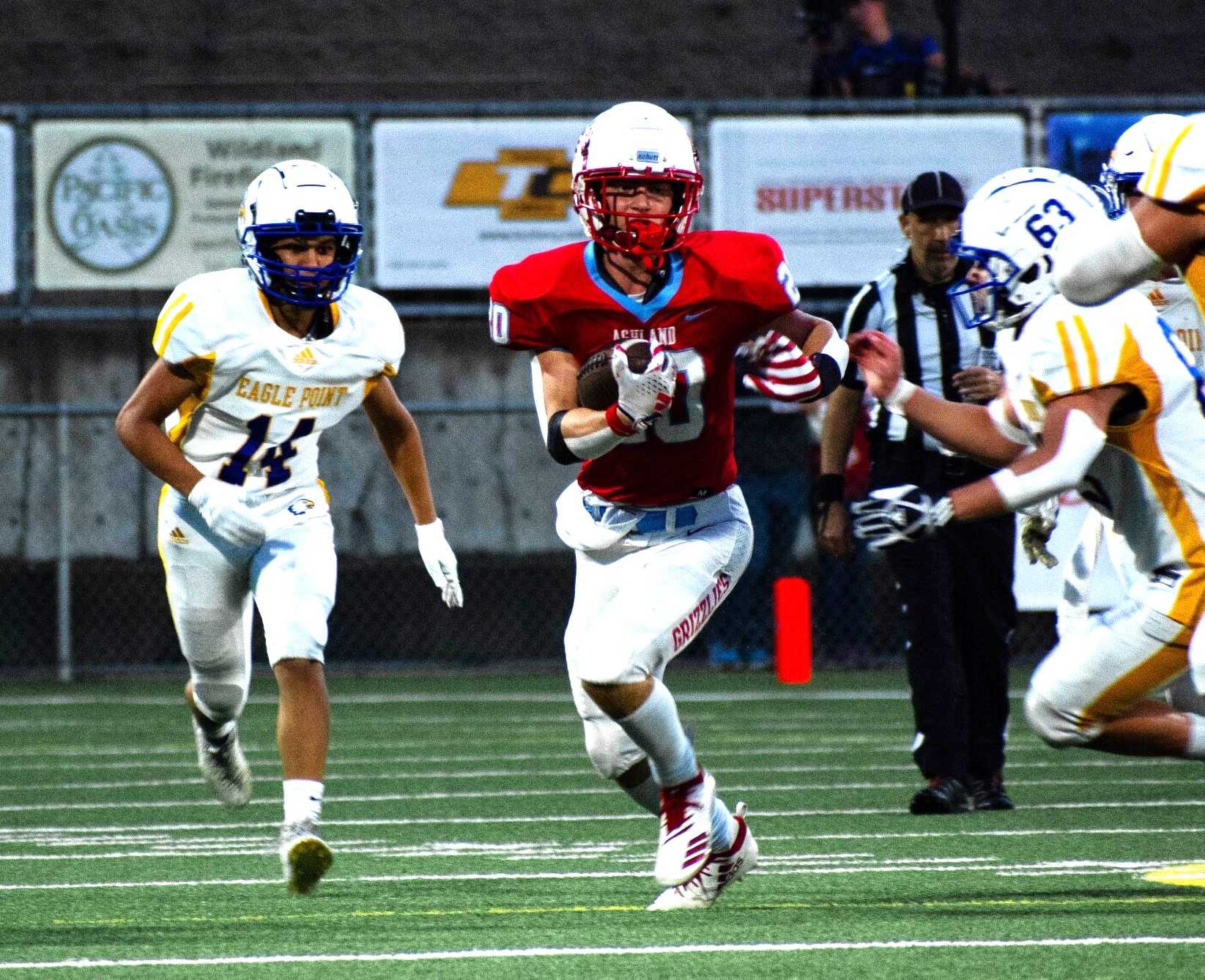 After making the 5A quarterfinals in 2019, Ashland football fell off the map.
The Grizzlies could not field a varsity team for the COVID-shortened season, then finished 0-8 in 2021, their first winless year since 1962. They opted to move down to 4A last year but still struggled, going 2-7.
Their fortunes appear to be turning this season, however. They defeated Eagle Point 35-21 and North Eugene 49-27 in their first two games, their first back-to-back victories since 2019.
"We're excited to be 2-0," said Beau Lehnerz, the team's coach since 2017. "Over the past couple years, they've kind of taken their lumps. We're pleased with some of the things we've done, but we're not satisfied.
"These first two games we've been about as physical as we've been in multiple years. We've kind of got an attitude, a swagger. So there's confidence."
Ashland, which cracked the OSAAtoday 4A coaches poll at No. 10 this week, gets its first big test of the season Friday when it visits No. 3 Henley (2-0) in the Special District 4 opener for both teams. Last year, the Hornets went to Ashland and thumped the Grizzlies 48-19.
"They're going to challenge us," Lehnerz said. "I know they think we're finesse, but I like how we've been playing physical lately. A great team like Henley is going to test you. We can't make the same mistakes that we did against North Eugene and expect to win. Henley takes advantage of that stuff."
Ashland, which won big-school titles in 1989, 1991 and 1998, has a proud football tradition. So it wasn't easy for the Grizzlies to make the move to 4A.
"We felt like we could compete still in 5A," Lehnerz said. " We always feel like our ones could compete with most teams, but it's jut the depth. As tough as it was to make that decision, it was the right decision. Last year, I felt like some of our kids were overconfident, that we should dominate."
The Grizzlies came back this year with a new resolve. but got an eye-opener in late July when they traveled to Kobe, Japan, and lost 47-14 to a Japanese all-star team in the Pacific Rim Bowl. They have played in the game every two years since 1988, although it was their first visit since 2017.
"We got our butts kicked," Lehnerz said. "We didn't play as well as we were hoping. Generally, our Pacific Rim Bowl years tend to be our better seasons. Going to play a Japanese all-star team, that knocks you down a notch, it was great for our kids to get a reality check. If we would've won, I don't know if we'd be playing or behaving the same way we are now."
Ashland, with nine starters returning on each side of the ball, expected to make a move this season. The team is loaded with seniors who started as sophomores, such as receivers Crosby Lehnerz and Caden Negra, running back Gavin White and linebacker Talon Hernandez.
The Grizzlies also have a third-year starter at quarterback in junior Jojo Harrower. The 6-foot-4, 180-pound Harrower has excelled in the first two games, completing 23 of 34 passes for 388 yards and seven touchdowns with one interception.
"He's got great athleticism, and he's super football smart," Beau Lehnerz said. "With a strong arm, he can get impatient and throw the ball deep a little bit more than we want. For him, it's really refining the mental part and making good decisions."
The 6-3 Negra, who has six catches for 123 yards and three touchdowns, is a big-play threat. Four other players have touchdown catches, and White has rushed for 130 yards on 19 carries and returned a kickoff 99 yards for a score.
"We've got guys, you get them the ball, they can take it a long ways," Beau Lehnerz said.
Henley, which lost to eventual state champion Estacada 17-16 in the quarterfinals last year, has dominated its first two opponents. The Hornets won at Seaside 38-14 and handled Crater at home 46-7 last week.
Senior running back Logan Whitlock (5-8, 180) ran for four touchdowns against Crater.
"Logan is a great north and south runner, but also he can get east and west and make people look silly," Beau Lehnerz said. "He's a tough guy. He's got wheels, too. If you leave a little crease, he's gone. Trying to contain Logan is the key."
Other top matchups in Week 3:
Thursday
2A No. 6 Regis (2-0) at 2A No. 9 Gervais (2-0), 7 p.m.: The Cougars play host to the Rams in the Tri-River Conference opener. Regis has outscored its opponents 106-0 behind senior quarterback Kollin Schuacher, who has completed 35 of 60 passes for 570 yards and 10 touchdowns. The Rams beat Gervais 66-0 last year.
Friday
5A No. 2 Summit (1-1) at 6A No. 5 Sherwood (2-0), 7 p.m.: Reigning 5A champion Summit, which lost at 6A No. 3 Tualatin 42-14 in its opener, gets another crack at a top 6A team. The Bowmen rushed for 333 yards in a 36-0 win over Clackamas last week.
6A No. 9 Jesuit (0-2) at 6A No. 1 West Linn (2-0), 7 p.m.: The last time Jesuit started 0-2 was 2014, and with the reigning 6A champion Lions standing in the way, the Crusaders could be 0-3 for the first time since 1977. With No. 3 Tualatin up next, it won't get any easier for Jesuit.
5A No. 1 Wilsonville (2-0) at 6A No. 3 Tualatin (2-0), 7 p.m.: Wilsonville, with dual-threat senior quarterback Kallen Gutridge, is looking like one of the best teams in the state, regardless of classification. The Wildcats will get a chance to see where they stack up against 6A power Tualatin.
Junction City (2-0) at 4A No. 9 Stayton (2-0), 7 p.m.: Junction City has made dramatic progress in its four years under coach Max Wall, who has gone 18-8 after taking over a program that was coming off 0-7 and 1-7 seasons. The Tigers can take an important step in their Special District 3 opener against the Eagles, who beat them 35-33 last year.
4A No. 2 Mazama (2-0) at 4A co-No. 5 Marist Catholic (1-1), 7 p.m.: Marist Catholic has split two overtime games – beating 5A Churchill and losing to 5A Springfield – and Mazama is coming off a triple-overtime thriller, defeating 5A Eagle Point 57-51. The Spartans are looking to avenge a 42-7 loss at Mazama last year.
3A No. 4 Kennedy (2-0) at 3A No. 8 Yamhill-Carlton (1-1), 7 p.m.: Yamhill-Carlton, which lost to No. 5 Dayton 38-36 in its opener, bounced back to beat Amity 40-16. Kennedy, last year's 3A runner-up, makes its Special District 1 debut after playing in Special District 2 last year.
3A No. 6 South Umqpua (2-0) at Lakeview (2-0), 7 p.m.: The Lancers and Honkers are tied for first place in Special District 3 with Cascade Christian and Coquille. Lakeview, which lost at South Umpqua 41-0 last year in its move up to 3A, has plenty of momentum after beating Douglas 32-8 and Brookings-Harbor 45-0.
Central Linn (2-0) at 2A No. 3 Lowell (2-0), 7 p.m.: Central Linn, which went 1-8 last year, has outscored its first two opponents 86-0. The Cobra defense faces a big test against Red Devils junior running back JaMar Thurman, who has rushed for 573 yards in his first two games. Lowell won at Central Linn 40-16 last year.
2A No. 5 Bandon/Pacific (2-0) at 2A No. 7 North Douglas/Yoncalla (2-0), 7 p.m.: The Special District 3 opener matches the high-octane offense of North Douglas (46.0 points per game) against Bandon's tough defense (3.0 points). Bandon scratched out a 27-22 home win over North Douglas last year.
1A-8 No. 5 Crane (2-0) at 1A-8 No. 8 Imbler (2-0), 2 p.m.: Crane has impressed in its first two games under coach Matt Hawley, defeating Gilchrist 62-0 and Bonanza 42-8. The Mustangs will need to dig deeper in their Special District 2 opener against the Panthers, who have rolled past Enterprise 50-20 and Dufur 52-12. Crane won at home last year 44-0.