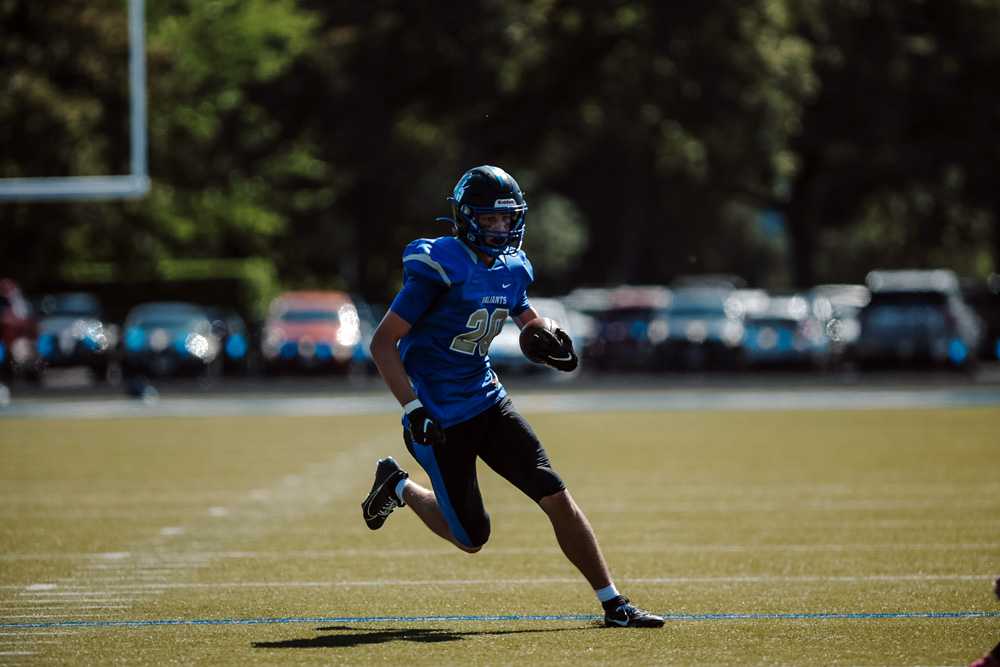 OSAAtoday is tracking football stat stars this fall, identifying both single-game and season-long achievements.
Below, find Week 2 and season-long stat stars who have met the thresholds listed below.
Varsity head coaches only may email [email protected] to make additions or modifications to the list, which will come out every Thursday.
Note: the symbol * in the season-long categories means that the player has achieved the season-long threshold in one game, but we do not have two-game results for him
Single-game achievements
Week 2
Passing yards (250 or more yards through the air)
559 – Lukas Hews, Sr., 6-3, 190, West Albany (5A)
503 – Athan Palmateer, Sr., 6-2, 200, South Salem (6A)
375 – Rocco McClave, Sr., 6-2, 175, Crescent Valley (5A)
366 – Jimmy Hughes, Sr., 6-3, 210, Summit (6A)
356 -- Jack Wright, Soph., 6-0, 170, Burns (3A)
328 -- Baird Gilroy, Jr., 6-5, 210, West Linn (6A)
324 – Avirey Durdahl, Jr., 6-0, 190, Nelson (6A)
321 – Alex Adams, Soph., 6-1, 195, Valley Catholic (3A)
300 – Drew Nees, Sr., 6-1, 191, Sunset (6A)
294 -- Logan Backman, Sr., 6-0, 185, Myrtle Point (1A-8)
294 -- Jett Fay, Sr., 6-1, 180, Barlow (6A)
291 – Gabe Motschenbacher, Sr., 6-1, 185, Lakeridge (6A)
285 – Colton Stepleton, Sr., 6-2, 200, Vale (3A)
280 – Kyrin Fuimaono, Sr., 6-0, 200, McKay (5A)
275 – Anthony Alimenti, Sr., Elkton (1A-6)
272 -- Kody Sparks, Jr., 6-0, 160, Crosspoint Christian (1A-8)
269 – Kollin Schumacher, Sr., 5-9, 150, Regis (2A)
265 – Traeger Healy, Soph., 6-1, 180, North Medford (6A)
262 – Kallen Gutridge, Sr., 6-3, 185, Wilsonville (5A)
Touchdown passes (3 or more)
7 – Lukas Hews, Sr., 6-3, 190, West Albany (5A)
6 – Athan Palmateer, Sr., 6-2, 200, South Salem (6A)
6 – Anthony Alimenti, Sr., Elkton (1A-6)
5 – Jojo Harrower, Jr.., 6-3, 175, Ashland (4A)
5 -- Riley Lantis, Sr., 6-2, 179, Riverside / Ione (2A)
5 – Oran Davis, Sr., 5-10, 160, Spray / Mitchell / Wheeler (1A-6)
5 -- Jack Wright, Soph., 6-0, 170, Burns (3A)
4 -- Josh Thomas, Fr., 5-8, 120, Dayville / Monument / Long Creek (1A-6)
4 – Caleb Russell, Jr., 5-11, 160, Philomath (4A)
4 -- Braiden Ellis, Sr., Monroe (2A)
4 – Dawson Rios, Sr., 6-0, 185, Salem Academy (3A)
4 -- Kollin Schumacher, Sr., 5-9, 150, Regis (2A)
4 -- Kody Sparks, Jr., 6-0, 160, Crosspoint Christian (1A-8)
4 -- Aaron Liebelt, Sr., 6-1, 155, St. Helens (4A)
4 – Rocco McClave, Sr., 6-2, 175, Crescent Valley (5A)
4 – Bryton Livingston, Sr., 6-1, 185, Eagle Point (5A)
4 – Avirey Durdahl, Jr., 6-0, 190, Nelson (6A)
4 -- Kallen Gutridge, Sr., 6-3, 185, Wilsonville (5A)
4 – Colton Stepleton, Sr., 6-2, 200, Vale (3A)
3 – Alex Adams, Soph., 6-1, 195, Valley Catholic (3A)
3 -- Kyle Slater, Sr., 5-8, 180, Yamhill-Carlton (3A)
3 – Ashton Moody, Sr., 5-11, 165, Cascade Christian (3A)
3 – Kade Long, Sr., 5-10, 155, Banks (3A)
3 -- Cooper Rothenberger, Sr., 6-0, 215, Junction City (4A)
3 – Connor Crum, Sr., 6-0, 160 – Mountain View (5A)
3 – Traeger Healy, Soph., 6-1, 180, North Medford (6A)
3 – Gabe Motschenbacher, Sr., 6-1, 185, Lakeridge (6A)
3 – Liam Davis, Jr., 6-1, 175, Lake Oswego (6A)
3 – Max Nowlin, Jr., 6-4, 200, Scappoose (4A)
3 – Diego Rodriguez, Jr., 6-1, 170, Ontario (3A)
3 – Quinton Buckland, Sr., 6-2, 190, Elmira (3A)
3 – Lucas Culbertson, Jr., 6-0, 170, Glencoe (6A)
3 -- Jett Fay, Sr., 6-1, 180, Barlow (6A)
Rushing yards (150 or more on the ground)
351 -- Preston Fretwell, Soph., 5-7, 151, Dayville / Monument / Long Creek (1A-6)
268 – JaMar Thurman, Jr., 5-9, 170, Lowell (2A)
262 -- Rene Sears. Jr. , 5-10, 160, Powers (1A-6)
259 – Jacob Logan, Sr., 6-0, 195, South Umpqua (3A)
255 – Hunter Vaughn, Soph., 6-1, 175, North Douglas / Yoncalla (2A)
244 – Jordan Hicks, Soph., Mountainside (6A)
230 – Eli Freitag, Sr., 6-0, 175, Bandon / Pacific (2A)
218 – Ethan Hendrickson, Sr., 5-8, 175, Ontario (3A)
217 -- Jake Westerman, Sr., 5-10, 165, Gold Beach (2A)
210 -- Jake White, Jr.., 6-0, 180, Seaside (4A)
200 – Rocco McClave, Sr., 6-2, 175, Crescent Valley (5A)
199 – Ethan Rivera, Sr., 5-8, 195, Hood River Valley (5A)
193 -- Alex Garcia, Sr., 5-10, 17-, Dayton (3A)
171 – Jacob Hadley, Jr., 5-9, 170, Willamina (2A)
168 -- Kenya Johnson, Jr., 6-1, 190, Sprague (6A)
162 -- Ethan Thompson, Sr., 5-11, 160, Dayville / Monument / Long Creek (1A-6)
160 – Wyatt Andler, Jr., 5-10, 195, Ia. B. Wells (6A)
158 – Zach Smith, Sr., 5-11, 210, Dayton (3A)
155 – Tyson Van Gastel, Sr., 6-2, 210, Mazama (4A)
153 -- Branson Cook, Soph., 6-0, 160, St. Paul (1A-8)
152 – Quinton Buckland, Sr., 6-2, 190, Elmira (3A)
Receiving yards (100 or more)
247 – Esteban Mendez, Sr., 5-6, 160, South Salem (6A)
233 – Noah Holub, Sr., 6-6, 200, Valley Catholic (3A)
206 – Evin Warner, Jr., 6-1, 175, Myrtle Point (1A-8)
190 – Jarron Huebner, Sr., 155, West Albany (5A)
181 – Blake Hurley, Sr., 6-3, 204, Sunset (6A)
170 – Austin Simmons, Jr., 220, West Albany (5A)
160 -- Patrick Mahmoud, Jr., 5-7, 150, Powers(1A-6)
155 – Eli Johnson, Sr., 6-4, 210, South Salem (6A)
154 -- Tyler Creswick, Sr., 6-3, 185, Nelson (6A)
139 – Andrew Houx, Soph., Elkton (1A-6)
137 -- Sentori Martino, Sr., 6-1, 175 (Barlow (6A)
131 -- Jesse Bauldree, Sr., 5-9, 150, Salem Academy (3A)
131 -- Ethan Aman, Sr., 6-0, 185, Franklin (6A)
131 -- Luey Campos, Sr., 5-10, 145, Crescent Valley (5A)
128 – Henry Murphy, Sr., 5-11, 160, Summit (6A)
128 -- Justice Anthony, Sr., 5-10, 175, McKay (5A)
127 – Noah Koenig, Sr., 5-10, 170, Regis (2A)
127 -- Elijah Greenup, Sr., 5-11, 175, Barlow (6A)
126 – Kase Schaffeld, Jr., 6-0, 190, Vale (3A)
124 – Tyler Hart-McNally, Jr., 155, West Albany (5A)
122 -- Nick Crowley, Jr., 5-10, 180, Wilsonville (5A)
117 – Alex Meadows, Sr., 6-3, 185, Eagle Point (5A)
116 – Lucas Ikjaer Jr., Crescent Valley (5A)
113 – Wiley Donnerberg, Sr., 6-4, 205, West Linn (6A)
112 – Parker Littlejohn, Sr., 5-9, 160, Banks (3A)
111 – Maliq Smith, Jr., 5-11, 155, Glencoe (6A)
110 – Tony Martinez, Sr., 5-8, 170, North Medford (6A)
108 – Isaiah Francis, Jr., 5-10, 145, South Eugene (5A)
107 -- Charlie Shorb, Sr. 6-3, 210, Powers (1A-6)
105 -- Landen Scott, Jr., 6-0, 160, Sisters (3A)
104 – CD Nuno, Soph., 6-2, 180, Philomath (4A)
104 -- Matthew Rausch, Jr., Elkton (1A-6)
101 – Gus Donnerberg, Sr., 6-4, 210, West Linn (6A)
100 -- Jaxon Hoyt, Jr., 5-9, 160, Burns (3A)
Return yards (100 or more)
155 -- Gavin Aguero, Soph., 5-7, 150, McKay (5A)
140 – Gavin Williams, Soph., 5-10, 140, Madras (4A)
Tackles (10 or more)
17 – Camden Roofener, Jr., 6-3, 200, Glencoe (6A)
16 -- Stealth Franklin, Sr., 5-7, 160, Bandon /Pacific (2A)
14 -- Tyler Thompson, Soph., 5-9, 170, Dayville / Monument / Long Creek (1A-6)
14 -- Cean Sanchez, Sr., 5-7, 175, Gold Beach (2A)
14 – Mark Wiepert, Jr., 6-1, 180, Wilsonville (5A)
13 -- Rene Sears. Jr. , 5-10, 160, Powers (1A-6)
13 -- Brayden Miller, Soph., 6-2, 175, Scappoose (4A)
12 – Noah Holub, Sr., 6-6, 200, Valley Catholic (3A)
12 – Chris Sickles, Jr., 5-11, 170, Falls City / Kings Valley Charter (1A-6)
12 -- Quinton Olson, Jr., 6-0, 167, Scappoose (4A)
12 – Whiatt Deutschman, Jr., 5-10, 185, Eagle Point (5A)
11.5 -- Talon Blanton, Jr., 5-6, 140, Powers(1A-6)
11.5 – Evin Warner, Jr., 6-1, 175, Myrtle Point (1A-8)
11 – Rowan Files, Sr., 6-2, 200, Lowell (2A)
11 -- Eli Harrah, Sr., 6-0, 175, Scappoose (4A)
10 – Thomas Browning, Jr., 6-0, 195, Grant (6A)
10 -- Houstyn Lee-Perry, Sr., 6-2, 210, Liberty (6A)
10 -- Grant Ellison, Sr., 6-5, 215, La Salle Prep (4A)
10 – Lane Gilbert, Soph., 5-7, 170, Banks (3A)
10 -- Jaxon Hoyt, Jr., 5-9, 160, Burns (3A)
10 -- Easton Kemper, Jr., 5-10, 190, Burns (3A)
Interceptions (2 or more)
2 – Quinton Olson, Jr., 6-0, 167, Scappoose (4A)
2 – Kellen Strong, Sr., 5-10, 165, McMinnville (6A)
2 – Elliott Foust, Sr., 5-11, 155, Falls City / Kings Valley Charter (1A-6)
2 -- Daniel Polk, Sr., 6-2, 185, Illinois Valley (2A)
2 – Thomas Borden, Sr., 6-1, 170, Oregon City (6A)
2 – Colt Ness, Jr., 5-11, 160, Tigard (6A)
2 – Thomas Browning, Jr., 6-0, 195, Grant (6A)
2 – Lawson Ashenfelter, Sr., 5-9, 160, Glencoe (6A)
Sacks (2 or more)
5 – William Walker, Sr., 6-2, 195, Dallas (5A)
2 – Jayden Fortier, Sr., 6-5, 220, Tualatin (6A)
2 -- Grant Ellison, Sr., 6-5, 215, La Salle Prep (4A)
2 – Konner Lussier, Sr., 5-11, 180, South Umpqua (3A)
2 -- Easton Kemper, Jr., 5-10, 190, Burns (3A)
2 -- Deckard Hale, Fr., 5-11, 190, Grant (6A)
2 -- Benson Deibele, Sr., 6-0, 270, Grant (6A)
2 – Maverick Tidwell, Jr., 6-5, 200, Cove (1A-8)
Touchdowns scored (3 or more actually scored (rushing, receiving and return); does not include TD passes))
7 -- Ty McLaughlin, Sr., Elgin (1A-8)
6 – Hunter Vaughn, Soph., 6-1, 175, North Douglas / Yoncalla (2A)
5 --Cooper Cemore, Fr., 5-11, 150, Riverside / Ione (2A)
5 – Jadon Coker, Sr., Riddle (1A-6)
5 – Ethan Hendrickson, Sr., 5-8, 175, Ontario (3A)
5 -- Jake Westerman, Sr., 5-10, 165, Gold Beach (2A)
4 -- Daniel Polk, Sr., 6-2, 185, Illinois Valley (2A)
4 – Connor Dye, Sr., 5-10, 165, Springfield (5A)
4 – Rocco McClave, Sr., 6-2, 175, Crescent Valley (5A)
4 – Esteban Mendez, Sr., 5-6, 160, South Salem (6A)
4 -- Kane Sullivan, Jr., 6-2, 180, McMinnville (6A)
4 – Jordan Hicks, Soph., Mountainside (6A)
4 – Logan Whitlock, Sr., 5-8, 180, Henley (4A)
4 – Nolan Abrams, Sr., 5-11, 160, Cascade (4A)
4 – Caden George, Sr., 5-10, 185, Heppner (2A)
4 -- Rene Sears. Jr. , 5-10, 160, Powers (1A-6)
4 – Shaun Wilder, Sr., 5-9, 200, North Bend (4A)
4 – JaMar Thurman, Jr., 5-9, 170, Lowell (2A)
4 -- Chris Sickles, Jr., 5-11, 170, Falls City / Kings Valley Charter (1A-6)
4 -- Jaxon Hoyt, Jr., 5-9, 160, Burns (3A)
3 -- Sentori Martino, Sr., 6-1, 175 (Barlow (6A)
3 -- Patrick Mahmoud, Jr., 5-7, 150, Powers(1A-6)
3 – Wyatt Andler, Jr., 5-10, 195, Ia. B. Wells (6A)
3 – Ethan Rivera, Sr., 5-8, 195, Hood River Valley (5A)
3 – Noah Holub, Sr., 6-6, 200, Valley Catholic (3A)
3 – Trevin Truesdale, Jr., Monroe (2A)
3 -- Matthew Rausch, Jr., Elkton (1A-6)
3 -- Dom Curiel Sr., Echo (1A-6)
3 – Noah Koenig, Sr., 5-10, 170, Regis (2A)
3 -- Jake White, Jr.., 6-0, 180, Seaside (4A)
3 – Caden Negra, Sr., 6-3, 185, Ashland (4A)
3 – Jack Foley, Jr., 6-5, 195, Mountain View (5A)
3 -- Zayvian Webster, Sr., 5-8, 180, Dallas (5A)
3 – R.J. Young, Sr., 5-9, 160, Corvallis (5A)
3 – Liam Davis, Jr., 6-1, 175, Lake Oswego (6A)
3 – Austin Simmons, Jr., 220, West Albany (5A)
3 – Tyler Hart-McNally, Jr., 155, West Albany (5A)
3 – Quintyn Walker, Fr., 6-0, 170, Imbler (1A-8)
3 – Chase Bacus, Sr., 5-10, 165, Crosspoint Christian (1A-8)
3 -- Connor Dunlea, Sr., 5-11, 180, Lost River (1A-8)
3 – Bodie Norlock, Sr., 5-11, 210, Mazama (4A)
3 – Zach Smith, Sr., 5-11, 210, Dayton (3A)
3 – Jacob Logan, Sr., 6-0, 195, South Umpqua (3A)
3 – Kade Muir, Sr., 5-8, 185, Philomath (4A)
3 -- Jaydon Estrada, Sr., 5-8, 185, Kennedy (3A)
3 – Canyon Niblett, Sr., 6-1, 190, Marshfield (4A)
Week 1 stat stars
Find Week 1 stat stars at this link: https://www.osaa.org/today/article/3392/view?title=Football+stat+stars+%E2%80%93+Week+1
Season to date stat stars
Passing yards (500 or more through the air)
794 – Lukas Hews, Sr., 6-3, 190, West Albany (5A)
780 – Athan Palmateer, Sr., 6-2, 200, South Salem (6A)
715 – Logan Backman, Sr., 6-0, 185, Myrtle Point (1A-8)
610 – Kallen Gutridge, Sr., 6-3, 185, Wilsonville (5A)
598 – Jimmy Hughes, Sr., 6-3, 210, Summit (6A)
575 – Kollin Schumacher, Sr., 5-9, 150, Regis (2A)
569 – Kyrin Fuimaono, Sr., 6-0, 200, McKay (5A)
557 – Will Reid, Sr., 6-0, 185, Franklin (6A)
546 – Rocco McClave, Sr., 6-2, 175, Crescent Valley (5A)
545 – Drew Nees, Sr., 6-1, 191, Sunset (6A)
525 -- Baird Gilroy, Jr., 6-5, 210, West Linn (6A)
521 – Oran Davis, Sr., 5-10, 160, Spray / Mitchell / Wheeler (1A-6)
Touchdown passes (6 or more)
10 – Lukas Hews, Sr., 6-3, 190, West Albany (5A)
10 – Kollin Schumacher, Sr., 5-9, 150, Regis (2A)
10 – Logan Backman, Sr., 6-0, 185, Myrtle Point (1A-8)
9 – Athan Palmateer, Sr., 6-2, 200, South Salem (6A)
8 – Oran Davis, Sr., 5-10, 160, Spray / Mitchell / Wheeler (1A-6)
7 – Rocco McClave, Sr., 6-2, 175, Crescent Valley (5A)
7 – Kallen Gutridge, Sr., 6-3, 185, Wilsonville (5A)
6 – Max Nowlin, Jr., 6-4, 200, Scappoose (4A)
6 -- Jack Wright, Soph., 6-0, 170, Burns (3A)
Rushing yards (300 or more)
573 – JaMar Thurman, Jr., 5-9, 170, Lowell (2A)
543 – Hunter Vaughn, Soph., 6-1, 175, North Douglas / Yoncalla (2A)
503 – Eli Freitag, Sr., 6-0, 175, Bandon / Pacific (2A)
466 -- Preston Fretwell, Soph., 5-7, 151, Dayville / Monument / Long Creek (1A-6)
392 – Ethan Hendrickson, Sr., 5-8, 175, Ontario (3A)
384 -- Rene Sears. Jr. , 5-10, 160, Powers (1A-6)
375 – Zach Smith, Sr., 5-11, 210, Dayton (3A)
371 – Angel Valenzuela, Soph., 5-11, 190, Mountain View (5A)
354 – Jacob Hadley, Jr., 5-9, 170, Willamina (2A)
310 -- Jake Westerman, Sr., 5-10, 165, Gold Beach (2A)
305 – Rocco McClave, Sr., 6-2, 175, Crescent Valley (5A)
301 – Jacob Logan, Sr., 6-0, 195, South Umpqua (3A)
301 – Billy Reynolds, Sr., 6-0, 195, Myrtle Point (1A-8)
Receiving yards (250 or more)
444 – Evin Warner, Jr., 6-1, 175, Myrtle Point (1A-8)
345 – Noah Holub, Sr., 6-6, 200, Valley Catholic (3A)
290 – Ramaru Goto, Jr., 6-1, 170, Spray / Mitchell / Wheeler (1A-6)
274 -- Patrick Mahmoud, Jr., 5-7, 150, Powers(1A-6)
266 -- Justice Anthony, Sr., 5-10, 175, McKay (5A)
250 – Blake Hurley, Sr., 6-3, 204, Sunset (6A)
Return yards (150 or more)
198 -- Gavin Aguero, Soph., 5-7, 150, McKay (5A)
165 – Jacob Berkovich, Sr., 5-8, 160, The Dalles (4A)
155 -- Gavin Aguero, Soph., 5-7, 150, McKay (5A)
150 -- Justin Craigwell, Soph., 5-11, 200, Sunset (6A)
Tackles (20 or more)
28 – Chris Sickles, Jr., 5-11, 170, Falls City / Kings Valley Charter (1A-6)
26 -- Stealth Franklin, Sr., 5-7, 160, Bandon /Pacific (2A)
24.5 – Jerrik Wangler, Sr., 5-11, 195, North Salem (6A)
24 – Noah Holub, Sr., 6-6, 200, Valley Catholic (3A)
23.5 -- Nykita Sbitniev, Sr., 6-1, 185, Spray / Mitchell / Wheeler (1A-6)
23 -- Easton Kemper, Jr., 5-10, 190, Burns (3A)
23– Thomas Browning, Jr., 6-0, 195, Grant (6A)
22 -- Ivan Morales, Jr., 6-1, 220, Tigard (6A)
22 -- Rene Sears. Jr. , 5-10, 160, Powers (1A-6)
20 – Landon Risseeuw, Fr., 6-1, 190, Willamina (2A)
20 -- Jaxon Hoyt, Jr., 5-9, 160, Burns (3A)
20 -- Justin Craigwell, Soph., 5-11, 200, Sunset (6A)
20 -- Tyler Thompson, Soph., 5-9, 170, Dayville / Monument / Long Creek (1A-6)
Interceptions (3 or more)
3 – Mark Carpenter, Jr., 6-1, 170, Henley (4A)
3 – Elliott Foust, Sr., 5-11, 150, Falls City / Kings Valley Charter (1A-6)
3 – Colt Ness, Jr., 5-11, 160, Tigard (6A)
Sacks (3 or more)
*5 – William Walker, Sr., 6-2, 195, Dallas (5A)
4 – Aaron Burgess, Sr., 6-3, 160, Falls City / Kings Valley Charter (1A-6)
4 – Konner Lussier, Sr., 5-11, 180, South Umpqua (3A)
3.5 – Landon Risseeuw, Fr., 6-1, 190, Willamina (2A)
3 – Jerrik Wangler, Sr., 5-11, 195, North Salem (6A)
3 -- Grant Ellison, Sr., 6-5, 215, La Salle Prep (4A)
3 -- Noah Lubisich, Sr., 6-4, 235, Wilsonville (5A)
Touchdowns scored (7 or more)
8 – Ethan Hendrickson, Sr., 5-8, 175, Ontario (3A)
8 – JaMar Thurman, Jr., 5-9, 170, Lowell (2A)
8 – Logan Whitlock, Sr., 5-8, 180, Henley (4A)
*7 -- Ty McLaughlin, Sr., Elgin (1A-8)