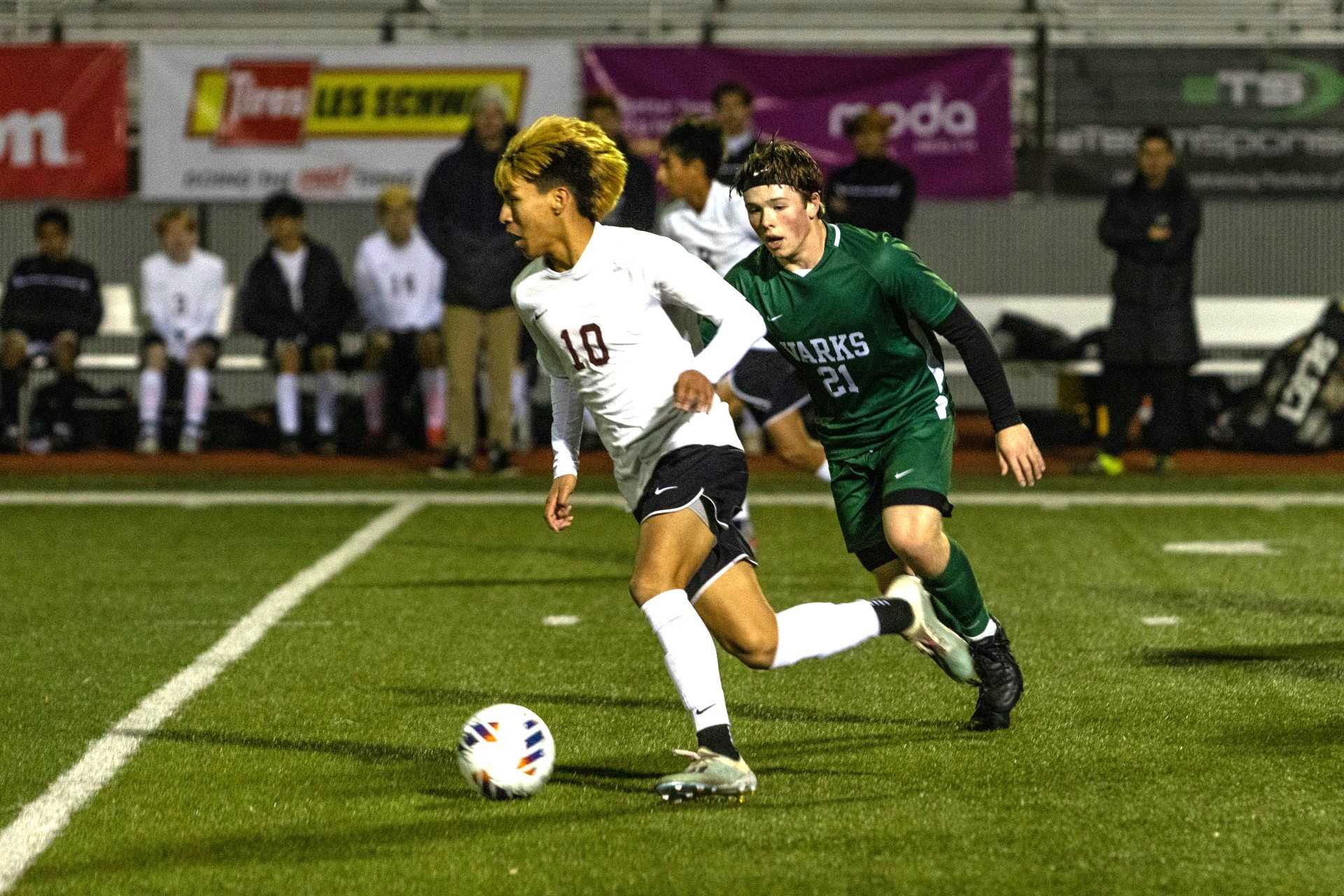 Looking into his players' eyes, McLoughlin boys soccer coach Jose Garcia sensed their stagefright before the 3A/2A/1A final last year against Oregon Episcopal.
The Pioneers, playing in their first final since 2009, were bidding for their first state title since a three-peat from 2005 to 2007. Overwhelmed by the moment, they dropped a 2-1 decision to the Aardvarks.
"They were so stinkin' nervous. It was terrible," Garcia said. "I was like, 'I don't recognize you guys at all.'"
That missed opportunity still haunts the Pioneers. And with all but one starter back from last year's state final – including six seniors who are fourth-year starters – they enter this season with a sense of urgency.
Garcia, who coached those three title teams as well as two runner-up squads, believes this year's edition is on par with his best.
"If they make up their minds, they can be even better," he said.
So far, so good. McLoughlin, ranked second in the OSAAtoday 3A/2A/1A coaches poll, has outscored its foes 37-2 in a 5-0-1 start. The only blemish on the Pioneers' record is a 1-1 home tie with No. 1 Catlin Gabel in the season opener.
"They're very into it. They're enthusiastic," Garcia said. "They're more mature now. They know what they want and they know where we're going."
Senior Angel Castillo has scored a team-high 12 goals, followed by junior Geovanny Sandoval (eight) and seniors Almikar Garcia (seven) and Romario Garcia (four). Last year, Castillo scored a state-leading 41 goals and Almikar Garcia had 31 goals and a state-best 30 assists.
With Castillo, Almikar Garcia and Romario Garcia attacking out of the midfield, the Pioneers can strike quickly.
"We switch. If one goes down, the other covers," Jose Garcia said. "That's where they find those weaknesses."
Castillo's aggressiveness sets the tone.
"He's not afraid to attack, to go forward," Joes Garcia said. "He makes up his mind and he just goes."
The Pioneers can score goals in bunches. If they are going to win a title, though, they need better attention to detail, according to Jose Garcia.
The match against Catlin Gabel was a prime example. McLoughlin took a 1-0 lead in the first half on a goal by junior Michael Wolden, but a defensive error led to an own-goal in the final minutes, forcing the Pioneers to settle for a tie.
"That's what I'm talking about, letting down our guard," Jose Garcia said. "We have to talk about being alert, being ready at all times."
McLoughlin's most impressive win so far is a 4-1 decision at North Marion, which was co-No. 3 in the OSAAtoday 4A preseason coaches poll. Castillo had a hat trick and Sandoval added a goal for the Pioneers, who won comfortably despite failing to take advantage of several one-on-one chances.
"They're a good team. Sure enough, they gave us a fight," Jose Garcia said.
The Pioneers hold 8-0 wins over Pendleton, Nyssa, La Grande and Four Rivers. Their next big challenge is Sept. 19 at No. 3 Riverside (2-2), a team that defeated No. 4 Oregon Episcopal 1-0 and lost to Catlin Gabel 1-0.
Jose Garcia doesn't want his players to develop a false sense of security from their dominant victories.
"I tell them, 'Let's be real. This is not realistic,'" he said. "Other teams in the Portland area, they're going to be strong."
A point of emphasis for the Pioneers is being more patient in their attack. In the championship match last year, they had a tendency to settle for long shots.
"We're trying to work on that a little bit," Jose Garcia said. "Sometimes it seems like teams pack the box, and we have to learn how to break that."
The experience from last season should pay dividends. Also, the Pioneers began playing club soccer for the first time in the spring, joining Surf Soccer Club out of Walla Walla, Wash. It filled a void in their program.
"We've been really suffering and struggling on that point because there was nowhere to go," Jose Garcia said.
Lions take down Jesuit
No. 9 West Linn upended top-ranked and reigning state champion Jesuit 2-1 in a 6A boys nonleague match Sept. 5.
The host Lions (3-0-1) led 2-0 at half and held off the Crusaders (2-1-1), who had their 14-game unbeaten streak snapped. Isaac Kensinger got West Linn first goal and Haaken Retzlaff added the second, heading in a pass from Gabe Valdes.
West Linn tied Grant 1-1 on Sept. 7 at Delta Park and won at 5A No. 7 Wilsonville 4-1 on Monday.
Chase at 14
Senior Cloe Chase has pushed her goal total to 14 through four matches for reigning 4A girls champion Marist Catholic (4-0).
Chase, who had five goals against Churchill on Aug. 29, exploded for six goals as the Spartans dominated 5A Springfield 9-1 on Sept. 7. She also had the lone goal in a 1-0 win over 5A North Eugene on Sept. 5.
Chase and the Spartans traveled to play No. 2 North Marion on Tuesday.
Cobra strikes
Moving junior Coen Schneiter from defender to forward is paying off nicely for Central Linn (2-1).
Schneiter, who received all-league honors on the back line the last two years, had seven goals last week as the Cobras opened the season by winning two of their first three games.
In the opener at Gervais, Schneiter had a hat trick in a 15-minute span of the second half as Central Linn came from behind for a 3-2 win. He added a second-half goal in a 3-2 loss to Umpqua Valley Christian and had three first-half goals to propel the Cobras past Coquille/Myrtle Point 4-0.