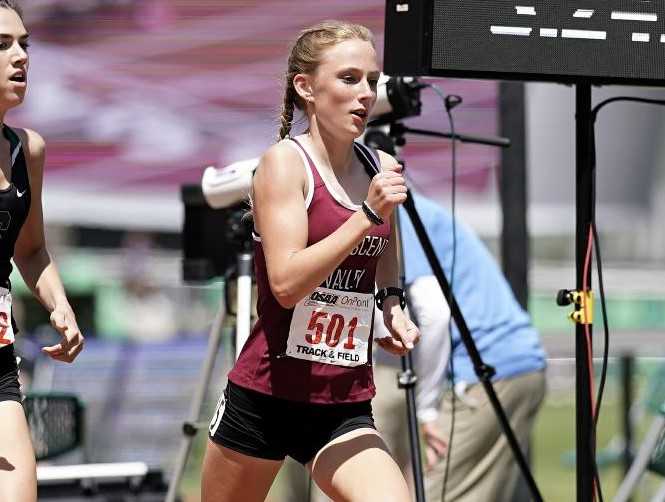 Crescent Valley junior Emily Wisniewski, the two-time 5A girls cross country champion, found another gear in winning the Ash Creek XC Festival on Saturday at Western Oregon University.
Wisniewski finished the 5,000-meter course in 17 minutes flat, a personal best by more than 24 seconds and the top time in the state this season. She cruised to victory over Canby junior Mackenzie Bigej, who was second in 17:45.4, the No. 2 time in the state.
Crescent Valley coach Tyler Bushnell sensed Wisniewski, who opened the season with a 25-second victory in the 6A/5A division of the Ultimook Race on Sept. 2 in Tillamook, was ready for a breakthrough after she "crushed" a workout of mile repeats last Tuesday.
"We figured something big was coming just with where she was at already," Bushnell said. "She's just got this steady drive, each repeat and interval and set.
"You rarely see fatigue breaking her down. She can just lock in and be so steady. She's kind of got this quiet drive. It's fun to work with and see it daily in practice. You see it come together when she kind of lights it up on race day."
Wisniewski is coming off a track season in which she repeated as 5A champion in the 3,000 and was runner-up in the 1,500. In the Nike Outdoor Nationals on June 18, she placed second in the 5,000, clocking 16:10.16.
She had a brief break in the summer and gradually built back for cross country, benefiting from the expertise of her father, Mike Wisniewski, who ran in college at Michigan. Her good health has provided for consistent training, and led to impressive early results.
"You pair that with her kind of thriving on that race-day atmosphere, and that was an awesome early-season banger, for sure," Bushnell said. "She likes to go. She doesn't like to take much time off."
The way Wisniewski has started the season, she could threaten the OSAA state-meet record this year. The fastest time ever recorded on the 5,000-meter course at Lane Community College is 17:26, by Grant's Ella Donaghu (2015) and Sunset's Ember Stratton (2016).
In winning her state titles at Lane, Wisniewski finished in 18:27.9 as a freshman and 17:58.6 last year.
Wisniewski gets a good opportunity to improve on her time this weekend when she competes in the prestigious Woodbridge Classic at Orange County Great Park in Irvine, Calif.
"She's going to race some of the country's best," Bushnell said. "Getting her to where she's got other girls around her, and some competition to chase, and a pack to kind of pull along with, that's going to be exciting. She's hungry for more and loves that race-day atmosphere."
Add Ash Creek
Jesuit dominated the 17-team girls race at Ash Creek, placing seven runners among the top 15. The Crusaders scored 40 points to beat Sunset (95) and Crescent Valley (110).
Senior Liliana Hudnut led Jesuit by taking fourth in 18:30.3, well behind the third-place finisher, North Salem sophomore Nelida Dalgas (17:47.8).
Jesuit also cruised to victory in the 25-team boys race. The Crusaders put six in the top 10 – led by the winner, senior Caden Swanson (15:30.0) – to score 26 points. South Eugene (142) and Sheldon (186) were next.
Three sophomores were next behind Swanson in Central's Ty Cirino (15:33.2), Sheldon's Malachi Schoenherr (15:36.1) and Jesuit's Matthew Wroblewski (15:37.3).
PIL District Preview
Wells senior Asher Danielson moved to the top of the 5,000 state-best list Sept. 6 by winning the PIL District Preview meet at Lents Park in Portland.
Danielson finished in 15:28.9 to beat Franklin junior Brennan McEwen (15:34.0). Danielson was coming off a season-opening win in the senior race at the Wilsonville Night Meet.
Franklin outscored Wells 30-62 for first place.
Lincoln went 1-2-3 to take first place in the girls race, scoring 18 points to easily outdistance Franklin (59). The Cardinals were led by senior Keira Saavedra (18:17.5), freshman Ellery Lincoln (18:27.5) and junior Sophie Malinoski (18:31.5).