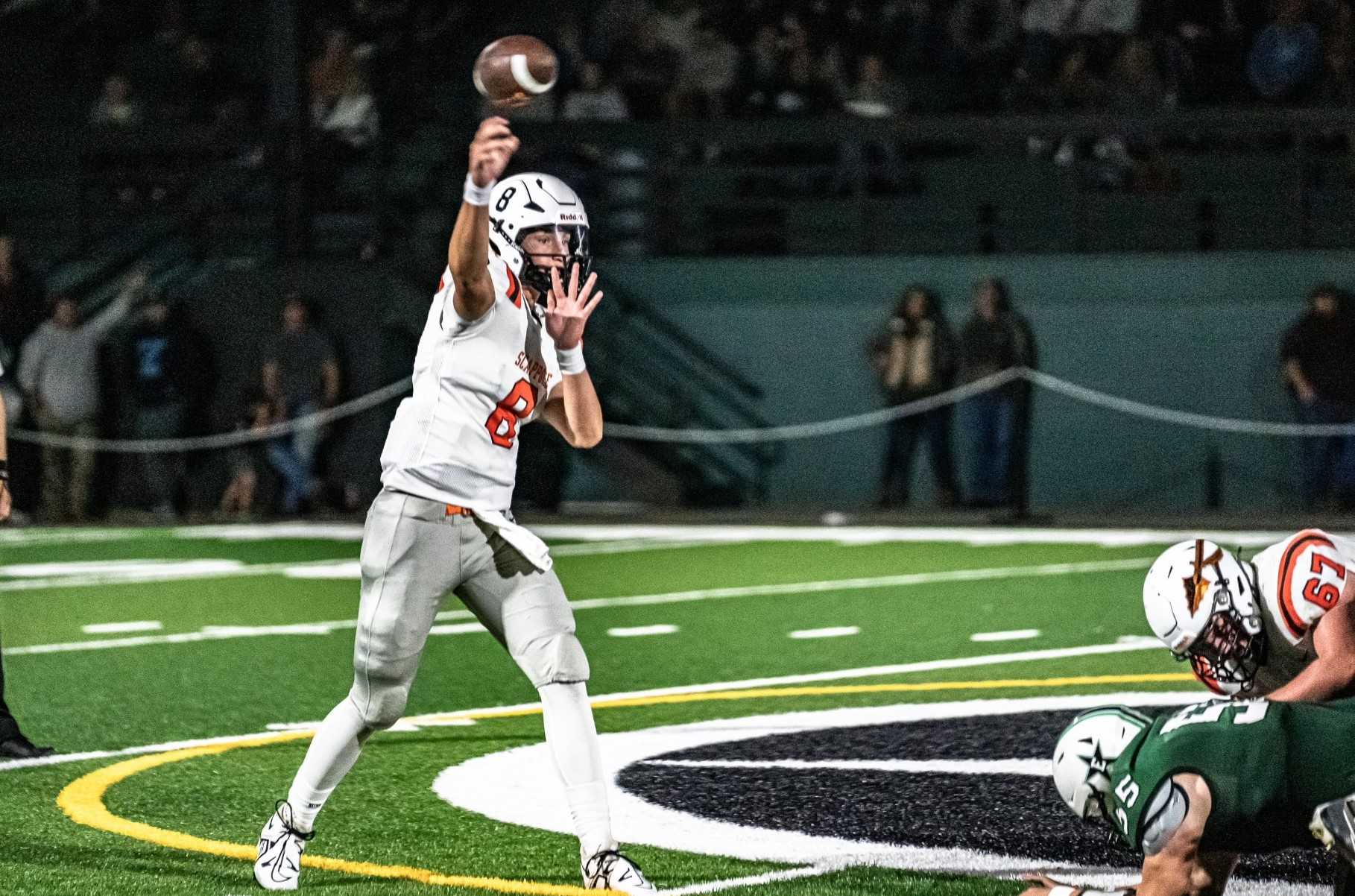 To say Scappoose had an axe to grind with reigning 4A football champion Estacada on Thursday night is an understatement.
Last season, the Rangers not only spoiled the jersey retirement night of former Scappoose star quarterback Derek Anderson with a 48-19 rout, but they beat the Indians 14-7 in the semifinals.
The pain was deep enough that when recent Scappoose graduates Colby Campbell and Trey Dieringer played in the East-West Shrine All-Star Game in Baker City this summer, they refused to put Estacada stickers on their helmets.
So when No. 2 Scappoose (2-0) emerged with a 23-18 win at No. 6 Estacada (0-2) in a nonleague game Thursday, the Indians gained some measure of redemption. And Campbell and Dieringer made the trip to witness it.
"Our kids were really excited to have that opportunity," Scappoose coach Sean McNabb said. "They didn't like that taste in their mouths. We've been talking about it for a while. We were always watching film of Estacada throughout the summer. Our kids were definitely up for the game."
Scappoose led 23-0 at half as junior quarterback Max Nowlin threw touchdown passes to seniors Colton Sprenger and Derek Bond and junior Quinton Olson. Nowlin finished 19 of 30 for 227 yards.
Estacada rallied to within 23-18 in the fourth quarter and was poised to take the lead when a Scappoose snap sailed over the punter's head, giving the Rangers the ball at the 35-yard line with about three minutes to go.
Estacada's offense penetrated the red zone but came up empty on 4th-and-7 when Olson intercepted a tipped pass with one minute left, allowing the Indians to kneel out the clock. It was Olson's second interception of the game.
"We're really thin in some areas, and with guys going both ways, we started to really tire out," McNabb said. "We had guys cramping. They started to wear us down a little bit. But I felt like our kids responded really well and came up big at the end. They did not want to lose that game."
Estacada, coming off a 20-14 loss at No. 1 Mazama, slipped to 0-2.
Scappoose has turned more to its passing game after losing standout senior running back Warren Haatia to a torn ACL in a non-football injury prior to the season opener.
"We were going to try to find ways to get him the ball, so when he goes out, it changes things a little bit," McNabb said. "We spread them out early and we were able to capitalize and jump up on them."
The 6-foot-4, 204-pound Nowlin, the son of defensive coordinator and co-head coach Joe Nowlin, missed his freshman season with an arm injury and took over as the starting quarterback last season
He completed 64.5 percent of his passes for 1,861 yards and 22 touchdowns with 11 interceptions in 2022. In two games this season, he has completed 41 of 57 passes for 465 yards and six touchdowns with two interceptions.
"Max is off to a great start," McNabb said. "He sees it, he understands it. It's just been amazing. He's come a long ways. And he's not done growing."
It's been two decades since McNabb coached Scappoose to their only state titles, a three-peat from 2000 to 2002. The Indians believe this could be a special year for them.
"Our kids are hungry to get to that championship game, being so close last year," McNabb said.
Miller time
Emotions ran high for first-year Springfield coach Frank Geske in his team's 36-34 overtime home win over Marist Catholic on Friday.
Geske -- let go as Marist Catholic's coach this year after going 120-46 in 15 seasons, including a state title in 2009 – has a deep connection with many of the Spartans.
"I've known some of those kids since they were seven years old at football camp," Geske said. "They've been ball boys for me. I've yelled at them for not going to class on time. I've only been at this school for 10 weeks."
Geske took great satisfaction in Friday's win, the 250th of his career. The 5A Millers (2-0), despite losing standout senior quarterback Caeleb Kasperek to an ankle injury early in the game, rallied from a 28-16 deficit in the fourth quarter to overcome the 4A No. 4 Spartans (1-1).
"It meant a lot," Geske said. "It doesn't make me stand any taller or puff out my chest. It's definitely like any win, except for the fact that it was a win against your brother. For that reason, it was easy to rinse and just be happy in the atmosphere afterwards.
"I love those kids over there, but I love the Springfield Millers more now."
The Millers drew even at 28-28 on touchdown runs of 18 and 10 yards by senior Connor Dye. Dye scored on a six-yard run on the first possession of overtime – his fourth TD of the game – and Springfield added a two-point conversion when senior Logan Hyatt completed a halfback pass to junior Jaevon Spencer.
Geske said the Millers went for two points because their two snappers and holder left the game with injuries, and senior kicker Zack Sherman was "gassed" after moving from receiver to fill in at quarterback.
"I knew even if we got the snap and the hold, there's a good chance he wouldn't have had the leg," Geske said. "We pretty much had to go for two or I would've been rolling the dice a little bit too much."
On the second possession of overtime, Marist Catholic answered with a nine-yard touchdown pass from junior Nick Hudson to senior Brady Bidwell. The Millers stopped a potential two-point conversion pass, though, securing their 36-34 win.
Besides Geske, the game also had extra meaning for the several ex-Marist Catholic players and coaches on Springfield's coaching staff.
"I thoroughly enjoyed the look in our team's eyes more than anything," Geske said. "Springfield hasn't had a lot of success. There's that attitude in the private-school sector that they can win at any given time. So to beat those guys was really good for our guys."
Hudson finished with four touchdown passes for the Spartans, three to Bidwell.
It was the second consecutive overtime game for Marist Catholic and first-year coach Charlie Landgraf. The Spartans won at Churchill 36-35 in their opener.
T-Wolves pounce
Tualatin, ranked third in 6A, relied on its opportunistic defense Friday to pull out a 17-14 win at Lincoln of Tacoma, ranked No. 10 in Washington 3A.
The Timberwolves (2-0) recovered five fumbles to turn back the Abes (1-1). Three were forced by senior linebacker Jayden Fortier (6-5, 225) and four were recovered by junior linebacker Calvin Evans.
"The defense did an awesome job," Tualatin coach Dom Ferraro said. "Our guys did a good job of getting their hands in and ripping the ball out."
Seniors Tino Russo and Carson Mullins had short touchdown runs for the Timberwolves (2-0), the latter capping an 88-yard drive to open a 17-7 lead late in the third quarter. Lincoln closed to within 17-14 on a touchdown pass with 8:32 left in the game.
A Tualatin punt pinned the Abes inside their 5-yard line on their last possession. The Timberwolves forced a punt and ran out the clock after running for a first down.
"Those last two drives I think summed up the way we played," Ferraro said. "Our kids played with a lot of grit and toughness. We struggled running the ball all night because they were big and physical and fast. We just needed to get one first down, and we did. Our guys just gutted the whole thing out."
Tualatin junior quarterback Nolan Keeney, who passed for five scores in the opener, completed 17 of 33 passes for 216 yards and no touchdowns with two interceptions.
"The two games he's been with us, I'm impressed with his poise," Ferraro said of Keeney, the transfer from Westview. "He seems unfazed throughout the game. He played well enough for us to win."
Fortier added two sacks and stood out on offense, catching seven passes for 87 yards.
TigerScots get payback
No. 4 Weston-McEwen/Griswold got all the offense it needed from its defense Friday when it went on the road to defeat top-ranked and reigning 2A champion Oakland 7-6 in a rematch of last year's 2A final.
On Oakland's first play, TigerScots junior Easton Berry stole a pitch and bolted 26 yards for a touchdown. Senior Mark Spencer kicked what turned out to be the decisive extra point.
Last year, Weston-McEwen defeated Oakland at home 24-16 in Week 2 but lost to the Oakers 46-32 in the state final, falling short of winning its first state championship. Friday's victory made the seven-hour drive home to Athena much easier.
"We're thrilled with the win," TigerScots coach Kenzie Hansell said. "It's a long trip for us, and I'm sure proud of our effort and believing in each other.
"Playing them down there, it was a big program win for us. It was a fun atmosphere, a lot of people there. A special thank you to all the people from Athena that made the drive. We had a nice crowd, which was huge."
Oakland (1-1) pulled within 7-6 on the first play of the second quarter when junior Gabe Williamson scored on a three-yard run, but the Oakers botched the snap on the two-point conversion attempt, and the TigerScots (2-0) kept the lead.
Weston-McEwen senior Anthony Nix made an interception to halt an Oakland drive with about one minute left. Berry, the TigerScots' quarterback, ran for a first down in third-and-17 to seal the win.
Weston-McEwen won despite gaining only 162 yards. The TigerScots offense reached the red zone four times but was unable to score.
"We need to capitalize on our opportunities more," Hansell said. "We're excited for where we're at, but we definitely know we can get better."
Shootouts
Friday night featured wild shootouts as Crescent Valley beat South Albany 63-50, West Albany turned back Lebanon 58-44, Mazama outlasted Eagle Point 57-51 in three overtimes and South Salem came back late to edge Sunset 45-44.
Crescent Valley senior quarterback Rocco McClave put on a show by accounting for eight touchdowns and 573 yards of offense in the 5A Mid-Willamette Conference game. He completed 24 of 39 passes for 375 yards and four touchdowns and ran for 198 yards and four scores on 21 carries.
Two of McClave's touchdown passes went to junior Lucas Ikjaer, who had three catches for 116 yards. South Albany (1-1) got within 56-48 in the fourth quarter, but McClave's 57-yard touchdown run provided breathing room for the Raiders (2-0).
West Albany senior Lukas Hews also had a monster performance, completing 34 of 55 passes for 559 yards and seven touchdowns as the 5A No. 4 Bulldogs (2-0) picked up the Mid-Willamette win over Lebanon (0-2).
Three of Hughes' receivers eclipsed the century mark in junior Austin Simmons (eight catches, 170 yards, three touchdowns), senior Jarron Huebner (12 catches, 190 yards, two touchdowns) and junior Tyler Hart-McNally (seven catches, 124 yards, two touchdowns), who also ran for 89 yards and one score.
Mazama (2-0), ranked No. 1 in 4A, rushed for 418 yards to beat 5A Eagle Point (0-2), getting 140 yards and three touchdowns from senior Bodie Norlock and 155 yards and two scores from senior quarterback Tyson Van Gastel.
The Vikings forced overtime on the last play of regulation when Van Gastel threw a six-yard touchdown pass to junior Kai Hunt and ran in the two-point conversion, tying the score 35-35.
In the third overtime, Mazama took a 57-51 lead on a 25-yard run by junior Kristopher Baldwin. The Vikings held on defense to secure the victory.
Eagle Point senior Bryton Livingston passed for four touchdowns -- two to senior Alex Meadows (seven catches, 119 yards) – and ran for two scores.
South Salem senior Athan Palmateer completed 29 of 39 passes for 503 yards and six touchdowns in the 6A nonleague win over Sunset (1-1). Esteban Mendez, a 5-6 senior, had eight catches for 247 yards and three touchdowns and ran for a 15-yard score. Eli Johnson, a 6-4 senior, had eight catches for 155 yards and one touchdown.
Sunset trailed 21-0 in the first quarter, came back to tie 21-21 at half and led 44-31 early in the fourth quarter, but the Saxons (2-0) pulled out the win by scoring the go-ahead touchdown with 1:59 left, a catch by Mendez.
Sunset senior Drew Nees completed 20 of 38 passes for 300 yards and two touchdowns and had 21 carries for 80 yards and one score.
Other highlights from Week 2:
6A
Central Catholic exploded for four touchdowns in the second quarter to win at Jesuit 28-6. Cru Newman passed for 145 yards and one touchdown and ran for 68 yards and one score. Timmy Mitchell returned a punt 52 yards for a touchdown for the Rams, who held the Crusaders to 158 yards. … Reigning state champion West Linn throttled host Sheldon 41-3 in a rematch of the state final. Baird Gilroy passed for two touchdowns and Ryan Vandenbrink ran for two scores for the Lions. … Liberty built a 35-7 halftime lead and defeated Jefferson 42-26, racking up 441 total yards. Tanner Steinbach rushed for 103 yards and one touchdown on seven carries, Ayaan Ali returned a fumble 33 yards for a score and Houstyn Lee-Perry had 10 tackles and a forced fumble for the Falcons. …Liam Davis ran for three touchdowns and passes for three scores, two to Carson Schwindt, as Lake Oswego beat West Salem 42-20. The Lakers had a 519-250 edge in total yards. ...
Josiah Hentzman ran for two touchdowns and William Reid caught two scoring passes for Franklin, who led 21-0 at half on its way to defeating Aloha 35-0. … North Medford smothered Bend 41-0, holding the Lava Bears to 55 total yards, one week after allowing 96 yards in a loss to Tigard. Traeger Healy, making his first varsity start at quarterback, completed 14 of 17 passes for 265 yards and three touchdowns, two to AJ Pugliano. Tony Martinez caught three passes for 110 yards and one score. … Avirey Durdahl completed 24 of 36 passes for 217 yards and four touchdowns, two to Tyler Creswick, to spark Nelson to a 42-7 win over Roseburg. The Hawks held Roseburg to 129 yards and forced four turnovers. … McMinnville blew out to a 48-0 halftime lead and defeated Forest Grove 62-7 in the Pigeon Bowl rivalry game. Kane Sullivan had 14 carries for 92 yards and four scores and passed for two scores. ...
Glencoe flattened rival Hillsboro 42-14 by accumulating 590 yards, 321 on the ground. Trevor O'Leary rushed for 130 yards on 10 carries and Colby Stampflee ran for 98 yards on 12 carries. Camden Roofener had 17 tackles, two for loss. … Oliver Luebkert caught two touchdown passes from Spencer York and Dez Valencia rushed for 142 yards and one score on 21 carries as Beaverton blanked McNary 21-0. … Newberg spoiled Lincoln's first game at its new stadium with a 35-0 win. Walker Hilton rushed for two touchdowns and Nolan Dikeman caught two scoring passes. … First-year Mountainside coach Keanon Lowe recorded his first victory as the Mavericks held off Barlow 34-27, getting four touchdown runs from Jordan Hicks. … McDaniel ended a 15-game losing streak by brushing aside Putnam 39-8. ... Sherwood rushed for 224 of its 333 yards, using 10 different ball carriers, in a 36-0 win over Clackamas.
5A
Jack Foley (five catches, 96 yards) caught three touchdown passes from Connor Crum and Angel Valenzuela rushed for 114 yards and one score on 13 carries in Mountain View's 37-0 win over Churchill. … Dallas won at McKay 36-18, collecting 10 sacks, five by William Walker. Zyvian Webster rushed for 117 yards and three touchdowns on 20 carries and Jack Strange ran for 100 yards on four carries for the Dragons, who got two blocked kicks from Eli Hess. … Corvallis ran away from Central 48-14 as RJ Young rushed for three touchdowns and the defense forced six turnovers. …
Summit's Jimmy Hughes completed 21 of 35 passes for 366 yards and one touchdown and ran for a score to help beat Thurston 46-25. Sam Stephens rushed for 143 yards and two touchdowns on eight carries and Henry Murphy caught seven passes for 128 yards and one score in the win. Thurston's Luke Newell caught two touchdown passes. … Wilsonville's Kallen Gutridge showed the way in a 49-14 win over Westview, throwing four touchdown passes (all in the first half) and going 10 of 18 for 262 yards. Gedde McKnight returned a kickoff for a score.
4A
St. Helens recorded its first win under coach Nic Shular, limiting Centennial to 78 total yards in a 38-7 win. Aaron Liebelt threw four touchdown passes, two each to Mason Stroud and Skyler Bjornstrom, and Colby Shafer returned a fumble for a score. … Henley smashed Crater 46-7 behind four touchdown runs by Logan Whitlock, who also forced a fumble and recovered a fumble. The Hornets forced six turnovers, including interceptions by Mark Carpenter and Matt Iversen. …Jake White rushed for 210 yards and three touchdowns on 28 carries and Ryder Jackson ran for 103 yards and one score on seven carries for Seaside, which dispatched La Salle Prep 29-17. ... Jojo Harrower tossed five touchdown passes, three to Caden Negra, as Ashland stopped North Eugene 49-27. Gavin White had a 61-yard touchdown catch and an 85-yard kickoff return for a score in the win. …
Jace Otteson threw touchdown passes of 7 and 70 yards to Benito Jennings to lift Pendleton over 5A Redmond 14-7. The Buckaroos dominated time of possession, running 71 plays to Redmond's 42. ... Junction City quarterback Cooper Rothenberger, a converted tight end, threw three touchdown passes -- two to Keivon Riley and one to Tylen Franks -- in a 28-10 win over Crook County. Cowboys star receiver Eddie Freauff, an Oregon State commit, left the game late in the first quarter with a shoulder injury. ... Cascade defeated Marshfield 44-26 as quarterback Nolan Abrams rushed for four touchdowns and threw for one score. Bryce Kuenzi ran for 89 yards on 14 carries and the defense forced four turnovers, including a 65-yard fumble return for a touchdown by Alex Kuenzi. ... Stayton turned back Gladstone 13-6 behind Tanner Starbuck, who rushed for 173 yards and one touchdown on 28 carries.
3A
Kyle Slater threw three touchdown passes and ran for a score to lead Yamhill-Carlton past Amity 40-16. Slater connected with Carson Carden for a 42-yard score on the second play of the game. Kaden Sutton scored on a 55-yard screen pass and had a rushing touchdowns. Cayden Hill returned a fumble 45 yards for a score. … Vale routed New Plymouth (Idaho) 45-12 as Colten Stepleton completed 13 of 18 passes for 285 yards and four touchdowns and rushed for 60 yards and one score. Kase Schaffeld caught 10 passes for 126 yards and two scores. … Dayton piled up 406 rushing yards in handling Warrenton 41-18. Alex Garcia rushed for 193 yards and two touchdowns on 17 carries and Zach Smith added 158 yards and two scores on 27 carries. Smith also caught a touchdown pass. ... Valley Catholic downed Harrisburg 27-14 as Noah Holub had seven catches for 233 yards and three touchdowns. ...
South Umpqua led 34-6 in the second quarter and coasted past Douglas 47-22 as Jacob Logan rushed for three touchdowns. … Cascade Christian dominated Sutherlin 49-6 as Ashton Moody passed for three touchdowns, two to Deryk Farmer. … Banks defeated 4A Tillamook 29-14 as Kade Long completed 18 of 26 passes for 224 yards and three touchdowns, two to Max Walker and one to Parker Littlejohn (five catches, 112 yards). Ashton Crossen rushed for 102 yards on 16 carries and had four tackles for loss. Tillamook's Griffyn Boomer had four catches for 88 yards and one touchdown. ... Sisters gained 421 yards, 307 rushing, to down 4A Madras 52-27. Justin DeSmet rushed for 103 yards and two touchdowns on nine carries and Landen Scott caught three passes for 105 yards and one score.
2A
Heppner held Knappa to 138 yards in a 30-8 win. Landon Mitchell completed 10 of 14 passes for 156 yards and Caden George rushed for 124 yards and four touchdowns on 15 carries for the Mustangs, who ran for 273 of their 429 total yards. … Monroe turned back Rogue River 46-36 behind Braiden Ellis, who completed 10 of 12 passes for 221 yards and four touchdowns and rushed for 55 yards and one score. Trevin Truesdale caught three passes for 87 yards, all for touchdowns. Nate Young rushed for 127 yards and one touchdown and caught four passes for 74 yards and one score. … Regis quarterback Kollin Schumacher completed 18 of 33 passes for 269 yards and four touchdowns to lead a 58-0 win over Grant Union. Noah Koenig caught eight passes for 127 yards and two touchdowns and returned an interception for a score. ...
Jacob Hadley rushed for 171 yards and two touchdowns on 15 carries to lead Willamina past Neah-Kah-Nie 35-6. Landon Risseeuw blocked a punt and returned it for a touchdown and had 3.5 tackles for loss and 1.5 sacks. … Hunter Vaughn rushed for 255 yards and six touchdowns and had an interception on defense for North Douglas/Yoncalla, which dropped Clatskanie 54-37. North Douglas, which recovered four onside kicks, rushed for 441 of its 514 yards. … Riley Lantis threw five touchdown passes to Cooper Cemore in Riverside's 46-22 win over Vernonia. Riverside had eight sacks. ... Bandon/Pacific blanked Toledo 15-0. Quarterback Eli Freitag rushed for 230 yards and one touchdown on 23 carries and Stealth Franklin had 16 tackles, one forced fumble and two fumble recoveries.
1A-8
Imbler rushed for 425 yards to beat Dufur 52-12. Three players recorded triple digits in Dallin Rasmussen (15 carries, 115 yards, one touchdown), Trevor Treat (13 carries, 113 yards, two touchdowns) and Quintyn Walker (seven carries, 116 yards, three touchdowns). … Perrydale outscored Crosspoint Christian 58-48, rushing for 452 yards. Crosspoint's Kody Sparks completed 16 of 24 passes for 272 yards and four touchdowns, three to Chase Bacus. … Lost River knocked out Powder Valley 58-6 as Chase McAuliffe passed for two touchdowns and ran for two scores. Connor Dunlea scored touchdowns receiving, rushing and a kickoff return and had an interception. Connor Guthrie returned an interception for a score. ... Quarterback Ty McLaughlin ran for seven touchdowns for Elgin, which rushed for 435 yards in a 50-22 win over Lyle/Wishram/Klickitat. .... St. Paul drilled Santiam 67-0, owning a 459-62 edge in yards. Branson Cook rushed for 153 yards and two touchdowns on 12 carries, Grady Wolf and Clay Smith ran for two scores each and George Pohlschneider threw two touchdown passes to Ralph Pohlschneider.
1A-6
Elkton rolled Days Creek 40-20 behind Anthony Alimenti, who completed 12 of 24 passes for 275 yards and six touchdowns, forced a fumble and recovered a fumble. Matthew Rausch had five catches for 104 yards and three touchdowns and Andrew Houx had three catches for 139 yards and two scores. Days Creek's Clark Warner rushed for 111 yards and two touchdowns on five carries. … Dom Curiel led Echo past Pine Eagle by having a hand in six touchdowns – two passing, two receiving, one rushing and one interception return. Keegan Chitty caught two touchdown passes and Marley Blanchet added an interception return for a score. … Jadon Coker caught three touchdown passes from Tucker Halstead and ran for two scores to lead Riddle past Gilchrist 45-7. Halstead scored on a 25-yard run and 46-yard punt return. ... Rene Sears dominated on both sides of the ball for Powers in a 58-20 win over North Lake. Sears rushed for 262 yards and four touchdowns, passes for 132 yards and two scores, had 10 tackles, three tackles for loss and forced a fumble. ... Falls City's Chris Sickles led his team past CS Lewis Academy 49-20. He rushed for 129 yards and four touchdowns on 10 carries and had 12 tackles (two for loss) and an interception.