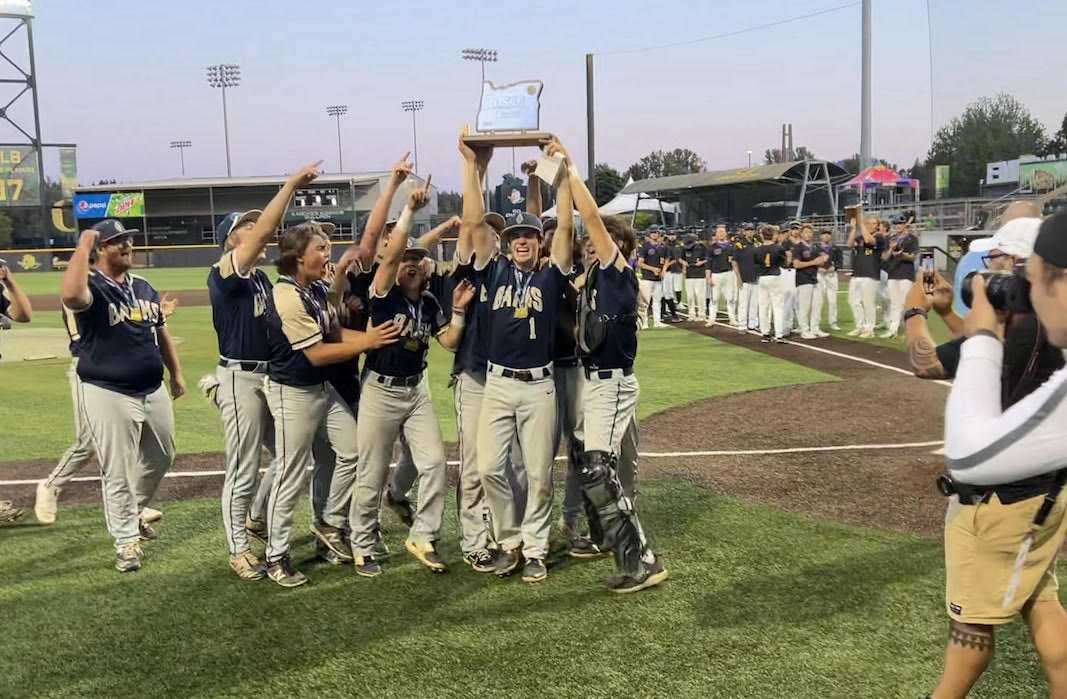 EUGENE — Banks' Wyatt Hesselman was eager to get the baseball Saturday and show what he could do on the mound at PK Park.
The junior right-hander did not disappoint.
Hesselman fired a three-hitter with two walks and nine strikeouts, leading the Braves to 3-0 victory over the Cascade Christian Challengers in the OSAA/OnPoint Community Credit Union's 3A baseball championship final.
Lane Gilbert went 2 for 4 with an RBI-triple and a run scored to key Banks' seven-hit attack, but the star of the game was Hesselman, who handcuffed a Cascade Christian team that averaged over nine runs a game during the regular season and over seven runs a game in its first three playoff games.
"I felt really confident out there," Hesselman said. "That was one of my better games, for sure."
So, how did it feel to help lock up a second state championship to go with the 4A state title the Braves won in 2019?
"It feels amazing," Hesselman said. "No better feeling in the world right now."
Banks (27-3) scored two runs in the top of the first inning on two hits, a sacrifice fly, and one costly Cascade Christian throwing error. After that, the game mostly revolved around Hesselman, who kept the Challengers of Medford off balance with a combination of fastballs and curves.
"They couldn't hit my fastball for some reason," he said. "I don't throw that hard, but I was locating it outside or high and they were swinging and whiffin', so it was nice. The hits that they had were on curveballs, so … it was nice, yeah.
Hesselman had pitched against Cascade Christian earlier in the season in an 11-4 Banks win on March 30 at the Challenger Classic in Medford, so Banks coach Joe Baumgartner had a good feeling about Saturday's match-up.
And Hesselman delivered, again.
"He was just so impressive tonight," Baumgartner said. "He worked ahead in the count and anytime he started to falter he just got back in it and … he was a pitcher. He doesn't throw as hard as other pitchers, but he keeps teams off balance.
"He's started since he was a freshman and has always been a big part of our lineup. This year, he took a step to being an ace pitchers, although he wasn't our ace. He's our No. 2 (behind senior Logan Kind), but he wanted the ball. He pitched against them earlier in the year, so for him to do that twice against them was pretty impressive."
Cascade Christian's Triston Wallace and Owen Thompson had back-to-back singles with one out in the first inning, but they ended up stranded at first and second. The Challengers' only other hit came in the fourth — a one-out single by Liam Benade, who advanced to second on a wild pitch but then got erased when Jack Knips lined into an 8-4 double play.
"The Hesselman kid, that's as good as we've seen all year," Cascade Christian coach Kevin Shafer said. "We made a couple of mistakes early that kind of put us behind it. We thought we were still in it until, obviously, the last out was made.
"We tried to change up a little bit what we do at the plate. But we were pretty passive early and then Hesselman got rolling and it was just way too hard to get back on it. Hats off to him. Like I said, that kid is the best we've seen so far this year."
Of Hesselman's nine strikeouts, six were on called third strikes and three were swinging. He also threw a total of 95 pitches.
"Wyatt is like no other man on this earth," Banks catcher Ashton Crossen said. "Best pitcher we've got, 100 percent. He was just switching up the sequence, throwing fastballs and curveballs in different places.
"He literally could throw any pitch at anytime and it would work. So, fastballs and curveballs, that's all we needed."
Taking a 2-0 lead in the first inning helped, too.
Gilbert led off the game with an infield single, went to third on a single by Kind, and scored on Justin Walters' sacrifice fly to center. Crossen then grounded sharply to Cascade Christian third baseman Cole Stofflet, whose throw to first base got past Benade, allowing Kind to score.
Baumgartner called the two early runs "gigantic."
"I really felt good being the visitor, just because I think it games like this, the opposing pitcher and teams are a little nervous," he said. "We've been really amping up, trying to hit faster pitching, because we knew what we were in for here.
"Cascade Christian's pitcher (Thompson) is a quality kid — he usually strikes out about 15 a game — and to get those two runs out of the gate was just great."
Banks tacked on an unearned run in the sixth when Jack Lyda reached on an error with two outs and scored on Gilbert's triple down the left-field line.
"It was just an inside fastball that I just pulled down the line," Gilbert said. "I think that (run) was everything that we needed to give us that extra cushion and that extra positivity to go out and finish the job."
Hesselman walked Wallace on four pitches with one out in the sixth, but he then got out of that inning with a strikeout and a grounder to second.
In the seventh, Hesselman retired the Challengers in order as Benade grounded to shortstop, Knips struck out swinging, and pinch-hitter Cole Shields bounced softly to short to end the game.
"It's just awesome," Baumgartner said of his team's second state title in five years. "I'm not going to kid you, we've got a good group coming back next year. But these five seniors, they're just incredible. They've given so much to this program and for them to win a state championship is just great."
Thompson, Cascade Christian's senior right-hander, went the distance for the Challengers (26-5), allowing three runs — only one earned — on seven hits with four walks and six strikeouts. He also threw a total of 108 pitches.
"It was a great year," Shafer said. "We talked about the fact that this was icing on the cake, right? What we've done, 26 wins, that's a bundle of wins. To go undefeated in our league with the top three teams in the state was pretty impressive.
"As a whole, we'll look back on a great season, and just one game short is where it's at."