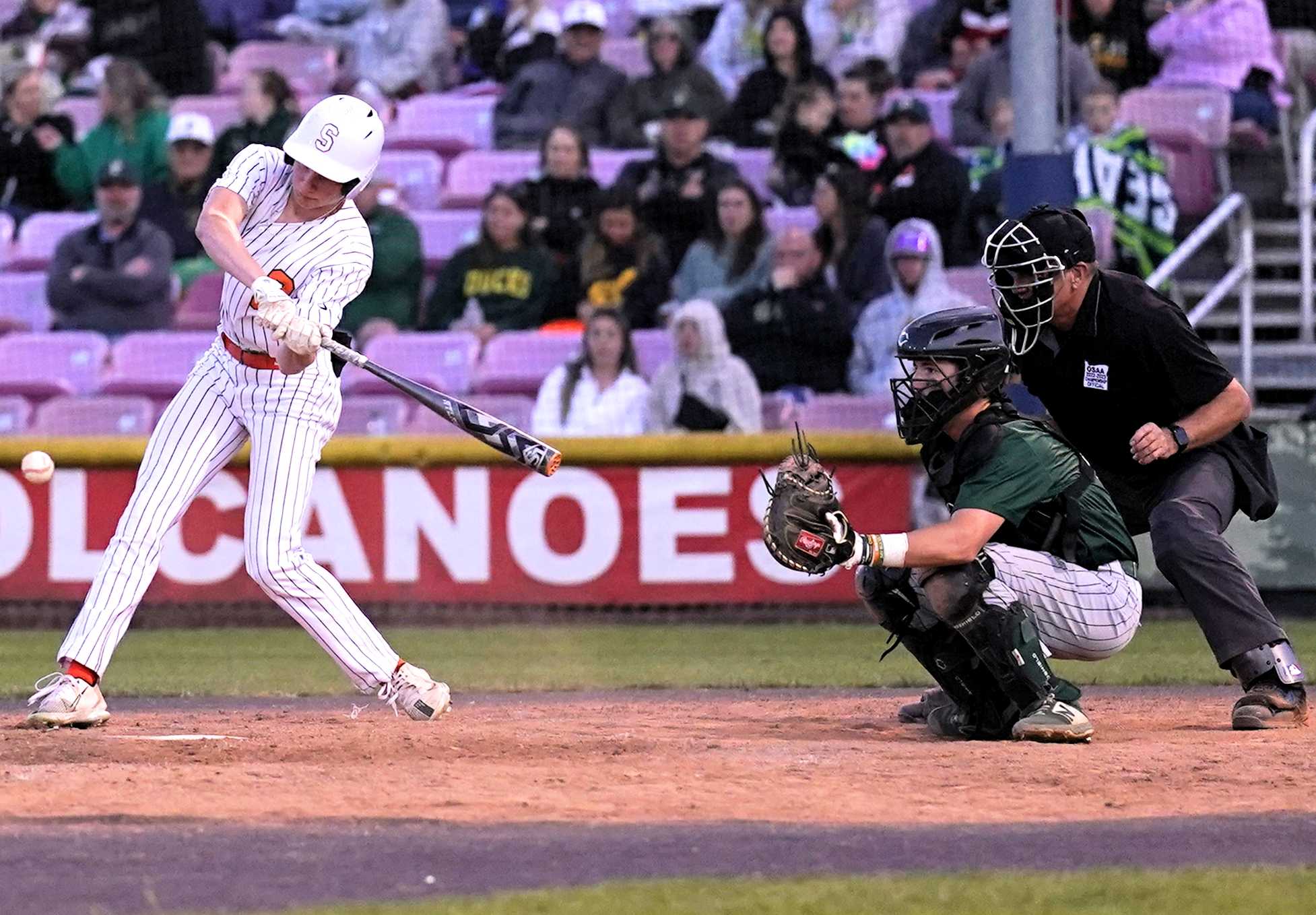 How can you not be romantic about high school baseball?
It is a game played at its own unique pace, without shot clocks or time limits. And it continues until the requisite outs are recorded or a team has scored enough runs to put a merciful end to the play on the field.
It is such a unique sport that it is able to produce drama when there is a scoring surge after two are out, but not three, and no one is yet on base. It also is able to produce drama when run after run after run is scored with no one out, as a team vying for a championship builds toward a 10-run cushion that, by rule, but only if it's the bottom of an inning, will end the game.
Perhaps it is because of this that Scappoose coach Cam Webb kept his charges huddled about him for a very long time after they, having trailed, 2-1, after four innings, walked off with a 12-2 win over Pendleton in six innings at the OSAA / OnPoint Community Credit Union 4A baseball state championships on Saturday evening at Volcanoes Stadium in Keizer.
Or perhaps he was just cold and wanted his guys around him as a buffer from the easterly wind that provided relief from the heat earlier in the day, but was now sending a chill through the growing crowd gathered under the stadium lights in left field waiting to revel in Scappoose's achievement.
Most likely, however, is that Webb loved his team and didn't want this moment to end. Because the hard reality was that this journey with this team was now over, never to be recreated, and he wanted never to let go of how he and his players and fellow coaches were feeling.
"Thank you for trusting me to be your coach," Webb told them. "Thank you for trusting yourselves and the commitment you showed. It's an honor for me to be able to call myself your coach. You are amazing young men. I love all of you."
***
Two hours earlier, the Oregon 4A state baseball championship game began under azure skies. Volcanoes Stadium was packed with a throng of fans, from Scappoose and Pendleton equally, prepared to erupt for their team when good things happened and bemoan their misfortune when they did not.
Scappoose surprised everyone before the game began by announcing junior righthander Grayson Grover as its starting pitcher over senior lefty Wyatt Anicker, the team's star on the mound for the past three seasons.
"We thought Grayson might be a better matchup," Webb said, as Pendleton's entire lineup batted from the right side. "It ended up working out."
"I pitched against them last game and held them to zero through 4.2 innings, I think" Grover recalled. "So we were thinking, 'Pitch me,' and if they ever start figuring me out, throw Wyatt and he'll close it down. And that's exactly what happened."
When the two teams played in an endowment game one month before, Scappoose prevailed, 5-3.
A close game was expected in the rematch for the state championship. Scappoose came to Volcanoes Stadium riding a 21-game winning streak. Pendleton was 16-2 over its last 18, losing only to Scappoose and by one run to 2022 4A champion La Grande, a team it also defeated three times during that same stretch.
Grover got off to a shaky start for Scappoose in the top of the first. He walked both Payton Lambert and Keefer Breshears on 3-2 counts to put two on with nobody out.
Grover didn't panic, and struck out Pendelton's hottest hitter, Andrew Demianew, on three pitches to record the first out and then got a fly ball out to center to a force out, on a nice play from SS Joe Fagan handling a hot shot off the bat of Jack Lieuallen, to get out of the inning unscathed.
"His composure has been incredible all season long," Webb said of Grover. "That's part of why we trusted him on the mound tonight. You saw him in the first inning. Walked the first two guys. Didn't faze him and somehow he got out of it."
Pendleton started Lieuallen, its hard-throwing senior righthander, on the bump, and he was impressive. He came into the game with an ERA of 2.00 and kept Scappoose at bay for the better part of four innings. He worked around a two-out double to Fagan in the first, benefited from a 5-4-3 double play in the second to erase Max Nowlin, who had singled; got a force out with two on to end the third and yielded an unearned run on no hits in the fourth.
In the meantime, Pendleton was looking comfortable in the box against Grover. Another great play at short by Fagan, diving to snag Clayson Cooley's scorched one-hopper, helped Grover escape the second inning without giving up a run.
All those quality at-bats, however, caught up to the Scappoose hurler in the third. Lambert started the inning by slamming a 1-2 hanging breaking ball to left for a double. One out later, Demianew hit another hanger deep to center for a triple, scoring Lambert. Cleanup hitter Dylan Gomez followed by sharply hitting Grover's first offering up the middle for a run-scoring single. Pendleton's 2-run lead seemed awfully imposing the way Lieuallen was dealing, even after Scappoose cut into the lead with that unearned run to make it 2-1 after four complete.
The pivotal bottom of the fifth inning started innocently enough. Anicker had relieved Grover in the top of the frame for Scappoose and managed to put up a goose egg, but Lieuallen looked every bit his equal in the bottom half of the inning, getting a ground ball to short and swinging strike three for two quick outs.
Lieuallen, whose command of the strike zone had been so good to that point, then issued his first walk of the game, on four pitches, to leadoff hitter Trey Fuller. Quinton Olson followed with a two-out single to left center and then Fagan walked, again on just four pitches, to load the bases for Grover.
What followed was a monumental battle between two great competitors. Lieuallen got the count to 1-2 in his favor on two breaking balls, but could not get Grover to chase on his next two offerings as the count went full.
In the third base coaches box, Webb admitted that his emotions were going crazy as he urged Grover to find a way.
"I just kept battling," Grover said. "Every pitch I had to step out and think, 'This game is coming down to me.' In this moment, this is it. I had to calm myself down and keep it simple. 'See ball. Hit ball. Barrel one up.'"
The full count, with two outs, allowed Scappoose's runners to go on the pitch. Lieuallen threw another curve ball. It was a good one. Grover stabbed at it and put it in play.
"I did not barrel it but I gave our team a chance," he said.
In other conditions, the ball might have been caught for an easy out. But the wind was blowing hard, the second baseman was playing up the middle and the first baseman was playing in. The ball was placed perfectly, too far from Breshears to race over from second to save the day and at an uncomfortable angle over Gomez' head at first for him to make a play on it.
"The further it went I knew it could drop," Grover said. "The second baseman was far over. The first baseman was playing close in and he didn't look like he was moving fast enough to get there."
The ball fell, not more than 100 feet from home plate. It scored two, the tying run and go-ahead run. Scappoose, a team that trailed often during the season, including three times in playoff games, had rallied, as it so often did, to take the lead.
"We talk about trusting ourselves," Webb explained. "Focus on process over outcome. It's been impressive the way the kids bought into that. When we get down don't change anything. Don't let the score dictate the way we play the game."
Despite now having the lead, Webb knew that the one-run cushion was insufficient.
"I was still thinking, 'That's not enough; we have to keep adding on.'"
Nowlin touched up reliever Evan Lehnert with a line drive single to center to score two more to make it 5-2 Scappoose.
The game wasn't over by any means, but with Anicker now dealing, Scappoose had to feel good about its chances. The senior gave up a walk in the sixth but nothing more, sending Scappoose to the plate in the bottom of the sixth looking to add to its three-run lead.
The team would add seven without making an out. All nine players would bat and all would reach safely, eight on base hits, including run-scoring knocks from Fuller, Olson, Fagan, Grover and Chase Olsen, and capped by Nowlin's third hit of the day to walk off the mercy-rule win.
"I'll admit I was nervous over there," Webb said. "My emotions were going up and down like crazy, but the boys trusted themselves and stuck with the plan. We put a lot of work in in the cages…It's a really good fastball hitting team. We hunt the fastball and drive it. Once we got into the bullpen, momentum didn't stop. Everyone got in on the party. It's cool to put up that many runs in the last inning, but it was a much closer game than the score indicated and a really good battle."
"Those baseball gods have a way of playing with your mind sometimes," said Pendleton coach TJ Haguewood. "We were kind of cruising there. Credit to them. They got hits when they needed to and put pressure on us and our bats went silent."
"We had a great year with our boys, Haguewood continued. "They've been a good, solid group all the way through. It's disappointing to lose a championship but it's a great accomplishment to just get here. We're proud of them."
Demianew had two hits, including a triple, and an RBI to lead Pendleton (22-9), which is now 0-6 all-time in championship games.
Nowlin, Grover, Olson and Fuller combined for nine hits and 10 runs batted in for Scappoose (27-2), which ended its season on a 22-game winning streak. The title was its first since 2015 and fifth overall.
In the Scappoose huddle after the game, Webb took the time to acknowledge the contributions of every player on the team, not just the nine who got to the plate and contributed to that final seven-run uprising. This was always about the entire team. Trust. Commitment. Process over outcome.
Webb talked for a long time. He didn't want to let go of the moment, when it was just them. Together. Neither did the players. After he spoke, it was the players' turn to recognize the achievements of their teammates, then a team cheer, then a hug line. They were soaking it all in, for as long as they could.
Said Grover: "We sat down after Spring Break and set goals: host the semifinal playoff game, be the 1-seed and win the state championship. We knew we would have to work to get there. Process over outcome. We did it."