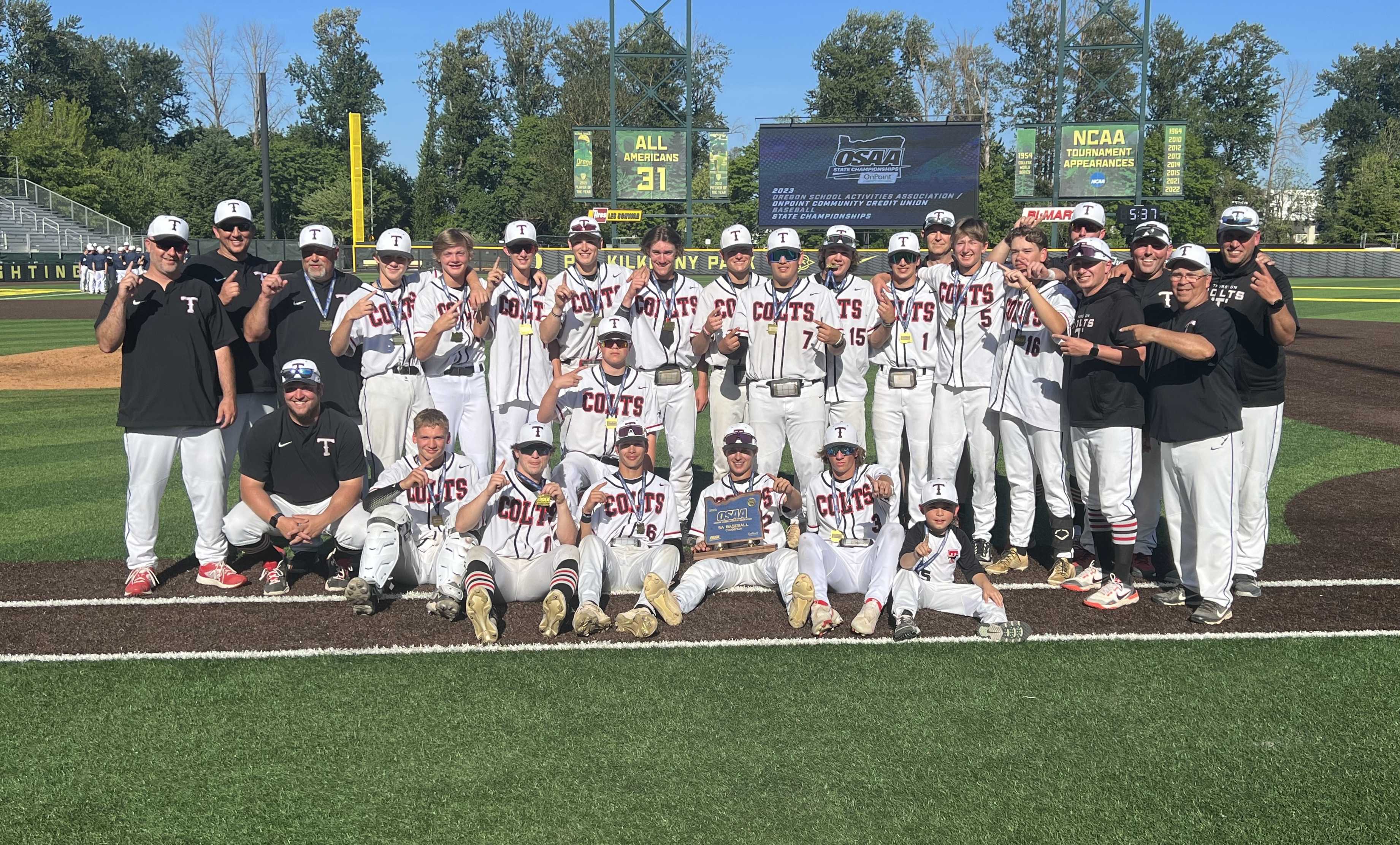 EUGENE — Thurston freshman Grady Saunders was having a quiet day at the plate until the bottom of the eighth inning Saturday.
It quickly got loud.
Saunders drove a 1-2 pitch to the fence in center field for a walk-off, inside-the-park home run, lifting the Colts of Springfield to a 2-1 victory in the 5A OSAA/OnPoint Community Credit Union baseball championship final at PK Park.
Sophomore right-hander Connor Molony went the distance on the mound for Thurston (28-3), scattering four hits with four walks and three strikeouts to help lift the Colts to their second state title and first since 2009.
Leading off the bottom of the eighth, Saunders said he got a "fastball up" from West Albany starter Drew Rice and drove it in the direction of the flag pole in center field.
"Right off the bat, I thought it was gone, like over the fence," Saunders said. "I was just chuggin'. I knew it was going to be at least a double or a triple."
West Albany center fielder Evan Bliss had a bead of the high fly, but couldn't get under the ball as it hit the warning track and bounced off the fence.
"Anytime a ball is in the air toward center field, we trust Even to run it down," West Albany coach Marty Johnston said. "He made the transition from an infielder and this is his first year in the outfield, but anytime that ball is in the air, we think he's got it."
Saunders said was halfway between second and third when he spotted third-base coach Brandon Benedick waving him home
Said Saunders: "I saw him and said, 'It's go time!' … and turned on the burners."
He beat the relay throw to the plate with a head-first slide.
Was it close?
"No clue," Saunders said. "I think it was bang-bang, but I think I was safe, for sure."
Said Johnston: "That was a pretty close play at the plate. From my view, I thought we had him, but … we don't get to make those calls and those are decisions outside of our control."
Saunders, who boasted a .463 batting average while battling clean-up this season, had gone 0-for-3 in his first three at-bats with a strikeout, a fielder's choice, and an infield pop-out.
"Even though I was a little frustrated with myself, everybody in the dugout was keeping me up," he said. "Everybody was telling me, 'It's time to go.' I knew I had to do something.
"My three other (plate appearances), I had bad at-bats, but I'd gotten all fastballs up. So, I was sitting fastball up."
He made no mistake when he got the pitch he was looking for.
"He's a freshman hitting in the four spot for us and, man, I'll tell you, that was the craziest ending, wasn't it?" Thurston coach Dennis Minium said. "As soon as I saw the centerfielder bobble it, I knew our third base coach was going to send him because now they've got to make two throws to get him out."
After starting the season 1-3, the Colts closed out their championship run on a 27-game winning streak.
Thurston opened the playoffs with a 4-3 victory over Hood River Valley. The Colts then won 4-0 over Lebanon in the quarterfinals and 14-8 over Wilsonville in the semifinals.
"There are no words," Minium said. "In 2019 we lost a heart-breaker in the semifinals and then last year after getting upset by Crescent Valley in the quarterfinals, we came into this year knowing that we had what we needed.
"The kids worked hard and that was our goal from the beginning of the year. It was awesome and like I said, I can't be more proud of them, over and over."
Thurston jumped out to a 1-0 lead in the first inning. Adam Elliott led off with a double to left field and then scored when Maddox Molony looped a 3-2 pitch from Rice down the left field line for another double.
West Albany threaten in the third inning when Sawyer Kasten drew a leadoff walk and Mason Linton followed with a sharp single to left. Both runners moved into scoring position on Camden Johnson's comeback to the mound, but the inning ended when Camden Cyrus lined back to the pitcher, who double Linton off second base for an inning-ending double play.
Thurston left fielder Bryson Clifford saved a run in the fourth when he threw out Rice at the plate for the first out of the inning.
The Bulldogs eventually broke through in the fourth when Bliss scored on Kane Damon's bases-loaded fielder's choice to shortstop, tying the score at 1-1. Connor Molony avoided further damage when he struck out Kasten on a called third strike for the final out in the inning.
Over the next four innings, Connor Molony blanked West Albany on one hit — a one-out double by No. 9 hitter Mason Linton in the seventh — while hitting three other batters and walking one. Even with that, none of the runners advanced beyond second base.
"My stuff was good," Connor Molony said. "It could have been better. But, I mean, obviously, with the result, I'm happy with what happened. It feels crazy. It's just like, I still can't believe it. It feels unreal, but I'm so excited about it."
Rice, West Albany's sophomore right-hander, went the distance for the Bulldogs (23-7), allowing two runs on eight hits with two walks and five strikeouts.
"That was a great game," Johnston said. "You have two really great opponents and if you look at the records we both had down the stretch … I mean, you kind of knew it was going to be a game like this.
"We had a couple of situations where we could have put a couple more runs across, but … the state finals and we have a 2-1 game in the eighth? From a baseball fan's perspective, I don't know what could be better than that."
West Albany's path to the championship final included an 11-5 win over Bend in the first round, an 8-5 victory over Ridgeview in the quarterfinals, and a 5-4 win over Ashland in the semifinals.
"We started the season a little rocky," Johnston said. "When we got to Arizona, we had a conversation about what we wanted to do and the ability to overcome obstacles. We talked about using the word 'family' and what that truly means, understanding that it's not just a word that you break to, it's something that you build.
"The last couple of weeks, we've been through some pretty good challenges. For myself, personally, if it wasn't for this family and this team, it would have been a lot tougher to get over it. But this is one of the best groups of guys. I've been coaching at West Albany for 19 years — the 2004 championship team was my first year — and this is one of the most special teams that I've been a part of."