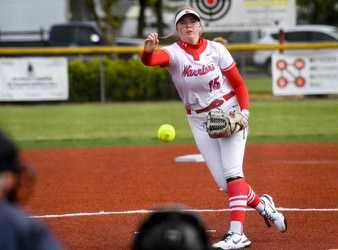 Lebanon knows its faces a monumental task in the Saturday's 5A softball final against top-seeded Dallas/Perrydale, which beat the Warriors in both Mid-Willamette Conference meetings this season.
But after they went on the road in the semifinals to defeat Bend and UCLA-bound junior pitcher Addisen Fisher – who hadn't allowed an earned run in her previous 15 outings, a span covering 70 innings – the Warriors are feeling good about their chances.
"I think it really helped beating Bend, going against one of the top prospects in the country, and being able to get some hits and score some runs," said Lebanon coach Mardy Benedict, whose team had six hits and six walks against Fisher in a 4-3 win. "It definitely has to give them a boost in confidence knowing that you can go against that pitcher."
Third-seeded Lebanon (21-5) will need to carry some of that mojo into its game against the Dragons (25-3). The Warriors, who lost to Dallas 7-1 and 8-5 this season, will have to solve another one of the state's dominant aces in Dallas junior lefty Kadence Morrison.
"You already know what Kadence does, so now it's about executing and believing in themselves," Benedict said. "They're a great team. They're No. 1 for a reason. They've got great pitching, and they hit it, they defend. They're scrappy. I just hope we can compete with them."
The state final is rare territory for Lebanon. The only other time the Warriors have made it this far was Benedict's first season as coach in 2016, when they lost to Churchill 11-3 in the championship game.
It's also a big opportunity for Benedict. In 30 seasons of coaching girls basketball at Lebanon, he has won 364 games but has never appeared in the state final. He was softball assistant at Central Linn, his alma mater, when the Cobras lost 2A/1A finals to Harrisburg in 1992 and Jefferson in 1993.
"That would be super cool," Benedict said of winning a title. "But it's about the girls. They're the ones that get to play the game."
Last year, Lebanon shared the Mid-Willamette title with Dallas and reached the 5A semifinals before falling to Wilsonville 1-0. The Warriors returned all but two starters from that team, but had to replace the 5A player of the year in catcher Trinity Holden, now on the team at Portland State.
"Early in the season we were trying to find out what our identity was going to be without having our leader," Benedict said. "So we went through little rough patches early on. We weren't driving in runs with baserunners on, we weren't getting big hits. And then all of the sudden it just started clicking. The energy was better, and it just kept going."
Lebanon has an experienced ace in senior Alivia Holden and a talented freshman pitcher in Tatum Cole. Against Dallas, Cole pitched the first game and Holden threw in the second one.
Holden is coming off a gutsy effort against Bend. She held the Lava Bears to four hits but walked seven and worked out of several jams, stranding 13 runners.
"Liv kept grinding. She really battled," Benedict said. "Lots of different frustrations and adversity, but when it was all said and done, she never quit."
A look at the state championship games, Friday and Saturday at the University of Oregon's Jane Sanders Stadium. Lebanon, Dallas, Oregon City, Scio, Weston-McEwen and Grant Union are aiming for their first state championships:
6A, Saturday, 3 p.m.
No. 2 Oregon City (27-3) vs. No. 1 Sheldon (29-1): Sheldon, which won its only title in 2019, has been the state's most dominant team this season, outscoring foes 259-18. The Irish have won 11 in a row since a 3-2 loss to South Medford, allowing only one run in the last 10 games. Sheldon beat Oregon City 2-1 in Medford during spring break, scoring twice with two outs in the bottom of the seventh. The Irish have Oregon State-bound junior pitcher Payton Burnham (0.20 ERA), who in 179 innings has given up 41 hits, fanned 358 and walked 23. The offense features juniors Kinley Pappas (.527, 18 doubles, 3 home runs, 26 RBIs), Brooke Peterson (.479), Avery Coffin (.346, 5 home runs, 30 RBIs) and Burnham (.414, 5 home runs, 35 RBIs). Oregon City appeared in its first final last year, losing to Tigard 1-0 in 10 innings, and returned all but one starter from that team. Junior Lily Riley (0.98 ERA, 129 innings, 67 hits, 211 strikeouts, 30 walks), who threw a three-hitter with 14 strikeouts in last year's final, is the Three Rivers League pitcher of the year. Senior second baseman Allyson Nordling (.406, 8 home runs, 42 RBIs) and sophomore third baseman Chloe Stromme (.422, 26 RBIs) are part of an opportunistic offense.
5A, Saturday, 12 p.m.
No. 3 Lebanon (21-5) vs. No. 1 Dallas/Perrydale (25-3): The Mid-Willamette Conference rivals collide with the big prize on the line. The Dragons were runners-up in 2017 and 2019; Lebanon finished second in 2016. Dallas beat Lebanon 7-1 and 8-5 en route to the conference title. The Dragons' only 5A loss was a 2-1 defeat at Silverton on May 15. Dallas junior left-hander Kadence Morrison (1.01 ERA) has pitched 139 1/3 innings, allowed 69 hits, struck out 211 and walked 29. Junior Kaelyn Golden is hitting .400 and has scored 36 runs. Junior Jordan Cresswell (.329) leads the team with 28 RBIs. Dallas is coached by Brandi (Campos) Jackson, who played on Roseburg's big-school runner-up team in 2006. Lebanon senior pitcher Alivia Holden (0.79 ERA, 115 innings, 144 strikeouts, 43 walks) also is a force at the plate, leading the Warriors in batting (.447) and RBIs (36). Junior shortstop Alexis Mulligan is hitting .402 with 33 RBIs. Freshman Tatum Cole, who has struck out 61 in 39 innings behind Holden, has four home runs.
4A, Saturday, 6 p.m.
No. 2 The Dalles (25-3) vs. No. 1 Henley (22-3): The Dalles has slugged its way into its first final since finishing second in 2004. The Riverhawks have hit 69 home runs, shattering the previous state record of 53, set by Marist Catholic in 2017. They have done it behind a murderer's row of freshman Madalynn Sagapolutele (.451, 14 home runs, 43 RBIs), sophomore Despina Seufalemua (.524, 13 home runs, 41 RBIs) and juniors Zoe LeBreton (.448, 11 home runs, 47 RBIs), Jeilane Stewart (.447, 11 home runs, 26 RBIs), Keiliani Crichton-Tunai (.482, 8 home runs, 33 RBIs) and Kaleyah Crichton-Tunai (.425, 6 home runs, 40 RBIs). First-year coach Lindy Macnab was the starting center fielder on The Dalles' only title team in 1994. Henley advanced with a dramatic 11-10, eight-inning semifinal win over Pendleton, last year's 5A champ. The Hornets, who won titles in 1989 and 2007, are playing in their 10th final, tied for second most all-time behind Churchill (12). Sophomore outfielder Anna Harper (.500, 9 home runs, 40 RBIs), the Skyline Conference player of the year, junior pitcher Annie Campos (.600, 6 home runs, 43 RBIs) and senior catcher Lily Fitzpatrick (.438, 7 home runs, 34 RBIs) lead the offense. The Dalles and Henley enter with winning streaks of 20 and 17 games, respectively.
3A, Friday, 5 p.m.
No. 3 Burns/Crane (28-0) vs. No. 1 Scio (24-1): Reigning state champion Burns, which went 0-20 in 2018, got its first-ever playoff win last year and has kept right on going, entering this year's final with a state-record winning streak of 58 games. Junior Ayla Davies, who pitched a five-hitter with 14 strikeouts to beat Yamhill-Carlton in last year's final, has been lights-out all season. She has a 0.46 ERA and has struck out 366 batters, allowing 39 hits and 22 walks. She also is hitting .463 with 20 RBIs. Senior catcher Merissa Medley (.548, 4 home runs, 46 RBIs) is the Special District 4 player of the year. Scio, which lost in the semifinals in five of the last six postseasons, is appearing in its first final. The Loggers won 1-0 in the semifinals over Lakeview, last year's 2A/1A champion. They have the PacWest Conference player of the year in sophomore Myleigh Cooper, who is dominant at the plate (.655, 15 home runs, 58 RBIs) and in the circle (0.53 ERA, 132 innings, 260 strikeouts). Sophomore outfielder Taryn Ramsay (.524, 16 RBIs, 44 runs) and freshman catcher Cam Dalke (.481, 40 RBIs) are part of a talented young roster that features seven freshmen and one senior.
2A/1A, Friday 2 p.m.
No. 8 Weston-McEwen/Griswold (21-7) vs. No. 2 Grant Union/Prairie City (25-3): Grant Union, which has won its last 10 games against Weston-McEwen, swept the TigerScots 6-0 and 5-2 in a Special District 6 home doubleheader May 6. Weston-McEwen is the lowest-seeded team to make the finals this year. The TigerScots, runners-up in 2007 and 2015, have never won a championship. Grant Union played in its first final last year, losing to Lakeview 5-3. The Prospectors have the district player of the year in sophomore shortstop Savannah Watterson (.538, 3 home runs, 44 RBIs) and pitcher of the year in junior Drew Williams (1.44 ERA, 201 strikeouts). Juniors Halle Parsons (.515, 12 home runs, 63 RBIs) and Sivanna Hodge (.456, 7 home runs, 36 RBIs) contribute to a Grant Union offense that has scored a 2A/1A-high 346 runs. Weston-McEwen is led by sophomore Ava Sams (.541, 3 home runs, 43 RBIs) and junior pitcher Hailey Stallings (2.28 ERA, 101 1/3 innings, 78 hits, 110 strikeouts, 47 walks).