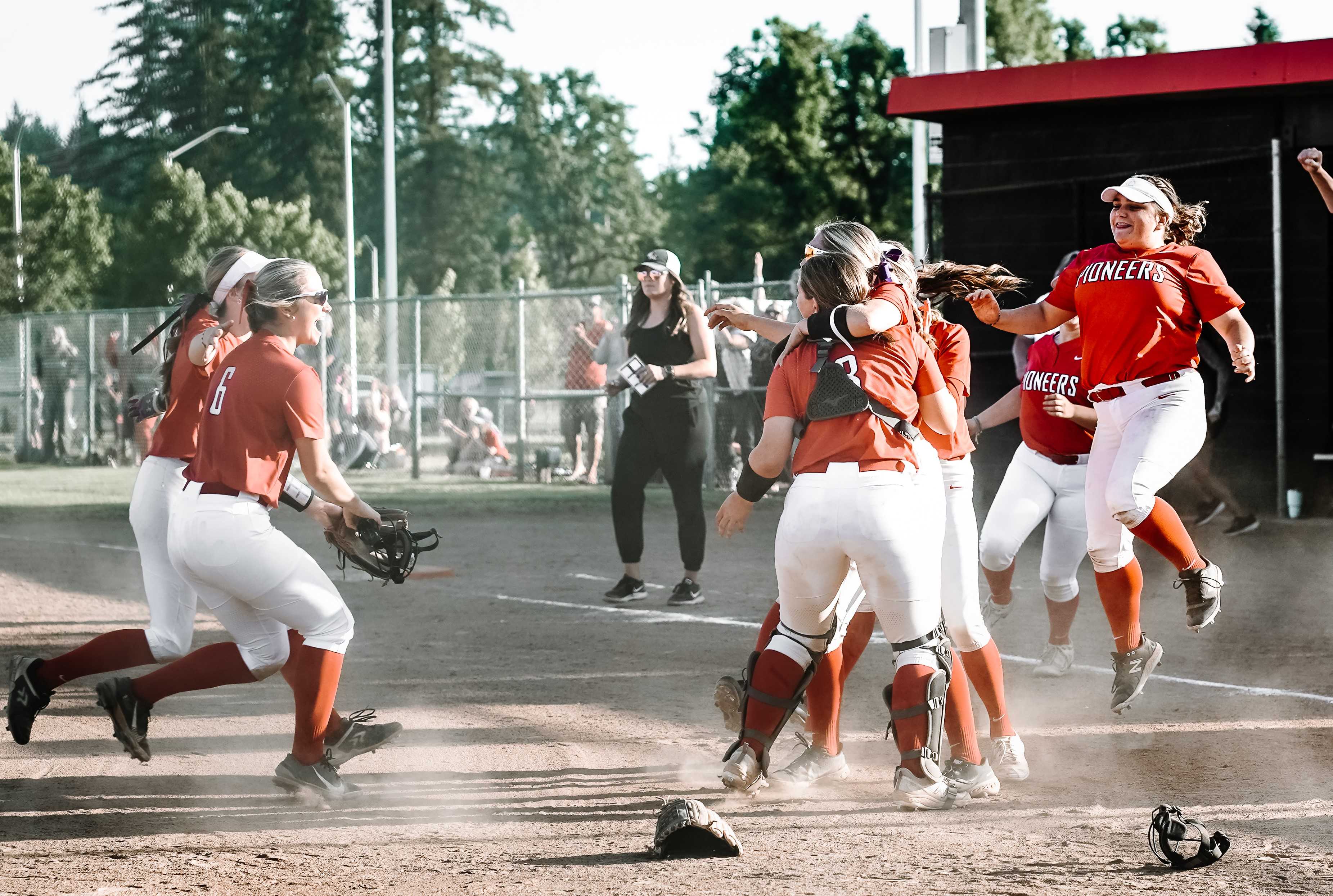 OREGON CITY – One year after a heart-wrenching, 10-inning loss in the 6A softball championship game, Oregon City is going back for another shot at its first title.
The second-seeded Pioneers earned the opportunity Tuesday with a 2-1 semifinal home win over No. 3 South Medford. Sophomore Chloe Stromme hit a two-run single in the fourth inning and junior pitcher Lily Riley came through with another stellar performance, tossing a four-hitter with seven strikeouts.
Oregon City (27-3) takes a 16-game winning streak into the final against top-seeded Sheldon (29-1) on Saturday at the University of Oregon, the site of last year's 1-0, 10-inning loss to Tigard.
"Especially because of our loss last year in the state championship, we know what it's like to lose that, and we don't want to do that again," Riley said. "We're coming out with fire, and we're ready to play again. It definitely feels like unfinished business. This has kind of been our mission, our end-goal for the season."
With all but one starter back from last season, the Pioneers are loaded with playoff experience.
"We're still the same good team, but this year I just think we're more together," senior shortstop Gina Allen said. "I think we're ready to take it home this year."
In Tuesday's win over the Panthers (23-7), Oregon City got all the offense it needed in the fourth inning off junior pitcher Kaycee Hudson, who also threw a four-hitter with seven strikeouts. Senior Allyson Nordling singled, Riley was hit by a pitch, and with two outs and runners on second and third, Stromme hit a bouncer over second base to plate two runs.
Down 2-0, South Medford nearly pulled even with some daring baserunning in the top of the sixth.
Hudson singled and stood on third base with two outs when senior Kirsten Morgan drew a walk and intentionally got in a rundown between first and second. Hudson broke for the plate and scored when the throw home got past junior catcher Reese Gardner, making it 2-1.
"We practice that a lot, and we execute it," South Medford coach Shane Ramsey said. "We had to take some chances to score a run. That kid's tough."
Morgan, who took third on the play, tried a delayed steal of home three pitches later after Gardner threw the ball back to Riley. But Riley saw Morgan break out of the corner of her eye and was able to throw home in time for Gardner to tag her out.
"I just saw it. I was able to plant my feet and make the throw," Riley said. "I expected it because I knew they were aggressive baserunners, so I knew I had to be on high alert when they're on the bases."
Ramsey said the play was worth the gamble.
"We've practiced it, and we just had to take a shot," he said. "I didn't want to leave her out there. I didn't want to end that inning with a K at the plate. Caught them off-guard a little bit, but it just wasn't there. That's all right. We're glad we took the shot. Got to try to win it, especially on the road."
South Medford senior Sydney Boren led off the seventh inning with a single and was sacrificed to second base, but Riley struck out junior Bri Turrey and retired sophomore Shelby Hillyer on a soft liner to Allen, who reached over her head to make the catch, to end the game.
It was a typical dramatic finish for Oregon City.
"We always do," Riley said. "That's kind of Oregon City style. We have to put some pressure on the fans and on our team, just to make it Oregon City style."
The Pioneers knew they had the pieces to return to the 6A final, but faced plenty of challenges along the way. In the second round, they rallied from a 5-0 deficit to beat Lakeridge 6-5 by scoring six runs with two outs in the fifth inning.
"We definitely had to fight for it. It wasn't anything we were just given," Oregon City coach Mackenzie Washington said. "This team has fought for it and they want to be back there. They're ready."
The Pioneers lost to Sheldon 2-1 in the North Medford Spring Break Tournament in March 28.
"We were short a couple players," Washington said. "And everyone changes in two-and-a-half months. I think there will be a calmness to us. There's excitement, and there's not as much nerves as it was last year."
Riley, who threw a three-hitter with 14 strikeouts in last year's final, said the Pioneers "have a lot of motivation."
"We know what to expect and how to play under that pressure," Riley said. "We're respecting our opponent, but we're ready to win it."