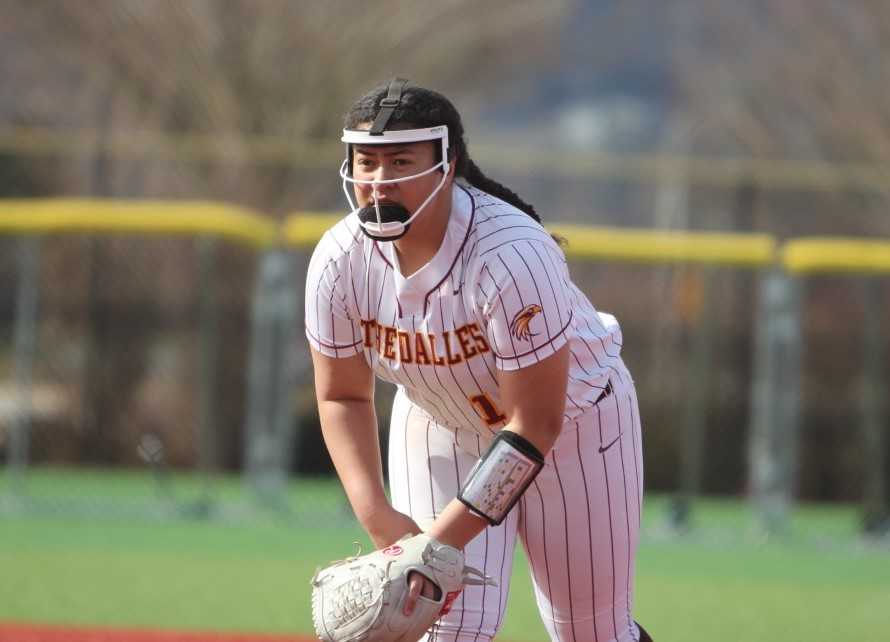 As the starting center fielder for the 1994 state championship team, Lindy Macnab was part of a magical run for The Dalles softball.
And now Macnab (formerly Anderson), in her first season as coach at The Dalles, senses something similar is brewing with the Riverhawks.
"I might get in trouble by my teammates who still live in town, but the level of talent throughout the lineup is something that I don't think The Dalles has ever seen," Macnab said. "I do feel like these girls are that special."
The Dalles (12-3, 6-0 4A Tri-Valley Conference) has been pounding opposing pitching all season. The Riverhawks are batting .425 as a team with 66 extra-base hits, including 34 home runs. They are on pace the break the state record for home runs of 53, set by Marist Catholic in 2017.
"They're legitimate bombs," Macnab said. "Some of them are flying over scoreboards. It's just unreal. We just have a powerhouse of a lineup. One through nine or 10, they just are that dominant offensively."
Macnab, who walked on at Oregon and played in the 1998 Women's College World Series, succeeded Danielle Sayres as coach. Macnab inherited the entire starting lineup from a team that went 17-11 and reached the 5A quarterfinals before losing to eventual state champion Pendleton.
"It's a wonderful blessing as a first-time head coach to have this caliber of players in terms of athleticism and skill," said Macnab, whose team is tied for fourth in the OSAAtoday 4A coaches poll.
The lineup is a mine field for opposing pitchers.
Junior right fielder Jeilane Stewart (.469, five home runs) leads off and is followed by junior shortstop Zoe LeBreton (.460, three home runs) and junior third baseman Keiliani Crichton-Tunai (.535, five home runs, 18 RBIs).
Sophomore designated player Despina Seufalemua (.537, eight home runs, 28 RBIs) bats cleanup, ahead of junior left fielder Kaleyah Crichton-Tunai (.500, four home runs, 23 RBIs) and freshman catcher Madalynn Sagapolutele (.389, five home runs).
Macnab said that Seufalemua, who also pitches, is "a monster at bat. She has been consistent from Day 1. She's so relaxed and just gets the job done."
The Riverhawks are averaging 10.8 runs per game, scoring at least four runs in each game. The scary thing is that the offense is far from peaking, according to Macnab.
"It's hard to believe because we've seen such great performances," she said. "There's still a lot of room for them to get better. That will be exciting when I see that. I haven't seen it yet, and I cannot wait to see it."
The Dalles put on a power display last week in a 15-0 home win over Molalla. The Riverhawks' first two batters – Stewart and LeBreton – hit the first pitches they saw for home runs. The team went on to hit six home runs, getting two each from Stewart and Seufalemua.
"There was something magical that day that I haven't seen as a coach," Macnab said. "They were just crushing the ball."
The Riverhawks lost their season opener 5-4 at Pendleton, ranked second in 4A, but returned the favor with a 5-4 home win over the Buckaroos on April 4. It was a breakthrough considering The Dalles went 0-4 against Pendleton last season, getting outscored 32-2.
"The team was really excited about that win," Macnab said. "We really should have won the first game against them. We played a good game, but they got great hits in clutch moments. That win over Pendleton was definitely a confidence booster for the girls."
The Riverhawks' other two losses came against 6A teams – 9-5 to Nelson and 16-12 to Lakeridge – in a spring break tournament. They beat 4A No. 1 Stayton 7-2 on the road and defeated 3A No. 3 Yamhill-Carlton 9-7 at home.
Senior Kennedy Abbas (9-3, 3.66 ERA) is the team's ace. In 67 innings, she has allowed 66 hits, struck out 87 and walked 18.
The season has been rewarding for Macnab. She moved back to The Dalles in 2008 and followed the softball team but wasn't able to lend a hand because of the demands of her nursing career. When she got a job as a school nurse, it allowed her to coach.
"I have been wanting to give back to my community," Macnab said. "All the stars started to align to create this opportunity for me. I wanted to do something in coaching because I have a passion for softball.
Mid-Willamette showdown
Top-ranked Dallas took sole possession of first place in the 5A Mid-Willamette Conference with a 3-0 home win over No. 3 Silverton on Monday.
Junior left-hander Kadence Morrison pitched a two-hitter with nine strikeouts for the Dragons (13-1, 7-0), who extended their winning streak to 11 games.
Dallas scored all of its runs in the fourth inning. Kaelyn Golden led off with a single and scored on a sacrifice fly by junior Jordan Cresswell. With two outs, junior Clara Woolsey hit a two-run homer to make it 3-0.
The loss ended a 10-game winning streak for the Foxes (12-2, 6-1), who bounced back Tuesday to defeat Crescent Valley 22-1.
The teams meet again in the conference finale May 15 at Silverton.
Notes: Bend (15-2, 7-0), ranked No. 2 in 5A, rolled to an 18-0, five-inning win at Ridgeview (12-3, 6-1) on Tuesday in a battle for first place in the Intermountain Conference. Junior Addisen Fisher pitched a one-hitter with 12 strikeouts and no walks and went 3 for 5 with an RBI. Sophia Weathers went 3 for 4 with two doubles and four RBIs and Lauren Glasser had two hits and four RBIs for the Lava Bears, who have won 12 in a row. … Sheldon (16-0, 11-0 6A Southwest Conference), ranked No. 1 in 6A, remains unbeaten behind junior pitcher Payton Burnham. In four wins last week, she pitched 17 innings, allowed five hits and struck out 31. She also went 5 for 10 at the plate. … Harrisburg junior Kaya Taylor struck out all nine batters she faced and went 3 for 4 with a double and two RBIs to lead her team past Siuslaw 15-0 in three innings Tuesday. … Mountain View junior Ashtyn Clark pitched three consecutive shutouts in a sweep over Summit. For the season, she has struck out 116 in 79 innings and has a 1.60 ERA. She also is batting .500. … Tigard junior Macy Witt threw a one-hitter with 15 strikeouts in a 4-0 win at Lakeridge on Saturday. In wins over West Linn, Lake Oswego and Lakeridge, she did not allow an earned run and recorded two wins and a save. She also hit .333.