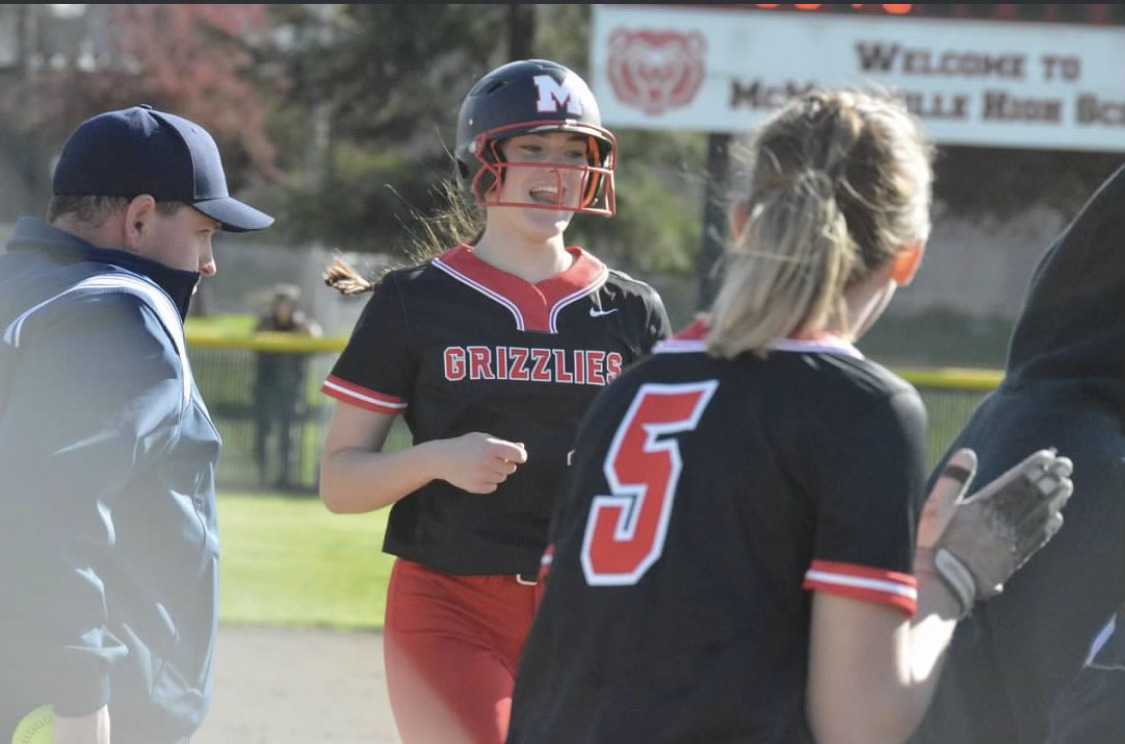 It's becoming clear that McMinnville's offense, which scored a 6A-high 297 runs last year, hasn't skipped a beat this softball season.
The unbeaten Grizzlies (6-0) once again lead 6A in scoring with 84 runs through six games. They put on an offensive display this week in the Jesuit/Mountainside Tournament, beating Wilsonville 14-12 and Jesuit 18-16 on Monday and Tualatin 19-2 on Tuesday.
"I think top to bottom our lineup is as potent or more potent than last year," said coach Josh Terry, who led McMinnville to the state quarterfinals last season.
In the two wins Monday, McMinnville hit 12 home runs, six in each game. The Grizzlies got five home runs from junior Mackenzie Bekofsky, three from senior Abigail Carsley, two from senior Margo McManus and one each from senior Elizabeth Hardee and freshman Dakota Mitsche.
Bekofsky, who hit 13 home runs last season, went 5 for 7 with five home runs and nine RBIs Monday and went 3 for 3 with two RBIs on Tuesday. She hit home runs to each field Monday, including what Terry called a "monster shot" that nearly cleared the arborvitaes in Jesuit's center field.
"It's nice that she started unleashing because she kind of struggled in our first couple games," Terry said. "She busted out in a big way. When we know she's on, like last year when she starting pouring it on, she's hitting the ball down each line."
For the season, Bekofsky is hitting .524 with five home runs and 11 RBIs. Carsley (.667, five home runs, 15 RBIs) and McManus (.458, two home runs, 10 RBIs) also are off to strong starts.
McMinnville, No. 6 in the OSAAtoday 6A coaches poll, scored five runs in the bottom of the seventh inning to defeat 5A No. 2 Wilsonville. The Grizzlies got a two-run single from sophomore Laney Reed, and after Bekofsky was intentionally walked, McManus delivered with a walk-off three-run homer.
Carsley, McManus and Bekofsky each hit two home runs in the win. McManus went 4 for 5 with five RBIs.
McMinnville feel behind Jesuit 9-2 in the first inning Monday before rallying to win. Bekofsky went 3 for 3 with three homers and six RBIs and Carsley had four hits, including a homer, and drove in five runs.
The Grizzlies, who were missing starters at shortstop (junior Peyton Justice) and second base (senior Mya Stigall), needed all the offense they could get Monday.
"Monday I got home and I was worn out," Terry said. "We struggled defensively. Our pitchers didn't pitch terrible, but they were missing spots. That part of it I didn't expect. We had to move some kids around and it snowballed on us. Luckily, we put up a lot of runs and weathered some of that. I didn't think we'd put up that much."
Tuesday against Tualatin, Carsley added four more hits and freshman Ava Fleischman had two doubles and four RBIs. Bekofsky, who went 3 for 3 with two RBIs, did not allow an earned run in three innings in the circle, fanning six.
McMinnville was scheduled to play No. 4 Mountainside (7-0) in a battle of unbeaten teams Tuesday, but the game was canceled. It might be rescheduled, according to Terry.
The Grizzlies graduated three starters from last season in shortstop Brynn McManus, center fielder Madelyn Powell and left fielder Kaydi Stevenson. McManus, who hit 18 home runs in 2022, is playing at Liberty University. Powell is on the team at College of Idaho.
Bekofsky pitched the bulk of the team's innings last season but will share time in the circle this season with sophomore Mackenzie Roberts, who has thrown 26 of the 35 innings so far.
McMinnville's offense gets a big test next week in home games against 5A No. 1 Bend, 6A No. 1 Oregon City and 6A co-No. 9 South Salem. Bend and South Salem have Pac-12 commits in Addisen Fisher (UCLA) and Rowan Thompson (Oregon), respectively. Oregon City has junior Lily Riley.
"It's going to be a big week for us," Terry said. "We'll face three good ones."