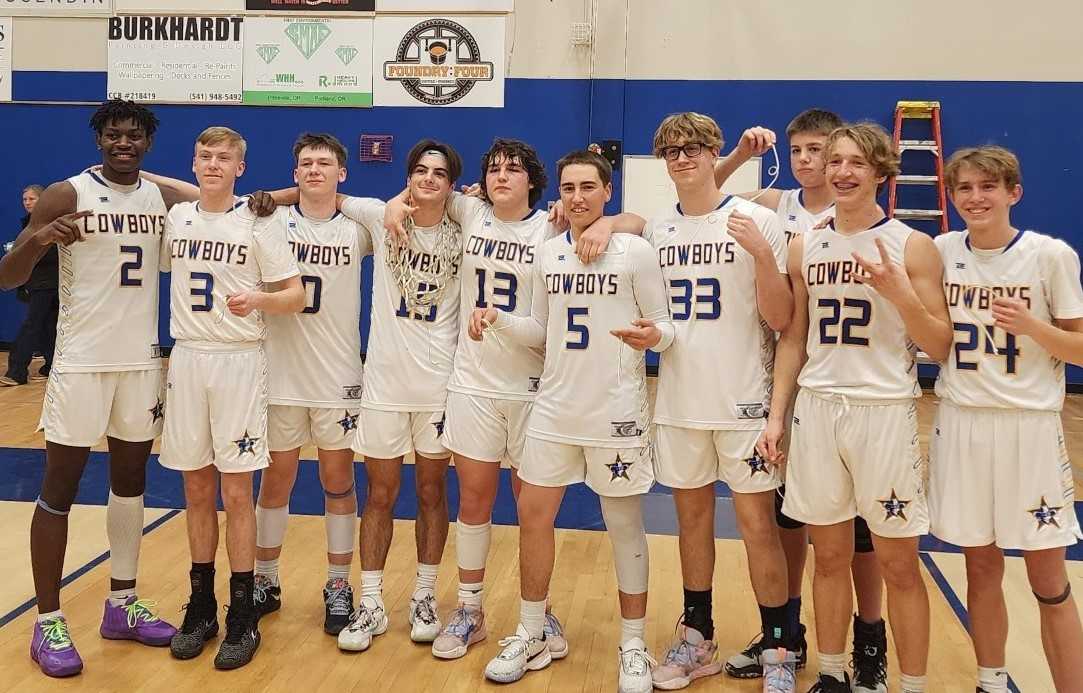 By SCOTT SEPICH/for OSAAtoday
The Crook County Cowboys and Cowgirls have made history this season. For the first time ever, both the boys and girls teams from the school will be headed to the OSAA/OnPoint Community Credit Union 4A state tournament in Forest Grove.
Crook County has been up and down between 4A and 5A in the past, and spent the most recent four-year competition cycle in 5A before moving back to 4A this season.
Both clubs also will be underdogs in their quarterfinal games, but that won't put a damper on the mood of the traveling party heading north from Prineville this week.
The Cowgirls are seeded 11th and face a steep challenge in third-seeded Astoria, which comes in at 24-2. They'll get some confidence, though, from a Dec. 15 matchup in which they lost just 41-40 to the Fishermen.
The Crook County girls finished third in the Tri-Valley, behind Gladstone and Madras (both of which are at the tournament).
Last season, the Cowgirls finished sixth in the 5A tournament and hope that experience can boost them this week.
Head coach Bob Boback in in his third season at Crook County after spending 17 years at Gig Harbor in Washington. The Cowgirls are 37-14 the last two years after going 33-125 over the previous seven.
Boback calls senior guard Katelynn Weaver (20.6 ppg) the "best guard I've coached in 25 years." She was a first-team all-conference player this year and last year in 5A, and has scored over 1,000 points in her career.
In an odd coincidence, Weaver's uncle, Mike Jacobson, is Astoria's head coach. Katelynn's sister, Raelynn, is also on Crook Country roster.
"Their mom, Andrea, is my brother's daughter," said Jacobson. "And I coached Andrea my first two years at Knappa."
The Crook County boys come in as the No. 8 seed and have drawn top-seeded Philomath in their first game.
But Crook County's 16-8 record is a bit deceiving. The Cowboys started the season 5-7, but played a schedule heavy on 5A schools from Central Oregon, with losses coming to Summit, Ridgeview and Redmond (twice). They also dropped a game to 3A state champion Cascade Christian.
They come into the tournament with 11 wins in their last 12 games.
Fourth-year head coach Jason Mumm got the team into the 2020 tournament, which was canceled, then led the Cowboys to a 16-0 record in the following season, when again no official tournament was held.
"I think our team is resilient," said Mumm. "We have been down in some games this year but we do not go away and battle through adversity."
Mumm said his team relies on the play of Tri-Valley player of the year Eddie Freauff (17.8 ppg, 11.1 rpg, 65 percent FG shooting).
"We shoot the ball well from the perimeter, averaging 33 percent on 3s and seven makes per game," added Mumm.
4A girls quarterfinals, Thursday, Forest Grove HS (Viking Gym)
No. 9 Madras (17-8) vs. No. 1 Baker (22-2), 1:30 p.m.: The state champion in 2019, Baker is coming off a fourth-place finish last year and seeking its second title this week. The top-seeded Bulldogs previously defeated Madras 55-45 on Jan. 6. Baker has won 15 straight against 4A competition, losing just to 1A runner-up Crane in that span. Senior Jozie Ramos, the Greater Oregon League player of the year, leads Baker with 20.4 points and 7.2 rebounds per game. Macey Moore (9.8 ppg, 4 rpg), also a rodeo star, is another key contributor in a group of six seniors who have been together since the fourth grade. "We are long and athletic, have a good inside-out game and play good defense," said second-year head coach Jason Ramos. Madras is looking for its first girls state title since 2004, when head coach Jerin Say was a student at the school. The White Buffaloes of the Tri-Valley Conference have won nine of their last 10 games and beat Cascade 50-41 on the road in the first round of the playoffs. Junior Rylan Davis is a first-team all-conference selection while junior Sasha Esquiro made the second team. Say was named the statewide coach of the year for leading the White Buffaloes to a third-place finish in last year's 4A tournament.
No. 5 Henley (17-8) vs. No. 4 Marshfield (18-7), 3:15 p.m.: A two-time state champion as the boys coach at Dayton, Doug Miles is in his second season with the Marshfield girls and hoping to bring the Pirates a second state title (they won in 2018). Marshfield defeated Henley 41-37 on Jan. 7. Sky Em player of the year Kate Miles, a senior, does it all for the Pirates (12.2 ppg, 4 rpg, 5 apg, 3 spg). Trinity Barker (10.1 ppg, 3 apg), Paige Macduff (8 ppg, 7 rpg) and Tatum Montiel (9 ppg, 7 rpg) were also first-team all-league selections. Eight Pirates were on the volleyball team that won the 4A state championship in November. With only one senior on the roster, young Henley is making a bid for its first state title since 2012. The Hornets have won eight straight games and posted the third-best scoring offense (56.4 ppg) in 4A this season. Junior Annie Campos (15.7 ppg, 12 rpg, 6 apg) captured Skyline Conference player of the year honors, and topped the 1,000-point mark for her career in Saturday's playoff win over Scappoose. Anna Harper, a 5-11 sophomore, averaged 14.6 points and 8.7 rebounds per game. Third-year coach Randy Denson said his team likes to "push the pace."
No. 10 Philomath (17-7) vs. No. 2 Gladstone (21-4), 6:30 p.m.: Gladstone has reached the final eight for the first time in Glenn Hopkins' six years as head coach. The Gladiators are led by two-time Tri-Valley Conference player of the year Hanne Hopkins (12 ppg, 6.4 apg, 5.3 rpg), whose mother played on Oregon City's title team in 1992. Sophomore Hailey Monte (10.8 ppg, 35 percent 3-pt) is a long-range sharpshooter and fellow sophomore Ryme Jaekel (9.2 ppg) is the third-leading scorer. Glenn Hopkins calls his team "road warriors" for a travel schedule that included trips to Pendleton, Stanfield, Madras, Prineville and Eugene, and the team also drove to San Diego for a tournament in December. "We're relentless and like to press and push the tempo," he said. "We're a cohesive, dedicated group of 12 that work together as a strong unit." Gladstone is second in 4A in offense (58 ppg). Philomath enters the tournament as the defending 4A champion but are seeded 10th this year. The Warriors are led by senior Abigail Brown (10.8 ppg, 6.7 rpg) and freshman Emily Taunisila (7.3 ppg, 3.6 apg). Senior Hallie Couture made 54% of her 3-point attempts this season. Coach Ben Silva has made the 4A tournament in each of his five seasons. "This team grinds," he said. "We work hard to limit good shots, so opponents average only 33 points per game against us."
No. 11 Crook County (15-9) vs. No. 3 Astoria (24-2), 8:15 p.m.: Astoria is unbeaten at the 4A level this season, with its only two losses coming to 3A champion Banks and 3A runner-up Corbett. The Fisherman have made the playoff five times in eight years with coach Mike Jacobson at the helm, but this is the first time they'll get to play a quarterfinal as their lone appearance in the final eight came in 2020's canceled tournament. Sophomore Shelby Bruney (12.8 ppg, 5.8 rpg, 3.4 apg, 3.5 spg) is the Cowapa player of the year. Junior Maitlin Young averages 16.5 points per game. "We really like to pressure teams into feeling uncomfortable," Jacobson said. "We want to push the ball when possible and attack the basket." Crook County plays "multiple defenses and we push the ball," according to coach Bob Boback. In addition to Katelynn Weaver, the Cowgirls are led by McKenzie Jonas (8 rpg), an all-state volleyball player, and Kaylyn Fildes. The Cowgirls were 9-8 through 17 games, but have gone 6-1 since, including a 39-38 road win over La Grande in round of 16.
4A boys quarterfinals, Thursday, Forest Grove HS (Joe Moran Court)
No. 8 Crook County (16-8) vs. No. 1 Philomath (20-4), 1:30 p.m.: Top-seeded Philomath comes in with perhaps the most balanced offensive attack at the 4A level. Four players average between 9.5 and 10.5 points per game: 6-6 senior Ty May (10.5 ppg), junior Preston Kramer (10.1 ppg), junior Jacob Peters (10.1 ppg) and senior Cole Beardsley (9.5 ppg). Blake Ecker, who has won titles in 2014 and 2016 in his 20 years as head coach, said the Warriors have had all four in double figures on multiple occasions. "Teams can't key in on one guy," Ecker said. "We don't shoot as many 3s as other teams, but we're smart and experienced enough to know if we should play inside or on the perimeter." The Warriors lost to Cascade twice but otherwise went undefeated against 4A schools (they lost to a team from Alaska and to a group of Philomath alumni). In addition to Eddie Freauff, Crook County gets major contributions from second-team all-conference selection Logan Mathews (12.2 ppg, 4 rpg, 4.8 apg), a junior. Junior Tyson Martinez (10.9 ppg) attempts nearly eight 3-pointers per game and shoots 36% from behind the arc. The Cowboys are well-positioned for the future with only three seniors on the 15-player roster.
No. 11 Marist Catholic (14-11) vs. No. 3 Cascade (21-3), 3:15 p.m.: Defending champion Cascade comes in with a new head coach in Justin Amaya, who previously led Amity for seven years. Senior twin brothers Spencer Horne (14 ppt, 10.8 rpg, 4 apg, 4 spg) and Sam Horne (16 ppg, 3.3 apg, 3 spg) are key offensively, as is sophomore Landon Knox (15.6 ppg, 46% 3-pt pct, 91 percent FT). Amaya also mentioned the defensive leadership of senior Rogue Newton, who missed last season with a torn ACL, as important to the Cougars' success. The Cougars lost once to 4A competition (Baker) this season, with the other losses coming to 5A Wilsonville and California powerhouse St. John Bosco. Cascade routed Marist Catholic by 53 points (88-35) on Jan. 3 and swept two meetings with top seed Philomath. Marist Catholic started the season 1-5 as the Spartans worked through injuries, but have won seven of eight coming into the tournament. That includes a 56-44 win at Seaside in the first round of the playoffs. Coach Bart Pollard, in his 12th season at the school, said the Spartans have "grown through the season building a consistent man-to-man defense." Senior guard Cooper Mullens (17 ppg), a first-team all-conference selection, made 67 3-pointers this season, shooting 36% from behind the arc. Freshman Kai Holmes (8.8 ppg) is the team's second-leading scorer. Eight Spartans average more than 10 minutes of playing time per game.
No. 5 Henley (16-6) vs. No. 4 Baker (22-4), 6:30 p.m: The fast-paced Baker Bulldogs led 4A in scoring at 70 points per game this season and outscored their last three opponents (including first-round playoff opponent Madras) by an average of 83-37. After losing both games in their state tournament appearance last year, the Bulldogs are "hungry for more success this year," according to head coach Jebron Jones. Baker has just 10 players on the roster, and only one senior. Junior guard Paul Hobson led 4A in passing as the quarterback for the football team and provides a big boost on the offensive end. Sophomore Isaiah Jones and freshman Resean Jones — the coach's sons — are also major contributors. "We have nine players who average between 5 and 17 points per game and all nine have scored double digits in a game this season," said Jebron Jones. "We are unselfish and are continuing to learn to play smart." Since getting 6-7 post Markus McCreadie back from a dislocated kneecap, Henley has been on a big run. The Hornets have won 10 straight games since McCreadie (13.7 ppg, 8.4 rpg, 2.6 bpg) returned to the lineup after sitting out for five weeks. Senior guards Owen Cheyne (10.8 ppg, 5.3 rpg) and Blayne Boersma (9.9 ppg, 5.6 rpg, 3.1 apg), as well as senior forward Shaw Stork (8.9 ppg, 6.1 rpg, 3.5 apg), all contribute to a balanced offense. "We take pride in playing unselfish basketball and our stats reflect that," said 11th-year head coach Luke Hammond. Hammond has qualified for the state tournament five previous times but has yet to win a game at the final site.
No. 10 Gladstone (15-9) vs. No. 2 Junction City (24-2), 8:15 p.m.: Junction City's Craig Rothenberger will end his remarkable coaching career this week as he plans to step down after the season after 52 seasons as a head coach and the last 43 at Junction City. The 75-year-old has won more than 700 games — ranking third in Oregon history — and a 1994 state championship. Three of his current players are his grandsons: senior Court Knabe (8.5 ppg, 6 apg), senior Gunner Rothenberger (10 ppg) and junior Cooper Rothenberger. The Tigers have won 19 games in a row, and their only two losses this season came to top seed Philomath. They finished second last year to Cascade. Senior Kaleb Burnett (22 ppg, 10 rpg) was chosen as Sky Em League player of the year. "Our team relies on defense," said Craig Rothenberger. "On offense we are an unselfish team that passes the ball well." Gladstone was under the .500 mark after a Jan. 26 loss to The Dalles, but the Gladiators have won seven straight to earn the trip to Forest Grove. In his ninth season at the school, coach Cody Aker has reached the tournament four times. Senior guard Cohen Daves (19.8 ppg, 5.1 rpg, 2.8 apg) has been a first-team all-conference selection the last two years. His backcourt mate, senior Carver Mellema (13.9 ppg) is the team's other primary offensive threat. Aker said his eight seniors "provide maturity when things get tough."