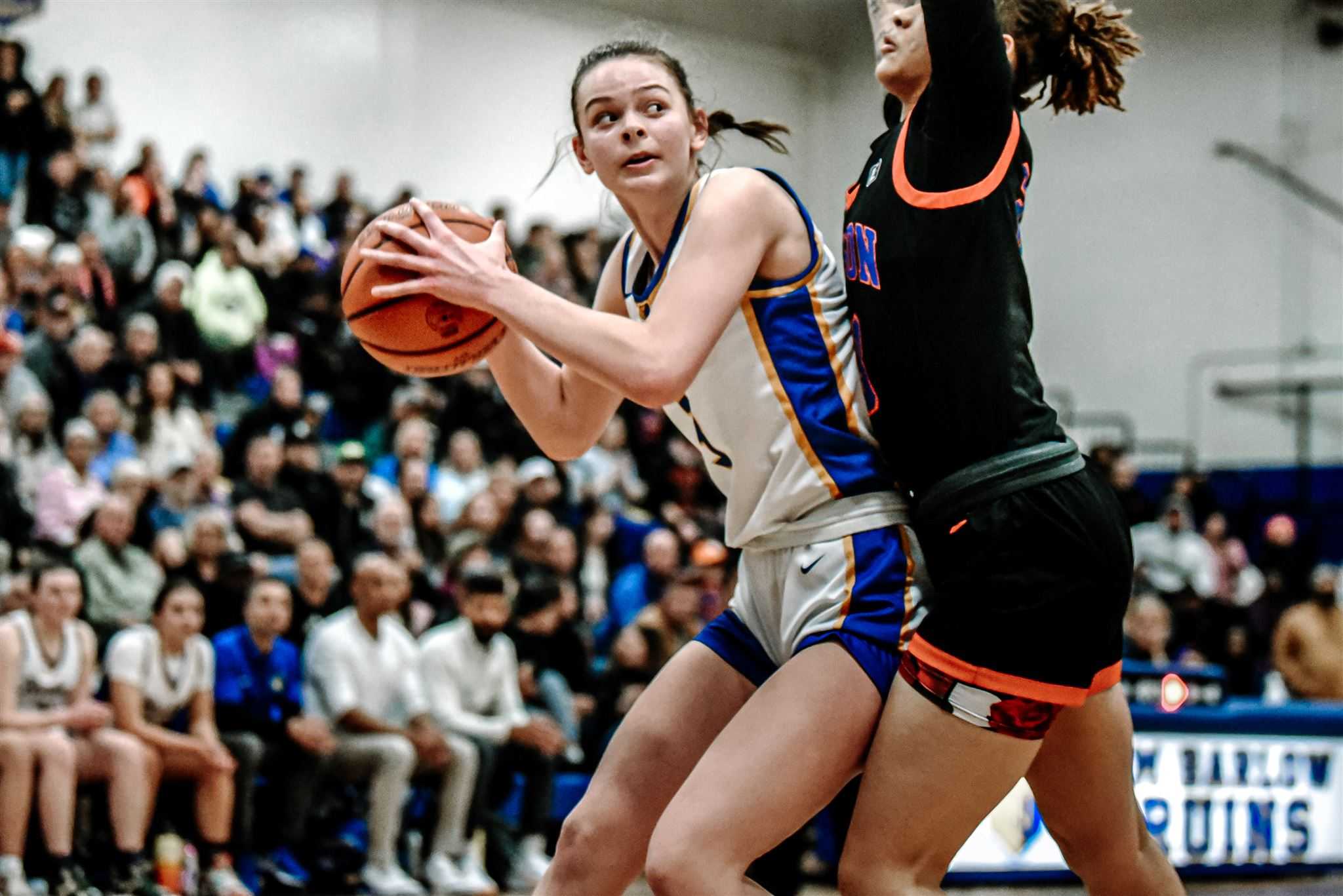 GRESHAM – With star senior point guard Kennedie Shuler slowed by leg cramps, senior guard Annie Koenig stepped up to show the way for Barlow in the second round of the 6A girls basketball playoffs Friday night.
Koenig scored 26 points – 19 in the second half – as sixth-seeded Barlow outlasted No. 11 Benson 50-46 in a physical, fiercely competitive, foul-infested game.
After senior Haidyn Sobella put host Barlow ahead to stay with a three-pointer that made it 49-46 with 5:26 left, Koenig carried the Bruins down the stretch, scoring eight of their last 11 points. She made 3 of 4 free throws in the last 38 seconds to seal the win.
"I just knew I had to do what it took to get my team this win," Koenig said. "We're all going to step up when we have to. That's the great thing about this team, we have so many people who can contribute."
Shuler came up lame after a rebound basket by Benson early in the fourth quarter and briefly left the game. She did not score in the fourth quarter, but Koenig had her back.
"The way she stepped up when I couldn't was unreal," the Oregon State-bound Shuler said. "I'm super proud of her."
Barlow (22-5), the 6A runner-up last year, advances to the eight-team state tournament. The Bruins will play third-seeded Tualatin (24-2) in a quarterfinal on March 8.
"It'll be another tough run," Shuler said. "But we've been there. Nothing's given at all. We've got to work for it. I think we can make some things happen."
After turning back Portland Interscholastic League champion Benson (19-8), which is ranked sixth in the OSAAtoday 6A coaches poll, Barlow will need to catch its breath.
"When I saw that they were the 11th seed, I was like, 'There's no way,'" Bruins coach Nick Hudson said. "They're not an 11-seed team. They're so quick and athletic, and we were like, 'I don't think we can match up with them. Let's try our 1-2-2 zone,' and it was effective."
Shuler was outstanding in the first half as Barlow took control. She had three consecutive steals to start the second quarter, all leading to baskets, to help open a 20-8 lead. When Koenig was fouled on a three-pointer and hit all three free throws, the lead swelled to 25-11 midway through the second quarter.
Benson, using its quickness to dominate the offensive glass, went on a 13-0 run to close the first half. Senior Onna Brown hit two free throw to draw the Techsters within 25-24 at intermission.
The teams went back and forth in the second half. Benson led 34-31 on a three-pointer by junior Eboni Clay, but Barlow answered with an 8-0 run, capped by three-pointers from senior Olivia Payne and Koenig, to lead 39-34. Shuler's two free throws opened a 42-36 edge with 1:57 left in the third quarter.
Benson fought back to tie at 46-46, but Sobella and Koenig made three-pointers to make it 52-48. Payne hit another triple for a 57-52 lead with 2:00 on the clock, and the Bruins closed it out.
Shuler fought through the pain to help Barlow survive Benson's press down the stretch. It was clear late in the first half that her legs were an issue when she missed four consecutive free throws. She said that both of her calves were cramping.
"I was struggling," Shuler said. "Second half, I just had to take myself to a different place mentally."
Hudson was cautious about putting her back in the game after she went down.
"I looked at her on the bench, and I know Kennedie would never say, 'Don't put me back in,'" Hudson said. "I was like, 'What do you think?' And she was like, 'I'm ready.' I was still kind of like, 'Well, we'll see how it goes.'"
It took everything Barlow had to hold off the Techsters.
"It paid off," Shuler said. "We stuck to it and didn't let their physicality get to us mentally. I'm super proud of us."
The Bruins knew they were in for a battle against Benson, which was hungry to get back to the state tournament after losing in the quarterfinals last year.
"They have a reputation for being really tough opponents," Koenig said. "We knew we had to step up and be ready for that physicality tonight. Senior year, we really want to go out strong. I think working together for such a long time, we just wanted it for each other."
Payne also came through for Barlow, making three three-pointers and scoring 16 points. Rilyn Quirke, a 6-1 senior, and Maiya Hardy, a 5-11 sophomore, both fouled out in the fourth quarter as they battled inside against Benson 6-2 junior forward Mahogany Chandler-Roberts, limiting her to eight points.
Clay made four three-pointers and scored 19 points to lead Benson. Senior Malaya LeSueur added nine points.