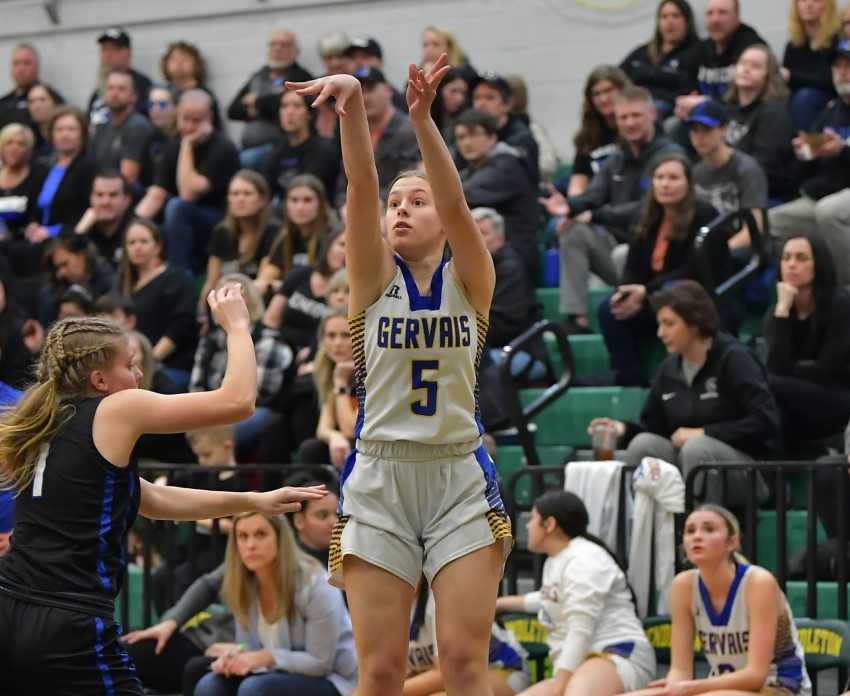 By SCOTT SEPICH/for OSAAtoday
PENDLETON — The Gervais Cougars girls ran the table with a 14-0 regular-season record in the tough Tri-River Conference, a league that sent four teams to the OSAA/OnPoint Community Credit Union 2A girls basketball tournament.
But after a loss to Salem Academy in the league tournament, the Cougars ended up with the No. 4 seed in the state tournament and a matchup with conference rival Western Christian.
The underdog Pioneers came out swinging early, but Gervais found its shooting touch in the second half and pulled away for a 38-28 win in the quarterfinals at Pendleton High School.
Senior Ava Sellers scored 11 of her team-high 16 points in the second half as Gervais (24-4) overcame early cold shooting to advance to its first 2A semifinal since 1994. Addy McCargar added 10 points in 14 minutes and went 3-for-6 from 3-point range.
Gervais had beaten Western Christian twice already this season by scores of 47-37 and 42-28.
No. 5 Western Christian (21-7) led by as many as six points in the first half behind the hot shooting of freshman Runan Muroya, who scored 13 of her team's first 14 points, including a trio of 3-pointers. Muroya finished with 17 points and eight rebounds.
Western Christian coach Madi Hull said that Gervais had used its size advantage in the two previous games, and that the Pioneers wanted to take away the Cougars' inside presence Thursday.
"We packed it in on defense because we're one of the shorter teams in the state and they outrebounded us both times we played them," said Hull. "So we thought if we tried to stop their bigs and get rebounds and let them shoot, we might have a shot."
It worked in the first half. Gervais shot 5-for-24 (21 percent) in the half but still only trailed by three points thanks to nine offensive rebounds and seven Western Christian turnovers.
"Obviously early we weren't making shots, and then toward the end of the second quarter I could see doubt in our eyes," said Gervais coach Enrique Sandoval. "I was like, there are still other things we can do. We can still penetrate and try to create inside, and not just make one pass and shoot. That's what they want."
The second half was a totally different story for the Cougars. Sellers got hot from behind the arc, connecting on three consecutive 3-pointers in a 16-4 run that put Gervais up 29-20 through three quarters.
"The main thing was when I'm picking it up on the defensive end, everything just comes offensively," said Sellers. "The second half we didn't have any nerves, it was just go out and play the way we know how to play."
Gervais shot 53 percent from the field in the second half, including 71 percent (5-for-7) on 3-pointers.
"The second half the girls maintained their composure and once that first one falls, you could tell that the confidence was starting to come back," Sandoval noted.
Meanwhile, Muroya became the focus of the Gervais defense and she struggled to get open for shots. After shooting 42 percent in the first half, the Pioneers dipped to 27 percent in the second.
"We knew they were going to throw everything at her because she's our main scorer and when they went into a matchup zone we hadn't seen before we didn't really have a counter for that," Hull said.
"There's a lot of nerves that kick in when you're in the state tournament and it was affecting the way we were processing the game," said Sandoval. "I told them that (Muroya) is their girl and when she gets the ball we have to get it away from her, so we sent some more defenders at her."
Sellers said taking Muroya's offense away was the "game changer."
"The rest of the team couldn't really pick up what she could do," she said.
A 2017 graduate of Western Christian, Hull is in her first season as head coach of the Pioneers.
"We're thankful for where we're at and for the season we've been given," she said. "I'm proud of (the players) and they're proud of themselves for their effort because we kind of gave up the second time we played them, and for them to not give up being down 10 was pretty awesome."
No. 9 Monroe/Alsea 43, No. 1 Salem Academy 38: Lainie Bateman and Matilyn Richardson combined for 37 points as Monroe shocked the top-seeded Crusaders of Salem Academy. Richardson did most her damage in the first half, scoring 14 of her 18 points on 6-for-10 shooting, as the Dragons came back from a five-point deficit to lead 20-17 at halftime. Salem Academy (23-4) went on an 11-2 run in the third quarter to lead 28-24, but Bateman took control from there, with 16 of her game-high 19 coming after halftime. Bateman also had nine rebounds, three assists and five steals. "One of them kind of picks us up and then the other one finishes things off for us," said Monroe coach Tony Parker of his high-scoring duo. "It's been that way all season." Parker, who led Monroe to a 29-0 season and a state title in 2017, said this is "probably the biggest win we've had since I've been coaching, being seeded this low and being able to beat a team as good as Salem Academy." Ally Herber had 11 points and 11 rebounds for Salem Academy, which shot 28% from the field. Haley Ferry added seven points and 14 rebounds.
No. 3 Stanfield 43, No. 6 Bandon 34: Stanfield overcame a scoreless second quarter to get past Bandon in a showdown of Tigers and improve to 26-1 on the season. Zuri Reeser scored 12 points, Alexis Mallory had 11 and Maggie Sharp had 10 to lead Stanfield, which trailed 17-15 at halftime but outscored Bandon 28-17 in the second half. The game was tied 29-29 with 6:23 left in regulation, then Stanfield rattled off 12 consecutive points over the next five minutes. Stanfield forced 20 Bandon turnovers in the game. Olivia Thompson had 10 points, eight rebounds and four assists to lead Bandon (23-6). Makenna Vierck had eight points and nine rebounds.
No. 2 Central Linn 32, No. 7 Colton 22: Central Linn (27-1) outscored the underdog Vikings 13-0 in the fourth quarter to avoid the quarterfinal upset. The Cobras scored 20 points off of 20 Colton turnovers. Maya Rowland scored 14 points to lead Central Linn, while Gemma Rowland had six points, five rebounds and five steals. Izzy English had eight points, five rebounds and three steals to lead Colton (22-7), which trailed 12-11 at halftime but led 22-19 after three quarters. Central Linn has won 19 games in a row, and has allowed fewer than 30 points in each of their last seven games.