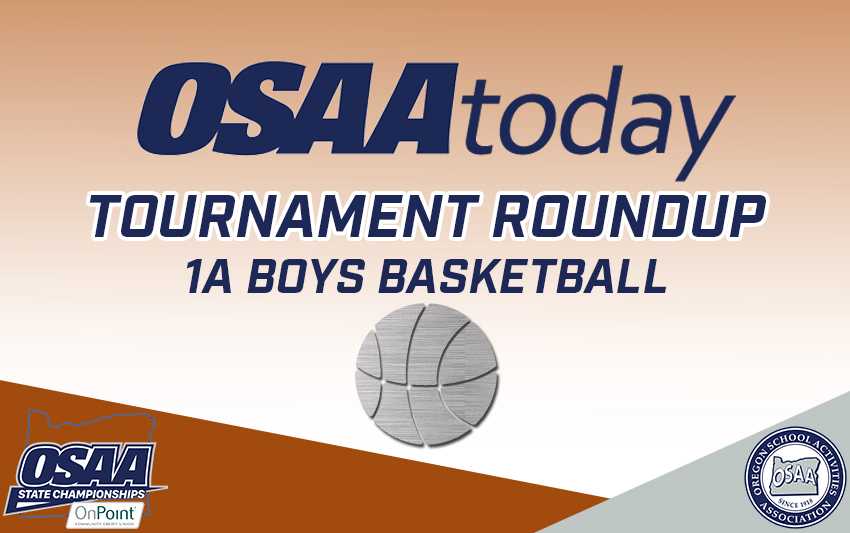 Open Door Christian's boys basketball team made its first state tournament game a memorable one Thursday at Baker High School.
The third-seeded Huskies of Troutdale, who started their program in 2004, needed overtime to hold off No. 11 Union 59-55 in the quarterfinals of the OSAA/OnPoint Community Credit Union 1A tournament.
Isaac Van Vleet, a 6-foot-3 senior, led the way with 19 points, 11 rebounds, six assists and two steals for Open Door Christian (23-3). Senior Jason Kovalchuk had 15 points and junior Preston Tompkins added 10 points, making three three-pointers.
The Huskies trailed by nine points in the second quarter before rallying, taking a 33-29 lead on a Van Vleet layup with 5:39 left in the third quarter. The teams went into overtime tied at 47-47.
Kovalchuk opened overtime with a layup, putting Open Door Christian ahead for good. Van Vleet split two free throws with 15 seconds left for a 57-55 lead, and Union (24-6) was unable to get off a shot on its final possession. Van Vleet added two free throws with one second left for the final margin.
The Huskies were able to overcome a 38-point performance by Union's Tee Ledbetter. The 6-4 junior wing shot 13 of 22 from the field, including 4 of 12 from three-point range, and 8 of 12 on free throws.
Open Door Christian advances to play Crosshill Christian in Friday's semifinals.
No. 10 Crosshill Christian 53, No. 2 Nixyaawii 49: Down by four points in the fourth quarter, the Eagles (22-6) surged ahead with an 8-0 run and held on to beat the Golden Eagles (27-3).
Nixyaawii led 45-41 before Crosshill Christian went on its run, taking a 46-45 lead on a three-point play by Ben Hemelstrand with 3:34 remaining. Noah Dallum split two free throws for a 49-45 lead with 1:15 left.
Hemelstrand made two free throws to put the Eagles up 52-49 with 19 seconds left. After Nixyaawii's Rylen Bronson missed a three-point attempt with 14 seconds remaining, Kyler Hemelstrand made one of two free throws to make it 53-49 with eight seconds to go.
Ben Hemelstrand finished with 17 points, hitting four three-pointers, and Dallum added 16 points and 15 rebounds for Crosshill Christian, which advanced to the semifinals for the second year in a row. Baron Moses had 22 points and 13 rebounds for Nixyaawii.
No. 1 Crane 68, vs. No. 8 Trinity Lutheran 54: The reigning champion Mustangs (29-1) shot 53.7 percent, including 10 of 19 on three-pointers, to knock out the Saints (20-8).
Carter Nichols made four three-pointers and scored a team-high 21 points for Crane, which has won 19 in a row since a loss to 2A Salem Academy.
Cody Siegner had 16 points and eight rebounds, Taylor Krueger added 12 points and six rebounds and Jared Zander scored nine points on three three-pointers for the Mustangs.
Andrew Imhoff led Trinity Lutheran with 24 points.
No. 5 North Douglas 65, No. 4 Adrian 48: Senior forward Ray Gerrard had 29 points and 18 rebounds to lead the Warriors (23-5) past the Antelopes (21-8).
North Douglas, which has won 18 in a row after a 5-5 start, advances to the semifinals to play Crane, which eliminated the Warriors in the quarterfinals last year.
Gerrard, who averages 18 points per game, made 10 of 16 shots from the field and 9 of 11 free throws. Logan Gant and Trenton Rabuck added 13 and 12 points, respectively, for the Warriors.
Adrian was within 48-41 with 5:35 left but North Douglas outscored the Antelopes 17-7 to finish the game.
Ashton Jephson made three three-pointers and had 16 points to lead Adrian, which also got 14 points from Carter Bayes.