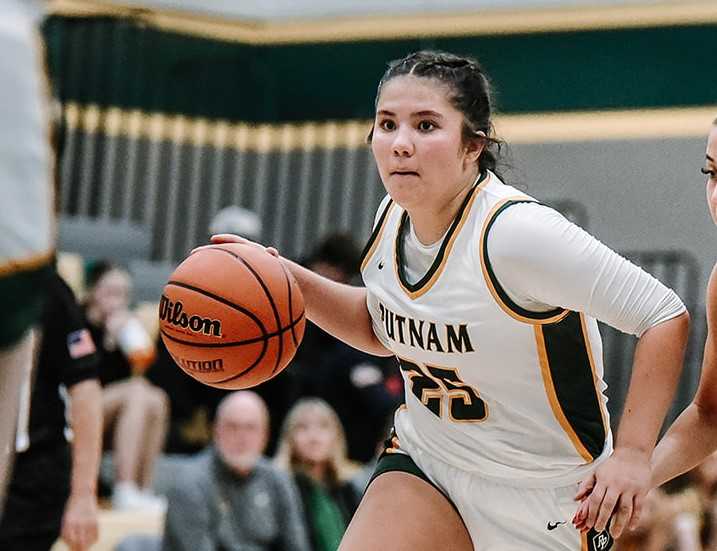 On the brink of taking over first place in Northwest Oregon Conference girls basketball Friday, No. 4 Putnam began to struggle against a familiar nemesis, No. 9 Wilsonville.
The visiting Kingsmen led by seven points with two minutes left, but the reigning conference champion Wildcats wouldn't go quietly, making two three-pointers and forcing overtime.
"It felt like we were melting down a little bit," Putnam coach Max d'Auvergne said.
But unlike last year, when a four-point loss at Wilsonville cost the Kingsmen the 5A NWOC title, they were able to refocus and pull out a 79-72 overtime win to seize first place. Putnam (14-3, 8-1) holds a one-game lead over Wilsonville (9-11, 7-2) and No. 6 La Salle Prep (14-5, 7-2).
"The girls have been through enough of these battles now that they can keep their head on and do the things that got us to that point," d'Auvergne said. "They locked in. It was awesome."
Junior wing Rylee Lemen scored 30 points and senior center Rylie Greenleaf added 22 points as Putnam ended a 10-game, six-year losing streak against Wilsonville. The streak included a 72-55 home loss to the Wildcats 72-55 on Jan. 3.
"That's kind of been our Achilles heel," d'Auvergne said. "Last year we got stopped short, and that was really, really disappointing for them. To win was everything for them. I saw a couple of them, their eyes were getting a little bit teary. It was tears of joy. It was an awesome feeling for them to finally overcome that mountaintop."
Putnam fell behind Wilsonville 11-2 but got back into the game behind the offense of Greenleaf, who made two three-pointers in the first half. The Kingsmen showed poise, led by senior guard Kayla Kasubuchi.
"She's that person to huddle everybody up and say, 'Lock in, we've got this,'" d'Auvergne said. "She put the team on her back, in a way."
The unexpected return of the 6-foot Lemen has sparked Putnam, a 5A semifinalist last year.
Lemen suffered what was believed to be a broken ankle in practice in the week before the season opener and it appeared that she would be out for the year. But it turned out that the ankle wasn't broken, and she returned to the court Jan. 6 against Hillsboro, the game after the home loss to Wilsonville.
"There was just some cartilage that was damaged and may have looked like a break," d'Auvergne said. "She just had a pretty bad sprain."
Lemen played on a minutes restriction for a few games before returning to full-time action. The Kingsmen have won seven in a row with her in the lineup.
"She's probably one of the more athletic players in 5A," d'Auvergne said. "She can defend multiple positions. Her defense and rebounding is a game-changer for us. She's a monster on the boards. She chases that ball relentlessly. She's got the bounce and the speed to get to some balls that other people can't."
The Kingsmen, whose other two losses came against 6A Oregon City, can claim their first league title since 2014 by winning their last five conference games.
Last week, they defeated La Salle Prep for the second time this season. They won 48-32 at home, getting 19 points from Kasubuchi and 11 points from senior guard Emma McDonald, the team's leading scorer at 20 points per game.
Crane takes down Baker
Crane struck a blow for 1A on Saturday with a 57-54 win at Baker, the top-ranked team in the OSAAtoday 4A coaches poll.
Junior guard Kortney Doman scored 25 points to lead the second-ranked Mustangs (20-1), who won on the Bulldogs' court by three points for the second season in a row.
Baker (18-2) led 46-39 after three quarters, but Crane took control with an 11-0 run to start the fourth quarter. Freshman Ava Bowen and senior Taylor Joyce made three-pointers to start the surge, and Doman made two free throws for a 47-46 lead.
A basket by Doman and a free throw by Joyce put the Mustangs up 50-46 midway through the fourth quarter. Baker got within two points and had the ball with 30 seconds left, but Crane came up with a steal and held on for the win.
Crane is on a 17-game winning streak since falling to 1A No. 1 Damascus Christian 55-33. Baker had won 11 in a row since a 40-39 loss to No. 4 Marshfield.
Senior Jozie Ramos had 30 points for Baker, which led by as many as 10 points in the first half. The Bulldogs played without two senior starters in Makenzie Flanagan (knee), sidelined since late December, and Macey Moore (ankle), who missed her third consecutive game and is expected to return soon.
Cascade prevails
Cascade moved to the top of the 4A Oregon West Conference on Thursday with a 34-23 home win over Philomath in a battle of first-place teams. It was the Cougars' first win over the Warriors since Feb. 2018.
The game was tied 10-10 at half before co-No. 8 Cascade (9-6, 5-0) took control, scoring the first eight points of the second half. The Cougars led by five points after three quarters and closed out the victory over the No. 7 Warriors (11-6, 4-1) despite scoring a season-low point total.
Junior guard Maddie Dustin and freshman guard Olivia Bennett scored 12 and nine points, respectively, to lead Cascade, which has three freshmen in the starting lineup. Abigail Brown, a 6-3 senior, had nine points for Philomath.
The teams meet again in the regular-season finale Feb. 20 at Philomath.
Notes: Senior guard Rose Koehler set Summit's single-game scoring record with a 39-point performance Jan. 23 against Ridgeview. Koehler, who is averaging 20 points per game, has surpassed 1,000 career points. … Hallie Jo Miller, a 5-10 senior, tied Lebanon's single-game scoring record by putting up 35 points Friday in a 60-53 loss to No. 2 Silverton.