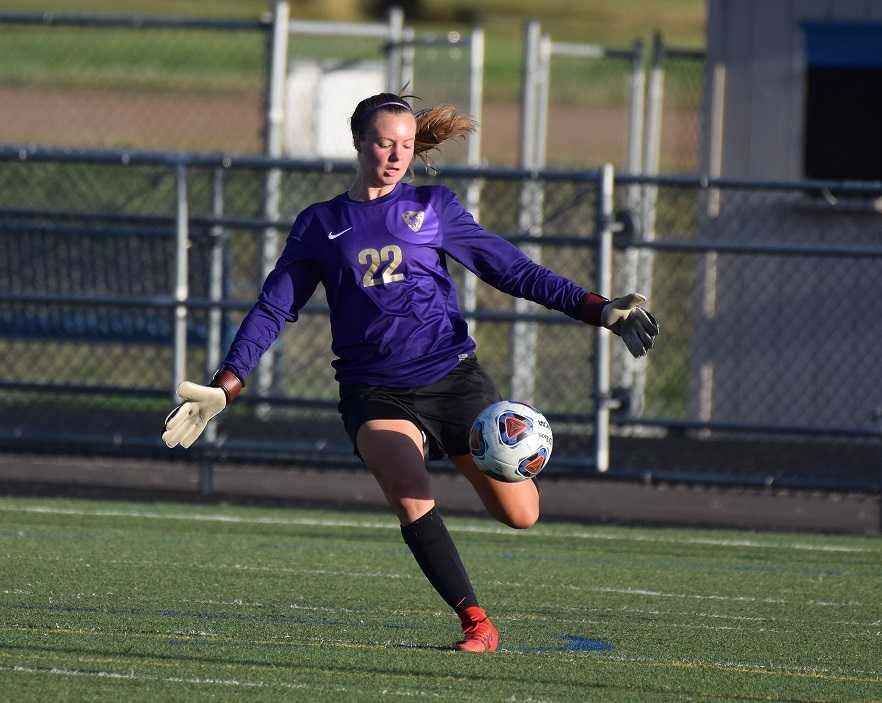 Maybe success was coming too easily for Crescent Valley's girls soccer team.
A year ago, the Raiders looked unbeatable in outscoring their opponents 73-4, but fell in the semifinals for the second consecutive season.
This year, minus nine players from that team, Crescent Valley has fought through all sorts of adversity – and won three road playoff games – to reach the state final for the first time since 2006.
"This year we've had to fight and scratch for everything we've gotten," coach Blake Leamy said. "It's hardened us a little bit, made us tougher. I think that's something we can rely on. They're comfortable in the stress. They can manage it. Our team last year, when we got stressed, we just didn't manage it."
The 10th-seeded Raiders (10-4-2) will go for their first state title in school history Saturday when they meet No. 4 Churchill (10-4-3) in the OSAA/OnPoint Community Credit Union 5A championship match at Hillsboro Stadium.
Crescent Valley is a much different team than the one that lost at Churchill 1-0 in its season opener. The Raiders not only have settled on a winning lineup, but they have developed confidence and resiliency. It's a contrast from last season, when the playoff pressure weighed on them.
"We feel a little bit lighter as a group," Leamy said.
The season did not start off promising as the Raiders dealt with injuries to several starters. The team's all-state goalkeeper, junior Peyton Dale, missed four matches with a pulled hip flexor and the Raiders gave up 13 goals in a 2-3-1 start.
That was the turning point for Crescent Valley. Dale returned and Leamy shuffled the lineup, moving senior Cali McClave and junior Megan Brunelle from the front line to defense. In the last 10 matches, the team has surrendered six goals in going 8-1-1.
"We were leaking a lot of goals. It was pretty hard," Leamy said. "We just needed to find a foundation, something we could rely on. That was a really big piece, getting those two back there. We had to make some changes. We weren't steady."
Leamy said that McClave's move to defense after two productive seasons at left wing "was probably the biggest turnaround for us. As a captain, she's done a fantastic job of showing leadership."
The balanced offense got a boost from sophomore Ana McClave, who leads the team with 10 goals. Cali McClave has scored on free kicks in the last two games, 2-1 wins over No. 2 Willamette and No. 3 West Albany.
Dale has been outstanding in goal despite not being fully recovered from the hip flexor injury. Her athleticism is evident in goal kicks that sail past midfield.
"She's an amazing athlete," Leamy said. "You have to have a pretty good shot to get a goal on her. She's a real calm, steady personality. She's kind of a rock for us."
The play of Dale will be crucial against Churchill as the Raiders anticipate another defensive struggle against the Lancers.
"They had the better of it in the first game," Leamy said. "I think this game will be a little more even."
Churchill reached the final by beating No. 8 Corvallis 2-1 in a penalty-kick shootout in the semifinals. The Lancers have never won a title, playing in the final once before, a 5-1 loss to Sunset in 1990.
Junior forward Emmi Freeman (11 goals) and senior midfielder Maddie Young (six goals, 12 assists) were first-team all-conference picks for Churchill. Senior Makenzy Stiffler (seven goals) and junior Ciana Reyes (seven goals) have had two-goal matches in the playoffs.
A look at Saturday's other state championship matches:
GIRLS
6A -- 6 p.m., Hillsboro Stadium
No. 3 Clackamas (15-2-1) vs. No. 1 Jesuit (18-0): If you thought Jesuit was dominant in winning the title last year, when it outscored its opponents 86-2, the Crusaders have taken it up a notch this year, holding a 120-1 edge over their foes. They are ranked No. 1 in the nation in the USA Today and United Soccer Coaches polls. Junior Callan Harrington (39 goals, 21 assists) and senior Katie Duong (26 goals, 32 assists) are having monster seasons, and the defensive line – led by seniors Rachel Hickey and Madison McClellan – has been impenetrable. Jesuit can win its 13th title by beating the Cavaliers, a team it defeated 5-0 on Aug. 29. Clackamas, bolstered by several players who participated in the Portland Thorns Academy last season, is in position to win its first title. The Cavaliers have eight players who have committed to colleges. Junior forward Kyla Sullivan is on pace to break the school career scoring record. Clackamas has won 13 in a row.
4A – 3:30 p.m., Liberty HS
No. 3 Valley Catholic (13-2-2) vs. No. 1 Hidden Valley (16-1): A rematch of last year's final, which Valley Catholic won 1-0 off a corner kick in the 73rd minute. The Valiants have appeared in six state finals since 2008, winning titles in 2013, 2014 and last year. They advanced to the championship match with a 4-2 semifinal win over La Grande, getting a hat trick from Callie Kawaguchi. Hidden Valley, which got past Marist Catholic 1-0 in the semifinals on a goal by Teagan Danner, is going for its first championship since back-to-back titles in 2006 and 2007. The Mustangs, riding a 12-game winning streak, have allowed a 4A-low eight goals.
3A/2A/1A – 10:30 a.m., Liberty HS
No. 3 Oregon Episcopal (14-2) vs. No. 1 Catlin Gabel (16-0-1): A classic small-school final between Special District 1 rivals that have dominated the state for years. Oregon Episcopal has won six of the last seven titles, including the last four, beating the Eagles in the final the last three years. Catlin Gabel has won 13 championships, but is 0-4 in the final since 2010, all losses to Oregon Episcopal. The Eagles, who beat the Aardvarks 3-0 and 1-0 this season, are hoping to reverse that trend. Catlin Gabel's Sophie Wand (18 goals, 18 assists) was named the district MVP and teammate Ally Priest was the goalkeeper of the year.
BOYS
6A -- 3:30 p.m., Hillsboro Stadium
No. 2 Summit (17-1) vs. No. 12 Jesuit (12-3-3): A match between two teams that have scraped their way into the final. Jesuit, last year's runner-up, defied its seed with four one-goal playoff victories, two coming in overtime and one on a penalty-kick shootout. Summit also had four one-goal wins in the playoffs, three of them in overtime. Jesuit has won 14 titles, but none since going back-to-back in 2012 and 2013. Jesuit's Remington Grayson scored twice in a 2-1 semifinal win over Forest Grove, including the winner in overtime. Crusaders goalkeeper Nolan Aylward, a fourth-year starter, stopped a penalty kick in overtime in the semifinals. It is the first final for Summit since it won the 5A title in 2013. The Storm has given up a 6A-low seven goals, getting 13 shutouts from junior goalkeeper Khael Engelman, a transfer from California. Junior Kyle Capdevila has scored four goals in the playoffs for Summit, which has only two seniors.
5A – 10:30 a.m., Hillsboro Stadium
No. 2 Corvallis (14-1-2) vs. No. 1 La Salle Prep (16-0-1): The teams tied 3-3 on Sept. 11. Corvallis, runner-up last year and in 2010, goes for its first title since 2009. The Spartans are led by senior midfielder Avery Whipple, the Mid-Willamette Conference player of the year, who has committed to the University of Pacific. Junior forward Edgar Monroy has scored a team-high 21 goals for Corvallis. La Salle Prep, appearing in its first final since 2012, goes for its sixth title and first since 2009. The Falcons lost in the semifinals on penalty kicks the last two years, but rallied from a 2-1 deficit with seven minutes left to beat Central 3-2 in the semifinals, getting the game-winner with 18 seconds remaining. Sophomore Kainoa Taylor (14 goals) and junior Luke Strange (12 goals) lead La Salle Prep in scoring.
4A – 6 p.m., Liberty HS
No. 3 Woodburn (16-1) vs. No. 13 North Marion (10-4-3): The schools, only six miles apart, collide to decide the title. Woodburn moved down from 5A, where it won five state titles since 2010, including the last two. The Bulldogs opened the season with a 5-1 win over North Marion and have outscored their opponents 96-4. Senior forward Jesus Rodriguez (19 goals, 18 assists) was named the Oregon West Conference player of the year and senior Jairo Aguirre (20 goals, 14 assists) was among three others picked to the first team. North Marion, which won the title in 2014, has bounced back after going 4-9-1 in 2017. Huskies senior Edgar Lopez, a two-time all-state pick, tied the school record with 25 goals last year.
3A/2A/1A – 1 p.m., Liberty HS
No. 2 Catlin Gabel (13-1-4) vs. No. 1 Oregon Episcopal (15-1-1): The perennial small-school powers and Special District 1 rivals meet in the final for the first time since 2009, a 1-0 OES win. In their two matches this season, the teams tied 1-1 and OES won 1-0. Catlin Gabel, which has won 13 titles, was champion in 2016 and runner-up last year. The Eagles' senior class is 57-2-12 during their careers. Spud Ward (11 goals, eight assists) leads the Eagles in scoring and goalkeeper Bowen Blair has 10 shutouts. OES has won six titles (all since 2005), the last ones in 2013 and 2014. Jonah Song and Connor Mansfield have hat tricks in the playoffs.