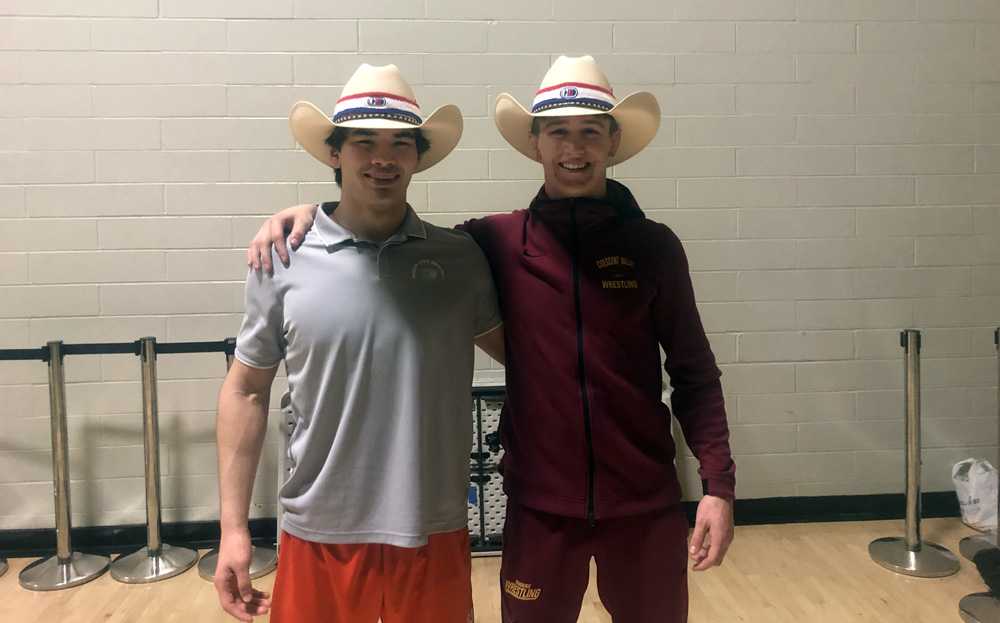 Seems like old hat
Oregon wrestlers made headlines this past weekend at the 45th Annual Doc Buchanan Invitational, which took place at Clovis High in central California this past weekend.
Two, Dashle Lamer of Crescent Valley and Justin Rademacher of West Linn, won their weight divisions!
This is a HUGE deal, as wrestlers from 112 teams over 16 states competed at what's considered one of the top five events nationwide. More than 60 nationally-ranked wrestlers were at the "Doc B" in search of the cherished cowboy hat bestowed upon those tough enough to conquer their brackets.
Lamer, a three-time Oregon state champion, won the 173-pound division as the top seed.
Raider head coach Chad Lamer was confident his son would compete well against this field and Daschle Lamer was, in his father's words, "hammering guys" leading up to the championship bout.
"He's been looking really tough and has a lot of confidence right now," Coach Lamer said before the final. "I know he's excited to get that cowboy hat."
Daschle Lamer's opponent was Luke Condon of California state power Poway. Condon had taken first at the Reno Tournament of Champions at 175 pounds, while Daschle Lamer won at 163. Coach Lamer was concerned that Daschle might not have the size or strength to match up with Condon but hoped that his high wrestling IQ and ability to figure things out on the mat would carry the day.
That's precisely what happened.
Condon, third at 170 a year ago at the California state meet, was the aggressor for most of the match, but Lamer did a good job of countering Condon's shots. A final Condon shot in Period 3, with Lamer holding a scant 1-0 lead, turned into a Lamer take down that allowed the top-seeded Oregonian to clinch victory, 3-0.
Rademacher prevailed as the No. 4 seed at 185 pounds. The senior, who was a state runner up a year ago, was embroiled in a defensive battle with Bakersfield's Tye Monteiro until the last 20 seconds when a flurry by both wrestlers left each scrambling to get on top. Rademacher found a way to break a 1-1 tie with a takedown to relegate Monteiro, a top finisher in the California state meet last winter, to second place at the Doc B for the second straight year.
Rademacher described the final frenzy this way:
"He shot on my left leg. I locked around his crotch, right leg to his hip and waited for him to circle out then rolled over my own back and shot my arm through his legs to catch him on his back and it worked."
Rademacher said the key to victory was pushing the pace.
"I wouldn't let fatigue get to me," he explained. "That's been my biggest downfall wrestling in the past."
The title left the West Linn senior deeply satisfied.
"I put in the work to win," he said. "It's a highlight for sure. More to come."
***
A total of three Oregon schools sent wrestlers to the Doc B.
Crescent Valley finished 12th in the team score. In addition to Lamer's win, senior DJ Gillett, a three-time defending state champion, made it to the semifinals at 135 pounds before finishing in fourth place. Senior Ben Hartman, an Oregon State football recruit who stands 6-5 and well over 280 pounds, got onto the podium at 288 pounds in eighth place. Jayden Cobb won two matches at 223 pounds. Junior Everest Sutton, a two-time defending state champion, lost both of his bouts at 116 pounds as the No. 11 seed.
West Linn placed 14th in the team score. Senior Earl Ingle placed fifth at 223 pounds to join Rademacher in podium finishes for the Lions. Charles Spinning, a state runner up last year, went 2-2 at 148 pounds.
Roseburg tied for 61st place. Grady Hamilton went 2-2 at 288 pounds. Gage Singleton, a two-time state champion, went 1-2 at 116 pounds as the ninth seed.
Get ready for a Classic
The Oregon Wrestling Classic in Redmond, which starts Friday, is the state's premier dual-meet tournament and the team list confirms it. Sixteen teams in each of the five classifications will converge to determine which lineups reign supreme.
The action should be captivating if the first coaches poll is any guide. Five of the top six 6A squads, six of the top seven 5A teams, nine of the top 10 4A sides, seven of the top eight 3A squads and eight of the top nine 2A/1A teams will compete, including every team ranked among the top three in each respective classification.
There also is a 12-team girls event, headed by Thurston, North Medford, Sweet Home and Scappoose.
News and notes
Hayden Walters, a three-time defending state champion for Crescent Valley, is now at Crater HS. The Michigan recruit suffered a wrist injury in the championship match at the Reno TOC but is expected to recover and compete for a fourth title this season…
North Valley sophomore Breanna Meek remains undefeated on the season at 8-0. She recently won the 235-pound division at the Sutherlin Tournament.
Another North Valley wrestler, Mason Core, is 1-0 at 160 pounds after taking last season off. He will drop to 152 pounds to wrestle at the Oregon Classic this weekend.
"He is going to make a name for himself very quickly by the time that we finish the Classic," said coach Morgon Holden. "We are excited to see him wrestle some of the best in his weight from all over the state."
Trey Dieringer of Scappoose handed Mountain View's Liam Byrne, runner up at 160 last year in 6A, his first defeat of the year, 7-5, in the 170-pound division at the Rollie Lane Invitational in Idaho last week. Byrne started the season with 22 straight wins.
Siuslaw won the team title at the King of the Hill Invitational. The Vikings dominated the upper weights, with Joe Sissel (170), Jacob Mann (182), Mason Buss (195) and Dayne Muller (220) winning their divisions. Siuslaw also had four girls claim divisions in the concurrent girls event. Macali Lade (110), Danin Laouture (135), Meika Shappell (145) and Jane Laouture (155) all proved victorious.
USA Wrestling has released its national girls rankings.
Senior Destiny Rodriguez of West Linn in No. 1 at 164 pounds and No. 3 in the "pound-for-pound" rankings.
Three other Oregonians are ranked nationally. Undefeated Estella Gutches of North Medford is No. 8 at 138. Cleveland senior Haley Vann is ranked No. 17 at 132. And Hillsboro senior Alice Rickett is No. 20 at 138.
Top Frosh!
We have asked coaches to tell us about the top freshmen in the state. New entries are denoted with an asterisk (*).
Leyton Adams, Hood River Valley, 113 (5A) – Adams, ranked 15th in his division, has a bright future after starting his career with a 7-5 record. "Leyton continues to show his leadership skills, even as a freshman," noted coach Tony Rolen. "He hasn't missed a practice, competition, or team event this season!"
Tommy Belding, La Grande, 132 (4A) – One of two key freshmen that have made the defending 4A champs that much stronger, Belding has won both the Estacada and Muilenburg tourneys early in the season. He is ranked third at 132 pounds.
*Delanie Burton, North Valley, 115 (4A/3A/2A/1A) – Technically sound and smart on the mat, Burton is 10-6 as a freshman against boys and girls. She's placed third in back-to-back girl tournaments at very competitive weights.
Brody Buzzard, Harrisburg, 152 (3A) – A football star and consummate workhorse, Buzzard is 19-5 on the season and ranked third in the state in his division. He took first place at the Liberty Invitational over a returning 6A state placer.
Alexander De La Torre, The Dalles, 152-160 (4A) – De La Torre is 10-3 on the season with his signature move being the blast double leg takedown. He won his bracket at the Kelly Bledsoe Invite, the first tourney of the year, and is showing himself to be the hardest worker on the team.
*Marlon Giron, Gervais, 120 (2A/1A) – Giron started his career with a 6-1 record. "Marlon always seems to be the aggressor in his matches, getting multiple takedowns in a match," said coach Iban Gomez. "He has an unbreakable cradle that no one has been able to escape from."
Skyler Hall, North Medford, 105 (6A/5A) – Hall is undefeated on the season (14-0) against all competition, is 3-0 versus the boys and owns a win over the No. 2 ranked 6A boy. Ranked sixth at 106 in 6A, Hall won her division at the Coast Classic, Tyonne Woods and Winter Classic.
Colton Livingston, La Grande, 113 (4A) – One of two key freshmen that have made the defending 4A champs that much stronger, Livingston has just one loss on the season. He won his division at Muilenburg and was second at Estacada. Livingston, who is ranked fifth in the state; and Belding are the first two freshmen to win Muilenburg in 27 years!
Kiya Roe, Knappa, 100 (4A/3A/2A/1A) – Roe is 10-3 to start her career, with just one loss coming versus another female wrestler. She pinned last year's third-place state finisher, is currently ranked sixth overall at 106 pounds and has an unbeatable crackdown finish.
*Peyton Wafer, Douglas, 113 (3A) – Wafer has been very competitive at the start of his prep wrestling career. "Peyton has a dominating double leg with a never-give-up attitude," said coach Kadin Baker.
Legends of the fall
In this section, we list wrestlers recording pins this season in under 20 seconds.
5 seconds
Eric Larwin, Soph., Bend, 132, Dec. 2
7 seconds
Wylie Johnson, Sr., Culver, 285, Dec. 2
8 seconds
Wylie Johnson, Sr., Culver, 285, Dec. 2
10 seconds
Brash Henderson, Soph., Silverton, 220, Dec. 3
11 seconds
Victor Perez, Soph., Newport, 113, Jan. 7
12 seconds
Jon Wiese, Sr., Newport, 182, Jan. 7
13 seconds
Breanna Meek, Soph., North Valley, 235, Dec. 3
16 seconds
Lilliyan Jaramillo, Jr., Rogue River, 235, Dec. 3
17 seconds
Quinton Foster, Sr., Oregon City, 170, Dec. 3
19 seconds
Kaci Anderson, Sr., Baker / Powder Valley, 145
Mason Thynes, Soph., Redmond, 126, Dec. 3
20 seconds
Landyn Philpott, Soph., La Pine, 132, Dec. 2
Krystal Zamora, Soph. Thurston, 145, Dec. 10
Undefeateds
In this recurring category, we list wrestlers with 12 or more wins who are currently undefeated on the season.
21-0 -- Corbin Roe, Jr., Knappa, 2A/1A (126)
16-0 -- Jonavin Keller, Soph., Oakridge, 2A/1A (113)
16-0 – Sadie Hall, Soph., North Medford, 6A/5A (125)
16-0 -- Skyler Hall, Fr., North Medford, 6A/5A (105)
15-0 -- Logan Clayburn, Jr., Myrtle Point, 2A/1A (220)
14-0 – Kai Carson, Jr., La Grande, 4A (126)
13-0 – Estella Gutches, Sr., North Medford, 6A/5A (135)
Pin to the end
In this section, we list wrestlers who pinned their way through an even with four or more wins.
Haley Vann, Sr., Cleveland, 135, War of the Roses, Dec. 10, Average pin: 42 seconds
Marwan Aman, Beaverton, 152, Tyrone Woods Memorial, Dec. 3, Average pin: 43 seconds
Mason Buss, Sr., Siuslaw, 195, North Bend Coast Classic, Dec. 9-10, Average pin: 44 seconds
Derek Torres, Sr., Culver, 138, Adrian Irwin Memorial, Dec. 2-3, Average pin: 44 seconds
Logan Clayburn, Jr., Myrtle Point, 220, Eagle Point Invitational, Jan. 7, Average pin: 48 seconds
Wylie Johnson, Sr., Culver, 285, Adrian Irwin Memorial, Dec. 2-3, Average pin: 57 seconds
Cole Steketee, Sr., Sprague, 285, Tyrone Woods Memorial, Dec. 3, Average pin: 1:24
Corbin Roe, Jr. Knappa, Phil White Classic, Dec. 29. Average pin: 1:27
Brody Lybarger, Soph., Mountainside, 113, Tyrone Woods Memorial, Dec. 3, Average pin: 1:40
Noah Morris, Sr., Mountainside, 170, Tyrone Woods Memorial, Dec. 3, Average pin: 1:41
Ryan Gaskin, Soph., North Valley, 182, Dan Vidlak Invitational, Dec. 3, Average pin: 1:43
Gage Singleton, Jr., Roseburg, 113, North Bend Coast Classic, Dec. 9-10, Average pin: 1:51
Logan Clayburn, Jr., Myrtle Point, 220, North Bend Coast Classic, Dec. 9-10, Average pin: 1:55
Krystal Zamora, Soph. Thurston, 145, War of the Roses, Dec. 10, Average pin: 2:04
Madi Randels, Jr., Tualatin, 155, War of the Roses, Dec. 10, Average pin: 3:06
100 % COMMITTED!
In this section, we identify those wrestlers who have made commitments to wrestle in college.
Hudson Davis, Sr., Newberg, 197 -- Wyoming
Riley Davis, Sr., Sprague, 174 -- Wyoming
DJ Gillett, Sr., Crescent Valley, 133 – Oregon State
Vaun Halstead, Sr., Thurston, 197 – Oregon State
Daschle Lamer, Sr., Crescent Valley, 174 – Cal Poly San Luis Obispo
Justin Rademacher, Sr., West Linn, 174 – Oregon State
Destiny Rodriguez, Sr., West Linn, 152 – McKendree University
Hayden Walters, Sr., Crater, 197 – Michigan
Andrew Worthington, Sr., Mountain View, 133 – Minot State
If you are a high school varsity head coach and want to know how you can contribute to future Notebooks, contact John Tawa at [email protected]