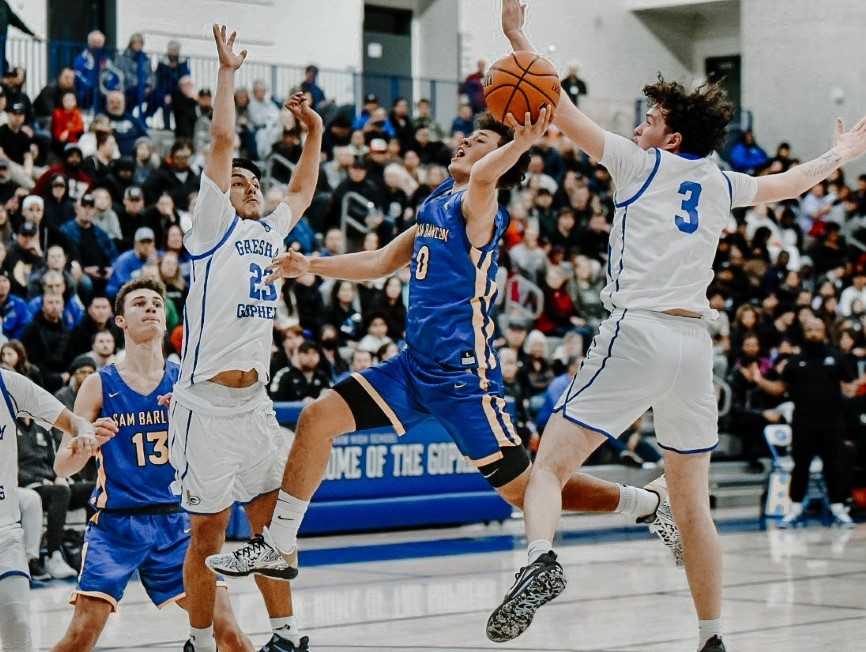 GRESHAM – For much of Tuesday night's game at rival Gresham, things just weren't going the way of Barlow's Jalen Atkins.
The high-scoring sophomore guard spent most of the first half on the bench in foul trouble, and when he finally got into a groove in the third quarter, he picked up his fourth foul and had to sit again.
But none of that mattered after Atkins played the hero in the No. 6 Bruins' 62-60 win over the No. 8 Gophers in the 6A Mt. Hood Conference boys basketball opener for both teams.
After Gresham senior Marcus McKinney split two free throws to tie the game at 60-60 with 5.6 seconds left, Barlow junior point guard Cole Patrick rushed the ball up the court and found a streaking Atkins, who made a layup off the glass as time expired.
"He knew the score and clock, and he got the ball and got out," Atkins said of Patrick. "We just ran the floor and got a layup. I just thought I had to make it. I knew I couldn't miss it, I had to make it for the win. I missed one like that last year, so I had to redeem myself."
The 6-foot-3 Atkins, who entered averaging 22.9 points per game, finished with a team-high 20 points. He scored 18 points in the second half, including six in the final 30 seconds.
"I was just saying, 'It's go time. Time to go in and do the best I can,'" Atkins said. "I've got great teammates who were able to keep us in the game in the first half."
He was able to shake off the frustration of foul trouble and lead the Bruins (8-3) past the Gophers (7-3) in an emotionally charged game before a packed house.
"He's just mature beyond his years as a player and as a person," Barlow coach Tom Johnson said. "I can't say enough about him. He could have got down. Very few high school players would've been able to respond the way he did. That's just a credit to his maturity."
Gresham, which got 23 points from McKinney and 18 points from senior point guard Esyah Pippa-White, had its chances down the stretch.
Leading 59-56, Pippa-White missed a layup with 1:05 left. On the Gophers' next two possessions, Pippa-White and senior guard Scotty Riddle missed the front end of one-and-one free throw opportunities.
On the other end, Atkins scored on a drive and made two free throws to put Barlow up 60-59 with 19 seconds remaining. McKinney drew a foul with 5.6 seconds left, missing the first free throw and making the second to tie.
That set the stage for Atkins' heroics.
"We traditionally don't call a timeout in that situation," Johnson said. "We want to get the ball and go, because if we call timeout, it gives the defense a chance to set up. Cole attacked and made a great play."
Patrick took the inbound pass and cut through Gresham's pressure. He looked to his right and found Atkins, whose layup went off the glass and bounced on the rim twice before trickling through.
"I knew they were going to be pressuring up, so I just had to go fast," Patrick said. "And I knew my guy Jalen was hot. They overplayed me, he got a back door, and I got him the ball. That was game over. It was awesome."
The gritty road win was a good start to the Mt. Hood schedule for the Bruins. Next up for Barlow is a Friday date at reigning conference champion Central Catholic, which rolled to a 68-38 win at 10th-ranked previously unbeaten Clackamas on Tuesday. After that, the Bruins visit No. 2 Lincoln on Jan. 16.
"It's huge," Patrick said of the win. "We've got three big games in a row, so this is a good momentum starter."
Said Atkins: "It feels good to start off the season with a win, but we've got more games ahead of us. We've got Central and Lincoln, so we've just got to keep getting better."
Senior Jahvari Martino and sophomore Mason Bierbrauer scored 11 points apiece and senior Nate Forrar added 10 points for Barlow.
Storm prevails
Summit, No. 1 in the OSAAtoday 5A coaches poll, picked up a key Intermountain Conference win Monday by beating No. 3 Redmond 57-41 at home,
Junior forward Pearson Carmichael scored 24 points, including nine in the third quarter, when the Storm expanded a two-point halftime lead to 12. Junior guard Collin Moore had 12 points and 6-7 junior forward Miguel Taylor added three steals, 12 rebounds and two blocks in the win.
Summit is tied for first place in the conference with Bend (5-6, 2-0), which won at No. 5 Mountain View 60-56 on Monday. The Storm plays host to Mountain View on Thursday.
Redmond (9-2, 1-1), which was coming off a win over Mountain View, got 14 points from senior forward Evan Otten.
Game-winners
Ashland senior Izzy Golden and East Linn Christian junior Tanner Israel came through with game-winning three-pointers last weekend.
The 5-11 Golden nailed his fourth triple of the game at the buzzer to beat Thurston 54-51 on Saturday, finishing with 16 points. The 5-11 Israel made a three-pointer with six seconds left to upend Central Linn 52-51 on Friday.
Notes: Sophomore guard Gavin Hall helped lead Western Christian to three wins last week. He scored 12, 23 and 22 points in wins over Willamina, Blanchet Catholic and Yamhill-Carlton, respectively. … Silverton junior guard Cade Wynn put up 30 points, 18 rebounds and 10 assists as the Foxes turned back Central 53-48 on Thursday. … Gold Beach senior guard Gianni Altman exploded for 46 points in a 79-61 win at Illinois Valley on Friday. Altman, who also has had games of 52 and 42 points this season, entered Tuesday averaging 33.1 points.