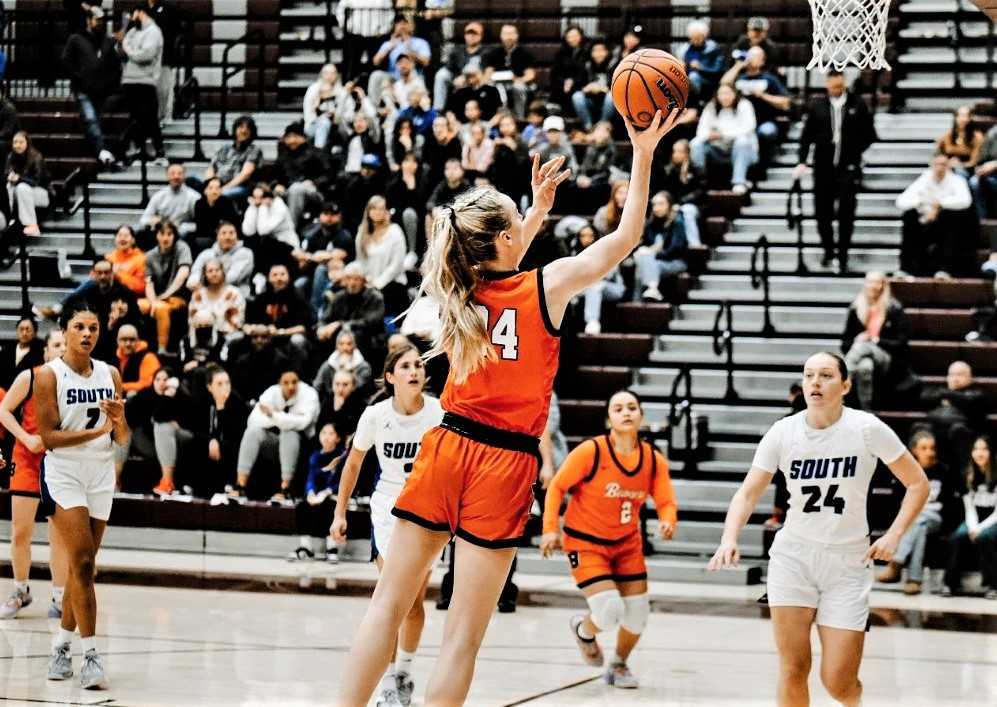 PORTLAND -- Coming off an 0-4 appearance in the Nike Tournament of Champions in Arizona last week, reigning 6A girls basketball champion Beaverton was looking to rediscover its winning mojo in the POA Holiday Classic this week.
The No. 4 Beavers got just what they needed Thursday, digging deep to overcome No. 3 South Medford 52-44 in the semifinals of the Platinum bracket at Franklin High School.
Beaverton (6-5) appeared to be teetering on the edge when it fell behind by nine points in the second quarter, but showed its championship pedigree by controlling the tempo and taking over in the second half. The Beavers advance to the bracket final to face La Jolla Country Day (Calif.) at 8 p.m. Friday at Franklin.
"It just shows overcoming adversity," senior forward Lainey Spear said. "Obviously, we lost all four games in Arizona, and that was kind of tough, but it shows that we can come back and be better, and jump over that little bump."
Senior guard Zoe Borter said that despite the losses, the experience in Arizona was beneficial.
"Obviously, we were playing the top teams in the nation, the best players in the nation, to just kind of see where we were at," Borter said. "We got hit with adversity, so it's good for us later on in the year."
The 6-foot Borter led the way against South Medford (9-2), making 8 of 12 shots and finishing with 23 points, 10 rebounds and four assists. The 6-1 Spear, the reigning 6A player of the year, had another solid all-around game with 11 points, 10 rebounds and three steals.
The win over the Panthers, 6A semifinalists last season, gives Beaverton a jolt.
"This gives us more confidence because obviously that's a really great team, and that's a great win for us, to just go into league play," Borter said.
The game was a battle of tempos. Fast, athletic South Medford thrives in the open court, using its full-court press to create chaos and generate offense. Beaverton, with its stifling half-court defense, prefers a more controlled pace.
The Panthers, led by Oregon State-bound senior guard Donovyn Hunter, were able to fluster the Beavers during a 12-0 run to take a 24-16 lead in the second quarter. Hunter had 10 of her team-high 16 points in the second quarter, the final basket giving South Medford its biggest lead at 26-17.
Instead of unraveling, though, Beaverton settled down on offense and tightened its defense, pulling even at 26-26 on a three-pointer by junior Indie Browning early in the third quarter.
"In Arizona, when we hit adversity, we kind of gave into it," Beavers coach Kathy Naro said. "So I felt like tonight, we hit adversity, but we hung in there and we battled. Instead of over-thinking and over-worrying, I felt like we stayed connected. So on our journey, I thought it was a really good step."
The Beavers took the lead for good with a 6-0 run late in the third quarter, pulling ahead 37-32. They picked apart the South Medford defense in the fourth quarter, Spear twice going backdoor to score off feeds from Borter and Browning converting a pass from Spear. A layup by Browning made it 49-40 with 1:51 left.
"We were just staying patient and kind of reading what they gave us," Spear said. "We have a tendency to get a little frazzled, especially when certain defenses are thrown at us. So I think just slowing down, and calming down, and taking what they give us, results in good things."
Borter, signed with UC Santa Barbara, kept pressure on South Medford's half-court defense with creative drives and smart passes.
"She was awesome," Naro said. "I just think Zoe was amazing all-around. Zoe's such a crafty, intelligent player. She doesn't get sped up, she goes at her speed, and she looks at what's there and then takes advantage of what she sees. She did a fantastic job."
After the second-quarter letdown, Beaverton found a way to neutralize South Medford's pressure and turn it into a half-court game. The Beavers won despite a 14-6 disadvantage in turnovers.
"We knew that they wanted to get out and run, so one of our focal points was getting back on transition defense," said Spear, who has signed with Portland. "I think taking away most of their transition offense was a key part."
Naro wanted to avoid a track meet with the Panthers.
"I knew they're so long, and they're so athletic," Naro said. "They're long at every position. And I knew if we got into a running match where we're turning the ball over, we were going to be in huge trouble. I felt like composure, being calm, and trying to make them guard longer, it was to our advantage."
South Medford coach Tom Cole said Beaverton took advantage of his team's defensive lapses.
"They scored three possessions in a row, on the same plays, doing the same thing," Cole said. "Once that happened, we lost a lot of energy. Credit goes to Beaverton because they executed really well and exploited some things that we were bad at."
Hunter said of the Beavers: "They're just very disciplined. They know each other well. They have good team chemistry, and when it comes to close games, they know how to work well with each other."
South Medford, which entered averaging 16.5 steals per game, had 11 steals, getting three each from Hunter and sophomore guard Sara Schmerbach. But if the Panthers weren't converting in transition, they struggled to find good shots, shooting 34.5 percent for the game (19 of 55), 0 for 8 from behind the arc.
"We started to fade to their tempo when we started to get down," said Hunter, who shot 6 of 20 from the field, including 0 for 4 on three-pointers.
It was South Medford's first loss to an Oregon team. The Panthers' other defeat came in Hawaii against Incarnate Word Academy of St. Louis, a national power.
"Losses need to happen to grow," Hunter said. "I think it's good. We have a lot of young ones. To get some experience playing Beaverton for the first time with the new people we have, it was just a good game for us."
Notes: Camas (Wash.) and Sierra Canyon (Calif.), semifinal winners Thursday, will meet in the Diamond bracket final at 6:30 p.m. Friday at Franklin. ... Camas defeated Clackamas 70-68, rallying from down 57-45 after three quarters. The Papermakers got 20 points and 12 rebounds from Addison Harris and 15 points, six rebounds, six assists and three steals from Kierra Thompson. Jazzy Davidson made 11 of 19 shots and scored 26 points for Clackamas. Rhyan Mogel added 18 points, five rebounds, six assists and three steals for the Cavaliers. ... Sierra Canyon downed Jesuit 64-53 behind Judea Watkins, who had 31 points, 11 rebounds and four assists. The Crusaders, who led 26-25 at half, got 15 points from Sofia Bell and 14 points, five rebounds and six assists from Emma Sixta. ... La Jolla Country Day earned its spot in the Platinum bracket final by beating Benson 56-47. Breya Cunningham had 15 points, 13 rebounds, three blocks and three steals in the win. The Techsters were led by Mahogany Chandler-Roberts, who had 16 points and 13 rebounds.