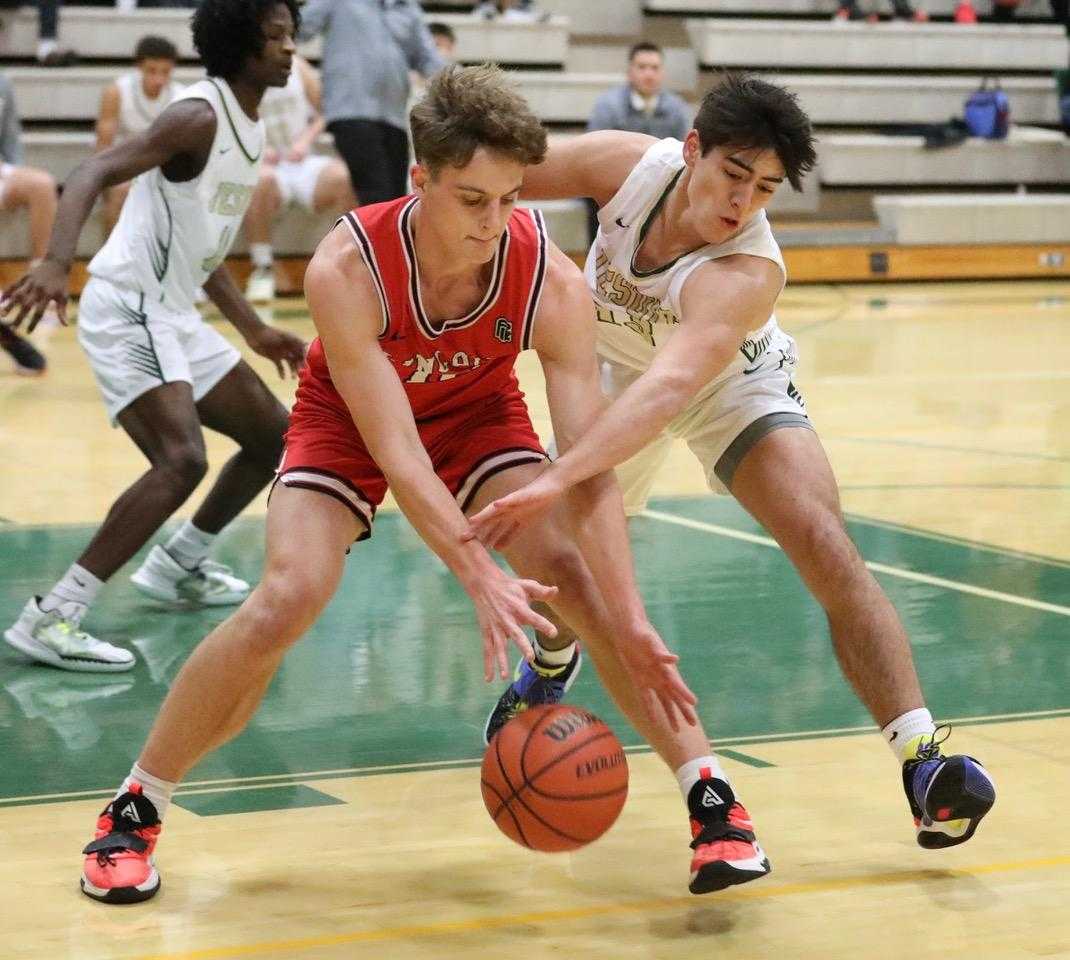 PORTLAND – Walking into Jesuit's highly decorated gym Tuesday night provided No. 2 Lincoln with a reminder of what's at stake this boys basketball season.
"You walk in and you see all these banners here," Cardinals coach Heather Seely-Roberts said. "We talked about it before the game, like, 'You see all this? Let's make sure they don't get one this year.'"
That's because the Cardinals believe they can get their own banner this season. And after digging out a 69-66 nonleague win over No. 5 Jesuit to improve to 3-0, their confidence is building.
"It shows how gritty our team is," said senior guard Moroni Seely-Roberts, who scored a game-high 30 points. "We were able to fight through all the adversity and come together as a team. We ended up coming out with a W, and that's a really good team on the other end, so I'm proud."
Lincoln, which lost in the 6A playoff round of 16 last season, has been impressive so far, beating Mountainside 68-59 and No. 4 Beaverton 74-63 in its first two games. With five senior starters, the Cardinals know their time is now.
"Our ultimate goal is the state championship," Moroni Seely-Roberts said. "But we're not overlooking any team. We know we have to come in every day and get better. If we don't, no night is going to be easy for us."
Lincoln trailed Jesuit 38-31 early in the third quarter before finding its offense. The 6-foot-6 Moroni Seely-Roberts scored seven consecutive points – the final two on a lob from his brother, 6-8 senior Malachi Seely-Roberts – as the Cardinals pulled ahead 42-40.
Lincoln opened a 55-49 lead early in the fourth quarter, but Jesuit wouldn't go away. The Crusaders drew within one point three times in the fourth quarter, the last time when 6-5 junior wing Nico Rafalovich connected on a runner to make it 67-66 with 48 seconds left.
Jesuit had a chance to take the lead after forcing a turnover with 35 seconds to go, but Rafalovich missed on a drive and the rebound fell to Moroni Seely-Roberts, who made two free throws with 10 seconds remaining for a 69-66 lead.
Crusaders senior wing Henry Smith got a decent look at a three-pointer at the buzzer, but missed, setting off a raucous celebration by the Cardinals and their fans.
"This team is always good. They're always a tough out," Malachi Seely-Roberts said of Jesuit. "So coming out and getting a good win early in our season can give us momentum for later."
Moroni Seely-Roberts started the game slow, but scored 22 points in the second half, using his muscle to create opportunities inside. He made all 15 of his free throws in the game, including 11 after intermission.
"He's really physical," Jesuit coach Gene Potter said of Moroni Seely-Roberts. "We had a hard time with him down on the block. He kind of lived at the free throw line. That's playing to their strength. Unfortunately, that's kind of playing to our weakness a little bit, our interior."
Moroni Seely-Roberts, who is averaging 25.0 points in the first three games, struggled to make shots against the physical defense but kept attacking.
"I'm used to it by now," he said of the defensive attention. "You've just got to stay tough and be confident in yourself, and trust your teammates, as well, because I wouldn't be able to do it without them."
Graham Eikenberry, a 6-10 senior, added 13 points for Lincoln. The Cardinals turned up their offense in the second half after getting an earful at halftime from Heather Seely-Roberts.
"I thought my team was not very coachable tonight," she said. "I'm very irritated with them. We tried to freelance a little bit, and we had some kids try to do some things on their own. When you try to freelance against good teams, it's not going to work."
Rafalovich and senior wing Cade Collins each had 16 points for Jesuit. Smith made four three-pointers and finished with 12 points.
The Crusaders returned two rotation players – Collins and senior point guard Isaiah Crane -- from a team that lost in the round of 16 last season. They won their opener 68-52 at Nelson before falling at No. 3 Central Catholic 68-53.
"I thought we played with a lot more energy and more confidence tonight that we did in our first two games," Potter said. "We have the potential on given nights to be pretty good."
Atkins sparks Barlow
Barlow sophomore guard Jalen Atkins erupted for a career-high 41 points to lift the Bruins over visiting Tualatin 86-85 in overtime in the final of the Barlow Trail Tournament on Saturday.
The 6-2 Atkins hit the game-winning shot, a 15-foot pull-up jumper from the left side with 2.2 seconds left. Barlow had forced overtime when senior forward Noah McAllister made a three-pointer at the buzzer.
Atkins finished 15 of 21 from the field, including 5 of 7 on three-pointers, and 6 of 6 on free throws in the win over No. 7 Tualatin (2-2). Since shooting 1 of 8 and scoring five points in a 65-52 season-opening loss at No. 4 Beaverton, he has scored 79 points in wins over Wells, Thurston and Tualatin.
"He got off to a tough start against Beaverton, but since then he's played better," Barlow coach Tom Johnson said. ""He's playing with a lot more confidence. He can shoot it. He's got a pull-up and he's strong enough to get to the basket. He handles the ball an awful lot for us, as well."
Atkins averaged 15.8 points as a freshman for a team that went 19-8 and came within one win of the 6A tournament.
"He has a really good feel for the game," Johnson said. "He just has a really good understanding of some of the nuances of the game that are hard to teach kids."
Mason Bierbrauer, a 6-5 sophomore forward, is averaging 17.3 points for Barlow (3-1), which went from unranked to No. 6 in the OSAAtoday 6A coaches poll this week. Senior guard Jahvari Martino, who missed the Tualatin game with a sprained ankle, is at 14.0 points.
Notes: Senior guard Daniel Maza made five three-pointers and scored 24 points to propel 2A Blanchet Catholic past 2A Oakland 59-36 in the final of the Harrisburg Invitational on Saturday. Maza, who had six three-pointers in a 39-point game against Valley Catholic in the season opener, is averaging 28.6 points. … South Wasco County freshman Jason Hull has continued his early-season scoring binge. The 6-3 Hull scored 31 points in a 90-20 win over Central Christian on Friday and 33 points to lead the 1A No. 3 Redsides (5-0) past 1A No. 8 Elkton 86-79 in double overtime Saturday. He added 33 points Tuesday as South Wasco County knocked off 2A Stanfield 86-70, handing the Tigers their first loss. Through six games, Hull is averaging 32.8 points. … Stanfield (6-1), which cracked the top 10 of the 2A coaches poll this week at No. 8, was coming off an impressive title in the Columbia River Clash tournament last weekend in Umatilla. The Tigers defeated 4A McLoughlin 68-35 and 4A Pendleton 66-42 to reach the final, where they handled 3A Umatilla 71-27. Junior wing Pablo Arellano had 22 points and 12 rebounds against Umatilla. Junior wing Connor Logan collected 24 points and 22 rebounds in the win over Pendleton, which has an enrollment of 588, dwarfing Stanfield's 89.