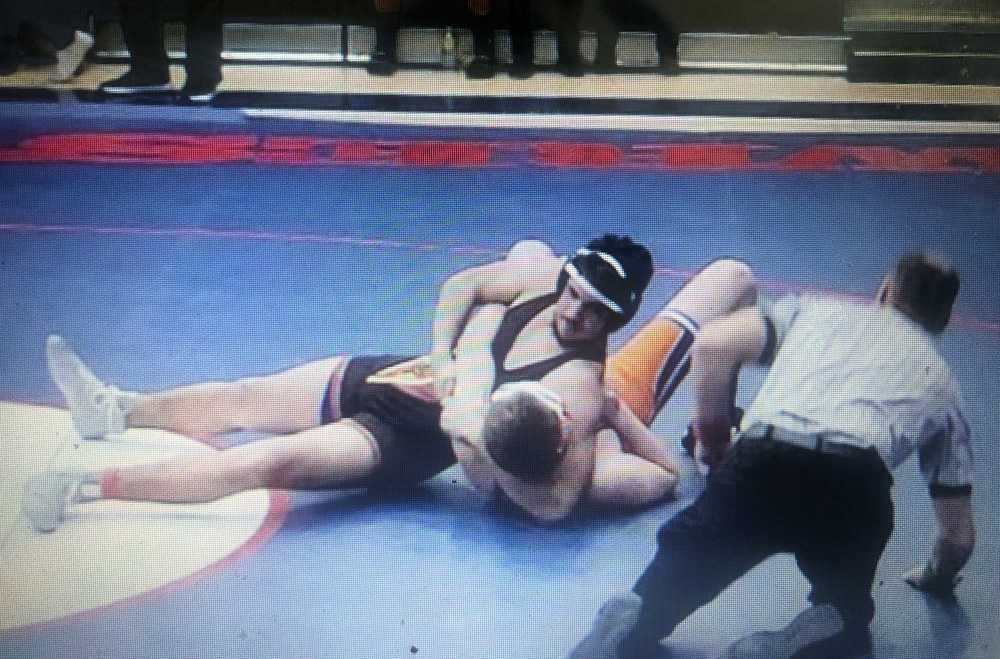 Two days after our first wrestling Notebook of the 2022-2023 season, here's another! This includes info on schools that submitted pre-season forms to us. It also introduces the first three of many season-long categories we will be tracking: fastest pins, pinning through a tournament and college commitments.
Let's get after it!
Boys (and girls!) of summer-y
Depth at 5A Thurston have the Colts thinking they can compete with Crescent Valley and Mountain View for 5A supremacy this year. Mike Simons' returning crew includes state champions Kolton Malone and Vaun Halstead on the boys' side and two-time girls' state champion Kaylee Annis. Thurston, which placed third (boys) and second (girls) last year, also returns Colton Annis, Braylin Ruchti and Sawyer Casarez on the boys' side and Krystal Zamora on the girls' side. The Colts have a whopping 36 girls out for wrestling!!!
Warrenton (3A) qualified 11 wrestlers for state last year. After finishing inside the top 10 at state for the second straight season, coach Corey Conant said his team has a shot at earning a trophy in 2023. Wrestlers to watch for this season include Kaison Smith, Max Smith and Brayden Greenawald. The Warriors also have 11 girls out for wrestling this year…
Mazama (4A) placed seventh at the state tournament a year ago, its highest finish in nearly 25 years. The Vikings are in the best overall stretch of success in school history, with 17 state placers over the past five years. Three state placers have graduated and will be hard to replace, but Matt Penrod 's team will be deep, with several contending for a podium finish, including Treyce Horton, Hadyn Burk (state placer last year as a soph), Tyson Van Gastel, Ashton Lewis, Mikey Rasdal and Armondo Galindo…
Siletz Valley (2A/1A) has had three state placers over the past five years, including its first girls' state champion last year in Chelo Garcia (100). The Warriors graduated just one and are primed for a successful season in 2022-2023, even if their numbers aren't big enough to contend for team state championship recognition. Female wrestlers to watch include Garcia and Zoey Howard. Look for Tyee Yanez, Dean Smith and Louie Orona to be heard from on the boys' side.
Benson Tech (6A) is the last PIL school to win a state title. The Techsters won on both 1982 and 1983. Angel Werner, a state qualifier a year ago; will lead the girls' squad. Sophomore Titus Wade bears watching on the boys' team.
North Valley (3A) returns six wrestlers who qualified for state last year while in 4A. None is a senior. That should make the Knights contenders for the podium this season. Add sophomore Ryan Gaskin at 182, who just pinned his way to a title at the Dan Vidlak Invitational, and this is a team to watch grow and develop. There are six girls out this year, including Breanna Mack, a state qualifier last year as a freshman; technically sound freshman Delanie Burton and sophomore Sarah Gonzales, a first-year wrestler who already has two third-place finishes in boys' events. Juniors Seth Gallego and Mason Core and sophomores Chad Kappes, Aiden Pepper and Josh Kightlinger are other boys to watch.
Newport (4A) has 19 boys and 18 girls out for wrestling, almost twice as many as a year ago. The girls' team will miss the experience of graduated Laura Merino, but returns Zoie Garcia, a state qualifier at 140 pounds. Talented and dedicated freshman Camille Keck and aggressive junior Maya Dorantes also could have big impacts on the girls' side. A top five finish at state is a realistic goal, said coach Michael Bradley. The boys' team should be helmed by sophomore Victor Perez, whose offseason works puts him in position to improve on his third-place District finish at 113 a year ago. Junior Sebastian Guzman, a great athlete in his first year on the mat, also could make some noise.
Newberg (6A) has won the last three 6A titles. The Tigers' rich history in wrestling dates back to 1937. Last year, however, may have been the best yet for Neil Russo's squad.
"We lost what may have been the best class we have ever seen in the history of the program to graduation last spring," Russo said. "We had 15 seniors, all with varsity experience and spanning 13 of the 14 weight classes."
Five state champions, including four-timer Ayden Garver, have graduated. But so much talent remains and there is a promising freshman class ready to make names for themselves.
Juniors Isaac Hampton and Zach Keinonen and senior Hudson Davis are returning state champions. Seven others placed. This team will, once again, be formidable on the boys' side. But you already knew that…
Heppner (2A/1A) has had a wrestling program since 2007. The Mustangs graduated one who had an impact last year, but return four key wrestlers: junior Cade Cunningham, seniors Ty Boar and Saul Lopez and Zachary Brown, the lone freshman on the team. Sophomore Jamie Cavan also should make an impact. Six freshmen inject new blood into the program. They are all experienced and could be contributors. Heppner also has three girls out this year, a senior and two promising freshmen.
Harrisburg (3A) returns its entire crew for 2022-2023. The Eagles had nine state placers last year while finishing third overall, including state champion Luke Cheek, second-place finishers Curtis Talmadge and Nephi Heakin and fourth-place finishers Devin Martin and Bryce Chilgren. Freshman Brody Buzzard (152) should make a huge impact. He was one of the state's leading tacklers during the fall football season. The team has 20 boys out for wrestling and 12 girls, including junior Hanna Henderson, freshmen Gracie Williams and Lilie Ridgley, senior Lilie Lee and sophomore Nahaya Thomas.
Scappoose (4A) was young last year but had three state finalists between boys and girls and its first top 10 finish as a team on the girls' side. The numbers of girls out for wrestling continue to increase. The team graduated state finalist Anna Rintoul, but will build around senior Courtney Hall and eight first-time participants. On the boys' side, senior Anthony Comer, a three-time state placer; Trey Dieringer, Ben Rintoul, Wyatt Anicker and Maverick Heimbuck will be the bell cows for a squad loaded with potential.
Santiam Christian (3A) is not yet a wrestling power but could soon be. The Eagles have developed a nice youth program over the year and graduated zero seniors from last year's high school team. Seniors Kadon Haugen, a two-time state placer; and Caleb Ness should be the anchors to this year's boys' team. Those two, along with senior Jared Mehlschau, all could make the state championship finals in their divisions.
Coquille (3A) had seven wrestlers last year while competing in 2A/1A. Four qualified for the state tournament, including state champion Tommy Vigue (220) and sophomore Riley Jones (third at 195). The Red Devils have doubled their numbers for the coming season, thanks, in part, to a co-op with Bandon. Caden Landmark, Camaron Houston and Patton Clark are others to watch. On the girls' side, the team has just two girls. One, senior Nevaeha Florez, is much improved and has started 4-0.
La Grande (4A) is the defending state champion. The Tigers have won two team titles over the past four years and have been inside the top four the other two years. Three-time state champion Braden Carson is among two to graduate, but many return, including reigning state champs Kai Carson and Joshua Collins and state runner up Mason Wolcott. Among newcomers, look for freshmen Bragen Anderson, Tommy Belding and Colton Livingston to make immediate impacts. Success on the boys' side has helped drive a strong girls' turnout. The girls' team is 29 strong! They placed third this past weekend at an event in Idaho.
West Linn (6A) sent retiring coach Doug Sammaron out with a third-place trophy a year ago. Kevin Keeney takes over and has a deep and talented team, led by Justin Rademacher, Charlie Spinning, Earl Ingle and Ben Winjum. Three-time state champion Destiny Rodriguez, one of the nation's top female wrestlers, also returns.
Oakland (2A/1A) won a District title last year for the first time since the 1980s. The Oakers graduated three-time state champion Kaleb Oliver and will build around sophomore Ezra Chouinard, a state qualifier as a freshman. Other boys to watch include Hunter Shamir and Tyler Garner. Oakland's girls' team includes state hopefuls Bella Eyler, Zoe Vickers and Aurianna Van Houten.
Mountain View (5A), wrestling as a 6A school, placed inside the top five at state for the fifth straight year last February. Back in 5A and with many key returnees, the Cougars could vie for the top of the podium this year. Les Combs' squad graduated three who are wrestling in college, but bring back state champion Drew Jones, state finalists Liam Byrne and Scout Santos and third place finisher Jackson Potts. Mountain View also will have the services of two-time state qualifier Andrew Worthington, who was injured last year; and middle school champion Aiden Nelmes, a freshman at 106. The team, which is 61 strong, includes seven girls, among them Ari Korish and Emilee Williamson, both returning state qualifiers.
Putnam (5A) was wrestling elite in the 1970s, with a championship and four other top five finishes during a five-year stretch. The Kingsmen last year sent seven to state, tying a school record.
North Bend (4A) has several wrestlers to watch, highlighted by heavyweight Neal Walter, who was runner up at 285 a year ago in 5A. Wyatt Garcia, Kevin Garcia and Tim Sarnecky also bear watching.
Siuslaw (3A) returns its three state medalists on the boys' side, Mason Buss, Dayne Muller and Joe Sissel. Those three helped the Vikings place 12th last year in 4A and could help propel them into the top five this year at 3A. On the girls' side, three-time state placer Hayden Muller has graduated, but Siuslaw has a team of six, headed by sophomore Macali Lade; primed to make an impact.
Grants Pass (6A) had four District champs a year ago, but will be young this year. Possible state placers include Mark Astry, Owen Hull, Tagge Fry and Parker Jarvis. On the girls' side, look for 14 wearing the uniform, a great turnout.
Union / Cove (2A/1A) is regaining strength in numbers, with seven boys and six girls in the program this year. The Bobcats hope to place at least one boy and one girl at the state tournaments. Candidates include Gage Martens and Sam Platz on the boys' side and Jenna Denton on the girls' side.
Madras (4A) qualified nine for the state tourney last winter. Wrestling is becoming "a thing" in Madras, so look for the White Buffaloes to mature into a top 10 team before long. Coach Travis Walls will need to overcome the loss to graduation of three-time state placer Reece White, but he has several exciting wrestlers to watch, including three-time state qualifier Cael White, talented but injury-affected Brady David, two-time qualifier Isiah Martinez, state qualifier Jake Lawrence and junior Carlos Torres, who was sidelined by injury last year after placing at state as a freshman. Two youngsters, freshmen Daniel Jackson and Deklyn Parton, have shown great potential so far. Walls describes them as "tough guys."
Liberty (6A) goes forth without graduated Dakota Bass (fourth last year) and Faith Wooley (third in the girls' meet) but should continue to create storylines with its band of overachievers and season improvers. Keep an eye on Jaxson Ochoa, Cason Benson, Michael Campos and Lico King on the boys' side and Gracie Grenfell, Daniela Gregorio, Leah Hawkes, Bianca Miranda and Carley Ocampo on the girls' side.
Regis (2A/1A) qualified five as a first-year program in 2021-2022 and placed eighth at state. The Rans are still young and could improve a few places in their second year, led by senior Luke Bischoff and junior Thomas Bischoff. Regis also will field a girls' squad that is four wrestlers strong.
McNary (6A) is building with numbers. The Celts, who won their only title in 1975, has a handful of experienced grapplers poised to do big things, led by two-time state placer Max Blanco, a junior. Seniors Joey Barros and Josh Friesen are two other state qualifiers focused on returning McNary wrestling to the map. Fifteen girls are out for wrestling, many coming into the program with experience. They could surprise…
Willamina (2A/1A) drops from 3A, where it placed fifth in a co-op with Falls City. The Bulldogs graduated two who are wrestling in college, including two-time state champion Michael Fox; but have six state contenders on the boys' side and one, sophomore Zoe Brewer, on the girls' side, to get excited about. Senior Austin Johnson, a state runner up, should head the boys' side.
Ridgeview (5A) graduated its top two wrestlers from a team that placed 13th at state, but gets a huge boost with the transfer, from Redmond, of last year's 160-pound state champion. A large senior class, which also includes Owen Lee, Mathew Mathis, Eli Hocker, Jorge Ortiz and J. Daniel Carillo, have the Ravens positioned for a top 10 finish. Ridgeview's girls will have a team of 12.
Sweet Home (4A) had five individual state champions a year ago in a runner up team finish on the boys' side and an eighth-place finish in the girls' competition. The Huskies graduated one state champ on either team, but come back strong on the boys' side with returning champs Kyle and Jake Sieminski and Jacob Landtroop, plus two-time state placers Ethan Spencer, Kaden Zajic and Trenton Smith. Kendra Jamison and Bailey Chafin could be difference makers on a full girls' squad.
Central Linn (2A/1A) is a strong small-school program that attracts numbers. The Cobras will need to overcome tough graduations losses on the boys' and girls' sides, but will compete thanks to returning grapplers Jacob Beauchamp, Malachi Hansen and Aaron Rico, all seniors, on the boys' team; and Launa Carter and Syndelle Garber on the girls' team.
Santiam (2A/1A) will be boys only this year. The Wolverines graduated no one and will look to junior Wyatt Dayton (third at state; 145) and sophomores Lukus Lebhan and Jordan Smith to rep the school colors this year.
Legends of the fall
In this section, we list wrestlers recording pins this season in under 20 seconds.
7 seconds
Wylie Johnson, Sr., Culver, 285, Dec. 2
8 seconds
Wylie Johnson, Sr., Culver, 285, Dec. 2
10 seconds
Brash Henderson, Soph., Silverton, 220, Dec. 3
13 seconds
Breanna Meek, Soph., North Valley, 235, Dec. 3
16 seconds
Lilliyan Jaramillo, Jr., Rogue River, 235, Dec. 3
17 seconds
Quinton Foster, Sr., Oregon City, 170, Dec. 3
19 seconds
Mason Thynes, Soph., Redmond, 126, Dec. 3
20 seconds
Landyn Philpott, Soph., La Pine, 132, Dec. 2
Pin to the end
In this section, we list wrestlers who pinned their way through an even with four or more wins.
Marwan Aman, Beaverton, 152, Tyrone Woods Memorial, Dec. 3, Average pin: 43 seconds
Derek Torres, Sr., Culver, 138, Adrian Irwin Memorial, Dec. 2-3, Average pin: 44 seconds
Wylie Johnson, Sr., Culver, 285, Adrian Irwin Memorial, Dec. 2-3, Average pin: 57 seconds
Cole Steketee, Sr., Sprague, 285, Tyrone Woods Memorial, Dec. 3, Average pin: 1:24
Brody Lybarger, Soph., Mountainside, 113, Tyrone Woods Memorial, Dec. 3, Average pin: 1:40
Noah Morris, Sr., Mountainside, 170, Tyrone Woods Memorial, Dec. 3, Average pin: 1:41
Ryan Gaskin, Soph., North Valley, 182, Dan Vidlak Invitational, Dec. 3, Average pin: 1:43
100 % COMMITTED!
In this section, we identify those wrestlers who have made commitments to wrestle in college.
Riley Davis, Sr., Sprague, 174 -- Wyoming
DJ Gillett, Sr., Crescent Valley, 133 – Oregon State
Vaun Halstead, Sr., Thurston, 197 – Oregon State
Daschle Lamer, Sr., Crescent Valley, 174 – Cal Poly San Luis Obispo
Justin Rademacher, Sr., West Linn, 174 – Oregon State
Destiny Rodriguez, Sr., West Linn, 152 – McKendree University
Hayden Walters, Sr., Crescent Valley, 197 – Michigan
If you are a high school varsity head coach and want to know how you can contribute to future Notebooks, contact John Tawa at [email protected]