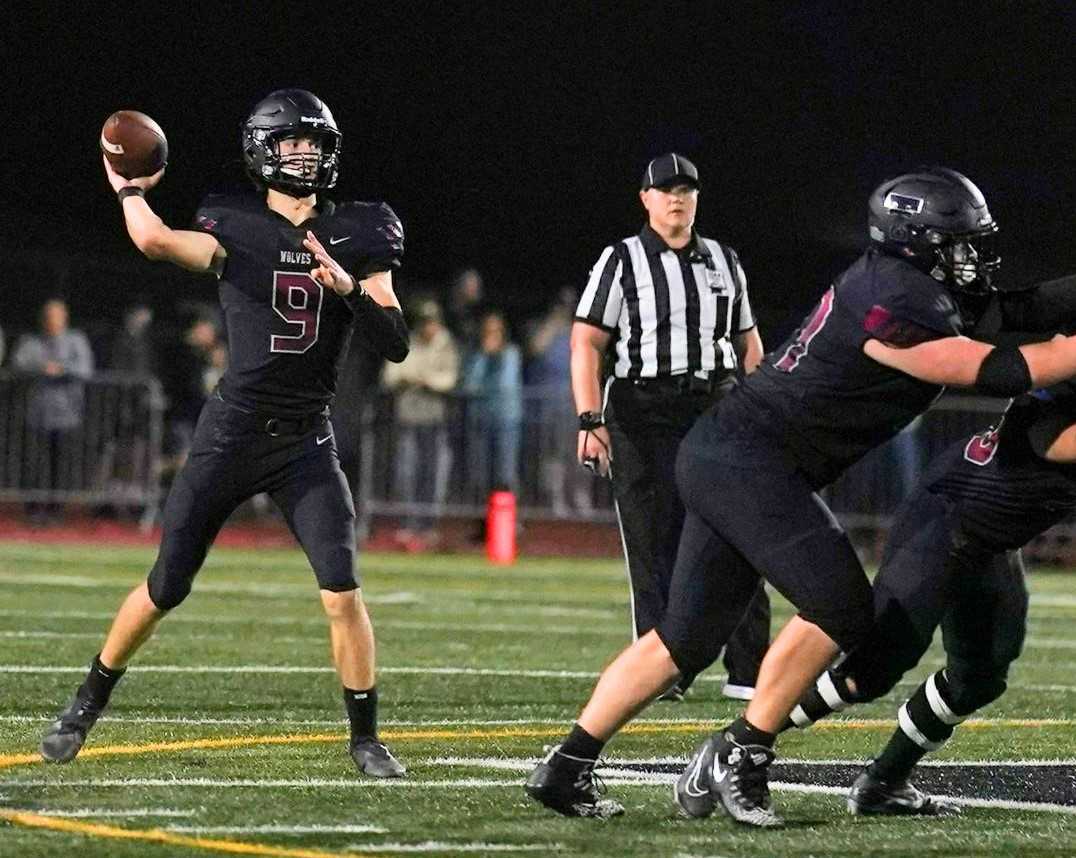 In the middle of October, Tualatin first-year football coach Dominic Ferraro sensed that his team needed a jolt.
"We kind of hit a lull after the West Linn week," Ferraro said of the team's first defeat, a 42-30 loss to the Lions. "We had a couple of weeks where I felt like we were sleepwalking through games."
Tualatin lost to Lake Oswego in the following game and was less than impressive in a win over Oregon City. But as the Timberwolves prepared to face rival Tigard in the regular-season finale, they were reinvigorated by a massive rain storm that sweep through practice.
"It seemed to energize us a little bit," Ferraro said. "The kids were having a lot of fun even though the conditions were miserable. Something just kind of turned with them. The last three weeks, we've been playing with a lot of energy and enthusiasm."
No. 3 seed Tualatin (9-2) defeated Grants Pass 36-6 and Mountainside 53-21 in 6A playoff games, setting up a semifinal date with No. 2 Sheldon (11-0) at 7 p.m. Friday at McNary High School.
The Irish have been dominant all season, outscoring opponents 537-63. Sheldon has five shutouts and has held opponents to seven points or fewer in all but one game, a 35-31 win at top-seeded West Linn.
But Ferraro believes the Timberwolves, with a handful of players who had key roles on last year's 6A runner-up team, can make a game of it.
"I think we're capable of playing with these guys," Ferraro said. "Sheldon presents a lot of challenges for us. We've got some dudes, too, and we're confident in what we can do. I know our guys are going to be excited for the opportunity."
Sheldon, going after its first title in 10 years, is bracing for Tualatin's best.
"We're not sneaking up on anybody," Irish coach Josh Line said. "I think in the regular season, a lot of people said we weren't playing very good teams. I don't think that's true. I think we played some really good teams, we just got better every week.
"I think people have given us their best shot. Late in the season, North Medford and West Salem played us really tough. Maybe the score didn't look like that, but if you watch them game, they played us really tough, and our kids responded to a lot of adversity."
Tualatin sputtered a bit late in the regular season as it dealt with bumps, bruises and illness. The Timberwolves seemed to have regained their stride in recent weeks, blowing out to a 35-7 lead in the first quarter in the quarterfinal win over Mountainside.
"Last week against Mountainside, it was like, all right, we're healthy, we're all back," Ferraro said. "We played like it in the first half. We jumped all over them. I don't know that any of us expected that. It just sort of happened, like bang, bang, bang."
Senior quarterback Jack Wagner passed for three touchdowns, two to Richie Anderson, in the win. For the season, the Idaho-bound Wagner has completed 62.4 percent of his passes for 2,426 yards and 27 touchdowns with five interceptions and run for 292 yards and three scores.
Anderson and junior AJ Noland each have eight touchdown catches. Anderson, Noland and juniors Kenen Elder and Jayden Fortier all have more than 400 receiving yards.
"The first thing that comes off on film is how talented they are," Line said of the Timberwolves. "They've got weapons everywhere. All facets of the game, they have very good athletes."
For Tualatin to have a chance against Sheldon, its offensive line must find a way to neutralize a dominant Sheldon defensive front that features Oregon-bound senior Teitum Tuioti (6-3, 225), who has 11.5 sacks and 28 tackles for loss.
"He's just a flat-out dude," Ferrao said of Tuioti. "He's just fast off the edge, he's got good feet, good hands, physical. We'll have our hands full with him. I think our guys are up for the challenge."
Sheldon's offense revolved around senior quarterback Brock Thomas, who has passed for 2,604 yards and 39 touchdowns with four interceptions and run for a team-high 602 yards and 15 scores. A third-year starter, Thomas has thrown for 69 touchdowns and run for 41 scores in his career.
"He can beat you both ways," Ferraro said. "We're definitely worried about him."
Senior Cade Welch leads Sheldon with 10 touchdown catches. Senior Luke Leighton has eight and seniors Zach McEwen and Isaac Peters have six apiece.
Friday's winner will play either West Linn or No. 5 Central Catholic, the two-time reigning champion, in the state final.
A look at this week's other playoff matchups:
6A
No. 5 Central Catholic (10-1) vs. No. 1 West Linn (10-1), 7 p.m. Friday, Pioneer Memorial Stadium: Two of the state's perennial powers square off for a berth in the championship game. The two-time reigning 6A champion Rams came from behind in the fourth quarter to defeat Jesuit 23-20 in the quarterfinals. The Lions got three touchdown catches from basketball star Jackson Shelstad in a 56-7 quarterfinal win over Sherwood. West Linn lost in the semifinals to Tualatin last year. The teams last met in the 2019 quarterfinals, with Central Catholic winning 42-35.
Columbia Cup (6A)
No. 28 North Salem (7-4) vs. No 17 Liberty (7-4), 7 p.m. Friday, Wilsonville HS: North Salem rolled over Jefferson 42-8 in a quarterfinal as Josiah Davis rushed for 180 yards and three touchdowns. Liberty, which came one play away from making the championship bracket, has advanced by beating two Mt. Hood Conference teams: Reynolds 35-0 and Clackamas 28-18.
No. 22 Lakeridge (5-6) vs. No. 18 Westview (6-5), 7 p.m. Friday, Hillsboro Stadium: Lakeridge, with five losses to teams in the championship bracket, has been rolling since a 14-9 win over No. 7 seed Lake Oswego in the regular-season finale. But Westview has 6A's leading rusher in Jordan Fisher, who has rushed for 2,354 yards, including 324 in a 41-0 win over Sprague last week.
5A
No. 4 Thurston (9-2) vs. No. 1 Summit (10-1), 7 p.m, Friday, Willamette University: Summit pummeled Thurston 48-10 at home in Week 2, but the Colts haven't lost since that game. Thurston's sophomore quarterback, Noah Blair, has made big progress, last week completing 15 of 16 passes for 214 yards and three touchdowns in a 27-14 win over Dallas. Thurston, champion in 2018 and 2019 and runner-up last year, is in the semifinals for the fourth year in a row. The Storm, a 6A quarterfinalist in 2021, is in the final four for the first time since winning the 5A title in 2015.
No. 3 Bend (10-1) vs. No. 2 Wilsonville (9-2), 7 p.m. Friday, Barlow HS: Bend's defense has registered five shutouts, including 41-0 over Hillsboro and 40-0 over South Albany in the playoffs. For the Lava Bears to make their first championship game since 1940, though, they must deal with an explosive Wilsonville offense led by junior dual-threat quarterback Kallen Gutridge. The Wildcats, runners-up in 2016 and 2018, lost to Thurston in the semifinals last year.
4A
No. 8 Scappoose (9-2) vs. No. 5 Estacada (10-1), 5:30 p.m. Saturday, Hillsboro Stadium: Scappoose is coming off the biggest upset of the playoffs so far, a 28-27 overtime win at No. 1 Mazama. Estacada won at Scappoose 48-19 in Week 2 on a night when the Indians retired the jersey of former quarterback Derek Anderson. The Rangers, semifinalists last year, haven't made the championship game since a runner-up finish in 1953, their only final. Scappoose last made the title game in 2015, losing to Cascade.
No. 6 Tillamook (9-2) vs. No. 2 La Grande (9-2), 5 p.m. Saturday, Barlow HS: La Grande, which has lost only to Weiser (Idaho) and Estacada, is chasing after its second title in three postseasons. The Tigers fell to Estacada in the quarterfinals last year. Tillamook, which won its first league title in 23 years this season, is bidding to make the final for the first time since 1977, when it lost to South Umpqua in its only championship game appearance.
3A
No. 4 Banks (11-0) vs. No. 1 Kennedy (11-0), 11 a.m. Saturday, Hillsboro Stadium: The teams have had much playoff success in recent seasons, Banks in 4A and Kennedy in 2A. Banks won the 4A title in 2018 and was runner-up in 2019. Kennedy appeared in the last three 2A finals, winning the title in 2018. Both teams advanced with narrow quarterfinal wins, Kennedy edging Vale 14-12 and Banks holding off Santiam Christian 10-7.
No. 6 Dayton (9-2) vs. No. 2 Cascade Christian (11-0), 1 p.m. Saturday, Cottage Grove HS: No team has come closer than 29 points this season against Cascade Christian, which is winning by an average margin of 45.6 points. Last week, Dayton's Nate Arce ran for 335 yards and six touchdowns as the Pirates rolled to a 53-13 win at No. 3 South Umpqua, a team that came the closest to Cascade Christian, losing 35-6 in the Special District 3 regular-season finale.
2A
No. 4 Heppner (9-2) vs. No. 1 Oakland (10-1), 2:15 p.m. Saturday, Hillsboro Stadium: Oakland has its first double-digit win season since 2012, when it went 11-2 and won the state title. The Oakers have a dominant running game with 5-10, 190-pound senior Cade Olds, who ran for 202 yards and five touchdowns in a 32-14 quarterfinal win over Umatilla. Heppner, which lost to eventual champion Coquille 8-6 in the semifinals last year, was the champion in 2019.
No. 7 Weston-McEwen/Griswold (8-2) vs. No. 3 Colton (10-1), 1 p.m. Saturday, Barlow HS: Colton's only loss this season was a 34-22 defeat in the regular-season finale at Culver, a team Weston-McEwen thumped 42-6 in the first round a week later. Weston-McEwen, which upset No. 2 Lowell 27-21 last week, has not made the final since being runner-up in 1996. Colton, coming off back-to-back playoff shutouts of Toledo and Gold Beach, is going after its first finals appearance since winning its only title in 1983.
1A-8
No. 5 Myrtle Point (7-3) vs. No. 1 St. Paul (9-0), 4:30 p.m. Saturday, Cottage Grove HS: St. Paul won at Myrtle Point 42-14 in a Special District 1 North division game in Week 5 as Clay Smith ran for four touchdowns. The Buckaroos, runners-up in 2018 and 2019, lost in the semifinals to Powder Valley last season. Myrtle Point, a quarterfinal team a year ago, hasn't made the championship game since a co-title with Phoenix in 1961.
No. 3 Lost River (9-1) vs. No. 2 Powder Valley (10-0), 4:30 p.m. Saturday, Caldera HS: Since losing to St. Paul 46-32 in Week 3, Lost River has won seven in a row, knocking off two-time reigning champion Adrian 44-8 in the quarterfinals. The Raiders haven't played in a final since winning 2A titles in 1997 and 2004. Powder Valley, runner-up to Adrian last year, blitzed Cove 46-8 in the quarterfinals as Cole Martin rushed for 253 yards and three touchdowns.
1A-6
No. 4 Spray.Mitchell/Wheeler (9-1) vs. No. 2 Triangle Lake (10-0), 1 p.m. Saturday, Caldera HS: The championship game of the inaugural six-man playoffs is a rematch from last year, when SMW defeated Triangle Lake 30-0 in the unofficial final. SMW handled top-seeded and unbeaten Powers 55-19 in the semifinals, rushing for 427 yards behind Carter Boise and Nate Clark. Triangle Lake, which won a 2A title in a co-op with Monroe in 2017, beat South Wasco County 46-20 in the semifinals as Garrett Warren rushed for 198 yards and four touchdowns.