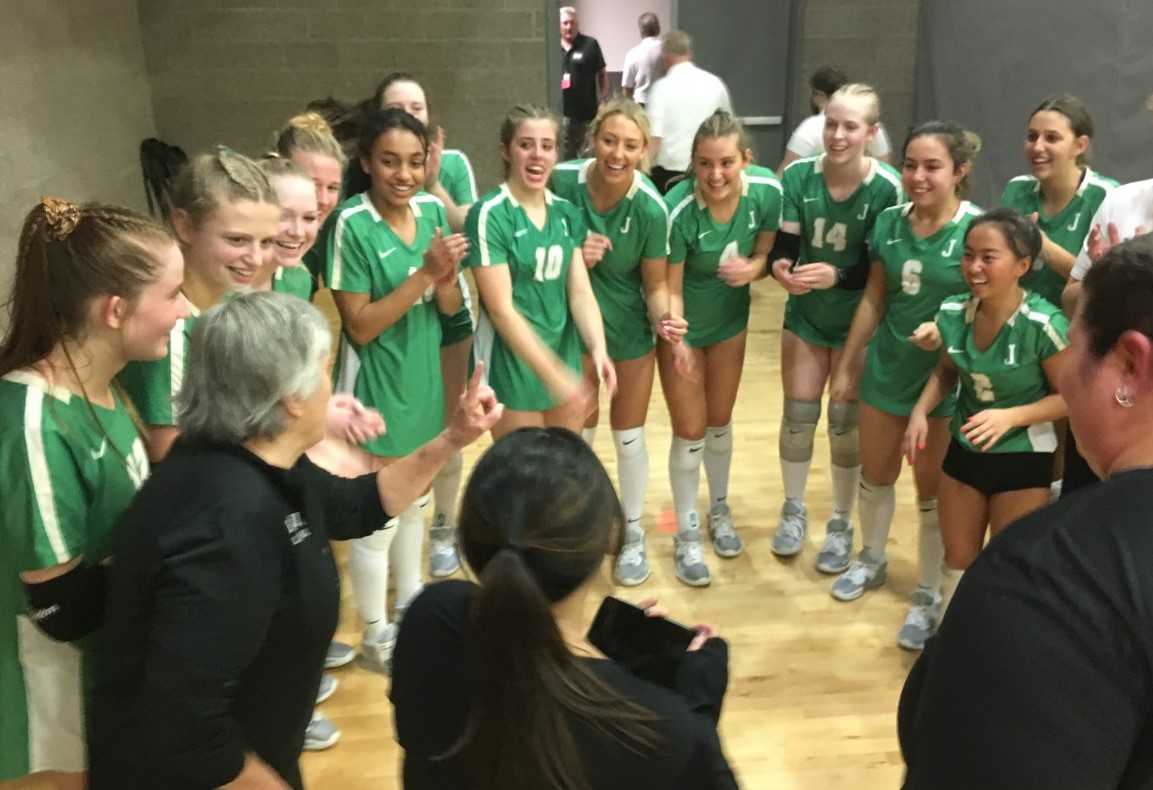 FOREST GROVE – The route was a bit circuitous, but top-seeded and unbeaten Jesuit arrived at its desired destination Friday.
The Crusaders survived two five-set scares to advance to Saturday's final in the OSAA/OnPoint Community Credit Union 6A volleyball tournament at Forest Grove High School.
After coming back from down two sets to defeat No. 9 Sprague in the quarterfinals, Jesuit (33-0) rallied from a 2-1 deficit to fend off No. 5 Nelson in the semifinals and earn a spot in championship match opposite of No. 3 Sheldon. The Crusaders will appear in the final for the fourth consecutive postseason and vie for their first title since going back-to-back in 2018 and 2019.
Jesuit had dropped only five sets this season before losing four sets Friday.
"It's definitely giving us a lot more motivation, having to fight for the five sets," Jesuit junior Lilly Lansing said. "It really shows that we all need each other as a team."
Jesuit was on the ropes against Nelson (27-4), a team it defeated 2-1 at a tournament in early September. The Crusaders escaped with a 25-23, 24-26, 21-25, 25-20, 15-13 victory, turning it on late after trailing 12-10 in the fifth set.
"The good thing about our team is we have no problem with having to work hard," Jesuit sophomore setter Jackie Carle said. "That was definitely showing during those past two sets. Honestly, it's more fun to play when you're playing harder teams like Nelson. They put up a good fight. We were glad to come in here and compete."
The Crusaders were able to keep their cool and execute down the stretch.
"It didn't feel that intense because I think we all knew that we had it," Lansing said. "And with that being said, we have each other's backs, and we trust each other. We pulled it out."
Nelson took a 12-10 lead in the fifth set on consecutive kills by freshman Madi Andrews, senior Kaylie Christopher and Andrews again. Jesuit called a timeout and the Hawks were buzzing.
The Crusaders made it 12-11 on a kill by freshman Jada Johnson and pulled ahead 13-12 on consecutive hitting errors by Andrews. A kill by Andrews evened the score at 13-13, but a hitting error by senior Kalista Lukovich and a kill by Lansing gave Jesuit the win.
Senior Isabel Patterson led Jesuit with 23 kills and 18 digs. The Crusaders also got 15 kills from Lansing, 55 assists from Carle and 17 digs from senior Avery Pickard.
Jesuit's experience paid off, according to coach Teresa Zimmerlee.
"I have two kids that have been on the team for four years, and I have four seniors that have been here before, so it's nothing new for them," Zimmerlee said. "This team never quits."
It was a difficult defeat for Nelson, a second-year program that quickly rose to win the Mt. Hood Conference this season. The Hawks fell despite getting 31 kills and four blocks from Lukovich and 21 kills and four blocks from Andrews.
"To go from where we started as a program less than two years ago, it's just overwhelming and incredible," Nelson coach Lisa Flaherty-McBee said.
The Hawks had their chances but were unable to close out the Crusaders late in the fifth set.
"I think Jesuit just took over the power and the energy, and we let them control the pace of the game, and we let them kind of get in our heads a little bit," Lukovich said.
The fifth set "was really anybody's to take," according to Lukovich.
"They also have a lot more experience with coming to state," Lukovich said. "None of us on the team have ever been here, let alone the second round of the playoffs. It was a difficult thing to learn immediately, and not have any practice with. I think that was really what bit us."
A look at Friday's other matches;
Semifinals
6A
No. 3 Sheldon 3, No. 2 Westview 1: Senior Gwen Fife had 12 kills and 15 digs as the Irish (28-5) earned their first-ever trip to the finals by handling the Wildcats 25-19, 25-23, 6-25, 25-11.
Sheldon lost in the quarterfinals last year.
"It means the world to us," said Sheldon senior setter Beaux Bruegman, who had seven kills, 18 assists and seven digs. "We play for each other. We came in here wanting to win, and that's what we did today.
"This has always been a goal, at the beginning of the year, to make it to the state finals. COVID year it didn't happen, obviously, and then last year we were so close. But this year is special."
The Irish controlled the first two sets and were able to refocus after a third-set lull against the Wildcats (26-5).
"Strong characters. They knew that was not them," Sheldon coach Martine Wodke said. "They took it to us. We beat ourselves at that time."
Junior Jordan McKibben had 10 kills and senior Elle Bruegman added 24 digs for Sheldon.
5A
No. 4 Bend 3, No. 1 Wilsonville 1: The Lava Bears (22-4), 6A semifinalists last year, earned their spot in the championship match by taking down the top-seeded and previously unbeaten Wildcats 23-25, 25-19, 25-20, 25-14.
Senior Jillian Stein had 22 kills and junior Chloe LeLuge added 18 kills, three blocks and four aces for Bend, which is chasing its first championship since winning 5A titles in 2016 and 2017.
"The goal is obviously first place, but especially coming in seeded fourth again, like we were last year, it was just so nice to beat the first seed," Stein said. "We wanted to make a name for ourselves. We were projected to get like eighth in 5A."
Senior Taylor Clark had 40 assists and senior Natalie Reveles had 21 digs as Bend found its rhythm after dropping the first set to Wilsonville (28-1).
"The momentum is crazy," Stein said. "When we have the energy, and we're really just like focusing as a team, and playing for each other, it's a whole new level that we play. And that's what we did."
No. 2 Crescent Valley 3, No. 3 Crater 1: The Raiders (26-2), who made a dramatic escape in the quarterfinals against Mid-Willamette Conference rival West Albany, were on point with the 25-16, 17-25, 25-17, 25-17 victory over the Comets (20-5).
"We just needed a wakeup call," Crescent Valley coach Troy Shorey said. "We needed something to get us going here, just knowing that we had to elevate our level of play and play Crater, because they're a really good team. We came in with a little bit different mindset, something that was going to help us be successful, and that's what we did."
Sophomores Isabella Jacobson and Taelyn Bentley had 14 and 12 kills, respectively, for the Raiders, who also got 32 assists from sophomore Kamden Mitchell and 12 digs from junior Danielle Street.
Crescent Valley had its highest finish ever last season, finishing fourth at the state tournament. The Raiders won their first league championship since 1979 this season.
Senior Kendra Bittle had 21 kills and nine digs, senior Madison Kocina had 12 kills and 10 digs and sophomore Lanie Snow had four blocks in defeat for Crater.
Quarterfinals
6A
No. 1 Jesuit 3, No. 9 Sprague 2: Patterson's 20 kills and 17 digs helped lead the Crusaders past the Olympians 23-25, 19-25, 25-14, 25-23, 15-12. Lansing (15 kills), senior CeAnna O'Loughlin (14 kills), Carle (60 assists) and Pickard (17 digs) were key contributors.
No. 5 Nelson 3, No. 4 Oregon City 1: Lukovich had 24 kills as the Hawks dropped the Pioneers 25-19, 27-25, 21-25, 25-23. Andrews had 15 kills, senior Zoe Szczesniak had 13 digs and senior Madalynn Abraham added seven blocks for Nelson.
No. 3 Sheldon 3, No. 6 South Medford 1: The Irish ousted the Panthers 25-14, 22-25, 25-19, 25-20 behind an all-around performance from Beaux Bruegman, who had 10 kills, five aces, five blocks, 21 assists and 15 digs. Fife had 15 kills and Elle Bruegman had 21 digs and eight assists for Sheldon.
No. 2 Westview 3, No. 10 Roseburg 1: Senior Halle Garrity collected 19 kills as the Wildcats dispatched the Indians 28-26, 15-25, 25-21, 25-23. Junior Taylor Guerra had seven kills, two aces and 21 assists and senior Kennedy Cheung added 20 digs and two aces for Westview.
5A
No. 1 Wilsonville 3, No. 9 South Albany 2: Senior Makenna Wiepert was a force at the net for the Wildcats in the 25-20, 23-25, 16-25, 25-11, 17-15 victory against the RedHawks.
No. 4 Bend 3, No. 5 Silverton 0: LeLuge (15 kills, seven aces) and Stein (14 kills) paced the Lava Bears in the 25-12, 25-20, 25-15 win over the Foxes.
No. 3 Crater 3, No. 6 La Salle Prep 0: The Comets blitzed past the Falcons 25-19, 25-13, 25-17 behind Bittle (17 kills, eight digs) and Kocina (11 kills, four aces).
No. 2 Crescent Valley 3, No. 7 West Albany 2: The Raiders came back after trailing 14-11 in the fifth set to beat the Bulldogs 22-25, 25-11, 23-25, 25-16, 18-16. West Albany had four match points but could not clinch the win. Jacobson (19 kills) and Bentley (12 kills) led Crescent Valley. Mitchell had 36 assists and senior Kiah Hollister added six aces.