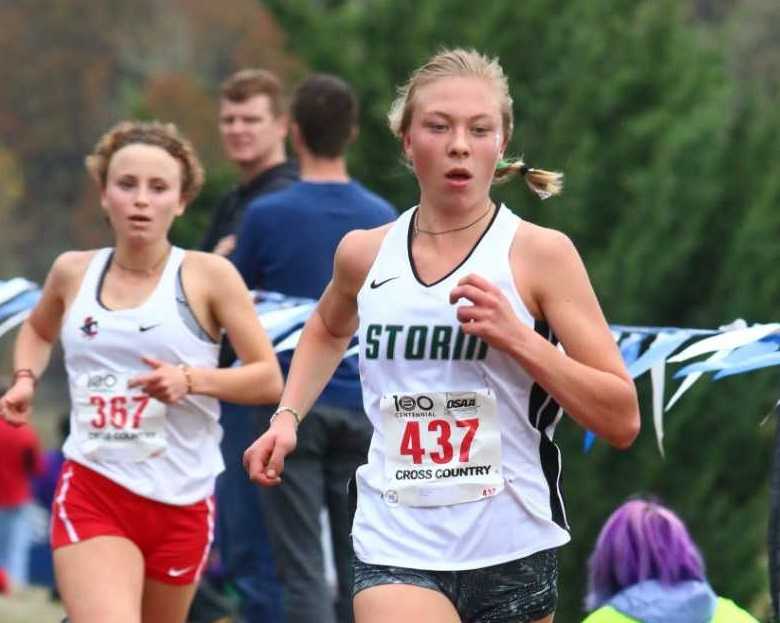 EUGENE -- Sure, Summit is proud of its run of 10 consecutive 5A girls cross country titles.
But what the Storm accomplished Saturday at the OSAA/OnPoint Community Credit Union 6A championships at Lane Community College was on another level, entirely.
In a long-awaited, head-to-head battle with two-time reigning 6A champion Jesuit, Summit claimed state bragging rights by outpointing the runner-up Crusaders 39-68. In extending its title streak to 11, the Storm proved what it had been saying all along.
"We've never shied from competition. We've always felt that we belonged in 6A," Summit co-coach Jim McLatchie said.
Summit junior Fiona Max led the way by winning the individual title in 17 minutes, 29 seconds. The Storm's other scorers were freshman Teaghan Knox (fifth) and juniors Isabell Max (eighth), Kelsey Gripekoven (11th) and Azza Borovicka Swanson (14th). Gripekoven is a transfer from Jesuit, where she helped the Crusaders win the title last year.
"It feels so good," Fiona Max said of the team win. "All the teams in this class are such nice people and they carry themselves with a lot of pride. … It's really nice coming up into this class and proving that we belong here, and that we're here to stay."
There is no end in sight to Summit's domination.
"They'll all be back next year, and there's a hell of a lot of good freshmen coming up behind them," McLatchie said.
Summit, ranked No. 2 in the nation by DyeStat, relished the challenge of running against Jesuit, ranked sixth. The Storm outscored Jesuit 22-51 to win the Ash Creek Festival on Sept. 8 but knew that the state meet was another matter.
"Jesuit's really good at raising the intensity, at bringing it," Fiona Max said. "We knew they were going to bring their best. We know that we have to come prepared, as well, to combat it. We love racing against them because we know they bring out the best in us, and we bring out the best of them."
Fiona Max won by 14 seconds over the reigning champion, Jesuit senior Makenna Schumacher. She lost to Schumacher by two-tenths of a second for first place at Ash Creek, but this time, Max powered past Schumacher going up a hill at the three-mile mark and took control down the stretch.
"I followed what the coaches told me to do, and it ended up working out," Max said. "I didn't think I was going to make it all the way around if I made my move there, but it worked out."
The Storm now turns its attention toward the Nike Cross Regional meet next weekend in Boise. A top-two finish would earn Summit a spot in the 16-team Nike Cross Nationals in Portland on Dec. 1.
Lincoln senior Kyla Becker was third (17:50) and Sunset junior Lucy Huelskamp was fourth (17:53).
Lincoln (147) and St. Mary's Academy (156) were third and fourth, respectively, in the team scoring.
5A
Junior Frances Dickinson won the individual title in 18:40, beating freshman teammate Brinna Weiseth by two seconds, to lead Hood River Valley to its first state championship.
The Eagles, runners-up last year, also got strong performances from junior Josephine Dickinson (fifth) and senior Evelyn Nunez (ninth). They scored 43 points to beat Wilsonville (94) and Crater (94).
"Our team put in so much training and hard work, we really deserved every bit of this," Frances Dickinson said. "We're so excited."
Frances Dickinson switched from soccer to cross country as a sophomore after breaking her wrist. She and her twin sister, Josephine, finished 10th and 11th, respectively, in last year's meet.
"I've never loved a sport so much. It's just so much fun," Dickinson said. "I met coach Brandon Bertram, and he's my No. 1 supporter. He totally got me into it. I've never loved him more."
Corvallis freshman Madeline Nason was third (18:43) and Crescent Valley junior Sophie Fisher was fourth (18:44).
4A
Tillamook junior Solace Bergeron repeated as champion, shaking off a pack of challengers to win by eight seconds in 18:32.
"My strategy was to go out in the first mile and try to get them off my back," Bergeron said. "But it didn't work. They were too good. They were running so well. I was getting a little scared there at the end, they were so strong."
But Bergeron, runner-up in the 1,500 and 3,000 last track season, pulled away to defeat sophomore Anika Thompson (18:40) of Junction City and sophomore teammate Sarah Pullen (18:59).
Marist Catholic, which moved down from 5A this year, scored 70 points to win the team title over Siuslaw (73) and reigning champion Tillamook (77).
3A/2A/1A
Kennedy senior Alejandra Lopez, a three-time top-10 finisher in the meet, finally got her first title. She finished in 19:02 to outrace Burns senior McKenzi Hoyt (19:10) and Catlin Gabel junior Lila Fenner (19:24).
Lopez traded the lead with Oregon Episcopal senior Stephanie Finley throughout the first half of the race before sprinting past Finley to seize control.
"I knew I would fall back if I didn't do anything," said Lopez, runner-up in the 1,500 and 3,000 in the 2A track meet last spring. "I was dying, but it was worth it. It's unbelievable. I'm beyond happy."
Lopez is Kennedy's first champion since Deanna Schiedler went back-to-back in 1981 and 1982.
"I was dying, but it was worth it," Lopez said. "I felt like I owed this to coach (Steve Ritchie). He's done a lot for me and the team. I feel like my hard work paid off."
Fenner and freshman Megan Cover (sixth) helped lead Catlin Gabel to the team title. The Eagles (71) beat Enterprise (75) and Burns (85).