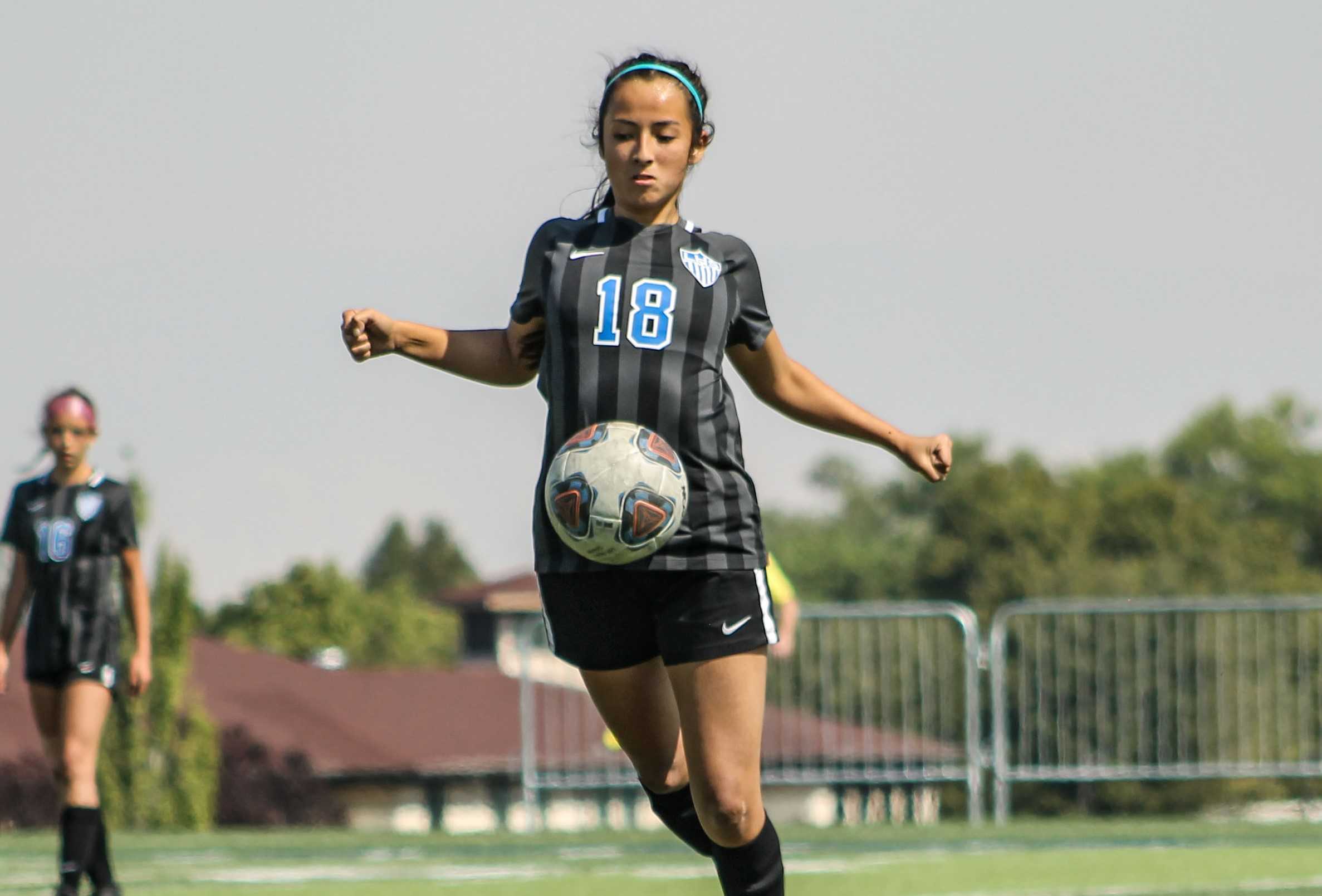 For the past decade, dominating the Greater Oregon League has been a way of life for La Grande's girls soccer team.
The Tigers have won 11 consecutive GOL titles, going 61-5-1 in league play during that span. They have a 29-match league winning streak going back to 2016.
The 4A playoffs, though, have been another matter. A state championship continues to elude La Grande, which has reached the final once, losing to Scappoose in 2013.
This season presents another opportunity. The Tigers, with all but two starters back from a team that lost to eventual state champion Woodburn 2-0 in the quarterfinals, are off to a 7-0-1 start and are No. 7 in the OSAAtoday 4A coaches poll.
"There's a hunger to go all the way," La Grande coach Sam Brown said. "That's the expectation of this team. This team wants to win a state championship, and they believe, and I believe, too, that this is a team that could possibly do it. I don't feel like that every season. This is one of those years."
Since 2017, the Tigers have been eliminated in the quarterfinals three times and the semifinals once (2018). But this team has elements of Brown's 2013 state runner-up, which went undefeated until falling to Scappoose 3-1 in the final.
"This team has a lot of the same makeup," Brown said. "If we can stay healthy, I think it's the same kind of team. Winning every game is really important because it's going to put you in a better spot for the playoffs. It makes a big difference if we can bring other teams out to our place and not have to be put up in a hotel room."
In past years, La Grande's power ranking has suffered from playing lesser competition in the GOL. The Tigers have had to make some long playoff trips and stay overnight, with little success.
In fact, La Grande's 1-0 nonleague win at Seaside on Sept. 7 was the first time the Tigers have won on a road trip that required an overnight stay during Brown's coaching tenure.
La Grande is hoping that an improved GOL this season will translate into a higher playoff seed. Ontario has taken a step forward, and Pendleton – which split two nonleague matches with La Grande last year, handing the Tigers a 6-0 defeat – has dropped down from 5A to join the GOL.
"That makes the league a lot stronger," said Brown, whose team will play GOL matches against Pendleton on Thursday and Oct. 25.
Among La Grande's returning players is senior midfielder Rosie Aguilera, a fourth-year starter who was the GOL's player of the year last season. Aguilera, who will sit out Tuesday's game against Lewiston (Idaho) with a sore neck, has four goals and three assists this season.
Aguilera, sophomore Paige Allen (five goals, four assists) and freshman Rowan Evans (six goals, one assist) provide scoring punch. Allen scored the only goal of the match at Seaside and Aguilera's penalty kick was the difference in a 1-0 home win over Estacada.
The only blemish on La Grande's record is a 1-1 draw against visiting The Dalles on Sept. 13. The Tigers gave up an early goal, and despite controlling much of the action, could only muster a second-half goal to escape with a tie.
La Grande has outscored its opponents 33-3. The defense, led by junior Kaitlin Brock and senior Nora Crews, has been solid in front of sophomore goalkeeper Lyndie Isaacson, who started as freshman.
The Dalles, No. 10 in the coaches poll, is the only currently ranked team on La Grande's schedule. The Tigers know they must find a way to adapt to tougher competition in the playoffs, but they are counting on their experience to pull them through.
"They're all coming to that place where they're seniors, they're peaking and they're confident," Brown said.
Eagles sweep
Special District 1 rivals Catlin Gabel and Oregon Episcopal have met in the last six 3A/2A/1A finals, with Catlin Gabel winning the last two championships to end the Aardvarks' five-year reign.
The teams' fortunes have diverged this season, however. Catlin Gabel (9-1, 5-0), No. 1 in the OSAAtoday coaches poll, underscored that disparity by routing Oregon Episcopal (1-8, 0-5) in two matches, winning 8-1 at home on Sept. 23 and 5-0 on the road on Sept. 30.
In the first meeting, Catlin Gabel freshman Addi Dauler recorded a hat trick in a 10-minute span in the first half as the Eagles built a 5-0 lead. Catlin Gabel set the tone from the start as junior Campbell Swaim stole the kickoff and sent a cross for senior Aanna Farhang, who scored at the far post 22 seconds into the match.
"It was one of the best overall halves I have witnessed," Eagles coach Chris Dorough said.
Swaim had five assists and one goal in the match for Catlin Gabel, which also got two goals from senior Charlotte Long.
In the rematch, a nonleague game, Dauler scored four goals for her third consecutive hat trick. Long added a goal and two assists and junior Angie Nguyen had two assists.
Dauler leads the team in goals with 13. Swaim (12 goals, nine assists), Long (eight goals, nine assists) and Farhang (four goals, 10 assists) also are having big seasons for the Eagles, who have outscored their foes 56-7.
"This has been one of the better sides I've had in my time at Catlin Gabel," Dorough said.
Notes: Cascade sophomore Diana Burnell exploded for seven goals in an 8-0 win at Stayton on Thursday, coming just short of the state record of eight, set by Tammy Cullison of Corvallis in 1980. Burnell is tied at seven with McNary's Jodi Byers (1985) and La Grande's Audrey Garlitz (2019). Burnell also had five assists in a 5-0 win over Sweet Home last week. … Yamhill-Carlton (8-0-2) has notched four consecutive shutouts – outscoring opponents 23-0 – to stay on the heels of Amity (8-0-1) in 3A/2A/1A Special District 2. Coach Mike Fetch said junior defenders Tiearra Braithwaite and Zinash Jones have excelled in front of freshman goalkeeper Addison Tuning. Ten players have scored this season for the Tigers, including hat tricks in the past week by junior Maddy Tuning, sophomore Kaia Fetch and junior Evy Wright. … Four Rivers (5-1-2), which plays in 3A/2A/1A Special District 5, is getting outstanding play from sophomore Leah Benson. Last week, Benson scored twice to help beat Nyssa 4-1 and had a hat trick in a 7-2 win over Echo/Stanfield.