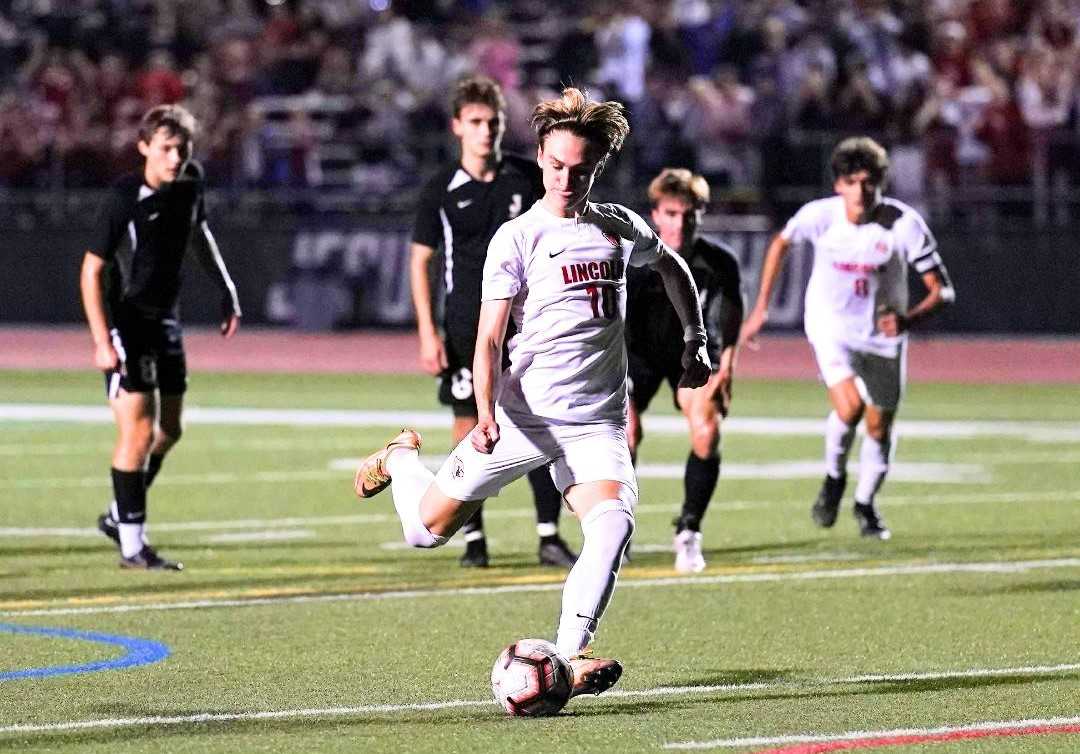 On the schedule, it was just another nonleague boys soccer game.
But for top-ranked Lincoln, Monday night's match at No. 2 Jesuit – the team that knocked the Cardinals out of the 6A quarterfinals last year – was an appeal to pride.
"The boys were definitely up for it," first-year Lincoln coach Brandon McNeil said.
The Cardinals (7-0-1) rose to the challenge, getting two goals from junior Gunder Miller and one goal from senior Luke Denton to dispatch the Crusaders 3-1. Lincoln showed that it can thrive under the pressure of the playoff-type atmosphere, avenging last year's 4-0 loss to Jesuit.
"We've been playing our games at Buckman Field at 4:15," McNeil said. "Being under the lights, with both communities really supporting the game, it was electric. Two huge student sections."
It was the perfect ending to the nonleague schedule for the Cardinals, who begin Portland Interscholastic League play Thursday at McDaniel.
"We continue to improve and evolve, as I come in new and we have some new ideas and personnel," McNeil said. "I'm just excited to see how they navigate this next chapter of the year."
Jesuit (5-1-2) broke a scoreless tie in the early minutes of the second half when senior Drew Pedersen converted a penalty kick. Miller answered with about 17 minutes left when he dribbled past the defense into the middle of the penalty box and slipped a left-footed shot into the goal to make it 1-1.
"He was like a snowball rolling downhill," McNeil said.
The Cardinals took a 2-1 lead a few minutes later when Denton roared in from center back to head home a free kick by senior Hugo Guevara. Miller provided an insurance goal with 10 minutes left when his pressure led to a Jesuit hand-ball and he deposited the ensuing penalty kick for a 3-1 edge.
Miller's two goals hiked his team-high total to 11. It is the first high school season for Miller, who previously played in the Timbers Academy.
"He's as good as anybody in the state, in my opinion," McNeil said. "Fortunately, he's got a really good team around him that supports his playing style and what he has the talent to do."
In addition to Miller's outstanding play up front this season, the Cardinals are controlling the midfield with Guevara and senior Kenneth Bae. Denton and senior Parker Sanderson have anchored the back line, and senior Zack Andoh – a former Timbers Academy player who has committed to Cal – has been solid at goalkeeper.
Lincoln has gutted out several tough wins, beating Sunset 2-1, Summit 1-0, McMinnville 3-2 and Woodburn 2-0. The only blemish on the Cardinals' record is a 1-1 tie with Lake Oswego last week in which they needed a late goal – a header by Guevara off a corner kick – to avoid a defeat.
The senior-dominated team is playing with a sense of urgency.
"I think they feel like they underachieved a little bit last year, especially in the playoff run," McNeil said. "They have a lot of goals and aspirations."
McNeil, a former University of Portland player and coach who is the director of the United PDX club program, has returned to the high school game for the first time in 15 years. In his only previous season, he coached Lincoln's girls to an 18-0 record and 6A title in 2007.
As a connected club coach, McNeil has served on high school hiring committees for years. When the Lincoln boys job opened, he was intrigued.
"I'm in a place with the club that I can explore this," he said. "I have a special place in my heart for Lincoln and the community."
Catlin Gabel flexes
In a battle of 3A/2A/1A powers and Special District 1 rivals, top-ranked Catlin Gabel blanked No. 2 Oregon Episcopal 3-0 at home on Friday.
Senior striker Cole Grant scored his 10th goal of the season, on a cut off a flicked header by senior Sam Bailey, to put the Eagles up 1-0 in the early moments. Senior midfielder Che Sufuentes made it 2-0 on a shot from about 16 yards out at the 11-minute mark.
Catlin Gabel (8-0, 3-0) added a late goal by junior Sofiane Smahi, who blasted a shot from about 28 yards.
The Aardvarks (5-1, 2-1), who suffered their first defeat of the season, could not solve the Eagles defense, which was led by junior Raul Rendon Benitez and sophomore Leon Liu.
The teams meet again Friday at Catlin Gabel.
Tri-Valley showdown
Co-No. 6 Estacada and Molalla fought to a 2-2 draw Monday night with first place in the 4A Tri-Valley Conference on the line.
After Estacada (5-1-1, 2-0-1) took a 1-0 lead 10 minutes into the match on a goal by junior Gener Pinto, Molalla (4-2-1, 2-0-1) pulled ahead 2-1 on goals from senior Caden Cox in the 36th minute and senior Autuan Peterson on a free kick early in the second half.
The Rangers got the equalizer from senior Ben Haefs with four minutes to go.
Estacada got a big win Thursday by going on the road to defeat co-No. 6 The Dalles 4-1 in a Tri-Valley match. Junior Jose Gonzalez, Haefs, junior Josh Pallesen and senior Eduin Flores found the net for the Rangers.
Notes: Junior forward Ariel de Dios Cruz has been on a scoring binge for 6A Willamette. He had three goals in a 5-0 win at Springfield on Sept. 20 and four goals in a 6-0 home win over South Medford on Saturday. … Senior Godfred Amonoo had six goals and one assist as Coquille/Myrtle Point defeated Gold Beach 4-2 and South Umpqua 8-0. Coquille is 5-0 for the first time in school history. … Centennial (5-1) has recorded four consecutive shutouts behind senior goalkeeper Jason Marcus, who also serves as the kicker for the football team. … Senior Muj Abulohoum scored four goals to propel Delphian/Willamina to its first win of the season, 6-2 at Blanchet Catholic on Sept. 21. … After starting 0-2, Sandy has improved to 3-2-1 behind the play of senior John Bolanos Lopez. He had the lone goal in a 1-0 win at Newberg, recorded a hat trick in the second half of a 4-0 win at Central and scored twice as the Pioneers beat Century 3-1.