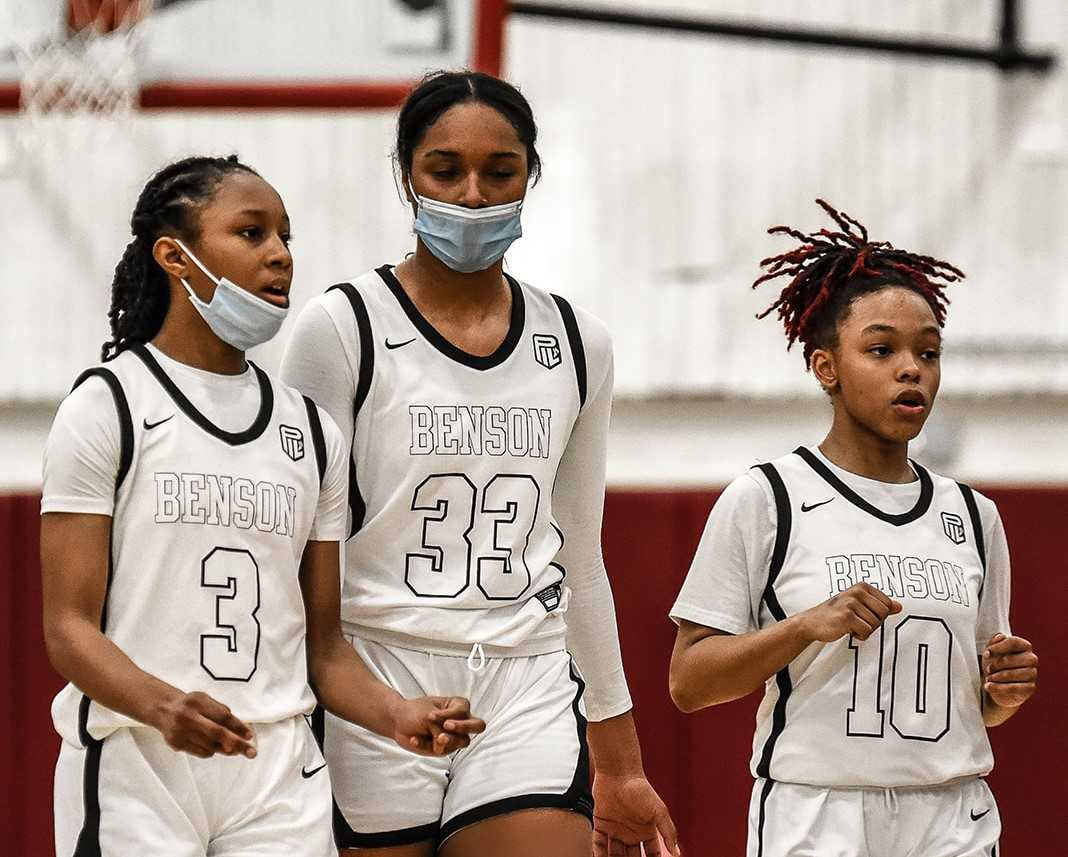 Considering it's only June, Benson girls basketball coach Eric Knox doesn't want to get too carried away about his team.
But given the way the Techsters are shaping up since the end of last season – when they lost in the 6A quarterfinals – it's getting harder for Knox to keep a lid on his excitement.
"This might be better than my 2019 team," Knox said, referring to Benson's 6A title team. "This team is a beast. They are a problem. This team, I honestly believe, has a chance of being top 25 in the country."
Knox has good reason for his optimism. Not only do the Techsters have a handful of Division I prospects coming back, but they have added two key transfers and a potential impact freshman.
Benson showed a glimpse of its potential with two impressive wins over reigning 6A champion Beaverton this month. In a tournament at Southridge, the Techsters won by 11 points over the Beavers, who had much of their state championship lineup.
"We balled out," Knox said. "We looked like Benson again, and a better version of Benson. We stepped on the gas ever since."
In a tournament at the University of Portland, the Techsters rolled to a 22-point win over a Beaverton team that was missing its best player, senior wing Lainey Spear.
"I love my 2019 team, and I'm not taking anything away from them, because they were a great team," Knox said. "But these kids are basketball aficionados. They watch film. They're junkies. They're going into their junior and senior year, and stuff now is making sense."
Knox compares it to when his 2019 team gained enough experience that his biggest game-day decisions were which colorful suit he would wear to the gym.
"There ain't much for me to do," Knox said. "Just roll the ball out, they got it. … I could be wrong, but I feel like I've got lightning in a bottle right now. Where we go, it's on them."
Benson faces a good test this weekend when it plays six games in the Best of Maryland tournament in Frederick, Md. The Techsters are the only Oregon team in the invitation-only event.
The team arrived in Washington, D.C., this week with plans to tour the National Museum of African American History and Culture. The trip was made possible by a donation from Jeff Strachan, a Benson graduate and booster.
"It's almost like a pilgrimage for understanding the African American experience," Knox said. "It's a powerful journey for them."
The driving force behind Benson is 6-foot-2 Mahogany Chandler-Roberts, who as a sophomore last season averaged 16.7 points and 8.7 rebounds and was named the Portland Interscholastic League player of the year. Knox said that she has college offers from Cal, Arizona State and Washington.
"She's a one-of-a-kind talent, generational for us and for the city," Knox said.
Chandler-Roberts suffered a sprained ankle in practice the day before the 6A tournament and did not play in the three games at the Chiles Center, where Benson lost to South Medford 53-47 in the quarterfinals before rebounding with two consolation wins. The injury was a crushing blow to the Techsters.
"We were ready. We were peaking at the right time," Knox said. "If we had Mahogany, I'm not saying we would've beaten Beaverton, but we would've been in that state championship game."
Benson brings back four other starters in senior guards Malaya LeSueur and Onna Brown and junior guards Maurianna Hashemian-Orr and Olivia Hinck. The 5-9 LeSueur recently committed to Fresno State and the 6-0 Brown is a "big-time D-I prospect," according to Knox.
Benson has added Mahaila Harrison, a 6-0 senior forward who averaged a team-high 16.5 points in leading Hudson's Bay of Vancouver to a district title last season, and junior guard Eboni Clay, a transfer from Grant who is the sister of former Westview standout Jaime Nared.
Knox said that Harrison is "dynamic."
"I call her Draymond Green with a jump shot. She's a D-I kid for sure," he said.
The Techsters also have high hopes for 5-11 freshman Marmar Massey.
"She's built like Karl Malone, and she's as athletic as any of the Benson kids I've had in the past," Knox said. "She's got an incredible basketball IQ. One of the most complete players I probably will ever coach, and will be along the lines of great players that I've coached like Cierra Ellington and Mahogany Chandler-Roberts. She is the next great big thing. She's a monster for a freshman."