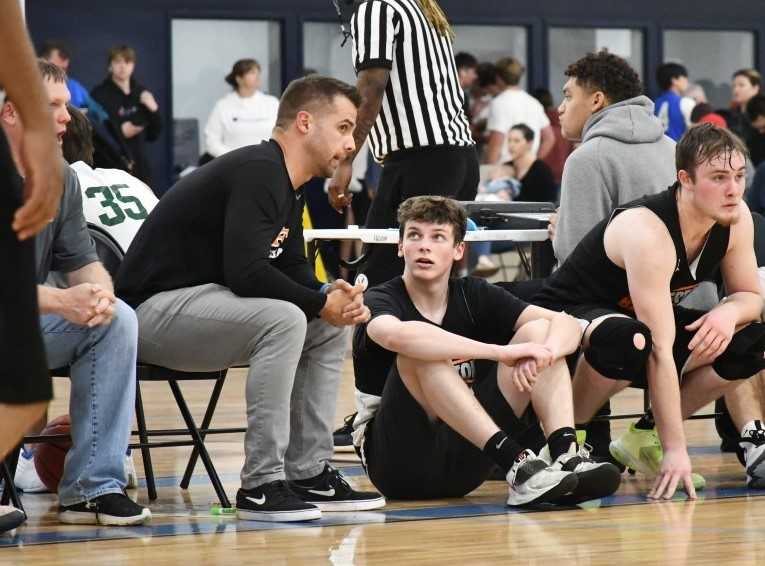 It wasn't long ago that Tyler Allen was one of the state's rising young boys basketball coaches.
The 2003 Dallas graduate took over South Salem in 2011 and won 152 games in eight seasons, three times leading the Saxons to the 6A semifinals.
But after reaching the final four in 2019, Allen stepped away from coaching.
"I didn't feel like I was able to give that full amount of energy," Allen said. "Where I left the program, I felt it was better than where I found it. I could step away and feel good about it."
Now, a recharged Allen has returned to the game. He is the new coach at Silverton, the 5A runner-up last season, replacing Jamie McCarty.
"It was definitely in the back of my mind once our lives all got settled back down a little bit, to kind of get my eye out looking," Allen said of coaching again. "There were a lot of jobs that posted this offseason, but Silverton, it's a school that being so close to Salem, it's always been something that I've been intrigued about.
"I'd say it's been one of my top three schools of desire, and dang near the top. Kind of hitting the reset button with coaching, it seemed to fit. So I wanted to go after it."
Allen, a PE teacher at MacLaren Youth Correctional Facility in Woodburn, has stayed connected to the game the last few years. He has run a JV program at MacLaren and got into officiating "to keep the itch under control," he said. He officiated youth games for Oregon Amateur Basketball and worked some AAU high school-age games.
"I had to apologize to a lot of the guys as we got ready for a game, 'Hey, I probably yelled at you once or twice from the sideline,'" Allen said. "They all did a great job bringing me into the reffing family. They asked if I was interested in the association, and I wasn't ready to make that big of a jump."
Allen gained a greater appreciation for officials.
"I can see the hard work that goes into it, and the difficulty that comes with it," he said. "It was a good tool for me, another perspective to see. As a coach, it's increased my knowledge of the game even more."
Allen tracked Oregon high school teams, mostly through online streaming, paying particular attention to 6A runner-up Summit. He also attended the Capitol City Classic tournament during the holiday break at Willamette University
He watched Silverton periodically and had an inside connection through a work colleague who had a son on the team.
"I felt like I knew the program pretty well," Allen said. "I got to see the ins and outs through a parent perspective."
McCarty went 112-13 in five seasons with the Foxes, making the state tournament four times. He matched a school record by winning 25 games in each of his first three years and finished 23-6 last season.
Considering Silverton graduated nine players – the only three returning saw limited action – Allen will need to develop an entirely new cast in his first season.
"I've got a very young squad," Allen said. "It's definitely going to be a fresh new start with very unfamiliar faces on the basketball court."
Fortunately, the returning players have been influenced by the program's winning habits.
"Those little things that are sometimes hard to coach, but are definitely a staple of the Silverton program, those are the kind of things these underclassmen kind of picked up on," he said.
Allen said the coaching staff will return mostly intact. He is hopeful that Nick McWilliams – who has won 508 games in 31 seasons of coaching boys and girls teams in Oregon, including girls state titles at South Salem in 2015 and 2016 – will continue as a varsity assistant.
"Nick McWilliams has been a huge help this summer, and if all goes well, plans to be back on staff this year," Allen said.
Allen is part of sweeping changes at Silverton. The 5A champion football team has a new coach in Dan Lever. The girls basketball team, which made the state quarterfinals, has promoted assistant Alyssa Ogle to replace Tal Wold. And athletic director James Rise is leaving to take the same position at 4A Cascade.
"It's going to be a new look," Allen said. "You just trust the community support is going to stay the same. … The town is amazing, the community is great, and the program historically has been phenomenal."