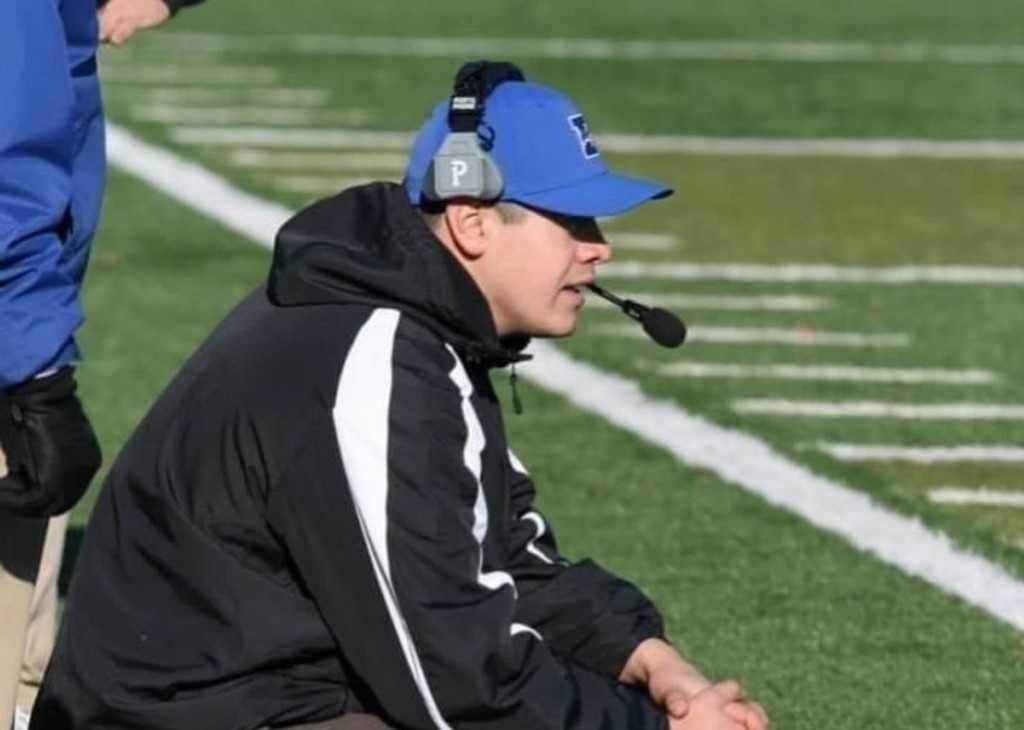 Baltazar Campuzano thrived in the glory days of Amity football.
The 2003 graduate was an all-state running back and linebacker during a magical run in which the Warriors played in six consecutive state championship games, winning five.
Now Campuzano, 38, is returning to Amity as the head coach. And he hopes to rekindle some of that success.
"I have a lot of impactful memories there," he said. "There's so much history there for me. It's a great thing.
"But I don't want to be a person that just reflects on history, I want to work to add to it. That's my ultimate goal. I'm not there to use my accomplishments as something to put my weight on. I want to use it to accomplish further things."
Campuzano joined the Marines out of high school, twice going to Iraq. He left the Marines in 2012 and moved to Salem, where he began coaching on the staff at 3A Blanchet Catholic under Justin Hubbard, a 2001 Amity graduate.
Campuzano started as a JV2 coach before becoming the varsity defensive coordinator for the Cavaliers. He coached at Blanchet Catholic through the 2021 spring season.
"I learned so much," he said. "It was a great coaching experience at Blanchet. It gave me an opportunity to have an impact on kids and at the same time do something that I really love.
"I've always loved competing. I enjoy it. Football has always been a passion of mine. It was great to be able to get into something I'm passionate about."
Amity needed a head coach after the resignation of Joel Magill, who completed his third stint last season. Magill first became the Warriors' coach when Campuzano was a senior in 2002.
"I always told myself that I would someday go back there and coach," Campuzano said. "Magill has offered me before to go back there and coach, but at a certain point in my coaching career, I was like, 'If I want to go coach, I want to be the head coach.' That's kind of what I was waiting for. I''ve been looking at different positions, and that one came open."
Amity hired Campuzano last month to replace Magill, who went 105-31 with two state titles (2003, 2009) in 13 seasons. The Warriors went 5-5 last season, the first time they didn't finish with a winning record since 2015.
Campuzano said he plans to keep the wing-T offense – "I still know all the plays like the back of my hand," he said – but will add some wrinkles. Mike Berkey, a 2001 Amity graduate who has coached in the middle school program, will be the offensive coordinator.
"I want it to evolve into something else, hopefully into more spread offense, offset running back, and be able to utilize the athletes that we have," he said. "I'm not saying we're just going to open it up. We want to be able to do that, but if we can't, we'll adjust to do what we can."
He is eager to get to work.
"Amity is very fortunate to be one of the programs in the state that always has a big turnout of kids," he said. "It's on me to be able to recognize and develop kids and be able to utilize them."
Amity finished 4-1 in the 3A Special District 1 West division last season, runner-up to longtime rival Dayton. Campuzano will be diving back into the Amity-Dayton rivalry, which was a marquee event on the state calendar during his playing days.
"It was always special," he said. "You live in Amity and you play against Dayton in everything. When we had those amazing games, Dayton was such an historic program because of what they accomplished. We had so much success as two programs that it created such a buzz beyond just the two towns."
Campuzano was an iron worker until this year, when he and his wife Kara, a 2004 Amity graduate, started a business that provides office space for remote workers. They live in Salem with their son Brody and daughter Isabella, who are entering the eighth and third grade, respectively.
Sherwood's Hastin to Idaho
Sherwood is in the process of hiring a new coach after the resignation of Kevin Hastin.
Hastin, who went 7-5 in one season with the Bowmen after four seasons as the coach at Newberg, is relocating to Meridian, Idaho, with his wife and two daughters. He is weighing his coaching options in Idaho.
"It's just a family decision," Hastin said. "We've got family that will be moving out there, and it'll be better for our girls.
"It's nothing that was going on at Sherwood. The program's in great shape and they're going to have a great team this year. I'm definitely going to miss the kids. The football side of things was going well, it's just some other circumstances kind of made us want to move to Idaho."
Hastin and his wife Nicole have landed teaching jobs at Owyhee High School, a 1,700-enrollment school that opened in Meridian last year. Their daughters, Audrey and Olivia, are heading into the eighth and fifth grade, respectively.
Hastin is pursuing assistant coaching opportunities.
"I'm sure something will fall into place," he said. "I'm just looking to continue to coach football. I might enjoy assisting for a number of years, but if the right head-coaching job opens up, I'd be interested."
Hastin started his coaching career in California before taking the job at Newberg. After going 2-7 in his first season, Hastin led the Tigers to records of 5-5, 8-3 and 5-1.
"Oregon's been good to me. I've had some great years here," Hastin said. "And I look forward to the next challenge. I'm definitely not burned out as a head coach.
"It's definitely tough to leave the boys, but it's well worth it. All the moves I've made, it's been for my family. It's always been for our girls and what's best for them."
Sherwood is interviewing candidates for the coaching job this week, according to athletic director Randy Ramp.
Allen out at Gresham
Gresham also is looking for a coach. James Allen, went 1-8 in his only season with the Gophers, has decided to move back to New Orleans for family reasons.
"We're sad to be losing him," Gresham athletic director Ty Gonrowski said. "He was a great influence in the building for our kids. Just a magnet for kids. Even though it was a short time here, we were lucky to have him. Our kids are better off because of him."
Gonrowski said that Allen, a former Oregon State and NFL linebacker, created energy in the program.
"It was exciting to see the kids fired up about football," Gonrowski said. "This is a loss for us because his energy was infectious."
Gresham is conducting interviews for the position this week.