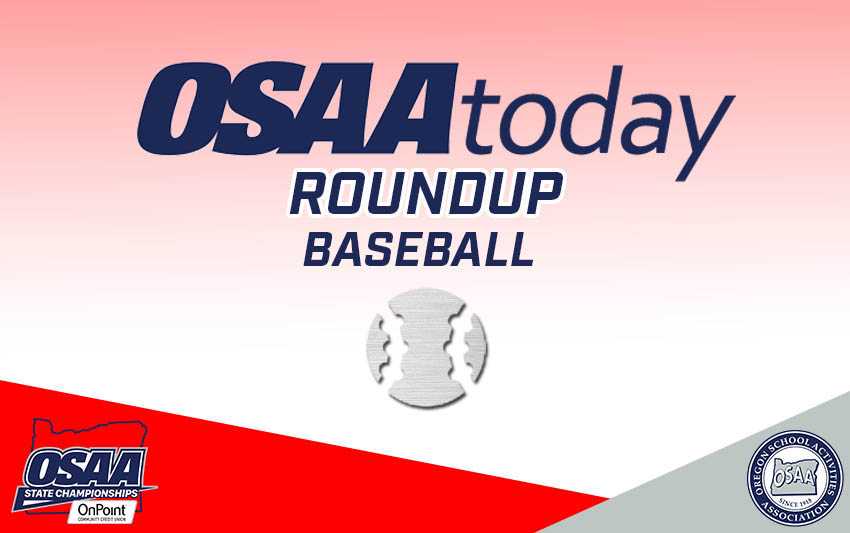 6A
No. 1 Lakeridge 2, No. 8 Sherwood 1 – Junior southpaw Paul Wilson, the state's strike out leader, had another sterling effort on the mound and the Pacer offense did just enough to survive and advance to Tuesday's semifinals. Wilson went seven innings and yielded just two hits and two walks. He struck out 12. Beau Spiekerman, Gus Rogers and Zach Johnson sparked Lakeridge on offense, with Rogers delivering a key triple in the bottom of the fourth. He scored on Dawson Santana's sacrifice fly. Nolan Umlandt's home run was the lone tally for Sherwood.
No. 4 West Linn 5, No. 21 Sheldon 4 – Drake Gabel struck out the side in the top of the seventh to preserve West Linn's one-run win. The Lions got a two-out, two-run homer to straightaway center field from Kace Naone in the third inning to turn around a one-run deficit in a back and forth game. West Linn scored three unearned runs in the game, taking advantage of two Irish throwing errors. Another run scored on a balk. Sheldon scored two unearned runs of its own, including a single run in the sixth that drew it within one. Gabel and Spencer Sullivan had RBI knocks for the Lions. Gabe Howard threw four strong innings in relief to get the win. CJ Franklin had an RBI base hit for Sheldon. Cade Welch was the hard-luck loser.
No. 14 Canby 1, No. 6 Mountainside 0 – Canby broke a scoreless tie in the top of the seventh on Clayton Langdale's leadoff home run and made the lead stand up to advance to the semifinals for the first time in 26 years. Jason Noffsinger threw six innings of four-hit ball for the Cougars to get the win. Joe Braukmiller closed in the seventh for the save. Austin Wolfe struck out 11 in the route-going performance for Mountainside.
No. 7 Clackamas 6, No. 18 Lake Oswego 1 – Trevor Wilson and Nicjk Holm doubled to put Clackamas on the board first in the fourth inning and RHP Jackson Jaha made it stand up to prevent an all-Three Rivers League semifinal round. Jaha went the route, with eight strike outs.
5A
No. 1 Lebanon 4, No. 8 Pendleton / Griswold 3 – Lebanon was in control, up 4-1 going to the seventh. Collin Primus tripled and scored in the first for Pendleton. Lebanon answered with two in the bottom of the first, thanks to a Ryan Rivers RBI double and a Dre Smith sacrifice fly. Sac flies scored two more for Lebanon in the second and that was the score until Pendleton got a two-run homer from Payton Lambert with no outs to make it interesting. The Warriors were able to hold on for the win, as Bryant Starr took the mound and retired all three batters he faced..
No. 4 Willamette 4, No. 12 La Salle Prep 3 -- Kayden Sandow hit a two-run home run in the bottom of the sixth to put the Wolverines on top by one. He then pitched the seventh, facing three batters and striking out two, for the save. Aidan O'Brian and Devin Poling drove in runs for La Salle, which got a strong pitching effort from Finbar O'Brien: 11 Ks over six innings with only four hits allowed.
No. 11 Crescent Valley 11, No. 3 Thurston 5 – Crescent Valley bolted to a 5-0 lead after two innings, getting hits from Landen Parker, Walker Still, Caleb Kelley and Garrett Bozdeck. Thurston rallied to tie the game at 5-5 after five thanks to hits from Maddox Malony, Eli Crist, Adam Elliott and Conner Malony. Crescent Valley responded with six in the top of the sixth to put the game away. Still's third hit of the game to drive in two and Kelley's RBI double were highlights of the frame. Still finished 4-for-5 with three RBIs. Kelley was 3-for-3 with an HBP.
No. 2 Wilsonville 11, No. 10 Putnam 0 (five innings) -- Wilsonville led 5-0 after one inning and cruised to the win. A run-scoring triple from freshman Mark Wiepert and inside-the-park home run from Will Hemsley got the score started in support of Justin Schramm, who threw five shutout innings, yielding just three hits, and had great defense behind him. Wiepert later hit a grand slam to finish with five RBIs. Max Bledy went 2-for-2 and added three RBIs. Vinny Salvione and Leo Renzema each had knocks for Putnam.
4A
No. 8 Philomath 2, No. 1 Banks 1 – Philomath got RBI singles from Mason Stearns and David Griffith to grab the lead and hung on to oust the top seed. Cameron Ordway came on in the sixth in relief of Griffith, who threw five strong, and was just as strong. He struck out four, including the final batter to secure the win. "I'm super proud of this crew in how far they have come and the grit and guts they have played with over the last five weeks," said coach Levi Webber..
No. 4 La Grande 10, No. 5 Marist Catholic 4 -- Jace Schow pitched into the sixth inning to earn the win for the Tigers, who had four players produce multi-hit games: Braden Carson was 3-for-3 with three RBIs; Devin Bell was 3-for-4 with two RBIs; Logan Williams was 2-for-3 with two runs scored and two RBIs; and Cesar Rodriguez was 2-for-2 with two runs scored and an RBI.
No. 6 Mazama 4, No. 5 North Marion 3 -- Sophomore Marcus Ulloa-Ford pitched into the seventh, then made the defensive play of the game to preserve Mazama's 4-3 win on the road. With the bases loaded, Ulloa-Ford dove to stab a ground ball ticketed for center field and flipped to second baseman Jaden Backer for the force, ending the game. Ulloa-Ford and Brody Hubble homered for Mazama. Hubble's long ball in the second tied the game. Ulloa-Ford's dinger in the seventh made it 4-1 Vikings and gave Mazama enough cushion to survive the frenzied finish. Dawson Shrenk had an RBI single for North Marion in the seventh as part of a tw-run rally that fell a run short.
No. 2 Hidden Valley 17, No. 10 Junction City 0 – The host Mustangs were snorting today. All nine starters got hits, with Nate Vidlak and Nolan Kennedy getting multiple knocks; and Isaac Hill hit a homer and allowed two hits and no runs through four innings in the easy win. Aj Elzy and Daniel Iwamizu had two RBIs each for the victors.
3A
No. 9 Blanchet Catholic 12, No. 1 Cascade Christian 2 (five innings) – Blanchet stormed out of the gate early, led by senior captain Sam Schindler's two-run deep ball following a leadoff triple by Drew Bartels. The Cavaliers ended up scoring nine runs in the top of the first inning. Schindler went 4-for-4 on the day with a double and three RBIs. Dylan Cuff had a double and triple and three RBIs. Bartels tossed a five-inning gem gem on the mound, limiting Cascade's high powered offense to just two runs on four hits. "We had a game plan going in and the players delivered in all three phases: hitting, pitching, and defense," noted coach Rob Burnell. "We have great respect for the Cascade players and coaches and the season they put together, but we knew if we stuck to our plan, we would have a great shot in the game. We are looking forward to keeping the ride going." Liam Benade and Austin Waits had RBI doubles in the loss for Cascade Christian.
No. 5 Santiam Christian 8, No. 4 Brookings-Harbor 1 – Santiam Christian scored seven early runs -- three in the first; four more in the second -- which were more than enough for starter Camden Carley, who got terrific defense behind him, especially from Ely Kennel and Jackson Risinger on the left side. Jackson DeShon was a standout for BH, with two hits and stellar defense of his own.
No. 3 Yamhill-Carlton 9, No. 6 Pleasant Hill 8 -- Pleasant Hill grabbed a 5-1 lead after two innings, but YC rose to the occasion with seven runs in the bottom of the third inning to go up 8-5. Pleasant Hill tied the score in the top of the fifth inning, but Yamhill-Carlton pushed a run across in the bottom half of the fifth to go back on top and held on. "This one was a tough one," said YC coach Jake McGraw. "Pleasant Hill had some good ball players, and a couple of guys that could really swing it." Carson Robarts struck out five in two innings of relief to preserve the win for Jacob Preston, who was steady in his 3.2-inning relief stint. Jacob McGhehey was 3-for-4 batting leadoff,with a run scored and RBI. Catcher Wyatt Hurley caught a great game behind the dish and went 2-for-3 with a run scored and three RBIs. Tiger Reimann and Morgan Ortman were each 2-for-4. Robarts had three hits, including a double and triple, in addition to his time in the bump. "Our lineup had spread out production from all parts that was crucial in making up the deficit," McGraw said.
No. 2 South Umpqua 6, No. 10 St. Mary's, Medford 1 – Jace Johnson threw a complete-game two-hitter with six strike outs, and went 2-for-4 with an RBI for South Umpqua. He got a huge line drive double play in the first to quell a St. Mary's threat. Kade Johnson went 3-for-4 with a double for SU, which also got a sac fly from Justin Jenks and an RBI single from Brayen Reedy, which gave the Lancers breathing room. Beau Aldrich went the distance for Regis, striking out seven.
2A/1A
No. 1 Umpqua Valley Christian 11, No. 8 Bandon 1 (five innings) -- – Kevin Shaver went four innings, striking out six, for UVC, which used a second-inning single from Tygue Barron to make it 7-1 and break the game open. Ty Hellenthal went 3-for-3 with four runs scored. Daniel Withers went 3-for-3 with four RBIs and pitched the fifth inning. "I'm really proud of our guys," coach Dave York said. "It was a great team win."
No. 4 Dufur / South Wasco County 10, No. 12 Neah-Kah-Nie 0 (five innings) – Isaac Anthony struck out 14 and gave up just one hit in the five-inning game. He also hit a grand slam in the second inning deep over the wall in left. Joey Holloway, Olsen Meanus and August Harvey each had two hits for the Rangers. Eduardo Loza had the lone hit for NKN.
No. 3 Knappa 4, No. 11 Regis 3 – Knappa trailed 3-0 after two innings, but the Loggers rallied for four runs in the bottom of the third and shut out Regis the rest of the way to make the state semifinals for the seventh straight state tournament. Nick Rusinovich settled down after a tough start to go five innings for the win, striking out seven. Jaxon Dietrich and Drew Miller each threw 1-2-3 innings in relief. Miller was 2-for-3 at the place and scored the winning run for Knappa. Max Eaton threw well for Regis, allowing just one earned over six innings.
No. 2 Kennedy 6, No. 7 Monroe 1 -- Matt Hopkins was 3-for-3 and drove in three runs, including the go-ahead two-run double in the fourth inning for Kennedy. Trojan pitchers Ethan Kleinschmit and Andrew Cuff held Monroe to two hits, while each contributing multiple hits at the dish. Monroe's Brock Horning was tough on the mound, keeping the game close throughout. Trent Bateman and Brody Ballard were excellent on the left side of the infield for the Dragons.