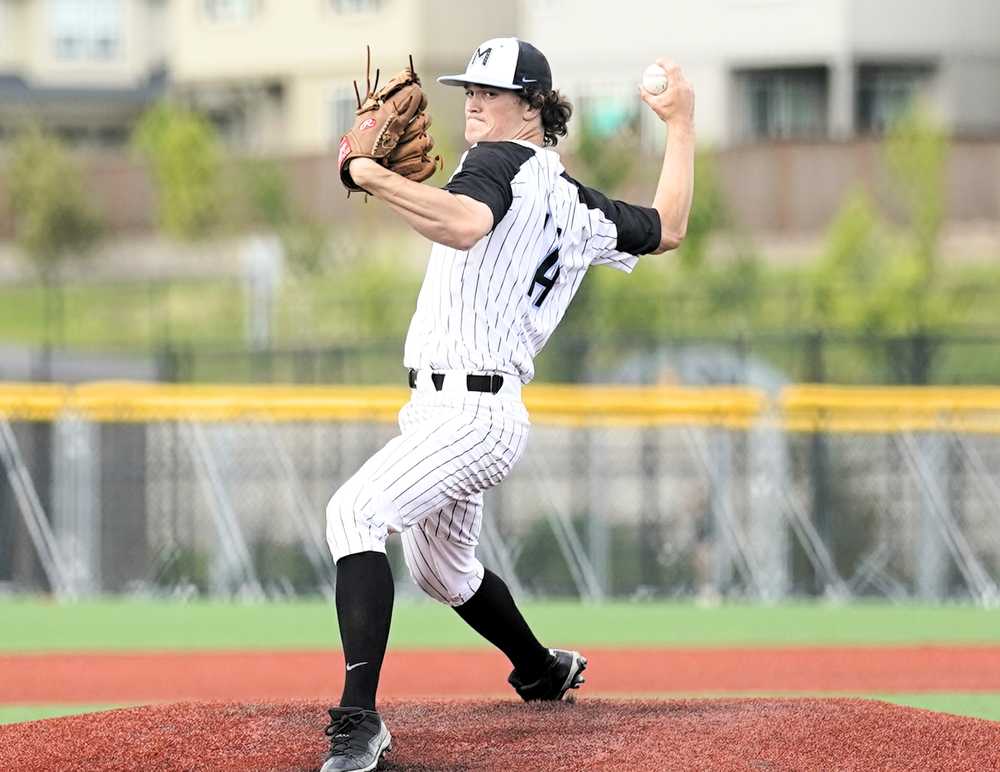 6A (second round)
No. 1 Lakeridge 9, No. 17 Westview 2 – Zach Johnson threw six innings of two-hit ball and the Pacers supported him with stellar defense, led by SS Dawson Santana; and 12 hits on offense. Mason Utech hammered a two-run bomb in the sixth and Santana had two knocks for the victors.
No. 8 Sherwood 1, No. 9 Tualatin 0 -- Nolan Umlandt outdueled Logan Larrance in the 1-0 Bowmen win. Umlandt yielded just three hits in the win. Larrance took the loss despite not allowing a hit. Wow!
No. 21 Sheldon 4, No. 5 McMinnville 3 – With the score tied at 3-3 in the top of the seventh, Sheldon put two runners on with one out. Out No. 2 came via swinging strike three in the dirt, with both Irish runners trying to advance. McMinnville tried to throw out the trail runner, but the ball scooted away from the second baseman, allowing the winning run to score. Cade Welch got the win in relief for Sheldon, which turned four double plays in the game, as McMinnville could not get the get knock when needed. Nolan Miller, EJ Peterson and Dom Graziano teamed for five hits and all four RBIs in the win. Eli Rolfe and Kade Weeks each had two hits in the loss.
No. 4 West Linn 4, No. 13 Sprague 0 – Drew Talavs and Drake Gabel silenced Sprague's big bats in the home win. Talavs threw five scoreless and Gabel finished off the two-hitter for the Lions, who got two hits each from Jeremy Lavasseur and Kace Naone.
No. 14 Canby 4, No. 3 South Medford 2 – Kellan Oakes pitched into the seventh, with nine strike outs, and Alex Evans earned the save in Canby's upset win on the road. Oakes and Logan Robinson each had two hits and Bryce Oliver hit a triple for the Cougars. One of Cameron Sewell's two hits for South Medford was a home run.
No. 6 Mountainside 6, No. 11 Summit 2 – Senior RHP Brian Mannion tossed a complete game 4-hitter, fanning eight, and Spencer Barnard drove home two for the host Mavericks. Eric Altmark contributed two hits to the winning side, while Canon Reeder had two of Summit's four hits,including a homer.
No. 7 Clackamas 3, No. 10 Roseburg 2 -- Matthew Tacheny tossed six inning of three-hit ball for the Cavaliers, who went ahead on Garrett Strube's two-run home run in the fifth inning. Caden Stevens struck out two in the seventh to earn the save. Dominic Tatone went 2-for-3 with a double and a solo home run for Roseburg.
No. 18 Lake Oswego 5, No. 2 Jesuit 1 – Blaise Heher threw a complete game and outdueled senior star Nelson Keljo in the stunning road win. Jesuit plated one in the bottom of the first. Lake Oswego scored two in the fourth, two in the fifth and a final run in the seventh to complete the upset.
5A
No. 1 Lebanon 11, No. 16 North Eugene 7 -- In a back-and-forth battle that saw both teams compete like crazy at the plate, North Eugene came from behind to lead, 7-6, going into the bottom of the sixth. Lebanon responded with five runs, highlighted by RBI singles from Dre Smith and Tyler Walker. Ryan Rivers tossed a scoreless seventh to preserve the win. "It was great to see the Warriors answer North Eugene's charge in the 6th when they took the lead," said coach Jeff Stolsig. "North is very well coached and they play the game with passion and class. Their players and coaches competed like crazy."
No. 8 Pendleton / Griswold 9, No. 9 Corvallis 0 -- Aiden Gunter tossed a complete-game one-hitter and struck out 14 and Collin Primus finished a single short of the cycle with three RBIs in the convincing win.
No. 12 La Salle Prep 5, No. 5 West Albany 3 -- Aidan O'Brien threw six innings of three-hit ball in the win. "Aidan O'Brien came out from the first inning locked in and ready to go," said head coach Nate Fogle. O'Brien helped his own cause with a solo HR leading off the top of the fifth. Aiden McGuire had two hits and was on base four times for the victors. "I'm extremely proud of the way the team competed," Fogle said.
No. 4 Willamette 3, No. 13 Scappoose 2 -- Blake Stavros went six innings for the win and Kayden Sandow finished up as the Wolverines edged Scappoose. The game was tied at 2-2 when Willamette pushed across the decisive run in the bottom of the fifth inning. Sandow had an RBI double in the game for the victors, who got two hits apiece from Joseph Garboden and Dillon Butler. Grayson Grover and Trey Fuller had two hits apiece for Scappoose in the loss.
No. 3 Thurston 14, No. 14 Redmond 4 (six innings) – Maddux Molony went the distance on the mound and was 3-for-3 at the plate with two doubles and five RBIs for the Colts. Easton McDonald also had three hits for Thurston and Adam Elliott drove home four. Sophomore Colton Horner had two hits and two RBIs in the loss.
No. 11 Crescent Valley 7, No. 6 Ashland 6 -- Ashland rallied from an early 6-0 deficit to tie the game at 6-6 on an RBI double by Jackson Rosenthal. Landen Parker scored the winning run in the eighth on a Walker Still RBI double. Noah Dewey, who had a three-run double in the game, was effective on the mound, throwing 4.2 innings without yielding a hit.
No. 10 Putnam 8, No. 7 Hood River Valley2 – Sophomore Jackson Fera threw six strong innings and Ian Pollard, Shannon Pando and Leo Renzema combined for seven hits, five runs and five RBIs for the Kingsmen in the mild upset on the road.
No. 2 Wilsonville 3, No. 15 Silverton 0 -- Keenan Sanford threw a complete game, allowing just two hits while fanning seven, in the Wildcats' win. Wilsonville got on the board in the bottom of the first when Cole Hubka singled leading off, stole second and third, and scored on a wild pitch. Will Hemsley and Mark Wiepert drove home runs for Wilsonville. "The game against Silverton was a hard fought game," noted Wildcat head coach Bryn Card. "Both teams executed their pitches extremely well to get out of situations and threats. This was a well-played, fun playoff atmosphere, and we are happy we came out on top."
4A
No. 1 Banks 5, No. 16 Madras 0 -- Charlie White threw a complete-game two-hitter for the Braves and helped himself with a solo home run. Justin Walters also went yard for Banks, which got two hits each from White, Walters and Blake Jewett and a RBI single from Logan Kind. Cael White had two hits in the loss for Madras.
No. 8 Philomath 12, No. 9 Henley 4 -- Skylar Brolin went the distance on the mound for the Warriors, who got home runs from Alek Russell and David Griffith. Carson Gerding had a 2B and three RBIs for the victors and Cam Ordway contributed two doubles and two RBIs.
No. 5 Marist Catholic 4, No. 12 Newport 3 -- Brendan Hauck and Tyler Mattison each had two hits and an RBI for Marist, which got a complete-game five-hitter from Kaden Starr. Kaden Bruns threw a complete game for Newport, which tied the game in the top of the seventh on a Jonathan Fritz double. Cole Tyner started some two-out magic in the bottom of the frame to spark the Spartan win.
No. 4 La Grande 10, No. 13 Marshfield 0 (five innings) -- Devin Bell allowed two hits over five innings and struck out 10 for the Tigers. Bell helped his cause with two hits and three RBIs. He and Cole Jorgenson hit consecutive home runs in the fourth inning. Nine Tigers scored runs for La Grande, which plated two in the first and three in the second to catalyze the convincing win.
No. 5 North Marion 5, No. 12 Tillamook 0 -- Rex DeAngelis and Blaine Smith combined on a two-hitter for North Marion, which was sparked offensively by Hunter Hansen, who had three of the team's eight hits and three RBIs. Evan Homan added two hits and two runs scored. Seth Landolt and Junior Gonzalez collected the hits for the Cheesemakers in the loss.
No. 6 Mazama 6, No. 11 Gladstone 0 -- Nathan Baker tossed a one-hit shutout, with 13 Ks, in the win. Kadin Bolanos and Brody Hubble homered for Mazama in a five-run third inning. Hubble's was an inside-the-park three-run shot.
No. 10 Junction City 6, No. 7 Stayton 4 -- Chris Ohman went 3-for-4 with four RBIs for the Tigers and Matthew Prescott hit a two-run home run in the first inning to help JC get off to a fast start. The Tigers led 6-1 going to the bottom of the seventh. Stayton rallied to make in interesting, but Junction City held on for the win.
No. 2 Hidden Valley 7, No. 15 Baker / Powder Valley 0 – Nate Vidlak threw a complete-game one-hit shutout with 13 Ks and the Mustangs got timely hitting in the home win. Caleb Richter led the offense with two hits and two driven in. Vidlak also had two hits for the victors.
3A
No. 1 Cascade Christian13, No. 16 Joseph / Enterprise / Wallowa 3 (five Innings) – Owen Thompson had a dream game for Cascade Christian in the win. The junior RHP went the distance on the mound and went 4-for-4 at the dish, with a double, home run and five RBIs. Austin Waits also homered for the victorious Challengers, while Cody Reese went 3-for-3 with four runs scored and five stolen bases. Lane Rouse had two hits for Joseph in the loss.
No. 9 Blanchet Catholic 7, No. 8 Burns 6 – The Cavaliers jumped out to a 6-1 lead after two innings and held on, as Drew Bartels struck out the final batter in the bottom of the seventh with the tying run on third base. Bartels also shined on offense, collecting three hits, with two runs scored, twos teals and an RBI. Carson McNally went the first five on the mound for BC to get the victory. Hunter Kemper had two hits in the loss for Burns. "This was a complete team victory in that every player contributed in one way or another," said Blanchet coach Robert Burnell. "Burns played tough but fortunately, we had enough in the end to grind our way to the win."
No. 5 Santiam Christian 3, No. 12 Taft 1 -- Kadon Haugen pitched a complete-game three-hitter , fanning seven, to lead Santiam Christian to the home win. The Eagles scored one in the first and two in the second and held on. Jadon Roth had a double and an RBI for the victors.
No. 4 Brookings-Harbor 2, No. 13 La Pine 0 -- Senior RHP Jason DeShon threw 88 pitches in a complete-game one hitter for the Bruins in the shutout win. DeShon, who fanned 12, also doubled in the fourth to drive in the game's first run. Seth Valliere's triple one inning later plated an insurance run. Junior Tyson Flack had the only hit of the game for La Pine. The junior also started on the mound, going 4.2 innings with 5 Ks. "This was a matchup that we had anticipated for many years but took four years to happen," said Brookings-Harbor coach Keith Wallin. "Coach DeForest runs a top notch program and La Pine is truly one of the nicest most respectful teams we've ever played against. Again, can't say enough about both programs and how exiting and fun that game was to be a part of."
No. 3 Yamhill-Carlton 6, No. 14 Vale 3 -- Wyatt Hurley struck out 16 while yielding just three hits in going the distance for the Tigers. The team was cruising to the shutout win when a home run followed two sixth-inning errors to make the game much closer. Yamhill-Carlton's offense generated 11 hits, two each by Riley Malis, Kyle Slater and Carson Robarts. Robarts went 2-for-2 with a sac fly and a deep solo homer late in the game to give the Tigers an insurance run.
No. 6 Pleasant Hill 11, No. 11 Rainier 1 (five innings) -- Isaac Stowell cleared the bases with a double and Blake Richardson and Mason Hylemon combined for four hits and five RBIs in Pleasant Hill's dominating victory. Caden Richardson went all five for the win, yielding one hit while fanning five.
No. 10 St. Mary's, Medford 3, No. 7 Warrenton2 – Travis Johnson went five innings and Beau Aldrich finished up for the Crusaders, who took advantage of three unearned runs to take the win on the road. Hard-luck Dawson Little went the distance for Warrenton, yielding just three hits and no earned runs in the loss.
No. 2 South Umpqua 5, No. 15 Scio 2 -- South Umpqua scored four runs in the bottom of the first inning and Ever Lamm made them hold up in the home win. The senior RHP struck out 10 in the complete-game win, yielding just three hits. He retired the final 11 batters he faced. Jace Johnson had an RBI double to lead the offense.
2A/1A (second round)
No. 1 Umpqua Valley Christian 5, No. 17 Lakeview 4 -- Lakeview scored three runs in the top of the first. UVC answered with two in the bottom of the first, foreshadowing a battle that would last for seven innings. With the score knotted at 4-4 in the bottom of the sixth, Nathan York singled, stole second and eventually scored on a sac fly from freshman Ty Hellenthal. York finished with four hits. Daniel Withers won the game in relief. "Lakeview was a tough first draw for us, but we got the hits when we needed them and we situationally hit the baseball," said UVC head coach Dave York.
No. 8 Bandon 4, No. 9 Western Christian 1 -- Bandon scored four runs over the first two innings to knock Western Christian's starter from the game. The Tigers capitalized on aggressive base running and their pitchers did the job for seven innings.
No. 12 Neah-Kah-Nie 4, No. 5 Weston-McEwen 3 -- In a game where neither team led by more than a run, Weston-McEwen took its first lead, 3-2, in the bottom of the sixth inning. Neah-Kah-Nie led off the top of the seventh with a seeing-eye single by Eddie Loza. "What followed was the most improbable home run of the year by 135-pound Deryk Rachiele to seize a 4-3 Pirate lead," wrote coach Rob Herder. The Tigerscots went 1-2-3 in the bottom of the seventh and NKN celebrated its 18th win of the season.
No. 4 Dufur / South Wasco County 8, No. 13 Reedsport 1 – Down 1-0, Dufur scored five runs in the bottom of the fourth to break the game open. Isaac Anthony went 3-for-4 with a dinger and three RBIs and Brock Lafaver added three hits of his own, with two RBIs, in Dufur's workmanlike win. Anthony, Lafaver and Brock Smith shared duties on the mound, combining for 15 Ks.
No. 3 Knappa 13, No. 14 Heppner / Ione 1 (five innings) – Knappa scored eight runs and never looked back in the home win. Mark Miller's bases loaded double scored three for the Loggers, who also got extra base hits from Jude Miller and Tanner Jackson. Drew Miller struck out six over three innings for the win. Nick Rusinovich fanned four in this two innings on the hill. Heppner SS Carson Eynetich singled in the fifth and scored Heppner's lone run.
No. 11 Regis 4, No. 6 St. Paul 1 – Senior RHP Tanner Manning fanned 12 in a route-going performance and drove in a run in the road win over the Bucks.
No. 7 Monroe 4, No. 10 Glide 2 -- Monroe broke a 2-2 tie in the bottom of the sixth on a Trent Bateman single. Bateman also won the game on mound for the Dragons, going all seven innings while allowing just three runs. Bateman scored Monroe's first run in the first inning, coming home on a Spencer Ross double. Brody Ballard contributed two hits, including a triple. Bryce Swain went five innings for Glide and left with the score tied.
No. 2 Kennedy 13, No. 18 Grant Union / Prairie City 0 -- Kennedy scored 10 runs in the bottom of the first to put this second-round game away early. Riley Cantu drove in three for the victors and a trio of hurlers combined for a no-hitter.