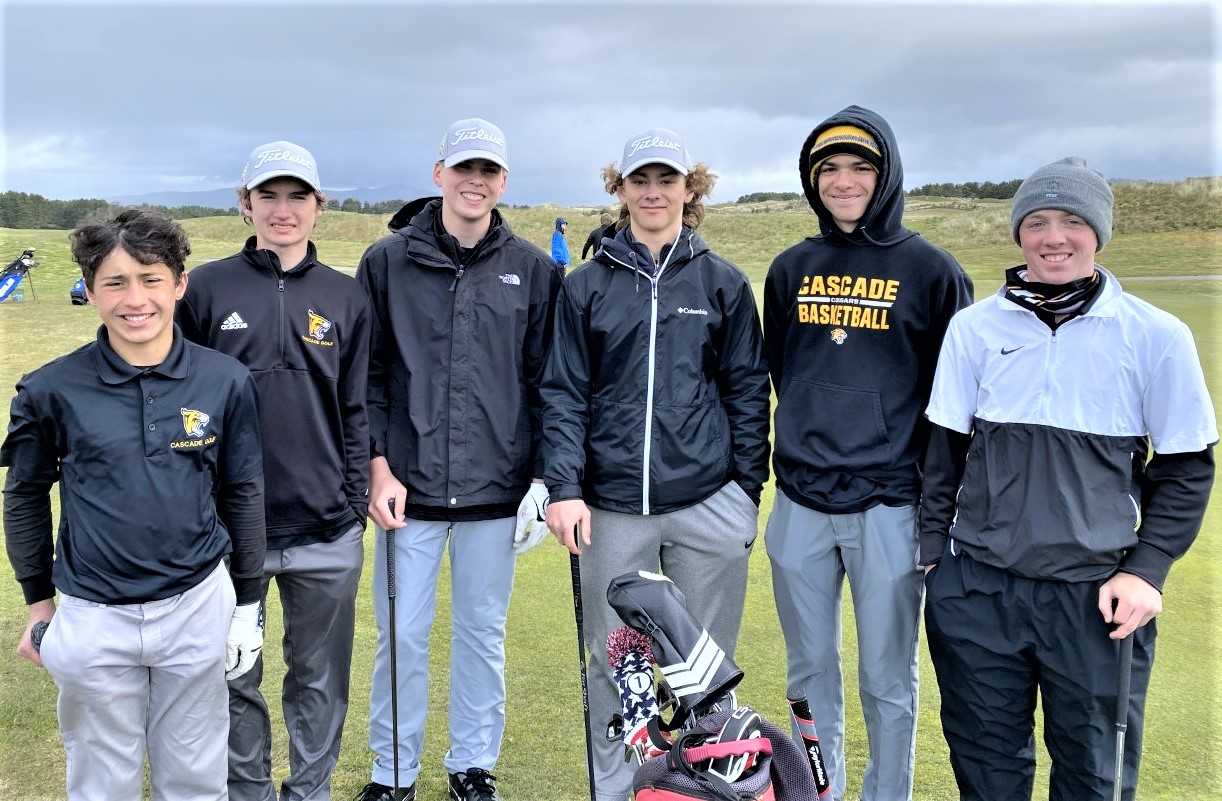 It's already been a highly successful year for sports at Cascade.
The Cougars won 4A titles in boys basketball and volleyball. The football team didn't lose until the state quarterfinals. The girls basketball team made the state tournament.
Now it's time for ... boys golf?
"Golf's never really been on the radar at Cascade," said football coach Brandon Bennett, who doubles as the boys golf coach.
The Cougars appeared as a blip on that radar last year when they finished sixth in the season-ending 4A Showcase with one sophomore and three freshmen. Considering they hadn't finished that high in a state tournament since taking sixth in 1983 and 1984, it was a breakthrough.
This season, the Cougars are aiming for a top-four finish and a state trophy. And the way they have started, the prospects are promising.
Cascade has won two of three tournaments against Special District 2 competition, dominating the field by 40 and 30 strokes. The Cougars finished second in the other tournament, nine strokes behind powerhouse Marist Catholic, champion of the 4A tournament in 2019 and the 4A Showcase last year.
"I view it as we are competing against ourselves and the kids that came before us," Bennett said. "The kids at school are getting pumped for our golf kids. It's kind of cool to watch golf be somewhat important."
The improvement curve is steep. The Cougars shot 343 at Salishan Golf Course on March 28, 331 at Mallard Creek Golf Course on April 8 and 322 at Trysting Tree Golf Club on April 11.
The Cougars' best score last year was 356, so they set a goal of 330 this season. Based on how they played in the first two tournaments, Bennett challenged them to shoot for the teens at Trysting Tree.
"I said, '330 is not a good enough goal for us anymore,' and they said, 'We're going to go lower today,'" Bennett said. "And then they shot 322. … They have a football mindset. They want to go compete."
At Trysting Tree, sophomore Kyler Hemelstrand shot 73 and won the tournament in a playoff. Junior Ramsey Gordon (74) and sophomores Izaiah Zavala (86) and Zach Wilson (89) rounded out the scoring. The 322 was the best round by a Cascade team since a 316 in 1983.
The left-handed Gordon, the team captain, led Cascade in the other two tournaments, shooting 74 and 75.
"He has that smooth lefty swing," Bennett said. "He set a goal for himself that he wants to win every individual tournament. He lives and breathes golf. It's just complete drive by him."
Hemelstrand has made strides since getting a swing coach and dedicating himself to the sport.
"It's like, OK, we have two No. 1s on our team," Bennett said. "Can we find a three and a four?"
Zavala also is much improved since last season, shooting a personal-best 78 at Mallard Creek. Wilson has been a capable No. 4, helping make up for the loss of sophomore Ben Hemelstrand, who played on the team last year but decided to forgo this season to focus on basketball.
Cascade has a good measuring stick in its district in Marist Catholic, but has faced the Spartans only once so far this season. The Cougars will see them twice more – April 18 at Shadow Hills Country Club and April 27 at Quail Valley Golf Course – before the district tournament May 9-10 at Tokatee Golf Club.
Cascade will get a good test April 22 when it plays several 6A teams in the Celtic Invitational at McNary Golf Club in Keizer.
Storm prevails
Summit defeated Jesuit by one stroke as two of the state's top 6A teams met in the Summit Invitational on April 8 at Broken Top Club.
The Storm scored 302 to beat Jesuit (303), Bend (338) and Mountain View (375) in the nine-team tournament.
Summit's Ethan Jaehn shot a 1-under 71 to take medalist honors by two strokes over Jesuit's Miles Eastman (73) as the two teams held down the top 10 spots in the event.
The Storm got a 75 from Myles Sanchez and 78s from Sam Renner, Nick Huffman and Brody Grieb. Jesuit's other scorers were Joseph Ulrich (75), Mason Zimmeran (76) and Jack Harrington (79).
Drury scorches Bandon Trails
St. Mary's junior Brock Drury caught fire in a Ryder Cup-style match play tournament April 7 on the Bandon Trails course at the Bandon Dunes Golf Resort. He shot an 8-under 63 at the event, which included four teams from Oregon, two from Washington and two from California.