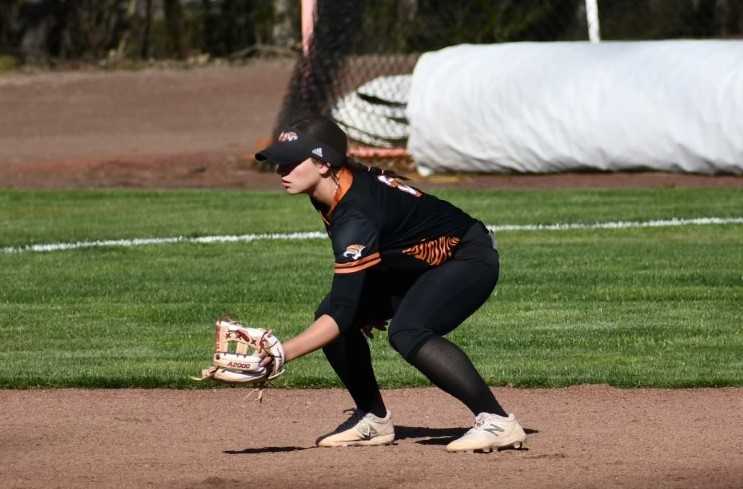 Yamhill-Carlton punctuated its impressive start to the softball season by beating two ranked teams before starting 3A PacWest Conference play this week.
The Tigers (8-2), ranked third in the OSAAtoday 3A coaches poll, defeated 4A No. 4 Cascade 3-2 on April 1 and 3A No. 7 Pleasant Hill 10-7 on April 5. Their two losses came against California teams on a spring break road trip.
"The Cascade and Pleasant Hill games were a good test for us," said Yamhill-Carlton coach John Kuehnel, whose team also holds a win over 4A co-No. 5 Astoria. "This team is exceptional and special, and I believe it has what it takes to go far. Reminds me kind of our 4A semifinalist team of 2015.
"I believe this lineup can match up with any at the 3A level."
The Tigers had 17 hits against Pleasant Hill, which made up for costly errors that led to them surrendering five unearned runs. The win avenged an 8-4 loss to the Billies in a play-in game to the season-ending 3A tournament last year.
Yamhill-Carlton junior Briley Ingram is 7-0 with a 0.45 ERA. She is backed by an outstanding middle-infield tandem in senior shortstop Kati Slater and junior second baseman Lexiss Antle, who is batting a team-high .514.
"They work great together, capable of turning double plays and closing up the middle," Kuehnel said.
The Tigers went 11-1 in the PacWest last season, losing only to second-place Dayton. They open conference play Tuesday at home against No. 8 Dayton.
McNary runs gauntlet
No 6A team has faced a more difficult schedule so far than McNary.
Last week, the Celtics (8-2) completed a four-game stretch against teams ranked in the top five of the OSAAtoday 6A coaches poll.
They bounced back from a 2-1 loss at No. 4 Jesuit with three consecutive wins, beating No. 2 Tigard 2-0 in eight innings, No. 5 Tualatin 1-0 and No. 3 Newberg 5-1.
Junior Lacey Vasas was outstanding in the circle, allowing only 16 hits and three runs in the four games. She threw a three-hitter with eight strikeouts against Tigard, a three-hitter with six strikeouts against Tualatin and a four-hitter with eight strikeouts against Newberg.
Juniors Brookelynn Jackson and Heather Ebner had RBIs in the eighth inning to break a scoreless tie and beat Tigard. Ebner and senior Ellie Martin had McNary's only hits against Tualatin. Jackson had two hits, two stolen bases and two RBIs in the win over Newberg.
The Celtics are playing under a first-year coach in Kelly Parsell (formerly Burdick). She played on South Salem's 6A title team in 2014 before a college career at Washington.
5A powers collide
Two of the top teams in 5A split a doubleheader Saturday when No. 1 Pendleton visited No. 2 Wilsonville.
The host Wildcats (7-3) won the first game 9-1 behind senior pitcher Maddie Erickson, who threw a three-hitter with 17 strikeouts. Wilsonville took a 3-0 lead in the second inning on a three-run homer by sophomore Grace Wilson and put the game away with five runs in the sixth inning.
Pendleton (8-1) bounced back from its first loss of the season to win the second game 10-4. Senior Sauren Garton pitched a complete game with 14 strikeouts and went 4 for 5 with a triple and four RBIs. Senior Chloe Taber and freshman Ella Sams each drove in two runs for the Buckaroos.
Marist keeps winning
Marist Catholic, the winner of the season-ending 4A tournament last year, is off to a 7-1 start.
The Spartans, No. 1 in the OSAAtoday coaches poll, have outscored their opponents 77-6. Their only loss was a 1-0 decision at Vintage (Calif.) on March 21.
"This season, even though our team goals may be even higher – going back-to-back in state with a full OSAA season and playoffs schedule -- I would not advise to bet against this team," coach Stefan Schroffner said. "They are self-managed, self-motivated and ready for any team."
Senior pitcher Malia Williams was dominant in two five-inning wins last week. She threw a two-hitter with 12 strikeouts in a 13-1 win over 5A co-No. 6 Ridgeview and tossed a no-hitter with 15 strikeouts to beat Henley 12-0 in a rematch of last year's 4A final.
Junior Paige Doerr led the offense against Henley, going 3 for 3 with a double, four RBIs, two stolen bases and three runs scored. Sophomore Kellie Schroffner and seniors Madeleine Hopkins and Tessa Woodrum each had two hits and junior Rachel McConaghie drove in three runs against Ridgeview.
Doerr is batting .519 with two doubles, four triples one home run and a team-high 18 RBIs. Williams is hitting .500 with 12 runs and six stolen bases.
Power groove
Warrenton 's Avyree Miethe is on a power surge, hitting four home runs in her last three games.
The junior pitcher went deep in a 13-3 loss to Scio, belted two solo blasts in a 6-3 loss to Rainier and had an inside-the-park home run in an 8-4 win over Willamina.
She became the first Warrenton player ever to hit two home runs in a game. She broke the school record for home runs in a season, surpassing the previous mark of three, held by Stacey Moore.
Miethe also was the winning pitcher against Willamina, striking out 11.
Reid perfect
Florida State-bound pitcher Makenna Reid threw a perfect game with 18 strikeouts in Tigard's 1-0 win over Dallas on April 6.
The left-handed senior is 10-1 with a 0.30 ERA. For the season, she has thrown 71 innings, struck out 158 and walked eight. She also threw no-hitters against Sherwood and Mountainside.
Heiken sparks Ashland
Senior Gabby Heiken is swinging a hot bat for Ashland.
She went 3 for 5 with a double, triple and home run in a 16-6, six-inning win over North Valley on April 5. She earned the win by pitching a four-hitter, striking out eight.
She went 3 for 4 with a double, five RBIs and four runs scored in a doubleheader sweep of North Eugene on Saturday. She also turned three double plays at shortstop.
Big week
Junior Jenna Hopkins mowed down the opposition in pitching Kennedy to three wins last week.
Hopkins allowed one run in beating Western Christian, Santiam and Central Linn, She threw 16 2/3 innings, struck out 38 and walked one. She also hit for the cycle against Central Linn.